Abstract
Since traction motors for electric vehicles require a variety of features to be used simultaneously, research on the design optimization of permanent magnet synchronous motors (PMSMs) has been increasing. To apply design optimization in the industrial field, it must be accurate, simple, and the design time should be minimized. This study proposes an automated design and analysis procedure to optimize the shape of a PMSM. ANSYS Maxwell and PIAnO were combined to implement automation, which are finite element analysis and design optimization software programs, respectively. The average torque and total harmonic distortion of the back electromotive force were set as a multi-objective function. In addition, the efficiency and torque ripple were set as constraints with five design variables to satisfy them. To verify the superiority of the proposed design optimization procedure, three optimization algorithms were reviewed and compared with metamodel-based design optimization. These algorithms include parallel algorithm discovery and orchestration, a progressive quadratic response surface method, and sequential two-point diagonal quadratic approximate optimization Moreover, because it is a design optimization problem with a multi-objective function, the changes in the design optimization results according to the changes in the weighting ratio were examined. Finally, the validity of the design results was verified through experiments. The research results demonstrate that the proposed design optimization procedure is more accurate, faster, and better than the conventional method.
This is a preview of subscription content, log in to check access.
Access options
Buy single article
Instant access to the full article PDF.
US$ 39.95
Price includes VAT for USA
Subscribe to journal
Immediate online access to all issues from 2019. Subscription will auto renew annually.
US$ 199
This is the net price. Taxes to be calculated in checkout.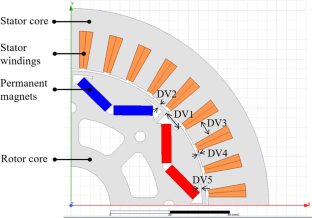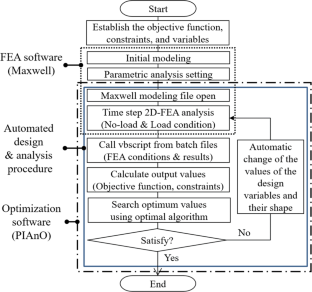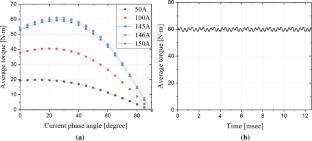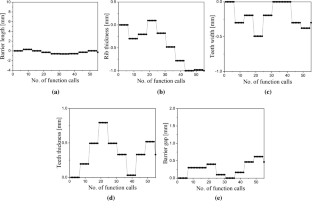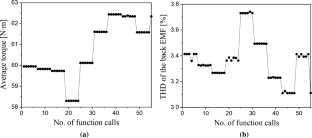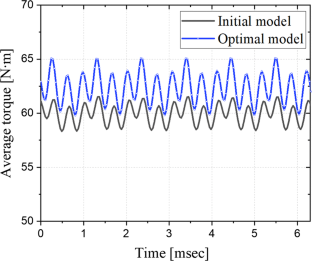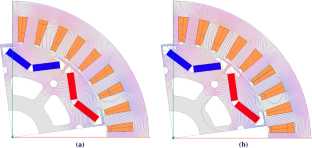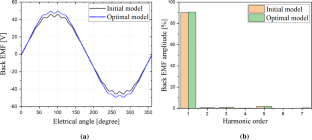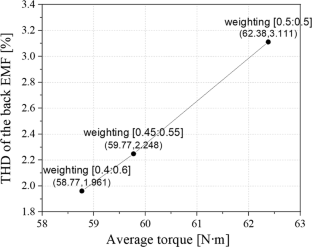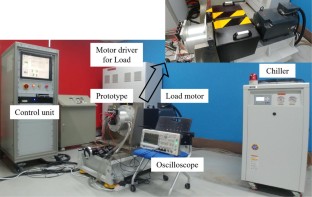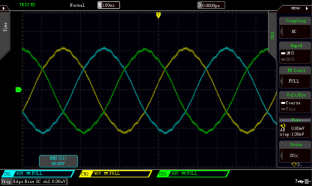 References
Chasiotis ID, Karnavas YL (2019) A generic multi-criteria design approach toward high power density and fault-tolerant low-speed PMSM for pod applications. IEEE Trans Transp Electrif 5(2):356–370

Chau KT (2015) Electric vehicle machines and drives: design, analysis and application, 1st edn. Wiley, Hoboken, p 243

Dang L, Bernard N, Bracikowski N, Berthiau G (2017) Design optimization with flux weakening of high-speed PMSM for electrical vehicle considering the driving cycle. IEEE Trans Ind Electron 64:9834–9843

Du X, Liu G, Chen Q, Xu G, Xu M, Fan X (2017) Optimal design of an Inset PM motor with assisted barriers and magnet shifting for improvement of torque characteristics. IEEE Trans Magn 53:8109204

Feng G, Lai C, Kar NC (2017) An analytical solution to optimal stator current design for PMSM torque ripple minimization with minimal machine losses. IEEE Trans Ind Electron 64:7655–7665

Guo H, Tian W, Xaiofeng D (2018) Multi-objective optimal design of permanent magnet synchronous motor for high efficiency and high dynamic performance. IEEE Access 6:23568–23581

Hong KJ, Choi DH, Kim MS (2000) Progressive quadratic approximation method for effective constructing the second-order response surface models in the large scaled system design. Korean Soc Mech Eng A 24(12):3040–3052

Ilka R, Alinejad-Beromi Y, Yaghobi H (2018) Techno-economic design optimisation of an interior permanent-magnet synchronous motor by the multi-objective approach. IET Electr Power Appl 12:972–978

Jin L, Wang F, Yang Q (2017) Performance analysis and optimization of permanent magnet synchronous motor based on deep learning. In 2017 20th International Conference on Electrical Machines and Systems (ICEMS)

Karnavas YL, Chasiotis ID, Korkas CD (2017) Modelling and multiobjective optimization analysis of a permanent magnet synchronous motor design. Int J Numer Model Electron Netw Devices Fields 30(6):e2232

Kim JR, Choi DH (2008) Enhanced two-point diagonal quadratic approximation methods for design optimization. Comput Methods Appl Mech Eng 197(6–8):846–856

Kim SW, Kang KB, Yoon KC, Choi DH (2017) Design optimization of an angular contact ball bearing for the main shaft of a grinder. Mech Mach Theory 104:278–302

Krasopoulos CT, Beniakar ME, Kladas AG (2018) Multicriteria PM motor design based on ANFIS evaluation of EV driving cycle efficiency. IEEE Trans Electr 4:525–535

Kwon JW, Lee JH, Zhao WL, Kwon BI (2018) Flux-switching permanent magnet machine with phase-group concentrated-coil windings and cogging torque reduction technique. Energies 11(10):2758

Lee JH, Kim JW, Song JY, Kim YJ, Jung SY (2016) A novel memetic algorithm using modified particle swarm optimization and mesh adaptive direct search for PMSM design. IEEE Trans Magn 52:7001604

Li YK, Song BW, Mao ZY, Tian WL (2018) Analysis and optimization of the electromagnetic performance of a novel stator modular ring drive thruster motor. Energies 11(6):1598

Narayanan G, Ranganathan VT (2005) Analytical evaluation of harmonic distortion in PWM AC drives using the notion of stator flux ripple. IEEE Trans Power Elctron 20:466–474

Robert F, Bensetti M, Santos VD, Dufour L, Dessante P (2017) Multiphysics modeling and optimization of a compact actuation system. IEEE Trans Ind Electron 64:8626–8634

Song T, Zhang Z, Liu H, Hu W (2019) Multi-objective optimisation design and performance comparison of permanent magnet synchronous motor for EVs based on FEA. IET Electr Power Appl 13:1157–1166

Teller A, Veloso M (1995) PADO: Learning tree structured algorithms for orchestration into an object recognition system. Carnegie Mello University, Pittsburgh No. CMU-CS-95-101

You YM (2019) Optimal design of PMSM based on automated finite element analysis and metamodeling. Energies 12(24):4673

You YM (2020) Multi-objective optimal design of permanent magnet synchronous motor for electric vehicle based on deep learning. Appl Sci 10(2):482

You YM, Chung DW (2017) Optimal design of a permanent magnet synchronous motor to improve torque and demagnetization characteristics. J Magn 22:423–429

Zhang G, Yu W, Hua W, Cao R, Qiu H, Guo A (2019) The design and optimization of an interior, permanent magnet synchronous machine applied in an electric traction vehicle requiring a low torque ripple. Appl Scie 9(17):3634

Zhao W, Wang X, Gerada C, Zhang H, Liu C, Wang Y (2018) Multi-physics and multi-objective optimization of a high speed PMSM for high performance application. IEEE Trans Magn 54:8106405
Acknowledgements
This study was supported by research fund from Honam University, 2019 and the National Research Foundation of Korea (NRF) grant funded by the Korea government (MSIT). (No. NRF 2018R1C1B5046117) The author express gratitude to PIDOTECH for their technical support.
Additional information
Publisher's Note
Springer Nature remains neutral with regard to jurisdictional claims in published maps and institutional affiliations.
About this article
Cite this article
You, Y. Multi-objective optimization of a permanent magnet synchronous motor based on an automated design and analysis procedure. Microsyst Technol (2020). https://doi.org/10.1007/s00542-020-04929-z
Received:

Accepted:

Published: