Abstract
Tuberculosis is a contagious disease caused by the bacteria, Mycobacterium Tuberculosis. Early detection of TB is vital to increase the chances of cure. In this paper, a MEMS cantilever based biosensor is designed and analyzed for the detection of TB antigen. The surface of the cantilever is coated with the TB antibody (ESAT-6). Since antibodies are disease specific, the presence of TB antigen in given patient sample is identified through the deflection of the cantilever beam. The analysis of the structure was performed by varying the length and width of the cantilever, material of the cantilever and shapes of the cantilever in order to obtain the maximum amount of deflection and sensitivity. The various cantilever types were simulated and the results were used to analyze the performance based on material and design. Stress concentrating region (SCR) designs have been included in the simulations so as to analyze the cantilever performances with these additional features. Also, in this work, the materials analyzed were aluminium, gold, platinum, polyimide and polysilicon. This method of detection was found to be simpler, less time consuming and more cost effective as compared to traditional TB detection methods like ELISA and IGRAs.
This is a preview of subscription content, log in to check access.
Access options
Buy single article
Instant access to the full article PDF.
US$ 39.95
Price includes VAT for USA
Subscribe to journal
Immediate online access to all issues from 2019. Subscription will auto renew annually.
US$ 199
This is the net price. Taxes to be calculated in checkout.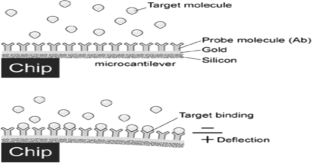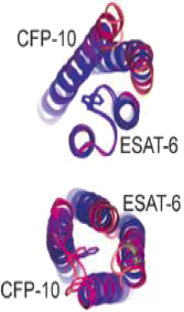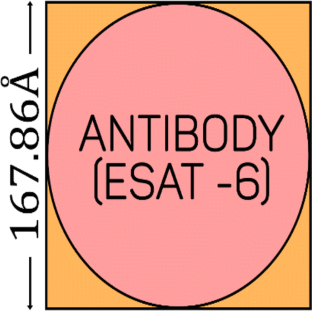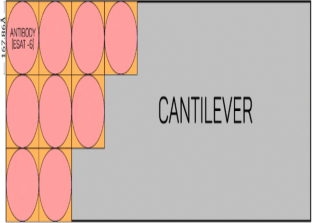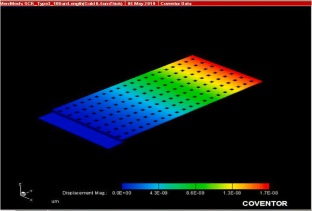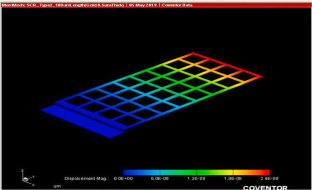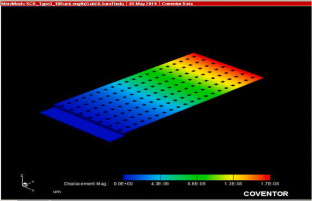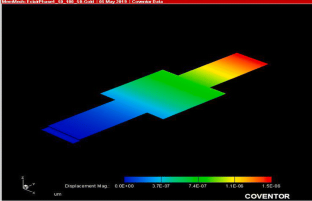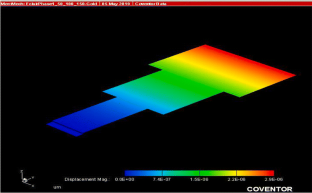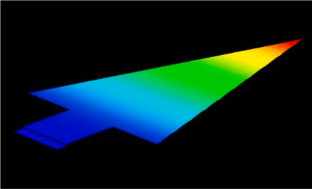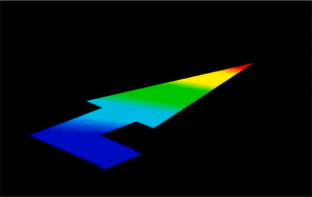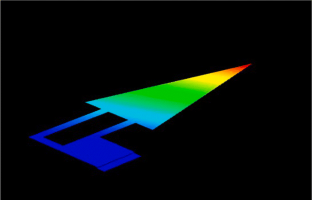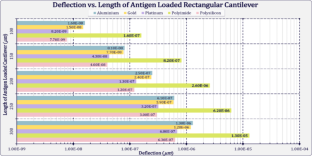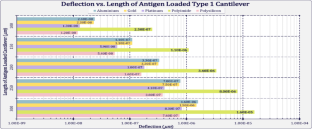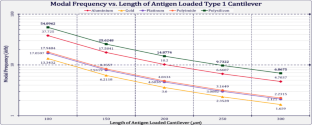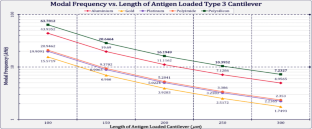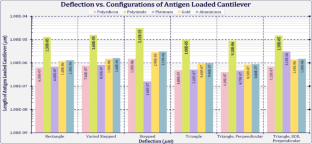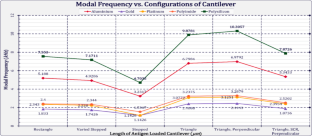 References
Chithra SP, Prince AA (2013) RF MEMS-based biosensor for pathogenic bacteria detection. BioNanoSci. 3:321–328

Dhakane S, Patil WV (2014) Piezo-resistive method for tuberculosis detection using microcantilever biosensor. Microsyst Technol 20(3):457–462

Fritz J (2008) Cantilever biosensors. Analyst 133(7):855–863

Ghosh Dastider S, Abdullah A, Jasim I, Yuksek NS, Dweik M, Almasri M (2018) Low concentration E. coli O157:H7 bacteria sensing using microfluidic MEMS biosensor. Rev Sci Instrum 89:125009

Haag A, Nagai Y, Lennox RB et al (2015) Characterization of a gold coated cantilever surface for biosensing applications. EPJ Techn Instrum 2:1

Karayil N, Suja KJ (2017) Performance analysis of MEMS piezoresistive cantilever based sensor for tuberculosis detection using coventorware FEA. Int J Mech Eng Robot Res 6:301–304

McGovern JP, Shih WY, Shih WH (2007) In situ detection of Bacillus anthracis spores using fully submersible, self-exciting, self-sensing PMN-PT/Sn piezoelectric microcantilevers. Analyst 132(8):777–783

Mondal S, Arya D, Ansari MZ (2018) High sensitive MEMS piezoresistive microcantilever sensor. Proc Comput Sci 133:793–798

Murthy KSN, Prasad GRK, Saikiran NLNV, Manoj TVS (2016) Design and simulation of MEMS biosensor for the detection of tuberculosis. Indian J Sci Technol 9:31

Poulsen C, Panjikar S, Holton SJ, Wilmanns M, Song YH (2014) WXG100 protein superfamily consists of three subfamilies and exhibits an α-helical C-terminal conserved residue pattern. PLoS ONE 9(2):89313

Rahul J, Kumar R (2019) Micro-cantilevered MEMS biosensor for detection of malaria protozoan parasites. J Comput Appl Mech 50(1):99–107

Saeed MA, Khan SM, Ahmed N, Khan MU, Rehman A (2016) Design and analysis of capacitance based Bio-MEMS cantilever sensor for tuberculosis detection. In: 2016 international conference on intelligent systems engineering (ICISE), pp 175–180. IEEE

Sajan P (2017) Modeling and simulation of micro cantilever based tuberculosis detection sensor (5th ed., Rep.). Int J Electron Electric Comput Syst 6:417–420

Serene IM, Rajasekharababu M, Alex ZC (2018) A study and analysis of microcantilever materials for disease detection. Mater Today Proc 5.1:1219–1225
Additional information
Publisher's Note
Springer Nature remains neutral with regard to jurisdictional claims in published maps and institutional affiliations.
About this article
Cite this article
Lakshmi, S., Almeida, A., Bagchi, A. et al. Detection of tuberculosis using MEMS. Microsyst Technol (2020). https://doi.org/10.1007/s00542-020-04918-2
Received:

Accepted:

Published: