Abstract
The aim of this work is to find an adaptive control scheme to realize precise position tracking for a piezo-actuated stage, which is usually very difficult to control due to the essential nonlinearity and unknown uncertainty. Firstly, a proportional-integral-derivative (PID) sliding mode controller is designed based on the established model and the estimated parameters. Then, in order to reduce the influence of model error, a radial basis function (RBF) neural network is integrated to the controller to improve the control performance. Eventually, an adaptive RBF based PID-type sliding mode controller (RBF-PIDSMC) is proposed and its stability is derived mathematically based on Lyapunov theory. Simulation results of the proposed controller are compared with the PID sliding mode controller to verify its tracking performance. Positioning tracking experiments with two different trajectories are also conducted to verify the correctness and effectiveness of the proposed controller. We can conclude that the proposed controller can be used to track commanded position trajectory for the piezoelectric stage.
This is a preview of subscription content, log in to check access.
Access options
Buy single article
Instant access to the full article PDF.
US$ 39.95
Price includes VAT for USA
Subscribe to journal
Immediate online access to all issues from 2019. Subscription will auto renew annually.
US$ 199
This is the net price. Taxes to be calculated in checkout.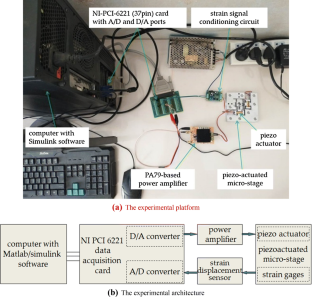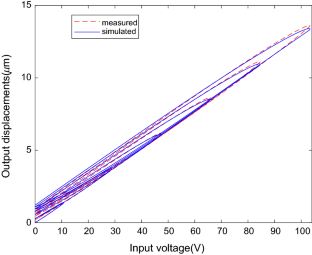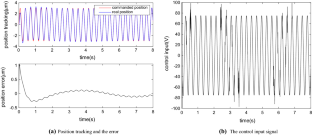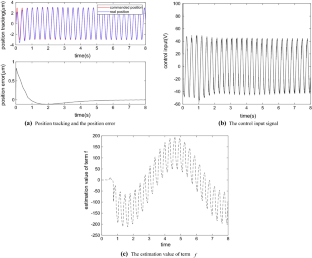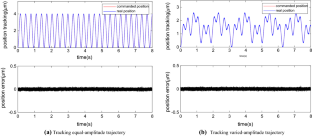 References
Sohel R, Hemanshu RP, Ian RP (2018) A survey of methods used to control piezoelectric tube scanners in high-speed AFM imaging. Asian J Control 20(4):1379–1399

Liu Y-T, Li B-J (2016) A 3-axis precision positioning device using PZT actuators with low interference motions. Precis Eng 46:118–128

Wang G, Qingsong Xu (2017) Design and precision position/force control of a piezo-driven microinjection system. IEEE/ASME Trans Mechatron 22(4):1744–1754

Rajaei A, Vahidi-Moghaddam A, Ayati M et al (2019) Integral sliding mode control for nonlinear damped model of arch microbeams. Microsyst Technol 25(1):57–68

Lin C, Jiang Yu, Zhaohui Wu et al (2019) Decoupling and control of micromotion stage based on hysteresis of piezoelectric actuation. Microsyst Technol 25:3299–3309

Zhu W, Bian L, An Yi et al (2015) Modeling and control of a two-axis fast steering mirror with piezoelectric stack actuators for laser beam tracking. Smart Mater Struct 24(7):075014

Wang G, Rao C (2015) Adaptive control of piezoelectric fast steering mirror for high precision tracking application. Smart Mater Struct 24(3):035019

Wang G, Chen G, Bai F (2016) High-speed and precision control of a piezoelectric positioner with hysteresis, resonance and disturbance compensation. Microsyst Technol 22:2499–2509

Wang G, Guan C, Zhang X, Zhou H, Rao C (2014) Precision control of piezo-actuated optical deflector with nonlinearity correction based on hysteresis model. Opt Laser Technol 57:26–31

Maruani J, Bruant I, Pablo F et al (2019) Active vibration control of a smart functionally graded piezoelectric material plate using an adaptive fuzzy controller strategy. J Intell Mater Syst Struct 30(14):2065–2078

Shafiei MH, Azadian A (2019) Discrete-time control of a nonlinear system with integrating the integral terminal sliding mode and model predictive control. Modares Mech Eng 19(11):2697–2704

Geng W, Yanru Z, Yeming Z et al (2017) High precision tracking of a piezoelectric positioner using a discrete-time sliding mode control. Microsyst Technol 23(6):1831–1839

Lau JY, Liang W, Tan KK et al (2019) Motion control for piezoelectric-actuator-based surgical device using neural network and extended state observer. IEEE Trans Ind Electron 67(1):402–412

Wang G, Qingsong Xu (2018) Adaptive terminal sliding mode control for motion tracking of a micropositioning system. Asian J Control 20(3):1241–1252

Qingsong Xu (2016) Digital integral terminal sliding mode predictive control of piezoelectric-driven motion system. IEEE Trans Ind Electron 63(6):3976–3984

Yu-Sheng Lu, Chen J-S (1995) Design of a global sliding-mode controller for a motor drive with bounded control [J]. Int J Control 62(5):1001–1019

Zak M (1988) Terminal attractors for addressable memory in neural networks. Phys Lett A 133(1–2):18–22

Park K-B, Tsuji T (1999) Terminal sliding mode control of second-order nonlinear uncertain systems. Int J Robust Nonlinear Control 9(11):769–780

Li Y, Qingsong Xu (2009) Adaptive sliding Mode control with perturbation estimation and PID sliding surface for motion tracking of a piezo-driven micromanipulator. IEEE Trans Control Syst Technol 18(4):798–810

Ji DH, Koo JH, Yoo WJ et al (2012) Precise tracking control of piezoelectric actuators based on a hysteresis observer. Nonlinear Dyn 70(3):1969–1976

Kao C-C, Fung R-F (2009) Using the modified PSO method to identify a Scott-Russell mechanism actuated by a piezoelectric element. Mech Syst Signal Process 23(5):1652–1661

Wang G, Chen G, Bai F (2015) Modeling and identification of asymmetric Bouc-Wen hysteresis for piezoelectric actuator via a novel differential evolution algorithm. Sens Actuators A 235:105–118

Irakoze R, Yakoub K, Kaddouri A (2015) Identification of piezoelectric LuGre model based on particle swarm optimization and real-coded genetic algorithm. Can Conf Electr Comput Eng 2015:1451–1457

Geng W, Wang Y, Zhou H et al (2019) Comprehensive approach to modeling and identification of a two-axis piezoelectric fast steering mirror system based on multi-component analysis and synthesis. Mech Syst Signal Process 127:50–67

Fayez FM (2014) El-Sousy, Adaptive hybrid control system using a recurrent RBFN-based self-evolving fuzzy-neural-network for PMSM servo drives. Appl Soft Comput 21:509–532

Qasim M, Kanjiya P, Khadkikar V (2014) Artificial-neural-network-based phase-locking scheme for active power filters. IEEE Trans Ind Electron 61(8):3857–3866

Lin F-J, Lee S-Y, Chou P-H (2012) Intelligent nonsingular terminal sliding-mode control using MIMO elman neural network for piezo-flexural nanopositioning stage. IEEE Trans Ultrason Ferroelectr Freq Control 59(12):2716–2730

Aghababa MP, Akbari ME (2012) A chattering-free robust adaptive sliding mode controller for synchronization of two different chaotic systems with unknown uncertainties and external disturbances. Appl Math Comput 218(9):5757–5768
Acknowledgements
This research was funded by the National Natural Science Foundation of China, under Grant numbers 71071078 and 70671035.
Additional information
Publisher's Note
Springer Nature remains neutral with regard to jurisdictional claims in published maps and institutional affiliations.
About this article
Cite this article
Chen, Q., Yang, Z. Adaptive RBF-PIDSMC control method with estimated model parameters for a piezo-actuated stage. Microsyst Technol (2020). https://doi.org/10.1007/s00542-020-04907-5
Received:

Accepted:

Published: