Abstract
Photo-sensors are integral part of different bio-medical diagnostic equipment. Each type of bio-molecules possess unique spectral fingerprint in visible wavelength region of electro-magnetic spectrum. Now-a-days, the enhancement of quantum-efficiency and photo-responsivity of such bio-medical opto-sensors, for accurate identification of virus/anti-bodies in blood by optical means, is a big challenge to medical-device Engineers. The authors have addressed this issue in this research paper by proposing a novel structure of asymmetrical Si/4H-SiC super-lattice pin diode array for the development of high-sensitive visible light (300–800 nm) sensor on native substrate. The simulation experiment is carried out by developing a generalized large-signal quantum modified drift–diffusion simulator incorporating three different modes of carrier generation-recombination under light and dark conditions: avalanching, tunneling and photo-irradiation. The validity of the model has been established by comparing the simulation results with those of experimental observations. A good agreement between theory and experiment, under similar biasing conditions, establishes the validity of the developed model. The characteristics analysis depicts that the quantum efficiency of the designed single photo-sensor is ~ 65% within 400–700 nm wavelength region, whereas, the same enhances to nearly ~ 90% with a 3 × 3 photo-sensor array based on asymmetrical super-lattice single pin devices. In visible wavelength region, the simulated photo-sensors (both single and array) have demonstrated significant photo responsivity. The photo-responsivity values, at 500 nm wavelength of incident radiation, are observed to be 0.65 A/W for a single photo-diode and 0.85 A/W for a 3 × 3 combination of photo-diode array. This clearly establishes the potentiality of the asymmetrical super-lattice pin-array as a visible photo-sensor for future application in developing medical instruments. A comparative analysis of Si and Si/4H-SiC asymmetrical super-lattice photo-sensors establishes the superiority of the later as a high-sensitive visible light-sensor in terms of better photo-responsivity and quantum efficiency. To the best of authors' knowledge, this is the first report on Si/4H-SiC super-lattice pin photo-sensor array in the visible range of optical irradiation. The experimental feasibility of the device and a proposed circuit for future bio-medical implementation are also incorporated in the present research-paper for further development.
Access options
Buy single article
Instant access to the full article PDF.
US$ 39.95
Tax calculation will be finalised during checkout.
Subscribe to journal
Immediate online access to all issues from 2019. Subscription will auto renew annually.
US$ 119
Tax calculation will be finalised during checkout.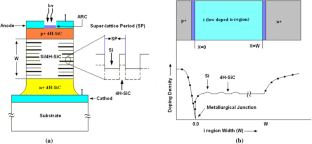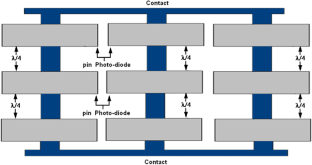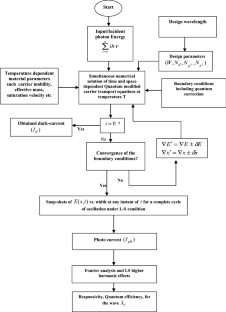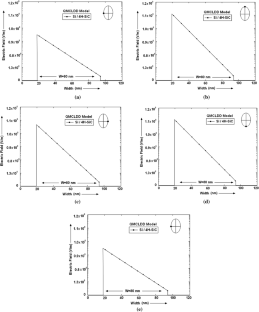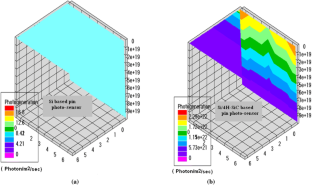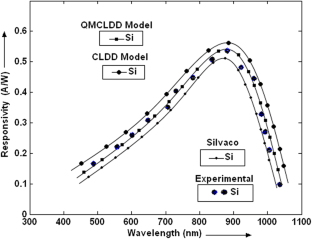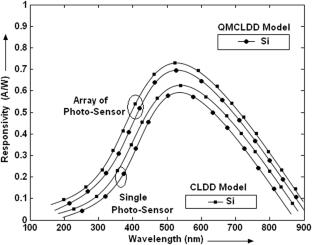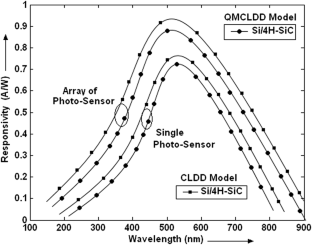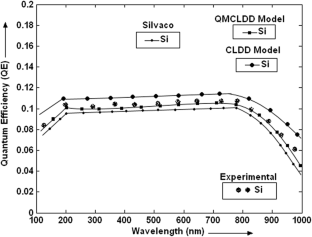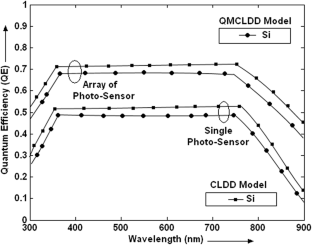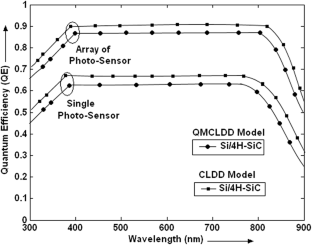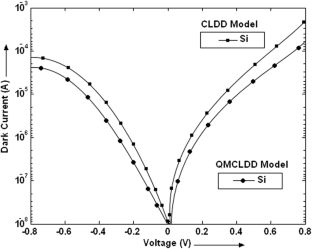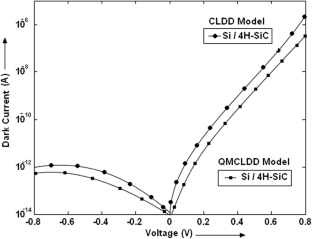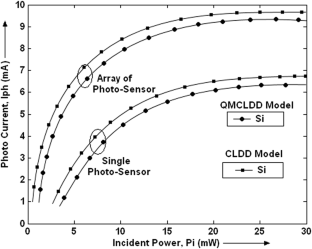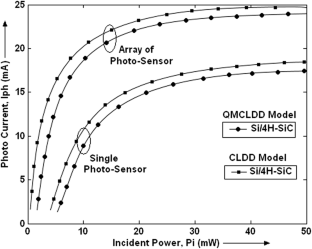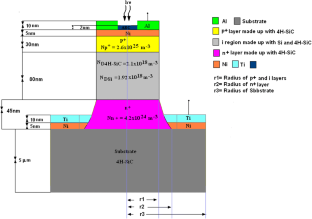 References
Ancona MG (2011) Density gradient theory: a macroscopic approach to quantum confinement and tunneling in semiconductor devices. J Comput Electron 10:65–97. https://doi.org/10.1007/s10825-011-0356-9

Artyomov E, Fish A et al (2007) Image sensors in security and medical applications. Int J Inf Appl 14:114–127

Atabaev IG, Juraev KN (2018) Research of pin based on 4H-SiC fabricated by low-temperature diffusion of boron. Adv Mater Sci Eng 2018:1–10. https://doi.org/10.1155/2018/8797031

Bazin AE, Michaud JF et al (2010) High quality ohmic contacts on n-type 3C–SiC–SiC obtained by high and low process temperature. AIP Conf Proc 192:51–54. https://doi.org/10.1063/1.3518309

Camara N, Zekentes K et al (2006) Microwave pin diode and switches based on 4H-SiC. IEEE Electron Device Lett 27:108

Campbell RB, Chang HC (1967) Detection of ultraviolet radiation using silicon carbide P–N junctions. Solid State Electron 10:949–953

Cesare GD, Nascetti A et al (2015) Amorphous silicon pin structure acting as light and temperature sensor. MPDI Sens 15:12260–12272

Cha HY, Sandvik PM (2008) Electrical and optical modelling of 4H-SiC avalanche photodiodes. Jpn J Appl Phys 47:5423–5425

Dmitriev VD et al (1995) SiC a(3)n alloys and wide band gap Nitrides on SiC Substrates. Int Phys Conf Ser 141:497–502

Electronic Archive: new semiconductor materials, characteristics and properties (Online). http://www.ioffe.ru/SVA/NSM/Semicond/Si/SiC. Accessed Feb 2018

Grov AS (1967) Physics and technology of semiconductor device. Wiley, New York

Ismail RA, Hamoudi WK (2012) Characteristics of noveln silicon pin photodiode made by rapid thermal diffusion technique. J Electron Devices 14:1104–1107

Kamran A (2011) Gated lateral slicon pin junction photodiodes P.HD Thesis. College of Science & Engineering, School of Engineering. http://theses.gla.ac.uk/2873/1/2011AbidPhD.pd

Khan IA, Copper JA (2000) Measurement of high-field electron transport in silicon carbide. IEEE Trans Electron Devices 47:269–273. https://doi.org/10.1063/1.4807162

Kimoto et al (2001) Chemical vapor deposition and deep level analysis of 4H-SiC (1120). J Appl Phys 89:6105

Larsson A, Andrekson PA et al (1988) Tunable superlattice pin photodiodes: characteristics theory and application. IEEE J Quantum Electron 24:787–801

Li L, Zang Y (2017) Photoelectric properties of Si doping superlattice structure on 6H-SiC (001). MDPI Mater 583:1–6

Liao M, Koide Y (2007) Single Schottkey-Barrier photo diode with interdigitated—finger geometry: application to diamond. Appl Phys Lett 90:123507. https://doi.org/10.1063/1.2715440(1–3)

Muench WV, Gessert C, Koenginer M (1976) Photo Diodes and junction fieled-effect transistor with high UV sensitivity. IEEE Trans Electron Devices 23:1203–1207

Mukherjee M (2009) Computer studies of silicon carbide, gallium nitride and indium phosphide based IMPATT devices operating in MM wave and terahertz region and corresponding studies on the photo-sensitivity of the devices. P.hD Thesis, Calcutta University. http://shodhganga.inflibnet.ac.in/jspui/bitstream/10603/154792/11/11_chapter%202.pd. Accessed Feb 2018

Mukherjee M, Mazumder N (2010) Prospect of a β-SiC based IMPATT oscillator for application in THz communication and growth of a β SiC p-n junction on a Ge modified Si (100) substrate of a realize THz IMPATTs. J Semicond 31:124001. https://doi.org/10.1088/1674-4926/31/12/124001(1–8)

Nejad SM, Samani SG et al (2010) Characterization of responsivity and quantum efficiency of TiO2—based photodetectors doped with Ag/nanoparticles. In: IEEE (2nd ICME) conference on mechanical and electronics engineering, vol 2, pp 394–397. https://ieeexplore.ieee.org/document/5558400. Accessed Feb 2018

Novo C, Giacomini R (2014) Illuminated to dark ratio improvement in lateral SOI pin photodiodes at high temperatures. Semicond Sci Technol 29:1–9. https://doi.org/10.1088/0268-1242/29/7/075008

Ozpenici B, Tolbert LM (2003) Comparision of wide-bandgap semiconductors for power electronics application. Oak Ridge National Laboratory. https://info.ornl.gov/sites/publications/Files/Pub57423.pdf. Accessed Feb 2018

Park CH et al (2003) Spectral responsivity and quantum efficiency n-ZnO/p-Si photodiode fully isolated by ion-beam treatment. App Phys Lett 82:3973. https://doi.org/10.1063/1.1579553

Perelman Y, Ginosar R (2001) A low-light-level sensor for medical diagnostic applications. IEEE J Solid State Circuits 36:1553–1558

Rieke G (2003) Detection of light, 2nd edn. Cambridge University Press, Cambridge

Sahbudin S (2004) Development of silicon planar photodiode. In: The 4th annual seminar of national science fellowship, pp 466–471. http://web.usm.my/nsf/proceedings/pME08.pdf. Accessed Feb 2018

Salihoglu O, Muti A, Aydinli A (2013) A comparative passivation study for InAs/GaSb pin super-lattice photo detectors. IEEE J Quantum Electron 49:661–666

Sze SM (1988) Semiconductor devices: physics and technology, 2nd edn. McGraw-Hill International, New York

Tabbert B, Alexander AG (2006) Linearity of the photocurrent respose with light intensity for silicon pin photodiode array. In: IEEE nuclear science symposium conference record, pp 1600–1603. https://ieeexplore.ieee.org/document/4179183/. Accessed Feb 2018

Utts B, Rule P (2001) Photomultipliers. Wiley encyclopedia of electrical and electronics engineering, Wiley, Hoboken

Whitfield MD, Chan SS, Jackson RB (1996) Thin film diamond photodiode for ultraviolet light detection. Appl Phys Lett. 68:290–292

Worbel J, Martyniuk P, Rogalski A (2012) Contribution of series resistance in modeling of high-temperature type II superlattice pin photodiodes. Adv Opt Technol 2012:1–5

Yuanga RH, Chyi JI (1998) GaAs MSM photodetectors with recessed anode and/or cathode. IEEE J Quantum Electron 34:811–816

Zekentes K, Camara N et al (2005) 4H-SiC pin diodes for microwave applications. IEEE (CAS) Conf 1:17–25

Zimmermann H (2010) Basic of optical emission and absorption. Intregated slicon optoelectronices, Chapter 1. Springer, New York, pp 1–9
Additional information
Publisher's Note
Springer Nature remains neutral with regard to jurisdictional claims in published maps and institutional affiliations.
About this article
Cite this article
Kundu, A., Adhikari, S., Das, A. et al. Design and characterization of asymetrical super-lattice Si/4H-SiC pin photo diode array: a potential opto-sensor for future applications in bio-medical domain. Microsyst Technol 27, 569–584 (2021). https://doi.org/10.1007/s00542-018-4119-4
Received:

Accepted:

Published:

Issue Date: