Abstract
The subcostal quadratus lumborum (QL) block is used in postoperative analgesia for abdominal surgery. However, only a small portion of local anesthetic can spread into the thoracic paravertebral space from the injection site via the lateral arcuate ligament, due to the barrier action of the ligament. In this study, we determined the effectiveness of a new ultrasound-guided parasagittal approach to anterior QL block at the lateral supra-arcuate ligament. Twenty six patients scheduled for laparoscopic renal surgery were enrolled. The parasagittal approach to the anterior QL block at the lateral supra-arcuate ligament was carried out preoperatively. Our data showed that at 5 and 10 min after injection, the patients achieved the sensory block of dermatomes T9–T12 and T7–L1, respectively. Some patients achieved coverage as cephalad as T5 and as caudal as L3. Four patients (16.7%) developed quadriceps weakness after the blocks. The parasagittal technique provides a new choice for postoperative analgesia of abdominal surgery with rapid onset and reliable dermatomal coverage.
Trial registration: Chinese Clinical Trial Registry: ChiCTR2000029211.
Access options
Buy single article
Instant access to the full article PDF.
US$ 39.95
Tax calculation will be finalised during checkout.
Subscribe to journal
Immediate online access to all issues from 2019. Subscription will auto renew annually.
US$ 79
Tax calculation will be finalised during checkout.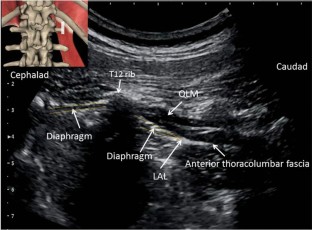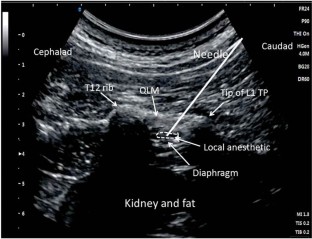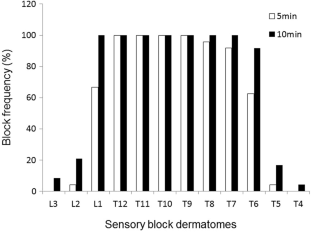 References
1.

Elsharkawy H, El-Boghdadly K, Barrington M. Quadratus lumborum block: anatomical concepts, mechanisms, and techniques. Anesthesiology. 2019;130:322–35.

2.

Elsharkawy H. Quadratus lumborum block with paramedian sagittal oblique (subcostal) approach. Anaesthesia. 2016;71:241–2.

3.

Elsharkawy H, El-Boghdadly K, Kolli S, Esa WAS, DeGrande S, Soliman LM, Drake RL. Injectate spread following anterior sub-costal and posterior approaches to the quadratus lumborum block: a comparative cadaveric study. Eur J Anaesthesiol. 2017;34:587–95.

4.

Elsharkawy H, Bajracharya GR, El-Boghdadly K, Drake RL, Mariano ER. Comparing two posterior quadratus lumborum block approaches with low thoracic erector spinae plane block: an anatomic study. Reg Anesth Pain Med. 2019:rapm-2018–100147.

5.

Karmakar MK, Li X, Ho AM, Kwok WH, Chui PT. Real-time ultrasound-guided paramedian epidural access: evaluation of a novel in-plane technique. Br J Anaesth. 2009;102:845–54.

6.

Paternostro-Sluga T, Grim-Stieger M, Posch M, Schuhfried O, Vacariu G, Mittermaier C, Bittner C, Fiaka-Moser V. Reliability and validity of the Medical Research Council (MRC) scale and a modified scale for testing muscle strength in patients with radial palsy. J Rehabil Med. 2008;40:665–71.

7.

Troyer AD, Wilson TA. Action of the diaphragm on the rib cage. J Appl Physiol. 1985;2016(121):391–400.

8.

Lu Y, Zhang J, Xu X, Chen W, Zhang S, Zheng H, Xia Y, Papadimos TJ, Xu XZ, Chen H. Sensory assessment and block duration of transmuscular quadratus lumborum block at L2 versus L4 in volunteers: a randomized controlled trial. Minerva Anestesiol. 2019;85:1273–80.

9.

Elsharkawy H, Ahuja S, DeGrande S, Maheshwari K, Chan V. Subcostal approach to anterior quadratus lumborum block for pain control following open urological procedures. J Anesth. 2019;33:148–54.

10.

Tamura T, Yokota S, Ito S, Shibata Y, Nishiwaki K. Local anesthetic spread into the paravertebral space with two types of quadratus lumborum blocks: a crossover volunteer study. J Anesth. 2019;33:26–32.

11.

Kanemura T, Satake K, Nakashima H, Naoki S, Ouchida J, Yamaguchi H. Understanding retroperitoneal anatomy for lateral approach spine surgery. Spinal Surg Related Res. 2017;1:107–20.

12.

Wikner M. Unexpected motor weakness following quadratus lumborum block for gynaecological laparoscopy. Anaesthesia. 2017;72:230–2.
Acknowledgments
This work was supported by the Beijing Hospitals Authority Clinical Medicne Development of Special Funding Support (XMLX202106). We thank Dr. Ryan Guffey in Department of Anesthesiology, Washington University School of Medicine, for critical reading and beneficial suggestions.
Ethics declarations
Conflict of interest
The authors declare no conflicts of interest.
Additional information
Publisher's Note
Springer Nature remains neutral with regard to jurisdictional claims in published maps and institutional affiliations.
Supplementary Information
Below is the link to the electronic supplementary material.
Supplementary file1 (MP4 19532 KB)
Supplementary file2 (MP4 2541 KB)
About this article
Cite this article
Shi, R., Li, H. & Wang, Y. Dermatomal coverage of single-injection ultrasound-guided parasagittal approach to anterior quadratus lumborum block at the lateral supra-arcuate ligament. J Anesth (2021). https://doi.org/10.1007/s00540-021-02903-1
Received:

Accepted:

Published:
Keywords
Ultrasound guidance

Lateral arcuate ligament

Quadratus lumborum block