Abstract
Purpose
Transthoracic esophagectomy is an invasive surgery, and the excessive surgical stress produces inflammatory cytokines, which provoke acute respiratory distress syndrome (ARDS). Sivelestat sodium hydrate—a selective neutrophil elastase inhibitor—is used to treat or prevent ARDS in patients undergoing esophagectomy, although clear evidence is lacking. We investigated the benefits and risk of prophylactic sivelestat.
Methods
This retrospective study used an administrative claims database in Japan. Adult patients who underwent transthoracic esophagectomy from 2010 to 2016 were identified and divided into a prophylactic sivelestat use group and a non-prophylactic use group that included both non-users and therapeutic users. The primary outcome was all-cause in-hospital mortality, and a secondary outcome included the proportion of ARDS. We used 1:1 propensity score matching. For sensitivity analyses, we conducted a 1:2 propensity score matching analysis and several analyses with various patient inclusion criteria.
Results
Of the 3391 patients with esophagectomy, 621 received prophylactic sivelestat. On unadjusted analysis, the sivelestat group had a higher proportion of in-hospital mortality (5.3% vs. 2.9%) compared with the control group. We created a matched cohort of 615 pairs, whose baseline characteristics were well balanced. On adjusted analysis using propensity score matching, prophylactic sivelestat administration was not associated with decreased in-hospital mortality [adjusted odds ratio (aOR) 1.65; 95% confidence interval (CI) 0.95–2.88], ARDS rate (aOR 1.25; 95% CI 0.49–3.17). The findings were also consistent with other sensitivity analyses.
Conclusion
Because mortality and postoperative complications were similar, our findings do not support prophylactic sivelestat administration for patients undergoing esophagectomy.
This is a preview of subscription content, log in to check access.
Access options
Buy single article
Instant access to the full article PDF.
US$ 39.95
Price includes VAT for USA
Subscribe to journal
Immediate online access to all issues from 2019. Subscription will auto renew annually.
US$ 99
This is the net price. Taxes to be calculated in checkout.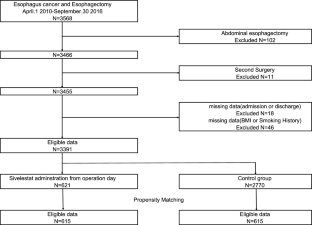 References
1.

Haga Y, Beppu T, Doi K, Nozawa F, Mugita N, Ikei S, Ogawa M. Systemic inflammatory response syndrome and organ dysfunction following gastrointestinal surgery. Crit Care Med. 1997;25:1994–2000.

2.

Avendano CE, Flume PA, Silvestri GA, King LB, Reed CE. Pulmonary complications after esophagectomy. Ann Thorac Surg. 2002;73:922–6.

3.

Bailey SH, Bull DA, Harpole DH, Rentz JJ, Neumayer LA, Pappas TN, Daley J, Henderson WG, Krasnicka B, Khuri SF. Outcomes after esophagectomy: a ten-year prospective cohort. Ann Thorac Surg. 2003;75:217–22.

4.

Bhatia M, Moochhala S. Role of inflammatory mediators in the pathophysiology of acute respiratory distress syndrome. J Pathol. 2004;202:145–56.

5.

Morita M, Yoshida R, Ikeda K, Egashira A, Oki E, Sadanaga N, Kakeji Y, Ichiki Y, Sugio K, Yasumoto K, Maehara Y. Acute lung injury following an esophagectomy for esophageal cancer, with special reference to the clinical factors and cytokine levels of peripheral blood and pleural drainage fluid. Dis Esophagus. 2008;21:30–6.

6.

Tamakuma S, Ogawa M, Aikawa N, Kubota T, Hirasawa H, Ishizaka A, Taenaka N, Hamada C, Matsuoka S, Abiru T. Relationship between neutrophil elastase and acute lung injury in humans. Pulmon Pharmacol Ther. 2004;17:271–9.

7.

Aikawa N, Ishizaka A, Hirasawa H, Shimazaki S, Yamamoto Y, Sugimoto H, Shinozaki M, Taenaka N, Endo S, Ikeda T, Kawasaki Y. Reevaluation of the efficacy and safety of the neutrophil elastase inhibitor, Sivelestat, for the treatment of acute lung injury associated with systemic inflammatory response syndrome; a phase IV study. Pulmon Pharmacol Ther. 2011;24:549–54.

8.

Hayakawa M, Katabami K, Wada T, Sugano M, Hoshino H, Sawamura A, Gando S. Sivelestat (selective neutrophil elastase inhibitor) improves the mortality rate of sepsis associated with both acute respiratory distress syndrome and disseminated intravascular coagulation patients. Shock. 2010;33:14–8.

9.

Zeiher BG, Artigas A, Vincent J-L, Dmitrienko A, Jackson K, Thompson BT, Bernard G. Neutrophil elastase inhibition in acute lung injury: results of the STRIVE study. Crit Care Med. 2004;32:1695–702.

10.

Iwahashi M, Nakamori M, Nakamura M, Ojima T, Naka T, Yamaue H. Optimal period for the prophylactic administration of neutrophil elastase inhibitor for patients with esophageal cancer undergoing esophagectomy. World J Surg. 2011;35:1573–9.

11.

Kawahara Y, Ninomiya I, Fujimura T, Funaki H, Nakagawara H, Takamura H, Oyama K, Tajima H, Fushida S, Inaba H, Kayahara M. Prospective randomized controlled study on the effects of perioperative administration of a neutrophil elastase inhibitor to patients undergoing video-assisted thoracoscopic surgery for thoracic esophageal cancer. Dis Esophagus. 2010;23:329–39.

12.

Makino H, Kunisaki C, Kosaka T, Akiyama H, Morita S, Endo I. Perioperative use of a neutrophil elastase inhibitor in video-assisted thoracoscopic oesophagectomy for cancer. Br J Surg. 2011;98:975–82.

13.

Nagai Y, Watanabe M, Baba Y, Iwatsuki M, Hirashima K, Karashima R, Kurashige J, Kinoshita K, Baba H. Preventive effect of sivelestat on postoperative respiratory disorders after thoracic esophagectomy. Surg Today. 2013;43:361–6.

14.

Nishiyama J, Matsuda M, Ando S, Hirasawa M, Suzuki T, Makuuchi H. The effects of the early administration of sivelestat sodium, a selective neutrophil elastase inhibitor, on the postoperative course after radical surgery for esophageal cancer. Surg Today. 2012;42:659–65.

15.

Wang ZQ, Chen LQ, Yuan Y, Wang WP, Niu ZX, Yang YS, Cai J. Effects of neutrophil elastase inhibitor in patients undergoing esophagectomy: a systematic review and meta-analysis. World J Gastroenterol. 2015;21:3720–30.

16.

Ishii M. DRG/PPS and DPC/PDPS as Prospective Payment Systems. Jpn Med Assoc J. 2012;55:279–91.

17.

Tanaka S, Seto K, Kawakami K. Pharmacoepidemiology in Japan: medical databases and research achievements. J Pharmaceut Health Care Sci. 2015;1:16.

18.

Fuji T, Akagi M, Abe Y, Oda E, Matsubayashi D, Ota K, Kobayashi M, Matsushita Y, Kaburagi J, Ibusuki K, Takita A, Iwashita M, Yamaguchi T. Incidence of venous thromboembolism and bleeding events in patients with lower extremity orthopedic surgery: a retrospective analysis of a Japanese healthcare database. J Orthopaed Surg Res. 2017;12:55.

19.

Kanazawa Y, Takeuchi M, Tateya I, Omori K, Kawakami K. Clinical epidemiology of tracheal invasion from thyroid cancer in Japanese population: functional outcomes and effect of aging. Cancer Epidemiol. 2017;50:107–12.

20.

Yamana H, Moriwaki M, Horiguchi H, Kodan M, Fushimi K, Yasunaga H. Validity of diagnoses, procedures, and laboratory data in Japanese administrative data. J Epidemiol. 2017;27:476–82.

21.

Austin PC. Propensity-score matching in the cardiovascular surgery literature from 2004 to 2006: a systematic review and suggestions for improvement. J Thorac Cardiovasc Surg. 2007;134:1128–35.

22.

Law S, Wong KH, Kwok KF, Chu KM, Wong J. Predictive factors for postoperative pulmonary complications and mortality after esophagectomy for cancer. Ann Surg. 2004;240:791–800.

23.

Hashimoto S, Sanui M, Egi M, Ohshimo S, Shiotsuka J, Seo R, Tanaka R, Tanaka Y, Norisue Y, Hayashi Y, Nango E. The clinical practice guideline for the management of ARDS in Japan. J Intensive Care. 2017;5:50.

24.

Tagami T, Matsui H, Ishinokami S, Oyanagi M, Kitahashi A, Fukuda R, Unemoto K, Fushimi K, Yasunaga H. Amiodarone or nifekalant upon hospital arrival for refractory ventricular fibrillation after out-of-hospital cardiac arrest. Resuscitation. 2016;109:127–32.

25.

Tagami T, Matsui H, Fushimi K, Yasunaga H. Supplemental dose of antithrombin use in disseminated intravascular coagulation patients after abdominal sepsis. Thromb Haemost. 2015;114:537–45.

26.

Takeuchi H, Miyata H, Gotoh M, Kitagawa Y, Baba H, Kimura W, Tomita N, Nakagoe T, Shimada M, Sugihara K, Mori M. A risk model for esophagectomy using data of 5354 patients included in a Japanese nationwide web-based database. Ann Surg. 2014;260:259–66.

27.

Malhotra A, Maughan D, Ansell J, Lehman R, Henderson A, Gray M, Stephenson T, Bailey S. Choosing Wisely in the UK: the Academy of Medical Royal Colleges' initiative to reduce the harms of too much medicine. Br Med J. 2015;350:h2308.
Acknowledgements
We acknowledge Professor Kazuhiko Fukuda, M.D., Ph.D. (affiliated with Department of Anesthesia, Graduate School of Medicine, Kyoto University, Kyoto, Japan) for his valuable comments on the study. We also thank Mr. Masaki Nakamura and staff at Medical Data Vision, Co, Ltd. (Tokyo, Japan) for data preparation assistance. We also thank Editage (http://www.editage.jp) for English language editing.
Additional information
Publisher's Note
Springer Nature remains neutral with regard to jurisdictional claims in published maps and institutional affiliations.
Electronic supplementary material
Below is the link to the electronic supplementary material.
About this article
Cite this article
Takeda, C., Takeuchi, M., Kawasaki, Y. et al. Prophylactic sivelestat for esophagectomy and in-hospital mortality: a propensity score-matched analysis of claims database. J Anesth 33, 230–237 (2019). https://doi.org/10.1007/s00540-018-2602-9
Received:

Accepted:

Published:

Issue Date:
Keywords
Esophagectomy

Sivelestat

Mortality

Propensity score

Administrative claims