This is a preview of subscription content, log in to check access.
Access options
Buy single article
Instant access to the full article PDF.
US$ 39.95
Price includes VAT for USA
Subscribe to journal
Immediate online access to all issues from 2019. Subscription will auto renew annually.
US$ 199
This is the net price. Taxes to be calculated in checkout.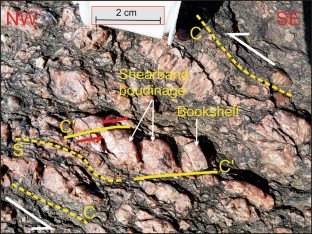 References
Biswal TK, Tiwari SK (2016) Structural analysis and mineral potentiality of quartz veins emplaced in the mica schist of South Delhi terrane, around Ambaji (Gujarat) and Deri (Rajasthan), NW India. SGAT Bull 17:24–36

Goscombe BD, Passchier CW, Hand M (2004) Boudinage classification: end-member boudin types and modified boudin structures. J Struct Geol 26:739–763

Passchier CW, Trouw RA (2005) Microtectonics. Springer Science & Business Media, New York

Simpson C, Schmid SM (1983) Evaluation of criteria to deduce sense of movement in sheared rocks. Geol Soc Am Bull 94:1281–1288

Tiwari SK, Biswal TK (2019a) Dynamics, EPMA Th–U–Total Pb monazite geochronology and tectonic implications of deformational fabric in the lower-middle crustal rocks: a case study of Ambaji Granulite, NW India. Tectonics 38:2232–2254. https://doi.org/10.1029/2017TC004891

Tiwari SK, Biswal TK (2019b) Palaeostress and magma pressure measurement of granite veins in the Neoproterozoic Ambaji granulite, South Delhi terrane, Aravalli-Delhi mobile belt, NW India: Implication towards extension driven exhumation of middle-lower crustal rocks. J Earth Syst Sci 128(6):150. https://doi.org/10.1007/s12040-019-1187-5

Tiwari SK, Beniest A, Biswal TK (2020a) Variation in vorticity of flow during exhumation of lower crustal rocks (Neoproterozoic Ambaji granulite, NW India). J Struct Geol. https://doi.org/10.1016/j.jsg.2019.103912

Tiwari SK, Beniest A, Biswal TK (2020b) Extension driven brittle exhumation of the lower-middle crustal rocks, a paleostress reconstruction of the Neoproterozoic Ambaji Granulite, NW India. J Asian Earth Sci. https://doi.org/10.1016/j.jseaes.2020.104341
Acknowledgements
The authors acknowledge the research funding from Indian Institute of Technology Bombay for funding the project (Grant Number 20001700). The critical reviews by Prof. Bernhard Grasemann and one anonymous reviewer were greatly appreciated and editorial handlining by Prof. Wolf-Christian Dullo is highly acknowledged.
About this article
Cite this article
Tiwari, S.K., Biswal, T.K. Bookshelf and shearband boudinage of a feldspar clast in a shear zone of the Ambaji Granulite, NW India. Int J Earth Sci (Geol Rundsch) 109, 1869–1870 (2020). https://doi.org/10.1007/s00531-020-01871-3
Received:

Accepted:

Published:

Issue Date: