Abstract
In the context of the rapid development of big data and artificial intelligence, knowledge service theory and big data technology are applied to build a smart port supply chain knowledge service model. This model provides a personalized, intelligent, and diversified knowledge-based service system platform solution to port supply chain enterprises, helping to realize port supply chain transformation and upgrading and intelligent integrated operations. This paper analyses and summarizes the research status on knowledge service demand and port supply chain knowledge service during the development and operation of the port supply chain and applies big data and artificial intelligence technologies such as knowledge matching, knowledge fusion, and natural language processing. A port supply chain knowledge service model including knowledge acquisition, knowledge organization and knowledge service modules is constructed. The ontology method is used to construct the ontology knowledge base of the port supply chain, and based on this, computational reasoning experiments are performed. The experiments show that ontology technology demonstrates effectiveness and superiority in constructing a knowledge service system model for the port supply chain in terms of knowledge representation and knowledge reasoning.
This is a preview of subscription content, log in to check access.
Access options
Buy single article
Instant access to the full article PDF.
US$ 39.95
Price includes VAT for USA
Subscribe to journal
Immediate online access to all issues from 2019. Subscription will auto renew annually.
US$ 99
This is the net price. Taxes to be calculated in checkout.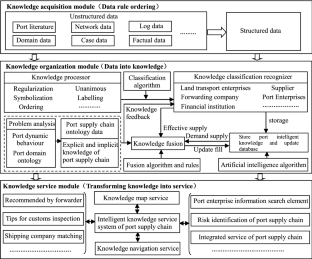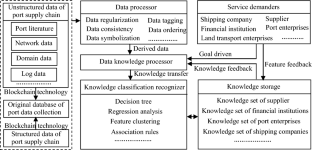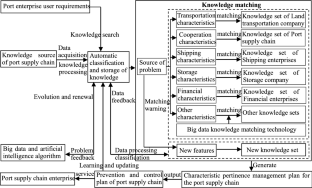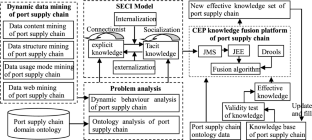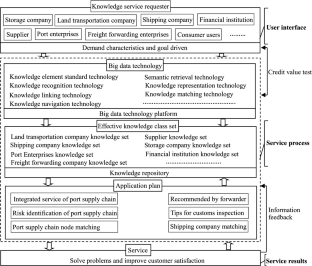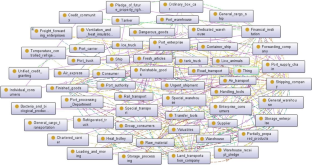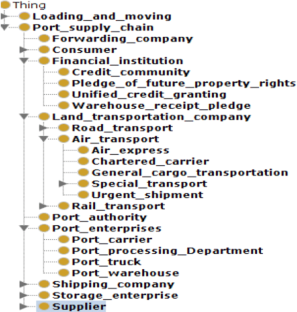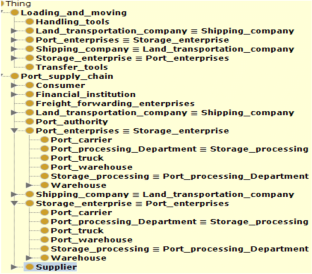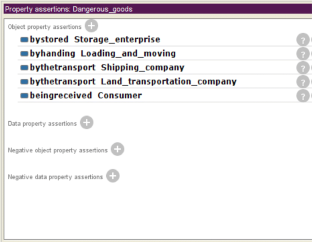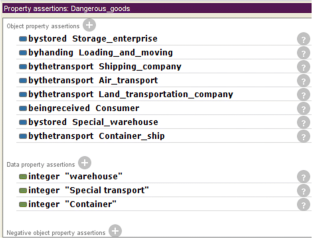 References
1.

Lai C (2019) Research on cooperation strategy of port supply chain enterprises considering uncertainty. Harbin Engineering University, March 2019

2.

Ji C, Yan Y (2019) Research on the evolution and innovation trend of supply chain finance mode of port enterprises under the background of Internet. Soft Sci 33(5):22–28

3.

Cheng Y (2017) Research on risk management of port supply chain. Harbin Engineering University, Harbin

4.

Wang L, Liu X, Xu X (2017) Based on the "Internet +" surface accessories knowledge service platform. Silk 54(6):33–42

5.

Yang B (2018) Research on port supply chain coordination based on revenue sharing contract in the context of multimodal transport. Southwest Jiaotong University, Chengdu

6.

Yao W, Tong Z (2015) Research on knowledge service of supply chain members from the perspective of lean thinking. Ind Eng 18(1):96–101

7.

Wang Y, Hui (2017) Research on the construction of Yangtze River port supply chain information platform. Logist Eng Manag 39(7):5–7

8.

Song Z (2013) Research on supply chain coordination of port logistics service based on deferred payment. Logist Technol 33(3):357–380

9.

Junbo Z, Jian SW, Tianrui LE (2014) A comparison of parallel large-scale knowledge acquisition using roughset theory on different Map Reduce runtime systems. Int J Approx Reason 55(3):896–907

10.

Lu Y (2009) Port supply chain coordination evaluation research. China Market 41(1):52–54

11.

Tongzon J, Chang YT, Lee SY (2009) How supply chain oriented is the port sector. Int J Prod Econ 122(1):21–34

12.

Niu X (2014) Qi RS (2014) Study on the status quo and solutions of Chinese petroleum enterprises' development of green logistics. Stand Sci 1:58–61

13.

Zhang M (2017) Research on the knowledge sharing of supply chain alliance based on game theory. Beijing Jiaotong University

14.

Wang H (2014) Influence of relationship benefit and relationship quality on knowledge sharing in green supply chain. Technol Econ 33(10):126–132

15.

Koskinen (2014) Maritime transport chain: carrier, port and shipper choice effects. Int J Prod Econ 141(3):174–179

16.

Sun YS (2019) Research development on core technology of knowledge service evaluation in China. Knowl-Based Syst 47(12):3045–3052

17.

Li L (2019) A knowledge-base for a personalized infectious disease risk prediction system. Stud Health Technol Inform 247:531–535

18.

Chen Y (2016) ScaLeKB: scalable learning and inference over large knowledge bases. VLDB J 25(6):893–918

19.

Collins et al (2010) Multi-column deep neural network for traffic sign classification. Neural Netw 32(1):333–338

20.

Wu S (2018) Research on the impact of knowledge sharing based on supply chain on the performance of manufacturing enterprises. Anhui University of Finance and Economics, Bengbu

21.

Zhen (2016) Research on evaluation of university library's knowledge service capability based on FAHP method. Innov Sci Technol 18(8):50–53

22.

Parviainen P, Tihinen M (2014) Knowledge-related challenges and solutions in GSD. Expert Syst 31(3):253–266

23.

Tang X, Liu G (2018) Research on financial knowledge service model based on two-level knowledge fusion. Library Sci Res 16(1):79–85

24.

Tang X, Zheng D, Tan M (2019) Research on the construction of knowledge service system model of chronic disease health education. Inf Sci 37(1):134–140
Acknowledgements
This work was financially supported by Jiangxi University Humanities and Social Science Research Project (GL18103); Social Science Planning Project of Jiangxi Province (19TQ01); and Jiangxi Provincial Department of Education Science and Technology Research Key Project (GJJ180249).
Ethics declarations
Conflict of interest
The authors declare that they have no conflict of interest.
Additional information
Publisher's Note
Springer Nature remains neutral with regard to jurisdictional claims in published maps and institutional affiliations.
About this article
Cite this article
Bo, Y., Meifang, Y. Construction of the knowledge service model of a port supply chain enterprise in a big data environment. Neural Comput & Applic (2020). https://doi.org/10.1007/s00521-020-05044-w
Received:

Accepted:

Published:
Keywords
Port supply chain

Knowledge service

Noumenon

Knowledge fusion