Abstract
Purposes
Postoperative rehabilitation of upper limb function is crucial for breast cancer. Therefore, we developed a rehabilitation management platform using virtual reality to improve rehabilitation compliance and effect. The purpose of this research was to understand the user usability experience of breast cancer patients about the postoperative rehabilitation management of upper limb function using virtual reality.
Methods
A qualitative descriptive research was designed. We used a maximum difference purpose sampling method. According to the inclusion and exclusion criteria, a 3-armor hospital in Changchun was selected for the recruitment. A one-on-one semi-structured interviews were conducted with patients after breast cancer operation. The Colaizzi seven-step analysis method was used to classify data under summarized themes.
Results
Twenty patients participated in this semi-structured interview. User experience could be summarized into four themes as follows: 1) experience and feeling after using the virtual reality rehabilitation management platform; 2) factors influencing the use of the virtual reality rehabilitation management platform; 3) willingness to recommend the virtual reality rehabilitation management platform to peers; and 4) suggestions to improve the virtual reality rehabilitation management platform.
Conclusions
Breast cancer patients who used the rehabilitation management platform had a good experience, and their recognition and satisfaction were high. The use of the platform is influenced by many factors, and most patients are willing to recommend this platform to their peers. Future studies should be conducted according to patients' feedback and suggestions on how to further optimize and improve the platform.
Access options
Buy single article
Instant access to the full article PDF.
USD 39.95
Price excludes VAT (USA)
Tax calculation will be finalised during checkout.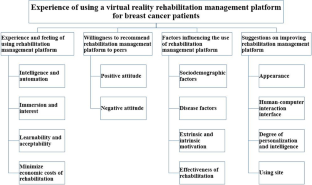 Data availability
The data used to support the findings of this study are included within the article, and all data included in this study are available upon request by contact with the corresponding authors.
Abbreviations
VR:

Virtual reality

HCI:

Human-computer interaction
References
Siegel RL, Miller KD, Fuchs HE, Jemal A (2021) Cancer Statistics. CA: A Cancer J Clin 71(1):7–33. https://doi.org/10.3322/caac.21654

Schmidt ME, Wiskemann J, Steindorf K (2018) Quality of life, problems, and needs of disease-free breast cancer survivors 5 years after diagnosis. Qual life Res 27(8):2077–2086. https://doi.org/10.1007/s11136-018-1866-8

Lyman GH, Greenlee H, Bohlke K, Bao T, DeMichele AM, Deng GE, Fouladbakhsh JM, Gil B, Hershman DL, Mansfield S, Mussallem DM, Mustian KM, Price E, Rafte S, Cohen L (2018) Integrative Therapies During and After Breast Cancer Treatment: ASCO Endorsement of the SIO Clinical Practice Guideline. J Clin Oncol 36(25):2647–2655. https://doi.org/10.1200/jco.2018.79.2721

Todd BL, Feuerstein M, Gehrke A, Hydeman J, Beaupin L (2015) Identifying the unmet needs of breast cancer patients post-primary treatment the Cancer Survivor Profile (CSPro). J Cancer Surviv 9(2):137–160. https://doi.org/10.1007/s11764-015-0428-0

Baumann FT, Reike A, Reimer V, Schumann M, Hallek M, Taaffe DR, Newton RU, Galvao DA (2018) Effects of physical exercise on breast cancer-related secondary lymphedema: a systematic review. Breast Cancer Res Treat 170(1):1–13. https://doi.org/10.1007/s10549-018-4725-y

De Groef A, Van Kampen M, Dieltjens E, Christiaens MR, Neven P, Geraerts I, Devoogdt N (2015) Effectiveness of postoperative physical therapy for upper-limb impairments after breast cancer treatment: a systematic review. Arch Phys Med Rehabil 96(6):1140–1153. https://doi.org/10.1016/j.apmr.2015.01.006

State Council (2017) Circular of The State Council on printing and distributing a new generation of artificial intelligence development planning. Available from:http://www.gov.cn/zhengce/content/2017-07/20/content_5211996.htm

State Council (2020) Circular of the General Office of the NHC on further promoting the pilot work of Internet + nursing services.Available from: http://www.gov.cn/zhengce/zhengceku/2020-12/16/content_5569982.htm.

Li L, Yu F, Shi D, Shi J, Tian Z, Yang J, Wang X, Jiang Q (2017) Application of virtual reality technology in clinical medicine. Am J Transl Res 9(9):3867–3880

Yang Z, Rafiei MH, Hall A, Thomas C, Midtlien HA, Hasselbach A, Adeli H, Gauthier LV (2018) A Novel Methodology for Extracting and Evaluating Therapeutic Movements in Game-Based Motion Capture Rehabilitation Systems. J Med Syst 42(12):255. https://doi.org/10.1007/s10916-018-1113-4

Bu X, Ng PH, Xu W, Cheng Q, Chen PQ, Cheng AS, Liu X (2022) The Effectiveness of Virtual Reality-Based Interventions in Rehabilitation Management of Breast Cancer Survivors: Systematic Review and Meta-analysis. JMIR Serious Games 10(1):e31395. https://doi.org/10.2196/31395

House G, Burdea G, Grampurohit N, Polistico K, Roll D, Damiani F, Hundal J, Demesmin D (2016) A feasibility study to determine the benefits of upper extremity virtual rehabilitation therapy for coping with chronic pain post-cancer surgery. Br J Pain 10(4):186–197. https://doi.org/10.1177/2049463716664370

Park HY, Nam KE, Lim JY, Yeo SM, In Lee J, Hwang JH (2021) Real-time interactive digital healthcare system for post-operative breast cancer patients: study protocol for a randomized controlled trial. Trials 22(1):549. https://doi.org/10.1186/s13063-021-05535-8

Feyzioğlu Ö, Dinçer S, Akan A, Algun ZC (2020) Is Xbox 360 Kinect-based virtual reality training as effective as standard physiotherapy in patients undergoing breast cancer surgery? Support Care Cancer 28(9):4295–4303. https://doi.org/10.1007/s00520-019-05287-x

Zhou Z, Li J, Wang H, Luan Z, Li Y, Peng X (2021) Upper limb rehabilitation system based on virtual reality for breast cancer patients: Development and usability study. PloS one 16(12):e0261220. https://doi.org/10.1371/journal.pone.0261220

Tong A, Sainsbury P, Craig J (2007) Consolidated criteria for reporting qualitative research (COREQ): a 32-item checklist for interviews and focus groups. Int J Qual Health Care 19(6):349–357. https://doi.org/10.1093/intqhc/mzm042

Webb C (1999) Information point: Colaizzi's framework for analysing qualitative data. J Clin Nurs 8(5):576

Teles S, Paúl C, Lima P, Chilro R, Ferreira A (2021) User feedback and usability testing of an online training and support program for dementia carers. Internet Interv 25:100412. https://doi.org/10.1016/j.invent.2021.100412

Valenzuela T, Okubo Y, Woodbury A, Lord SR, Delbaere K (2018) Adherence to Technology-Based Exercise Programs in Older Adults A Systematic Review. J Geriatr Phys Ther (2001) 41(1):49–61. https://doi.org/10.1519/jpt.0000000000000095

Chirico A, Maiorano P, Indovina P, Milanese C, Giordano GG, Alivernini F, Iodice G, Gallo L, De Pietro G, Lucidi F, Botti G, De Laurentiis M, Giordano A (2020) Virtual reality and music therapy as distraction interventions to alleviate anxiety and improve mood states in breast cancer patients during chemotherapy. J Cell Physiol 235(6):5353–5362. https://doi.org/10.1002/jcp.29422

Zeng Y, Zhang JE, Cheng ASK, Cheng H, Wefel JS (2019) Meta-Analysis of the Efficacy of Virtual Reality-Based Interventions in Cancer-Related Symptom Management. Integr Cancer Ther 18:1534735419871108. https://doi.org/10.1177/1534735419871108

Ramchandani N (2019) Virtual Coaching to Enhance Diabetes Care. Diabetes Technol Ther 21(S2):S248-s251. https://doi.org/10.1089/dia.2019.0016

Shubert TE, Basnett J, Chokshi A, Barrett M, Komatireddy R (2015) Are Virtual Rehabilitation Technologies Feasible Models to Scale an Evidence-Based Fall Prevention Program? A Pilot Study Using the Kinect Camera. JMIR Rehabil Assist Technol 2(2):e10. https://doi.org/10.2196/rehab.4776

Thalmann M, Ringli L, Adcock M, Swinnen N, de Jong J, Dumoulin C, Guimarães V, de Bruin ED (2021) Usability Study of a Multicomponent Exergame Training for Older Adults with Mobility Limitations. Int J Environ Res Public Health. 18(24). https://doi.org/10.3390/ijerph182413422

Invernizzi M, de Sire A, Lippi L, Venetis K, Sajjadi E, Gimigliano F, Gennari A, Criscitiello C, Cisari C, Fusco N (2020) Impact of Rehabilitation on Breast Cancer Related Fatigue: A Pilot Study. Front Oncol 10:556718. https://doi.org/10.3389/fonc.2020.556718

Mijwel S, Backman M, Bolam KA, Jervaeus A, Sundberg CJ, Margolin S, Browall M, Rundqvist H, Wengström Y (2018) Adding high-intensity interval training to conventional training modalities: optimizing health-related outcomes during chemotherapy for breast cancer: the OptiTrain randomized controlled trial. Breast Cancer Res Treat 168(1):79–93. https://doi.org/10.1007/s10549-017-4571-3

Wang R, Nakshatri H (2020) Systemic Actions of Breast Cancer Facilitate Functional Limitations. Cancers. 12(1). https://doi.org/10.3390/cancers12010194.

Witlox L, Velthuis MJ, Boer JH, Steins Bisschop CN, Wall EV, Meulen W, Schröder CD, Peeters PHM, May AM (2019) Attendance and compliance with an exercise program during localized breast cancer treatment in a randomized controlled trial: The PACT study. PloS one 14(5):e0215517. https://doi.org/10.1371/journal.pone.0215517

Holden RJ, Karsh BT (2010) The technology acceptance model: its past and its future in health care. J Biomed Inform 43(1):159–172. https://doi.org/10.1016/j.jbi.2009.07.002

Money AG, Atwal A, Young KL, Day Y, Wilson L, Money KG (2015) Using the Technology Acceptance Model to explore community dwelling older adults' perceptions of a 3D interior design application to facilitate pre-discharge home adaptations. BMC Med Inform Decis Mak 15:73. https://doi.org/10.1186/s12911-015-0190-2

Bleakley CM, Charles D, Porter-Armstrong A, McNeill MD, McDonough SM, McCormack B (2015) Gaming for health: a systematic review of the physical and cognitive effects of interactive computer games in older adults. J Appl Gerontol 34(3):Np166-189. https://doi.org/10.1177/0733464812470747

Lyman GH, Bohlke K, Cohen L (2018) Integrative Therapies During and After Breast Cancer Treatment: ASCO Endorsement of the SIO Clinical Practice Guideline Summary. J Oncol Pract 14(8):495–499. https://doi.org/10.1200/jop.18.00283

Bhatia SK, Samal A, Rajan N, Kiviniemi MT (2011) Effect of font size, italics, and colour count on web usability. Int J Comput Vision Robot. 2(2). https://doi.org/10.1504/ijcvr.2011.042271

Meekes W, Stanmore EK (2017) Motivational Determinants of Exergame Participation for Older People in Assisted Living Facilities: Mixed-Methods Study. J Med Int Res 19(7):e238. https://doi.org/10.2196/jmir.6841

Chung OS, Robinson T, Johnson AM, Dowling NL, Ng CH, Yücel M, Segrave RA (2021) Implementation of Therapeutic Virtual Reality Into Psychiatric Care Clinicians' and Service Managers' Perspectives. Front Psychiatry 12:791123. https://doi.org/10.3389/fpsyt.2021.791123

Lindner P, Miloff A, Zetterlund E, Reuterskiöld L, Andersson G, Carlbring P (2019) Attitudes Toward and Familiarity With Virtual Reality Therapy Among Practicing Cognitive Behavior Therapists: A Cross-Sectional Survey Study in the Era of Consumer VR Platforms. Front Psychol 10:176. https://doi.org/10.3389/fpsyg.2019.00176

Ludden GD, van Rompay TJ, Kelders SM, van Gemert-Pijnen JE (2015) How to Increase Reach and Adherence of Web-Based Interventions: A Design Research Viewpoint. J Med Internet Res 17(7):172. https://doi.org/10.2196/jmir.4201

Mousavi Hondori H, Khademi M, Dodakian L, McKenzie A, Lopes CV, Cramer SC (2016) Choice of Human-Computer Interaction Mode in Stroke Rehabilitation. Neurorehabil Neural Repair 30(3):258–265. https://doi.org/10.1177/1545968315593805

Brox E, Konstantinidis ST, Evertsen G (2017) User-Centered Design of Serious Games for Older Adults Following 3 Years of Experience With Exergames for Seniors: A Study Design. JMIR Serious Games 5(1):e2. https://doi.org/10.2196/games.6254

Yanez B, Oswald LB, Van Denburg AN, Baik SH, Czech KA, Buitrago D, Maletich C, Wortman K, Penedo FJ, Victorson DE (2022) Rationale and usability findings of an e-health intervention to improve oral anticancer adherence among breast cancer survivors The My Journey mindfulness study. Contemp Clin Trials Commun 26:100898. https://doi.org/10.1016/j.conctc.2022.100898
Acknowledgements
We would like to thank the medical workers and all the researchers involved in the study.
Funding
This work was supported by the funds of the Bethune Project of Jilin University [2020B38];
Ethics declarations
Ethics approval
This study was approved by the Ethics Committee of the College of Nursing, Jilin University (Ethics approval number: 2020091805). The study is reported in compliance with the Consolidated criteria for Reporting Qualitative Research (COREQ).
Consent to participate
Informed consent was obtained from all individual respondents included in the study.
Consent for publication
The manuscript contains any individual person's data in any form (including individual details, images, or videos); consent for publication was obtained from that person.
Competing interests
The authors declare no competing interests.
Additional information
Publisher's note
Springer Nature remains neutral with regard to jurisdictional claims in published maps and institutional affiliations.
Supplementary Information
Below is the link to the electronic supplementary material.
Rights and permissions
Springer Nature or its licensor (e.g. a society or other partner) holds exclusive rights to this article under a publishing agreement with the author(s) or other rightsholder(s); author self-archiving of the accepted manuscript version of this article is solely governed by the terms of such publishing agreement and applicable law.
About this article
Cite this article
Zhou, Z., Li, J., Wang, H. et al. Experience of using a virtual reality rehabilitation management platform for breast cancer patients: a qualitative study. Support Care Cancer 31, 307 (2023). https://doi.org/10.1007/s00520-023-07765-9
Received:

Accepted:

Published:

DOI: https://doi.org/10.1007/s00520-023-07765-9
Keywords