Abstract
Purpose
In many cases, pleurodesis is the only treatment available for the treatment of malignant pleural effusion (MPE), and in the case of excessive daily pleural effusion, its therapeutic effect may be reduced. In this study, we intended to investigate the therapeutic effects and safety of octreotide in patients with MPE undergoing pleurodesis with talc powder.
Methods
This study was a single-center, placebo-controlled, and triple-blind, randomized trial designed to investigate the therapeutic effects and safety of octreotide in patients with MPE in Tehran, Iran, from March 2020 to March 2021. Patients with MPE were randomly divided into two parallel groups, one receiving subcutaneous octreotide (3 doses of 50 µg/day) and the other receiving placebo before and after pleurodesis with talc powder. The patients were followed up with a chest X-ray 1 week, 1 month, and 3 months later. The primary outcome measures of this study were the amount of discharge from the chest tube before and after pleurodesis and the length of hospital stay. Treatment failure, relapse, pleural effusion analysis, and side effects were considered the secondary outcome measures of the study.
Results
A total of 46 patients (23 in the octreotide group and 23 in the placebo group) with MPE was included in this study. Our findings demonstrated that adjunctive treatment with subcutaneous octreotide increases the efficacy of pleurodesis with talc powder. We showed that compared to the placebo group, patients in the octreotide group have significantly decreased production of pleural effusion both before (p = 0.009) and after (p = 0.002) pleurodesis. Octreotide treatment led to a decreased hospital stay (p = 0.004 before pleurodesis and p = 0.001 after pleurodesis) and reduced treatment failure (p = 0.022). However, octreotide did not decrease the relapse at 1-week, 1-month, and 3-month follow-ups. Moreover, octreotide did not affect pleural effusion parameters compared to placebo. Ultimately, our results also showed that treatment with octreotide was safe and did not have significant side effects.
Conclusion
Our findings demonstrated that adjunctive treatment with subcutaneous octreotide increases the efficacy of pleurodesis with talc powder without any significant side effects. Future studies with a larger sample size and longer follow-up time can confirm the results of this study and also determine the appropriate dose of octreotide for the treatment of MPE.
Trial registration
Iranian Registry of Clinical Trials, IRCT20210915052492N1. Registered 11 October 2021 – Retrospectively registered, https://www.irct.ir/trial/58776.
Access options
Buy single article
Instant access to the full article PDF.
USD 39.95
Price excludes VAT (USA)
Tax calculation will be finalised during checkout.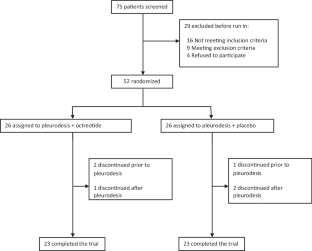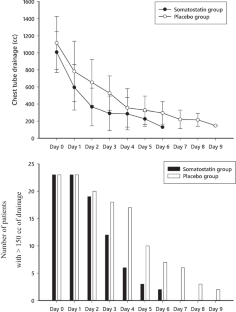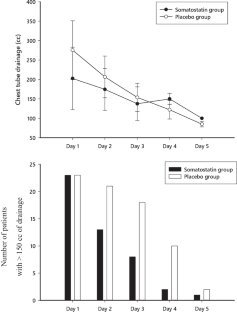 Data availability
The datasets used and/or analyzed during the current study are available from the corresponding author on reasonable request.
References
Beaudoin S, Gonzalez A (2018) Evaluation of the patient with pleural effusion. CMAJ 190(10):E291–E295

Bender B, Murthy V, Chamberlain RS (2016) The changing management of chylothorax in the modern era. Eur J Cardiothorac Surg 49(1):18–24

Bibby AC, Dorn P, Psallidas I, Porcel JM, Janssen J, Froudarakis M et al (2019) ERS/EACTS statement on the management of malignant pleural effusions. Eur J Cardiothorac Surg 55(1):116–132

Caverly L, Rausch CM, da Cruz E, Kaufman J (2010) Octreotide treatment of chylothorax in pediatric patients following cardiothoracic surgery. Congenit Heart Dis 5:573–578

Chen Y, Mathy NW, Lu H (2018) The role of VEGF in the diagnosis and treatment of malignant pleural effusion in patients with non‑small cell lung cancer. Mol Med Rep 17(6):8019–8030

Helin RD, Angeles STV, Bhat R (2006) Octreotide therapy for chylothorax in infants and children: a brief review. Pediatr Crit Care Med 7(6):576–579

Jatoi A, Nieva JJ, Qin R, Loprinzi CL, Wos EJ, Novotny PJ, Moore DF Jr, Mowat RB, Bechar N, Pajon ER Jr, Hartmann LC (2012) A pilot study of long-acting octreotide for symptomatic malignant ascites. Oncology 82:315–320

Kambayashi T, Nakatsukasa H, Motoi M, Kato N (2012) Investigation of the utility of octreotide for malignant ascites. Palliat Care Res 7(1):314–316

Kilic D, Sahin E, Gulcan O, Bolat B, Turkoz R, Hatipoglu A (2005) Octreotide for treating chylothorax after cardiac surgery. Tex Heart Inst J 32(3):437–439

Penz E, Watt KN, Hergott CA, Rahman NM, Psallidas I (2017) Management of malignant pleural effusion: challenges and solutions. Cancer Manag Res 9(10):229–241

Psallidas I, Kalomenidis I, Porcel JM, Robinson BW, Stathopoulos GT (2016) Malignant pleural effusion: from bench to bedside. Eur Respir Rev 25(140):189–198

Roehr CC, Jung A, Proquitté H, Blankenstein O, Hammer H, Lakhoo K, Wauer RR (2006) Somatostatin or octreotide as treatment options for chylothorax in young children: a systematic review. Intensive Care Med 32:650–657

Shah D (1992) Sinn JK (2012) Octreotide as therapeutic option for congenital idiopathic chylothorax: a case series Acta paediatrica (Oslo. Norway 101:e151-155

Sharkey AJ, Rao JN (2012) The successful use of octreotide in the treatment of traumatic chylothorax. Tex Heart Inst J 39(3):428

Stathopoulos GT, Kalomenidis I (2012) Malignant pleural effusion: tumor-host interactions unleashed. Am J Respir Crit Care Med 186:487–492

Stephens J, Carpiuc KT, Botteman M (2010) The burden of managing pleural effusions in patients with chronic myelogenous leukemia post-imatinib failure: a literature-based economic analysis. Int J Gen Med 3:31–36

Yalcin NG, Choong CK, Eizenberg N (2013) Anatomy and pathophysiology of the pleura and pleural space. Thorac Cardiovasc Surg 23(1–10):v

Yeh J, Brown ER, Kellogg KA, Donohue JE, Yu S, Gaies MG, Fifer CG, Hirsch JC, Aiyagari R (2013) Utility of a clinical practice guideline in treatment of chylothorax in the postoperative congenital heart patient. Ann Thorac Surg 96:930–936

Yin R, Zhang R, Wang J, Yuan L, Hu L, Jiang S, Chen C, Cao Y (2017) Effects of somatostatin/octreotide treatment in neonates with congenital chylothorax. Medicine (Baltimore) 96:e7594–e7594
Ethics declarations
Ethics approval
All procedures performed in studies involving human participants were in accordance with the ethical standards of the institutional and/or national research committee and with the 1964 Helsinki declaration and its later amendments or comparable ethical standards. The ethics committee of Tehran University of Medical Sciences approved the study with the number IR.TUMS.IKCH.REC.1399.498.
Consent to participate
Informed consent was obtained from all individual participants included in the study.
Consent for publication
Informed consent was obtained from all individual participants included in the study.
Conflict of interests
The authors declare no competing interests.
Additional information
Publisher's note
Springer Nature remains neutral with regard to jurisdictional claims in published maps and institutional affiliations.
Supplementary Information
Below is the link to the electronic supplementary material.
Rights and permissions
Springer Nature or its licensor (e.g. a society or other partner) holds exclusive rights to this article under a publishing agreement with the author(s) or other rightsholder(s); author self-archiving of the accepted manuscript version of this article is solely governed by the terms of such publishing agreement and applicable law.
About this article
Cite this article
Ershadi, R., Vahedi, M., Zadeh, H.K. et al. Subcutaneous octreotide therapy for malignant pleural effusion after pleurodesis with talc powder: a placebo-controlled, triple-blind, randomized trial. Support Care Cancer 30, 9833–9840 (2022). https://doi.org/10.1007/s00520-022-07440-5
Received:

Accepted:

Published:

Issue Date:

DOI: https://doi.org/10.1007/s00520-022-07440-5
Keywords
Malignant pleural effusion

Octreotide

Pleurodesis