Abstract
Purpose
While continued lenalidomide and low-dose dexamethasone (Rd) treatment could improve survival outcomes for multiple myeloma (MM), the association of depression on the adherence to Rd regimen in myeloma patients has never been studied even though depression is a common symptom among MM patients. This study aims to evaluate the impact of depression prior to Rd treatment on adherence to the treatment among patients with MM.
Methods
This multicenter cohort study was conducted from January 2015 to October 2018 at five tertiary hospitals in Korea. Patients who completed fewer than 4 cycles, 4–11 cycles, and more than 12 cycles were categorized as the poor adherence group (PAG), moderate adherence group (MAG), and good adherence group (GAG), respectively.
Results
Among141 patients, 41.8% of them had depression before beginning Rd treatment and 46% of participants were in the GAG. Compared with patients in the GAG (30.3%), patients in the PAG were more likely to have depression at baseline (90.0%) and had the higher distress scores (6.35 vs. 4.28, P < 0.01). Presence of depression prior to Rd treatment was significantly associated with poor adherence (IRR = 6.67, 95% CI = 1.45, 30.61) after adjusting for age, sex, education, ECOG, ISS stage, number of previous treatments, and disease status prior to Rd treatment.
Conclusions
Patients with depression had a substantially high risk of poor adherence compared to patients without depression. Given that Rd treatment is mainly offered by outpatient clinics, active interventions to reduce depression should be considered for MM patients prior to Rd treatment.
Access options
Buy single article
Instant access to the full article PDF.
US$ 39.95
Tax calculation will be finalised during checkout.
Subscribe to journal
Immediate online access to all issues from 2019. Subscription will auto renew annually.
US$ 119
Tax calculation will be finalised during checkout.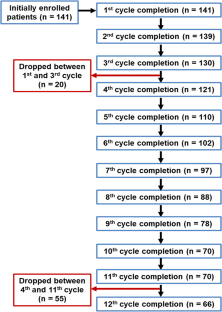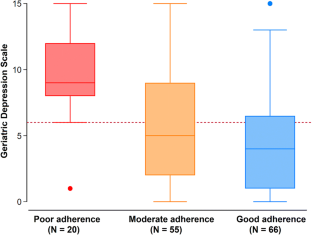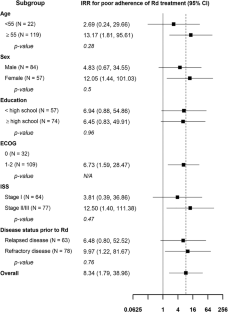 Data availability
Due to the nature of this research, participants of this study did not agree for their data to be shared publicly, so supporting data is not available.
References
1.

Kyle RA, Gertz MA, Witzig TE, Lust JA, Lacy MQ, Dispenzieri A, Fonseca R, Rajkumar SV, Offord JR, Larson DR, Plevak ME, Therneau TM, Greipp PR (2003) Review of 1027 patients with newly diagnosed multiple myeloma. Mayo Clin Proc 78:21–33

2.

Fonseca R, Abouzaid S, Bonafede M, Cai Q, Parikh K, Cosler L, Richardson P (2017) Trends in overall survival and costs of multiple myeloma, 2000-2014. Leukemia 31:1915–1921

3.

Kim SJ, Kim K, Kim BS, Jo DY, Kang HJ, Kim JS, Mun YC, Kim CS, Sohn SK, Eom HS, Kwak JY, Shim H, Yoon HJ, Jin JY, Min CK, Shin H, Won JH, Lee JJ, Kwon JH, Joo YD, Do YR, Kim SH, Oh S, Suh C, Lee J, Yoon SS, Kim MK, Bang SM, Ryoo HM, Kim BS, Kim H, Kim HJ, Kim YS, Park CW, Lee GW, Shin HJ, Park SK, Park JS, Kim HY, Lee DS, Lee JH, Korean Multiple Myeloma Working P (2009) Clinical features and survival outcomes in patients with multiple myeloma: analysis of web-based data from the Korean Myeloma registry. Acta Haematol 122:200–210

4.

Siegel DS, Dimopoulos MA, Ludwig H, Facon T, Goldschmidt H, Jakubowiak A, San-Miguel J, Obreja M, Blaedel J, Stewart AK (2018) Improvement in overall survival with carfilzomib, lenalidomide, and dexamethasone in patients with relapsed or refractory multiple myeloma. J Clin Oncol 36:728–734

5.

Dimopoulos MA, Oriol A, Nahi H, San-Miguel J, Bahlis NJ, Usmani SZ, Rabin N, Orlowski RZ, Komarnicki M, Suzuki K, Plesner T, Yoon SS, Ben Yehuda D, Richardson PG, Goldschmidt H, Reece D, Lisby S, Khokhar NZ, O'Rourke L, Chiu C, Qin X, Guckert M, Ahmadi T, Moreau P, Investigators P (2016) Daratumumab, lenalidomide, and dexamethasone for multiple myeloma. N Engl J Med 375:1319–1331

6.

Lonial S, Dimopoulos M, Palumbo A, White D, Grosicki S, Spicka I, Walter-Croneck A, Moreau P, Mateos MV, Magen H, Belch A, Reece D, Beksac M, Spencer A, Oakervee H, Orlowski RZ, Taniwaki M, Rollig C, Einsele H, Wu KL, Singhal A, San-Miguel J, Matsumoto M, Katz J, Bleickardt E, Poulart V, Anderson KC, Richardson P, Investigators E (2015) Elotuzumab therapy for relapsed or refractory Multiple Myeloma. N Engl J Med 373:621–631

7.

Moreau P, Masszi T, Grzasko N, Bahlis NJ, Hansson M, Pour L, Sandhu I, Ganly P, Baker BW, Jackson SR, Stoppa AM, Simpson DR, Gimsing P, Palumbo A, Garderet L, Cavo M, Kumar S, Touzeau C, Buadi FK, Laubach JP, Berg DT, Lin J, Di Bacco A, Hui AM, van de Velde H, Richardson PG, Group T-MS (2016) Oral ixazomib, lenalidomide, and dexamethasone for multiple myeloma. N Engl J Med 374:1621–1634

8.

Alegre A, Vicuña I, Aguado B (2012) Safety and efficacy of lenalidomide in relapsed or refractory multiple myeloma. Clinical Medicine Insights Oncology 6:1–10

9.

Bassan F, Peter F, Houbre B, Brennstuhl MJ, Costantini M, Speyer E, Tarquinio C (2014) Adherence to oral antineoplastic agents by cancer patients: definition and literature review. Eur J Cancer Care (Engl) 23:22–35

10.

Muszbek N, Brixner D, Benedict A, Keskinaslan A, Khan ZM (2008) The economic consequences of noncompliance in cardiovascular disease and related conditions: a literature review. Int J Clin Pract 62:338–351

11.

Ruddy K, Mayer E, Partridge A (2009) Patient adherence and persistence with oral anticancer treatment. CA Cancer J Clin 59:56–66

12.

Ramsenthaler C, Kane P, Gao W, Siegert RJ, Edmonds PM, Schey SA, Higginson IJ (2016) Prevalence of symptoms in patients with multiple myeloma: a systematic review and meta-analysis. Eur J Haematol 97:416–429

13.

Copeland A, Freeman A, Baggett C, Zhou L, Shea T, Tuchman S, Wood W (2017) Prevalence of depression and anxiety in older patients with multiple myeloma in North Carolina: a population-based, claims-based assessment. J Clin Oncol 35:10048–10048

14.

Li H, Williams N, Sharma N, Efebera Y, Rosko A, Benson D, Hofmeister C (2016) Anti-depressant use in patients with multiple myeloma less common than expected. Blood 128:2420–2420

15.

Molassiotis A, Wilson B, Blair S, Howe T, Cavet J (2011) Unmet supportive care needs, psychological well-being and quality of life in patients living with multiple myeloma and their partners. Psychooncology 20:88–97

16.

Kang H-Y, Choi E-Y (2019) Factors influencing quality of life in patients with multiple myeloma. Contemp Nurse 55:109–121

17.

Jordan K, Proskorovsky I, Lewis P, Ishak J, Payne K, Lordan N, Kyriakou C, Williams CD, Peters S, Davies FE (2014) Effect of general symptom level, specific adverse events, treatment patterns, and patient characteristics on health-related quality of life in patients with multiple myeloma: results of a European, multicenter cohort study. Support Care Cancer 22:417–426

18.

Niazi S, Frank RD, Sharma M, Roy V, Ames S, Rummans T, Spaulding A, Sher T, Ailawadhi M, Bhatia K, Ahmed S, Tan W, Chanan-Khan A, Ailawadhi S (2018) Impact of psychiatric comorbidities on health care utilization and cost of care in multiple myeloma. Blood Adv 2:1120–1128

19.

Greer JA, Amoyal N, Nisotel L, Fishbein JN, MacDonald J, Stagl J, Lennes I, Temel JS, Safren SA, Pirl WF (2016) A systematic review of adherence to oral antineoplastic therapies. Oncologist 21:354–376

20.

Lamers J, Hartmann M, Goldschmidt H, Brechtel A, Hillengass J, Herzog W (2013) Psychosocial support in patients with multiple myeloma at time of diagnosis: who wants what? Psychooncology 22:2313–2320

21.

Ramsenthaler C, Gao W, Siegert RJ, Edmonds PM, Schey SA, Higginson IJ (2019) Symptoms and anxiety predict declining health-related quality of life in multiple myeloma: a prospective, multi-centre longitudinal study. Palliat Med 33:541–551

22.

Lesher EL, Berryhill JS (1994) Validation of the geriatric depression scale--short form among inpatients. J Clin Psychol 50:256–260

23.

Kim J-M, Prince MJ, Shin I-S, Yoon J-S (2001) Validity of Korean form of Geriatric Depression Scale (KGDS) among cognitively impaired Korean elderly and development of a 15-item short version (KGDS-15). Int J Methods Psychiatr Res 10:204–210

24.

Guerin JM, Copersino ML, Schretlen DJ (2018) Clinical utility of the 15-item geriatric depression scale (GDS-15) for use with young and middle-aged adults. J Affect Disord 241:59–62

25.

Lyness JM, Noel TK, Cox C, King DA, Conwell Y, Caine ED (1997) Screening for depression in elderly primary care patients. A comparison of the Center for Epidemiologic Studies-Depression Scale and the Geriatric Depression Scale. Arch Intern Med 157:449–454

26.

Shim EJ, Shin YW, Jeon HJ, Hahm BJ (2008) Distress and its correlates in Korean cancer patients: pilot use of the distress thermometer and the problem list. Psychooncology 17:548–555

27.

Yun YH, Park YS, Lee ES, Bang SM, Heo DS, Park SY, You CH, West K (2004) Validation of the Korean version of the EORTC QLQ-C30. Qual Life Res 13:863–868

28.

Cransac A, Aho S, Chretien ML, Giroud M, Caillot D, Boulin M (2019) Adherence to immunomodulatory drugs in patients with multiple myeloma. PLoS One 14:e0214446

29.

Alobaidi A, Nabulsi NA, Talon B, Asfaw AA, Zhou J, Sharp LK, Sweiss K, Patel PR, Ko NY, Chiu BC, Calip GS (2019) Depressive symptoms, mental health-related quality of life, and survival among older patients with multiple myeloma. Support Care Cancer, 28, 4097–4106. https://doi.org/10.1007/s00520-019-05246-6

30.

Ramsenthaler C, Osborne TR, Gao W, Siegert RJ, Edmonds PM, Schey SA, Higginson IJ (2016) The impact of disease-related symptoms and palliative care concerns on health-related quality of life in multiple myeloma: a multi-Centre study. BMC Cancer 16:427

31.

Sonneveld P, Verelst SG, Lewis P, Gray-Schopfer V, Hutchings A, Nixon A, Petrucci MT (2013) Review of health-related quality of life data in multiple myeloma patients treated with novel agents. Leukemia 27:1959–1969

32.

Tavoli A, Montazeri A, Roshan R, Tavoli Z, Melyani M (2008) Depression and quality of life in cancer patients with and without pain: the role of pain beliefs. BMC Cancer 8:177

33.

Vodermaier A, Linden W, MacKenzie R, Greig D, Marshall C (2011) Disease stage predicts post-diagnosis anxiety and depression only in some types of cancer. Br J Cancer 105:1814–1817

34.

Thom B, Benedict C (2019) The impact of financial toxicity on psychological well-being, coping self-efficacy, and cost-coping behaviors in young adults with cancer. J Adolesc Young Adult Oncol 8:236–242

35.

Kelly M, Dowling M (2011) Patients' lived experience of myeloma. Nurs Stand 25:38–44

36.

Aigner M, Förster-Streffleur S, Prause W, Freidl M, Weiss M, Bach M (2006) What does the WHOQOL-Bref measure? Measurement overlap between quality of life and depressive symptomatology in chronic somatoform pain disorder. Soc Psychiatry Psychiatr Epidemiol 41:81–86

37.

Berlim MT, Fleck MP (2007) Quality of life and major depression. In: Ritsner MS, Awad AG (eds) Quality of life impairment in schizophrenia, mood and anxiety disorders. Springer, Dordrecht. https://doi.org/10.1007/978-1-4020-5779-3_12

38.

Drzayich Antol D, Waldman Casebeer A, Khoury R, Michael T, Renda A, Hopson S, Parikh A, Stein A, Costantino M, Stemkowski S, Bunce M (2018) The relationship between comorbidity medication adherence and health related quality of life among patients with cancer. J Patient Rep Outcomes 2:29

39.

El-Jawahri A, Chen YB, Brazauskas R, He N, Lee SJ, Knight JM, Majhail N, Buchbinder D, Schears RM, Wirk BM, Wood WA, Ahmed I, Aljurf M, Szer J, Beattie SM, Battiwalla M, Dandoy C, Diaz MA, D'Souza A, Freytes CO, Gajewski J, Gergis U, Hashmi SK, Jakubowski A, Kamble RT, Kindwall-Keller T, Lazarus HM, Malone AK, Marks DI, Meehan K, Savani BN, Olsson RF, Rizzieri D, Steinberg A, Speckhart D, Szwajcer D, Schoemans H, Seo S, Ustun C, Atsuta Y, Dalal J, Sales-Bonfim C, Khera N, Hahn T, Saber W (2017) Impact of pre-transplant depression on outcomes of allogeneic and autologous hematopoietic stem cell transplantation. Cancer 123:1828–1838

40.

Buscariollo DL, Cronin AM, Borstelmann NA, Punglia RS (2019) Impact of pre-diagnosis depressive symptoms and health-related quality of life on treatment choice for ductal carcinoma in situ and stage I breast cancer in older women. Breast Cancer Res Treat 173:709–717

41.

Sedjo RL, Devine S (2011) Predictors of non-adherence to aromatase inhibitors among commercially insured women with breast cancer. Breast Cancer Res Treat 125:191–200

42.

Mitchell AJ, Bird V, Rizzo M, Meader N (2010) Which version of the geriatric depression scale is most useful in medical settings and nursing homes? Diagnostic validity meta-analysis. Am J Geriatr Psychiatry 18:1066–1077

43.

Mitchell AJ, Bird V, Rizzo M, Meader N (2010) Diagnostic validity and added value of the Geriatric Depression Scale for depression in primary care: a meta-analysis of GDS30 and GDS15. J Affect Disord 125:10–17
Code availability
The primary author has full control of all codes and agrees to allow the journal to review the codes if requested.
Funding
This study was funded by grants from Celgene Korea.
Ethics declarations
Ethics approval and concent to participate
The institution's review board (IRB File No. SMC 2014-12-103) approved this study. The Institutional Review Board of the Samsung Medical Center determined this study to be exempt from obtaining informed consent from individual participants. All participating patients provided written informed consent.
Consent for publication
All participating patients provided written informed consent.
Conflict of interest
The authors declare that they have no conflict of interest.
Additional information
Publisher's note
Springer Nature remains neutral with regard to jurisdictional claims in published maps and institutional affiliations.
Supplementary information
About this article
Cite this article
Kim, S.J., Kang, D., Park, Y. et al. Impact of depression on adherence to lenalidomide plus low-dose dexamethasone in patients with relapsed or refractory myeloma. Support Care Cancer (2021). https://doi.org/10.1007/s00520-021-06017-y
Received:

Accepted:

Published:
Keywords
Depression

Lenalidomide

Low-dose dexamethasone

Adherence

Myeloma