Abstract
Background
The importance of cognitive appraisals in the effectiveness of pain coping is well established. Two key variables in these appraisal processes are pain catastrophizing (PC) and perceived injustice (PI), which are known to increase the risk of long-term disability and aggravate the pain-related distress through maladaptive behavioral responses. However, to date, the mediating effects of these appraisals have not been examined concurrently in the breast cancer survivor (BCS) population, nor have they been related to health-related quality of life (HRQoL).
Methods
Using cross-sectional data from 110 BCS, structural path analyses were used to examine the mediating effects of PC and PI in the relationship of pain on the HRQoL in BCS.
Results
Results demonstrated a significant direct effect of pain and PI on HRQoL combined with a significant indirect effect through PI, but not through PC. An increase in pain is suggested to result in a decrease in quality of life. On the other hand, an increase in pain also is suggested to increase the PI. A similar relation with PC was not retained as significant.
Conclusion
The relative salience of PI as a mediator of HRQoL underscores the fact that PI is not only understudied but also underappreciated and undertreated in the BCS population. The results of our study warrant replication across longitudinal studies but continue to expand upon the evidence of the multifactorial nature of pain coping in BCS.
Access options
Buy single article
Instant access to the full article PDF.
US$ 39.95
Tax calculation will be finalised during checkout.
Subscribe to journal
Immediate online access to all issues from 2019. Subscription will auto renew annually.
US$ 119
Tax calculation will be finalised during checkout.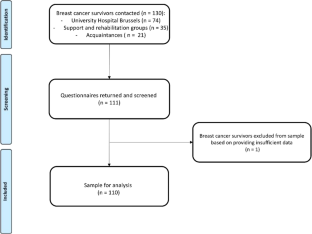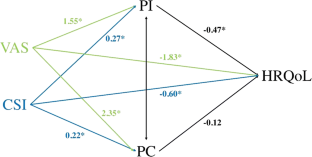 References
1.

Ferlay J, Soerjomataram I, Dikshit R, Eser S, Mathers C, Rebelo M, Parkin DM, Forman D, Bray F (2015) Cancer incidence and mortality worldwide: sources, methods and major patterns in GLOBOCAN 2012. Int J Cancer 136(5):E359–E386

2.

Coleman MP, Forman D, Bryant H, Butler J, Rachet B, Maringe C, Nur U, Tracey E, Coory M, Hatcher J, McGahan C, Turner D, Marrett L, Gjerstorff ML, Johannesen TB, Adolfsson J, Lambe M, Lawrence G, Meechan D, Morris EJ, Middleton R, Steward J, Richards MA, ICBP Module 1 Working Group (2011) Cancer survival in Australia, Canada, Denmark, Norway, Sweden, and the UK, 1995-2007 (the International Cancer Benchmarking Partnership): an analysis of population-based cancer registry data. Lancet 377(9760):127–138

3.

Befort CA, Klemp J (2011) Sequelae of breast cancer and the influence of menopausal status at diagnosis among rural breast cancer survivors. J Women's Health (Larchmt) 20(9):1307–1313

4.

Burckhardt CS, Jones KD (2005) Effects of chronic widespread pain on the health status and quality of life of women after breast cancer surgery. Health Qual Life Outcomes 3:30

5.

Turk DC, Okifuji A (2002) Psychological factors in chronic pain: evolution and revolution. J Consult Clin Psychol 70(3):678–690

6.

Esteve R, Ramirez-Maestre C, Lopez-Marinez AE (2007) Adjustment to chronic pain: the role of pain acceptance, coping strategies, and pain-related cognitions. Ann Behav Med 33(2):179–188

7.

Sullivan MJ et al (2001) Theoretical perspectives on the relation between catastrophizing and pain. Clin J Pain 17(1):52–64

8.

Westman AE, Boersma K, Leppert J, Linton SJ (2011) Fear-avoidance beliefs, catastrophizing, and distress: a longitudinal subgroup analysis on patients with musculoskeletal pain. Clin J Pain 27(7):567–577

9.

Leeuw M, Goossens MEJB, Linton SJ, Crombez G, Boersma K, Vlaeyen JWS (2007) The fear-avoidance model of musculoskeletal pain: current state of scientific evidence. J Behav Med 30(1):77–94

10.

Edwards RR, Mensing G, Cahalan C, Greenbaum S, Narang S, Belfer I, Schreiber KL, Campbell C, Wasan AD, Jamison RN (2013) Alteration in pain modulation in women with persistent pain after lumpectomy: influence of catastrophizing. J Pain Symptom Manag 46(1):30–42

11.

Schreiber KL, Martel MO, Shnol H, Shaffer JR, Greco C, Viray N, Taylor LN, McLaughlin M, Brufsky A, Ahrendt G, Bovbjerg D, Edwards RR, Belfer I (2013) Persistent pain in postmastectomy patients: comparison of psychophysical, medical, surgical, and psychosocial characteristics between patients with and without pain. Pain 154(5):660–668

12.

Sullivan MJ, Scott W, Trost Z (2012) Perceived injustice: a risk factor for problematic pain outcomes. Clin J Pain 28(6):484–488

13.

Guyatt GH, Feeny DH, Patrick DL (1993) Measuring health-related quality of life. Ann Intern Med 118(8):622–629

14.

Svensson H, Hatschek T, Johansson H, Einbeigi Z, Brandberg Y (2012) Health-related quality of life as prognostic factor for response, progression-free survival, and survival in women with metastatic breast cancer. Med Oncol 29(2):432–438

15.

Nguyen J, Popovic M, Chow E, Cella D, Beaumont JL, Chu D, DiGiovanni J, Lam H, Pulenzas N, Bottomley A (2015) EORTC QLQ-BR23 and FACT-B for the assessment of quality of life in patients with breast cancer: a literature review. J Comp Eff Res 4(2):157–166

16.

Hewitt M, Greenfield S, Stovall E (2005) From cancer patient to cancer survivor: lost in transition. The National Academies Press, Washington DC

17.

McCormack HM, Horne DJ, Sheather S (1988) Clinical applications of visual analogue scales: a critical review. Psychol Med 18(4):1007–1019

18.

Gallagher EJ, Bijur PE, Latimer C, Silver W (2002) Reliability and validity of a visual analog scale for acute abdominal pain in the ED. Am J Emerg Med 20(4):287–290

19.

van Seventer R, Vos C, Giezeman M, Meerding WJ, Arnould B, Regnault A, van Eerd M, Martin C, Huygen F (2013) Validation of the Dutch version of the DN4 diagnostic questionnaire for neuropathic pain. Pain Pract 13(5):390–398

20.

Perez C, Galvez R, Huelbes S, Insausti J, Bouhassira D, Diaz S, Rejas J (2007) Validity and reliability of the Spanish version of the DN4 (Douleur Neuropathique 4 questions) questionnaire for differential diagnosis of pain syndromes associated to a neuropathic or somatic component. Health Qual Life Outcomes 5:66

21.

Neblett R, Cohen H, Choi YH, Hartzell MM, Williams M, Mayer TG, Gatchel RJ (2013) The Central Sensitization Inventory (CSI): establishing clinically significant values for identifying central sensitivity syndromes in an outpatient chronic pain sample. J Pain 14(5):438–445

22.

Mayer TG, Neblett R, Cohen H, Howard KJ, Choi YH, Williams MJ, Perez Y, Gatchel RJ (2012) The development and psychometric validation of the Central Sensitization Inventory. Pain Pract 12(4):276–285

23.

Aaronson NK, Ahmedzai S, Bergman B, Bullinger M, Cull A, Duez NJ, Filiberti A, Flechtner H, Fleishman SB, Haes JCJM, Kaasa S, Klee M, Osoba D, Razavi D, Rofe PB, Schraub S, Sneeuw K, Sullivan M, Takeda F (1993) The European Organization for Research and Treatment of Cancer QLQ-C30: a quality-of-life instrument for use in international clinical trials in oncology. J Natl Cancer Inst 85(5):365–376

24.

Scott NW, Fayers P, Aaronson NK, Bottomley A, de Graeff A, Groenvold M, EORTC Quality of Life Group (2008) EORTC QLQ-C30 reference values manual

25.

Kapoor S, Thorn BE, Bandy O, Clements KL (2015) Pain referents used to respond to the Pain Catastrophizing Scale. Eur J Pain 19(3):400–407

26.

Osman A, Barrios FX, Gutierrez PM, Kopper BA, Merrifield T, Grittmann L (2000) The Pain Catastrophizing Scale: further psychometric evaluation with adult samples. J Behav Med 23(4):351–365

27.

Sullivan M (2008) User manual for the Injustice Experience Questionnaire

28.

Rodero B, Luciano JV, Montero-Marín J, Casanueva B, Palacin JC, Gili M, López del Hoyo Y, Serrano-Blanco A, Garcia-Campayo J (2012) Perceived injustice in fibromyalgia: psychometric characteristics of the Injustice Experience Questionnaire and relationship with pain catastrophising and pain acceptance. J Psychosom Res 73(2):86–91

29.

Sullivan MJ, Adams H, Horan S, Maher D, Boland D, Gross R (2008) The role of perceived injustice in the experience of chronic pain and disability: scale development and validation. J Occup Rehabil 18(3):249–261

30.

Mukaka MM (2012) Statistics corner: a guide to appropriate use of correlation coefficient in medical research. Malawi Med J 24(3):69–71

31.

Mackinnon DP, Lockwood CM, Williams J (2004) Confidence limits for the indirect effect: distribution of the product and resampling methods. Multivariate Behav Res 39(1):99–128

32.

Miller MM, Scott EL, Trost Z, Hirsh AT (2016) Perceived injustice is associated with pain and functional outcomes in children and adolescents with chronic pain: a preliminary examination. J Pain 17(11):1217–1226

33.

Sprangers MA, Schwartz CE (1999) Integrating response shift into health-related quality of life research: a theoretical model. Soc Sci Med 48(11):1507–1515

34.

Breetvelt IS, Van Dam FS (1991) Underreporting by cancer patients: the case of response-shift. Soc Sci Med 32(9):981–987

35.

Sprangers MA (1996) Response-shift bias: a challenge to the assessment of patients' quality of life in cancer clinical trials. Cancer Treat Rev 22 Suppl A:55–62

36.

Vlaeyen JW, Linton SJ (2000) Fear-avoidance and its consequences in chronic musculoskeletal pain: a state of the art. Pain 85(3):317–332

37.

Scott W, Trost Z, Bernier E, Sullivan MJL (2013) Anger differentially mediates the relationship between perceived injustice and chronic pain outcomes. Pain 154(9):1691–1698

38.

Sturgeon JA, Carriere JS, Kao MCJ, Rico T, Darnall BD, Mackey SC (2016) Social disruption mediates the relationship between perceived injustice and anger in chronic pain: a collaborative health outcomes information registry study. Ann Behav Med 50(6):802–812

39.

Monden KR, Trost Z, Scott W, Bogart KR, Driver S (2016) The unfairness of it all: exploring the role of injustice appraisals in rehabilitation outcomes. Rehabil Psychol 61(1):44–53

40.

Albrecht GL, Devlieger PJ (1999) The disability paradox: high quality of life against all odds. Soc Sci Med 48(8):977–988

41.

Lynch EB, Butt Z, Heinemann A, Victorson D, Nowinski CJ, Perez L, Cella D (2008) A qualitative study of quality of life after stroke: the importance of social relationships. J Rehabil Med 40(7):518–523

42.

Turk D, Meichenbaum D, Genest M (1983) Pain and behavioral medicine: a cognitive-behavioral perspective. Guilford, New York

43.

Burns JW, Quartana PJ, Bruehl S (2008) Anger inhibition and pain: conceptualizations, evidence and new directions. J Behav Med 31(3):259–279

44.

Vowles K, McCracken L, Eccleston C (2012) Processes of change in treatment for chronic pain: the contributions of pain, acceptance, and catastrophizing. Eur J Pain 11(7):779–787

45.

Suen LJ, Huang HM, Lee HH (2014) A comparison of convenience sampling and purposive sampling. Hu Li Za Zhi 61(3):105–111
Funding
Jo Nijs is holder of a Chair funded by the Berekuyl Academy, the Netherlands. Roselien Pas is a PhD student funded by the Berekuyl Academy Chair.
Ethics declarations
Ethics approval
The protocol B.U.N. 143201524229 was approved by the Medical Ethics Committee of the University Hospital of Brussels.
Consent to participate
Written and signed consents were obtained from all patients.
Consent for publication
All authors consent to the publication of the manuscript in JSSC, should the article be accepted by the Editor-in-chief upon completion of the refereeing process.
Conflict of interest
The authors declare no competing interests.
Code availability
N/A
Additional information
Publisher's note
Springer Nature remains neutral with regard to jurisdictional claims in published maps and institutional affiliations.
About this article
Cite this article
Leysen, L., Cools, W., Nijs, J. et al. The mediating effect of pain catastrophizing and perceived injustice in the relationship of pain on health-related quality of life in breast cancer survivors. Support Care Cancer (2021). https://doi.org/10.1007/s00520-021-06011-4
Received:

Accepted:

Published:
Keywords
Pain catastrophizing

Perceived injustice

Pain

Quality of life

Breast cancer survivors