Abstract
Purpose
Sleep disturbance is easily overlooked in subspecialty consultations and may remain untreated during and after initial treatment of malignant brain tumours (BT). This study aimed to explore perceptions of healthcare professionals (HCPs) actively engaged in neuro-oncology care towards sleep disturbance in adults with primary or secondary BT and to identify facilitators and barriers to assessment and management of sleep disturbance.
Methods
A survey was conducted to explore HCPs' perceptions about their knowledge, skills, and confidence in managing sleep disturbance in people with BT. The survey also explored their beliefs, motivation, and perceived role in managing sleep disturbance, and views on contributing external factors that impacted management.
Results
Seventy-three interdisciplinary HCPs with average of 9.3 years of clinical experience in neuro-oncology participated. Fifty-five percent of participants were medical or radiation oncologists. Participants reported a high observed prevalence of sleep disturbance, especially in inpatient settings, during initial treatment, and after tumour progression or recurrence. Only 20% of participants reported routinely reviewing sleep-related symptoms during consultations. General symptom screening questions were perceived as helpful to identify sleep disturbance. Almost all respondents (92%) viewed corticosteroids as the most relevant risk factor, followed by psychological distress. The most frequent clinical responses were offering verbal advice and prescribing medication. The lack of time, resources, and training for managing sleep issues were commonly reported barriers.
Conclusions
Overall, participants perceived sleep disturbance as highly prevalent in neuro-oncology and positively viewed the importance of managing this symptom. Practical barriers to management were reported that future interventions can target.
Access options
Buy single article
Instant access to the full article PDF.
US$ 39.95
Tax calculation will be finalised during checkout.
Subscribe to journal
Immediate online access to all issues from 2019. Subscription will auto renew annually.
US$ 119
Tax calculation will be finalised during checkout.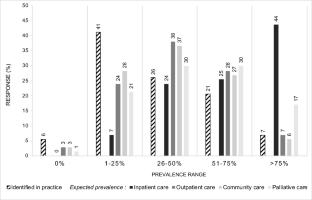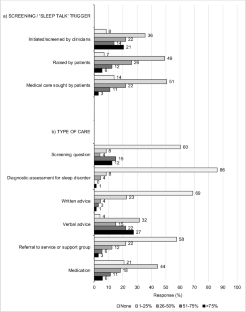 References
1.

Vena C, Parker K, Allen R, Bliwise D, Jain S, Kimble L (2006) Sleep-wake disturbances and quality of life in patients with advanced lung cancer. Oncol Nurs Forum 33(4):761–769. https://doi.org/10.1188/06.ONF.761-769

2.

Lis CG, Gupta D, Grutsch JF (2008) The relationship between insomnia and patient satisfaction with quality of life in cancer. Supportive care in cancer : official journal of the Multinational Association of Supportive Care in Cancer 16(3):261–266

3.

Lee K, Cho M, Miaskowski C, Dodd M (2004) Impaired sleep and rhythms in persons with cancer. Sleep Medicine Reviews 8(3):199–212. https://doi.org/10.1016/j.smrv.2003.10.001

4.

Pawl JD, Lee S-Y, Clark PC, Sherwood PR (2013) Sleep characteristics of family caregivers of individuals with a primary malignant brain tumor. Oncol Nurs Forum 40(2):171–179

5.

Jeon MS, Dhillon HM, Agar MR (2017) Sleep disturbance of adults with a brain tumor and their family caregivers: a systematic review. Neuro-Oncology 19(8):1035–1046. https://doi.org/10.1093/neuonc/nox019

6.

Jeon MS, Dhillon HM, Descallar J, Lam L, Allingham S, Koh E-S, Currow DC, Agar MR (2019) Prevalence and severity of sleep difficulty in patients with a CNS cancer receiving palliative care in Australia. Neuro-Oncology Practice 6(6):499–507. https://doi.org/10.1093/nop/npz005

7.

Romito F, Cormio C, De Padova S, Lorusso V, Berio MA, Fimiani F, Piattelli A, Palazzo S, Abram G, Dudine L, Guglielmi A, Galise I, Romito S, Mattioli V (2014) Patients attitudes towards sleep disturbances during chemotherapy. Eur J Cancer Care 23(3):385–393. https://doi.org/10.1111/ecc.12106

8.

Davidson JR, Feldman-Stewart D, Brennenstuhl S, Ram S (2007) How to provide insomnia interventions to people with cancer: insights from patients. Psycho-Oncology 16(11):1028–1038. https://doi.org/10.1002/pon.1183

9.

Sorscher AJ (2008) How is your sleep: a neglected topic for health care screening. The Journal of the American Board of Family Medicine 21(2):141–148. https://doi.org/10.3122/jabfm.2008.02.070167

10.

Fleming L, Gillespie S, Espie CA (2010) The development and impact of insomnia on cancer survivors: a qualitative analysis. Psycho-Oncology 19(9):991–996. https://doi.org/10.1002/pon.1652

11.

Siefert M, Lou Dnsc RN, Hong F, Valcarce B, Berry D, PhD RN, Aocn F (2014) Patient and clinician communication of self-reported insomnia during ambulatory cancer care clinic visits. Cancer Nurs 37(2):E51–E59. https://doi.org/10.1097/NCC.0b013e318283a7bc

12.

Mc Sharry J, Murphy PJ, Byrne M (2016) Implementing international sexual counselling guidelines in hospital cardiac rehabilitation: development of the CHARMS intervention using the Behaviour Change Wheel. Implement Sci 11(1):134. https://doi.org/10.1186/s13012-016-0493-4

13.

Michie S, Johnston M, Abraham C, Lawton R, Parker D, Walker A (2005) Making psychological theory useful for implementing evidence based practice: a consensus approach. Quality and Safety in Health Care 14(1):26–33. https://doi.org/10.1136/qshc.2004.011155

14.

Jeon MD, Koh ES, Nowak A, Agar M (2018) Occurrence and management of sleep disturbance in people with a brain tumour and caregivers: a survey of clinicians' views and current practice. In: 11th COGNO Annual Scientific Meeting: targeting survival: living well with brain cancer in the era of precision treatments, Brisbane, Australia, 2018. Cooperative Trials Group for Neuro-oncology p34

15.

Kelley K, Clark B, Brown V, Sitzia J (2003) Good practice in the conduct and reporting of survey research. Int J Qual Health Care 15(3):261–266. https://doi.org/10.1093/intqhc/mzg031

16.

Alexander KE, Brijnath B, Mazza D (2014) Barriers and enablers to delivery of the Healthy Kids Check: an analysis informed by the Theoretical Domains Framework and COM-B model. Implement Sci 9(1):60. https://doi.org/10.1186/1748-5908-9-60

17.

Baker R, Camosso-Stefinovic J, Gillies C, Shaw EJ, Cheater F, Flottorp S, Robertson N (2010) Tailored interventions to overcome identified barriers to change: effects on professional practice and health care outcomes. Cochrane Database Syst Rev (3):Cd005470. doi:https://doi.org/10.1002/14651858.CD005470.pub2

18.

Cheng JX, Liu BL, Zhang X, Lin W, Zhang YQ, Liu WP, Zhang JN, Lin H, Wang R, Yin H (2010) Health-related quality of life in glioma patients in China. BMC Cancer 10:305

19.

Delgado-Guay M, Yennurajalingam S, Parsons H, Palmer JL, Bruera E (2011) Association between self-reported sleep disturbance and other symptoms in patients with advanced cancer. Journal of Pain and Symptom Management 41(5):819–827. https://doi.org/10.1016/j.jpainsymman.2010.07.015

20.

Miaskowski C, Lee K, Dunn L, Dodd M, Aouizerat BE, West C, Paul SM, Cooper B, Wara W, Swift P (2011) Sleep-wake circadian activity rhythm parameters and fatigue in oncology patients before the initiation of radiation therapy. Cancer Nurs 34(4):255–268. https://doi.org/10.1097/NCC.0b013e3181f65d9b

21.

Velikova G, Booth L, Smith AB, Brown PM, Lynch P, Brown JM, Selby PJ (2004) Measuring quality of life in routine oncology practice improves communication and patient well-being: a randomized controlled trial. J Clin Oncol 22(4):714–724. https://doi.org/10.1200/jco.2004.06.078

22.

Agar M, Koh E-S, Gibbs E, Barnes E, Hovey E, Livingstone A, Sawkins K, Chye R, Lovell M, Clark K, Vardy J, King M (2015) Validating self-report and proxy reports of the Dexamethasone Symptom Questionnaire -Chronic for the evaluation of longer-term corticosteroid toxicity. Supportive care in cancer : official journal of the Multinational Association of Supportive Care in Cancer 24:1209–1218. https://doi.org/10.1007/s00520-015-2897-0

23.

Arvold ND, Armstrong TS, Warren KE, Chang SM, DeAngelis LM, Blakeley J, Chamberlain MC, Dunbar E, Loong HH, Macdonald DR, Reardon DA, Vogelbaum MA, Yuan Y, Weller M, van den Bent M, Wen PY (2018) Corticosteroid use endpoints in neuro-oncology: response assessment in Neuro-Oncology Working Group. Neuro-Oncology 20(7):897–906. https://doi.org/10.1093/neuonc/noy056

24.

Ly KI, Wen PY (2017) Clinical relevance of steroid use in neuro-oncology. Current Neurology and Neuroscience Reports 17(1):5. https://doi.org/10.1007/s11910-017-0713-6

25.

Nguyen J, Caissie A, Zhang L, Zeng L, Dennis K, Holden L, Jon F, Tsao M, Danjoux C, Barnes E, Sahgal A, DeAngelis C, Chow E (2013) Dexamethasone toxicity and quality of life in patients with brain metastases following palliative whole-brain radiotherapy. Journal of Radiation Oncology 2(4):435–443

26.

Sturdza A, Millar B-A, Bana N, Laperriere N, Pond G, Wong RK, Bezjak A (2008) The use and toxicity of steroids in the management of patients with brain metastases. Supportive Care in Cancer 16(9):1041–1048. https://doi.org/10.1007/s00520-007-0395-8

27.

Armstrong TS, Ying Y, Wu J, Acquaye AA, Vera-Bolanos E, Gilbert MR, Brown PD, Vardy J, Chung C (2015) The relationship between corticosteroids and symptoms in patients with primary brain tumors: utility of the Dexamethasone Symptom Questionnaire–Chronic. Neuro-Oncology 17(8):1114–1120. https://doi.org/10.1093/neuonc/nov054

28.

Armstrong TS, Gilbert MR (2012) Practical strategies for management of fatigue and sleep disorders in people with brain tumors. Neuro Oncol 14(Suppl. 4):iv65–iv72. https://doi.org/10.1093/neuonc/nos210

29.

Matthews E, Carter P, Page M, Dean G, Berger A (2018) Sleep-wake disturbance: a systematic review of evidence-based interventions for management in patients with cancer. Clin J Oncol Nurs 22(1):37–52. https://doi.org/10.1188/18.Cjon.37-52

30.

Page MS, Berger AM, Johnson LB (2006) Putting evidence into practice: evidence-based interventions for sleep-wake disturbances. Clin J Oncol Nurs 10(6):753–767. https://doi.org/10.1188/06.Cjon.753-767

31.

Berger AM, Otte JL, Dean G, Erickson JM, Matthews EE, Page MS, Vena C Sleep-wake disturbances. Oncology Nursing Society www.ons.org/pep/sleep-wake-disturbances. Accessed April 7 2020

32.

Klein M, . Taphoorn MJB, Heimans JJ, van der Ploeg HM, Vandertop WP, Smit EF, Leenstra S, Tulleken CAF, Boogerd W, Belderbos JSA, Cleijne W, Aaronson NK (2001) Neurobehavioral status and health-related quality of life in newly diagnosed high-grade glioma patients. J Clin Oncol 19 (20):4037–4047

33.

Russell B, Collins A, Dally M, Dowling A, Gold M, Murphy M, Philip J (2014) Living longer with adult high-grade glioma:setting a research agenda for patients and their caregivers. J Neuro-Oncol 120(1):1–10. https://doi.org/10.1007/s11060-014-1516-0

34.

Wasner M, Paal P, Borasio GD (2013) Psychosocial care for the caregivers of primary malignant brain tumor patients. Journal of Social Work in End-Of-Life & Palliative Care 9(1):74–95. https://doi.org/10.1080/15524256.2012.758605

35.

Lee KC, Yiin JJ, Lu SH, Chao YF (2015) The burden of caregiving and sleep disturbance among family caregivers of advanced cancer patients. Cancer Nurs 38(4):E10–E18. https://doi.org/10.1097/ncc.0000000000000166

36.

Bennette C, Vickers A (2012) Against quantiles: categorization of continuous variables in epidemiologic research, and its discontents. BMC Med Res Methodol 12(1):21. https://doi.org/10.1186/1471-2288-12-21

37.

Otte JL, Carpenter JS, Manchanda S, Rand KL, Skaar TC, Weaver M, Chernyak Y, Zhong X, Igega C, Landis C (2015) Systematic review of sleep disorders in cancer patients: can the prevalence of sleep disorders be ascertained? Cancer medicine 4(2):183–200. https://doi.org/10.1002/cam4.356
Acknowledgements
We thank the Cooperative Trials Group for Neuro-Oncology (COGNO) for assistance with participant recruitment.
Ethics declarations
Conflict of interest
The authors declare that they have no conflicts of interest.
Ethics approval
This study was approved by the University of New South Wales Human Research Ethics Advisory Panel and performed in accordance with the ethical standards as laid down in the 1964 Declaration of Helsinki.
Additional information
Publisher's note
Springer Nature remains neutral with regard to jurisdictional claims in published maps and institutional affiliations.
Electronic supplementary material
About this article
Cite this article
Jeon, M.S., Dhillon, H.M., Koh, ES. et al. Sleep disturbance in people with brain tumours and caregivers: a survey of healthcare professionals' views and current practice. Support Care Cancer 29, 1497–1508 (2021). https://doi.org/10.1007/s00520-020-05635-2
Received:

Accepted:

Published:

Issue Date:
Keywords
Clinician survey

Sleep disturbance

Brain tumour

Sleep management

Neuro-oncology care