Abstract
Background
No gold standard of nutritional assessment is established among patients with head and neck cancer (HNC) receiving concurrent chemoradiotherapy (CCRT). This study aimed to evaluate the clinical significance of pre-treatment nutritional status using the Mini Nutritional Assessment-short form (MNA-SF) among HNC patients receiving CCRT.
Methods
A total of 461 consecutive patients with newly diagnosed HNC treated with definitive CCRT at three medical institutes were prospectively enrolled. Nutritional status was assessed using MNA-SF within 7 days before CCRT initiation. Patients were classified as having normal nutrition, at risk of malnutrition, and malnourished groups according to MNA-SF for comparison.
Results
The 1-year overall survival rates were 89.8%, 76.8%, and 67.7% in the normal nutrition, at risk of malnutrition, and malnourished groups, respectively. Patients with normal nutrition had significantly lower rates of uncompleted radiotherapy and chemotherapy (4.5% and 4.1%, respectively) compared with patients at risk for malnutrition (14.1% and 11.5%, respectively) and those malnourished (11.1% and 11.1%, respectively). Patients with normal nutrition had significantly lower treatment-related complication rates regarding emergency room visits, hospital admission, and need for tubal feeding than those with at risk of malnutrition and malnourished. Patients with normal nutrition had significantly fewer severe hematologic toxicities (p = 0.044) and severe non-hematologic toxicities (p = 0.012) of CCRT than those malnourished.
Conclusion
Pre-CCRT nutritional status identifies HNC patients vulnerable to treatment interruption and treatment complications. We suggest that nutritional assessment with MNA-SF should be incorporated in pre-CCRT evaluation for all HNC patients.
Access options
Buy single article
Instant access to the full article PDF.
US$ 39.95
Tax calculation will be finalised during checkout.
Subscribe to journal
Immediate online access to all issues from 2019. Subscription will auto renew annually.
US$ 119
Tax calculation will be finalised during checkout.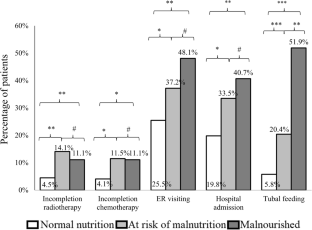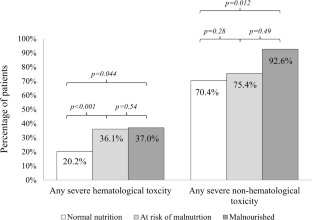 References
1.

Bray F, Ferlay J, Soerjomataram I, Siegel RL, Torre LA, Jemal A (2018) Global cancer statistics 2018: GLOBOCAN estimates of incidence and mortality worldwide for 36 cancers in 185 countries. CA Cancer J Clin 68:394–424

2.

Siegel RL, Miller KD, Jemal A (2019) Cancer statistics, 2019. CA Cancer J Clin 69:7–34

3.

Pignon JP, le Maître A, Maillard E, Bourhis J, MACH-NC Collaborative Group (2009) Meta-analysis of chemotherapy in head and neck cancer (MACH-NC): an update on 93 randomised trials and 17,346 patients. Radiother Oncol 92:4–14

4.

Adelstein DJ, Li Y, Adams GL, Wagner H Jr, Kish JA, Ensley JF et al (2003) An intergroup phase III comparison of standard radiation therapy and two schedules of concurrent chemoradiotherapy in patients with unresectable squamous cell head and neck cancer. J Clin Oncol 21:92–98

5.

Noronha V, Joshi A, Patil VM, Agarwal J, Ghosh-Laskar S, Budrukkar A et al (2018) Once-a-week versus once-every-3-weeks cisplatin chemoradiation for locally advanced head and neck cancer: a phase III randomized noninferiority trial. J ClinOncol 36:1064–1072

6.

Forastiere AA, Goepfert H, Maor M, Pajak TF, Weber R, Morrison W et al (2003) Concurrent chemotherapy and radiotherapy for organ preservation in advanced laryngeal cancer. N Engl J Med 349:2091–2098

7.

Gillison ML, Trotti AM, Harris J, Eisbruch A, Harari PM, Adelstein DJ et al (2019) Radiotherapy plus cetuximab or cisplatin in human papillomavirus-positive oropharyngeal cancer (NRG Oncology RTOG 1016): a randomised, multicentre, non-inferiority trial. Lancet 393:40–50

8.

Nguyen-Tan PF, Zhang Q, Ang KK, Weber RS, Rosenthal DI, Soulieres D et al (2014) Randomized phase III trial to test accelerated versus standard fractionation in combination with concurrent cisplatin for head and neck carcinomas in the Radiation Therapy Oncology Group 0129 trial: long-term report of efficacy and toxicity. J Clin Oncol 32:3858–3866

9.

Rosenthal D (2007) Consequences of mucositis-induced treatment breaks and dose reductions on head and neck cancer treatment outcomes. J Support Oncol 5:23–31

10.

Caillet P, Liuu E, Raynaud Simon A, Bonnefoy M, Guerin O, Berrut G et al (2017) Association between cachexia, chemotherapy and outcomes in older cancer patients: a systematic review. Clin Nutr 36:1473–1482

11.

Pressoir M, Desné S, Berchery D, Rossignol G, Poiree B, Meslier M et al (2010) Prevalence, risk factors and clinical implications of malnutrition in French comprehensive cancer centres. Br J Cancer 102:966–971

12.

Silver HJ, Dietrich MS, Murphy BA (2007) Changes in body mass, energy balance, physical function, and inflammatory state in patients with locally advanced head and neck cancer treated with concurrent chemoradiation after low-dose induction chemotherapy. Head Neck 29:893–900

13.

Jager-Wittenaar H, Dijkstra PU, Vissink A, Langendijk JA, van der Laan BF, Pruim J et al (2011) Changes in nutritional status and dietary intake during and after head and neck cancer treatment. Head Neck 33:863–870

14.

Bossola M (2015) Nutritional interventions in head and neck cancer patients undergoing chemoradiotherapy: a narrative review. Nutrients 7:265–276

15.

Alshadwi A, Nadershah M, Carlson ER, Young LS, Burke PA, Daley BJ (2013) Nutritionalconsiderations for head and neck cancer patients: a review of the literature. J Oral Maxillofac Surg 71:1853–1860

16.

Dechaphunkul T, Martin L, Alberda C, Olson K, Baracos V, Gramlich L (2013) Malnutrition assessment in patients with cancers of the head and neck: a call to action and consensus. Crit Rev Oncol Hematol 88:459–476

17.

Ravasco P (2011) Nutritional support in head and neck cancer: how and why? Anticancer Drugs 22:639–646

18.

Cereda E, Cappello S, Colombo S, Klersy C, Imarisio I, Turri A et al (2018) Nutritional counseling with or without systematic use of oral nutritional supplements in head and neck cancer patients undergoing radiotherapy. Radiother Oncol 126:81–88

19.

Garg S, Yoo J, Winquist E (2010) Nutritional support for head and neck cancer patients receiving radiotherapy: a systematic review. Support Care Cancer 8:667–677

20.

Ravasco P, Monteiro-Grillo I, Marques Vidal P, Camilo ME (2005) Impact of nutrition on outcome: a prospective randomized controlled trial in patients with head and neck cancer undergoing radiotherapy. Head Neck 27:659–668

21.

Arends J, Bodoky G, Bozzetti F, Fearon K, Muscaritoli M, Selga G et al (2006) ESPEN Guidelines on Enteral Nutrition: non-surgical oncology. Clin Nutr 25:245–259

22.

Senring EA, Bauer JD, Capra S (2007) Nutrition support using the American Dietetic Association medical nutrition therapy protocol for radiation oncology patients improves dietary intake compared with standard practice. J Am Diet Assoc 107:404–412

23.

Bauer DJ, Ash S, Davidson LW, Hill MJ, Brown T, Isenring AE et al (2008) Evidence based practice guidelines for the nutritional management of patients receiving radiation therapy of the Dietitians Association of Australia. Nutr Diet 65:1–20

24.

Rubenstein LZ, Harker JO, Salvà A, Guigoz Y, Vellas B (2001) Screening for undernutrition in geriatric practice: developing the short-form mini-nutritional assessment (MNA-SF). J Gerontol A Biol Sci Med Sci 56:M366–M372

25.

Rieke K, Schmid KK, Lydiatt W, Houfek J, Boilesen E, Watanabe-Galloway S (2017) Depression and survival in head and neck cancer patients. Oral Oncol 65:76–82

26.

Chou WC, Chang PH, Chen PT, Wang HM, Yeh KY, Lu CH, et al (2002). Clinical significance of vulnerability assessment in patients with primary head and neck cancer undergoing definitive concurrent chemoradiotherapy. Int J Radiat Oncol Biol Phys doi: https://doi.org/10.1016/j.ijrobp.2020.01.004.

27.

Taylor SG 4th, Murthy AK, Vannetzel JM, Colin P, Dray M, Caldarelli DD et al (1994) Randomized comparison of neoadjuvant cisplatin and fluorouracil infusion followed by radiation versus concomitant treatment in advanced head and neck cancer. J Clin Oncol 12:385–395

28.

Huang PW, Lin CY, Hsieh CH, Hsu CL, Fan KH, Huang SF et al (2018) A phase II randomized trial comparing neoadjuvant chemotherapy followed by concurrent chemoradiotherapy versus concurrent chemoradiotherapy alone in advanced squamous cell carcinoma of the pharynx or larynx. Biomed J 41:129–136

29.

Garden AS, Harris J, Vokes EE, Forastiere AA, Ridge JA, Jones C et al (2004) Preliminary results of Radiation Therapy Oncology Group 97-03: a randomized phase II trial of concurrent radiation and chemotherapy for advanced squamous cell carcinomas of the head and neck. J Clin Oncol 22:2856–2864

30.

Loong HH, Ma BB, Leung SF, Mo F, Hui EP, Kam MK et al (2012) Prognostic significance of the total dose of cisplatin administered during concurrent chemoradiotherapy in patients with locoregionally advanced nasopharyngeal carcinoma. Radiother Oncol 104:300–304

31.

Ang KK (2004) Concurrent radiation chemotherapy for locally advanced head and neck carcinoma: are we addressing burning subjects? J Clin Oncol 22:4657–4659

32.

Common Terminology Criteria for Adverse Events (CTCAE) version 3. Available at: https://ctep.cancer.gov/protocolDevelopment/electronic_applications/ctc.htm. Accessed Nov. 13, 2019

33.

Thoresen L, Fjeldstad I, Krogstad K, Kaasa S, Falkmer UG (2002) Nutritional status of patients with advanced cancer: the value of using the subjective global assessment of nutritional status as a screening tool. Palliat Med 16:33–42

34.

Bauer J, Capra S, Ferguson M (2002) Use of the scored Patient-Generated Subjective Global Assessment (PG-SGA) as a nutrition assessment tool in patients with cancer. Eur J Clin Nutr 56:779–785

35.

Aaldriks AA, Maartense E, le Cessie S, Giltay EJ, Verlaan HA, van der Geest LG et alPredictive value of geriatric assessment for patients older than 70 years, treated with chemotherapy. Crit Rev Oncol Hematol 79:205–212

36.

Bourdel-Marchasson I, Diallo A, Bellera C, Blanc-Bisson C, Durrieu J, Germain C et alOne-year mortality in older patients with cancer: development and external validation of an MNA-based prognostic score. PLoS One 11:e0148523

37.

Extermann M, Boler I, Reich RR, Lyman GH, Brown RH, DeFelice J et al (2012) Predicting the risk of chemotherapy toxicity in older patients: the chemotherapy risk assessment scale for high-age patients (CRASH) score. Cancer 118:3377–3386

38.

Kaiser MJ, Bauer JM, Ramsch C, Uter W, Guigoz Y, Cederholm T et al (2009) Validation of the Mini Nutritional Assessment short-form (MNA-SF): a practical tool for identification of nutritional status. J Nutr Health Aging 13:782–788

39.

Demirel B, Atasoy BM (2018) Comparison of three nutritional screening tools to predict malnutrition risk and detect distinctions between tools in cancer patients receiving radiochemotherapy. Nutr Cancer 70:867–873

40.

Gu W, Zhang G, Sun L, Ma Q, Cheng Y, Zhang H et al (2015) Nutritional screening is strongly associated with overall survival in patients treated with targeted agents for metastatic renal cell carcinoma. J Cachexia Sarcopenia Muscle 6:222–230

41.

Vellas B, Villars H, Abellan G, Soto ME, Rolland Y, Guigoz Y et al (2005) Overview of the MNA-Its history and challenges. J Nutr Health Aging 10:456–463

42.

Hsu WL, Yu KJ, Chiang CJ, Chen TC, Wang CP (2017) Head and neck cancer incidence trends in Taiwan, 1980 ~ 2014. Int J Head Neck Sci 1:180–189
Acknowledgments
The authors gratefully acknowledge Miss Vengi Ho and the support from the Cancer Center of Chang Gung Memorial Hospital, Taoyuan, Taiwan.
Ethics declarations
The study protocol was approved by the institutional review board at all study sites (no. 1608080002).
Conflict of interest
The authors declare that they have no conflict of interest.
Additional information
Publisher's note
Springer Nature remains neutral with regard to jurisdictional claims in published maps and institutional affiliations.
About this article
Cite this article
Hung, CY., Hsueh, SW., Lu, CH. et al. A prospective nutritional assessment using Mini Nutritional Assessment-short form among patients with head and neck cancer receiving concurrent chemoradiotherapy. Support Care Cancer 29, 1509–1518 (2021). https://doi.org/10.1007/s00520-020-05634-3
Received:

Accepted:

Published:

Issue Date:
Keywords
Head and neck cancer

Chemoradiotherapy

Nutritional assessment

Mini Nutrition Assessment

Treatment completeness