Abstract
Purpose
Falls can occur in older cancer patients, but few studies have examined falls in an age-unspecified group of patients with locally advanced esophageal cancer. Because these patients are often administered neuropathy-inducing agents, are weak, and can develop orthostatic symptoms, examining falls appears relevant.
Methods
Electronic medical records were used to examine falls and their circumstances in locally advanced esophageal cancer patients treated with chemotherapy and radiation and often surgery.
Results
Among 300 patients, 62 (21%) suffered a fall, yielding 6 falls per 100 patient years. The median age at first fall was 64 years (range 31 to 83). The median time from cancer diagnosis to first fall was 11 months (range 0 to 107). Forty-two patients (68%) who fell had active cancer; 20 (32%) were cancer-free. Fall-related injuries occurred in 42 patients and included fractures, hematomas, and other musculoskeletal events. Eighteen patients (29%) fell repeatedly. Neuropathy, general weakness, and orthostatic symptoms were associated with falls ("He does state his neuropathy is more bothersome…. He did have a fall last week…." "He has been increasingly weak to the point where he fell down last week…." "Upon rising… [he] felt like somebody had put a sheet over his eyes, felt very lightheaded, and fell to the floor…."). At times, falls occurred under commonplace circumstances, such as slipping on ice or tripping on an underfoot pet.
Conclusion
Regardless of patient age, clinicians should remain vigilant for fall risk in adult patients with locally advanced esophageal cancer.
Access options
Buy single article
Instant access to the full article PDF.
US$ 39.95
Tax calculation will be finalised during checkout.
Subscribe to journal
Immediate online access to all issues from 2019. Subscription will auto renew annually.
US$ 119
Tax calculation will be finalised during checkout.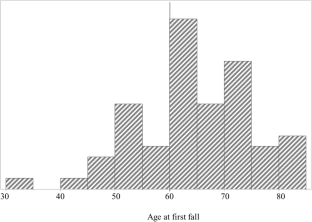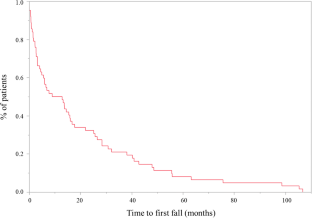 References
1.

Florence CS, Bergen G, Atherly A, Burns E, Stevens J, Drake C (2018) Medical costs of fatal and nonfatal falls in older adults. J Am Geriatr Soc 66(4):693–698

2.

Wildes TM et al (2018) Factors associated with falls in older adults with cancer: a validated model from the Cancer and Aging Research Group. Support Care Cancer 26(10):3563–3570

3.

Noone AM, H.N., Krapcho M, Miller D, Brest A, Yu M. SEER cancer statistics review, 1975–2015. 2017 [cited 2020 January 14, 2020]

4.

Komatsu H, Yagasaki K, Komatsu Y, Yamauchi H, Yamauchi T, Shimokawa T, Doorenbos AZ (2019) Falls and functional impairments in breast cancer patients with chemotherapy-induced peripheral neuropathy. Asia Pac J Oncol Nurs 6(3):253–260

5.

McCrary JM, Goldstein D, Trinh T, Timmins HC, Li T, Menant J, Friedlander M, Lewis CR, Hertzberg M, O'Neill S, King T, Bosco A, Harrison M, Park SB (2019) Balance deficits and functional disability in cancer survivors exposed to neurotoxic cancer treatments. J Natl Compr Cancer Netw 17(8):949–955

6.

Najafpour Z, Godarzi Z, Arab M, Yaseri M (2019) Risk factors for falls in hospital in-patients: a prospective nested case control study. Int J Health Policy Manag 8(5):300–306

7.

Stone CA, Lawlor PG, Savva GM, Bennett K, Kenny RA (2012) Prospective study of falls and risk factors for falls in adults with advanced cancer. J Clin Oncol 30(17):2128–2133

8.

Tofthagen C, Overcash J, Kip K (2012) Falls in persons with chemotherapy-induced peripheral neuropathy. Support Care Cancer 20(3):583–589

9.

Wildes TM, Dua P, Fowler SA, Miller JP, Carpenter CR, Avidan MS, Stark S (2015) Systematic review of falls in older adults with cancer. J Geriatr Oncol 6(1):70–83

10.

Sattar S, Alibhai SMH, Spoelstra SL, Puts MTE (2019) The assessment, management, and reporting of falls, and the impact of falls on cancer treatment in community-dwelling older patients receiving cancer treatment: results from a mixed-methods study. J Geriatr Oncol 10(1):98–104

11.

Guerard EJ, Deal AM, Williams GR, Jolly TA, Nyrop KA, Muss HB (2015) Falls in older adults with cancer: evaluation by oncology providers. J Oncol Pract 11(6):470–474

12.

Sattar S, Alibhai SMH, Spoelstra SL, Fazelzad R, Puts MTE (2016) Falls in older adults with cancer: a systematic review of prevalence, injurious falls, and impact on cancer treatment. Support Care Cancer 24(10):4459–4469

13.

Haddad YK, Bergen G, Lou F (2018) Reducing fall risk in older adults. Am J Nurs 118:21–22

14.

Elliott JA, Doyle SL, Murphy CF, King S, Guinan EM, Beddy P, Ravi N, Reynolds JV (2017) Sarcopenia: prevalence, and impact on operative and oncologic outcomes in the multimodal management of locally advanced esophageal cancer. Ann Surg 266(5):822–830

15.

Jarvinen T et al (2018) Loss of skeletal muscle mass during neoadjuvant treatments correlates with worse prognosis in esophageal cancer: a retrospective cohort study. World J Surg Oncol 16(1):27

16.

Levolger S, van Vugt JLA, de Bruin RWF, IJzermans JNM (2015) Systematic review of sarcopenia in patients operated on for gastrointestinal and hepatopancreatobiliary malignancies. Br J Surg 102(12):1448–1458
Funding
This work was funded in part by the Fred C. and Katherine B. Andersen Foundation and by R01CA195473.
Ethics declarations
Conflict of interest
The authors declare that they have conflict of interest.
Additional information
Publisher's note
Springer Nature remains neutral with regard to jurisdictional claims in published maps and institutional affiliations.
About this article
Cite this article
Childs, D.S., Yoon, H.H., Eiring, R.A. et al. Falls: descriptive rates and circumstances in age-unspecified patients with locally advanced esophageal cancer. Support Care Cancer 29, 733–739 (2021). https://doi.org/10.1007/s00520-020-05511-z
Received:

Accepted:

Published:

Issue Date:
Keywords
Falls

Esophageal cancer

Younger patients

Neuropathy

Fracture