Abstract
Purpose
This study aimed to identify unobserved distinct latent classes/subgroups of breast cancer (BC) patients in China with respect to various sexual health measures and examine the association of the latent membership with individual characteristics.
Methods
In a cross-sectional study, 123 BC patients were analyzed. Their sexual health was measured using the Female Sexual Functioning Index (FSFI). Latent class analysis (LCA) was used to examine the patterns of sexual health in patients. Associations of the latent class membership with individual characteristics were examined using multinomial logistic regression.
Results
Three a priori unknown distinct latent classes of patients were identified with respect to the 19 FSFI sexual health measures: 50 patients (41.6%) were classified in class 1 "No Impairment Group," 49 patients (39.4%) in class 2 "Organic Sexual Dysfunction Group," and 24 patients (19.1%) in class 3 "Poor Sexual Health Group." Income and anxiety were positively, whereas disease duration was negatively associated with the likelihood of being in class 2 than in class 1, patients with recurrence of cancer were likely to be in classes 2 and 3. Patients classified in class 3 were more likely to have better prior body image and have more severe menopausal symptoms, whereas less likely to have better post body image and have better partner relationships.
Conclusion
The findings revealed the heterogeneity of sexual health among BC patients in China and may guide to identify the high-risk patients and enable early intervention.
Access options
Buy single article
Instant access to the full article PDF.
US$ 39.95
Tax calculation will be finalised during checkout.
Subscribe to journal
Immediate online access to all issues from 2019. Subscription will auto renew annually.
US$ 119
Tax calculation will be finalised during checkout.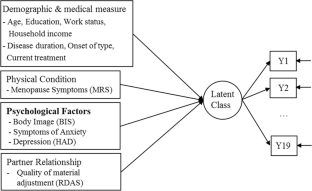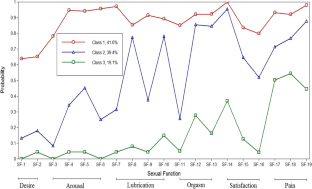 References
1.

Chen W, Zheng R, Baade PD, Zhang S, Zeng H, Bray F, Jemal A, Yu XQ, He J (2016) Cancer statistics in China, 2015. CA Cancer J Clin 66(2):115–132

2.

Berterö C, Wilmoth MC (2007) Breast cancer diagnosis and its treatment affecting the self: a meta-synthesis. Cancer Nurs 30(3):194–202

3.

Word Health Organisation (1995) The World Health Organization quality of life assessment (WHOQOL): position paper from the World Health Organization. Soc Sci Med 41(10):1403–1409

4.

Lee M, Kim YH, Jeon MJ (2015) Risk factors for negative impacts on sexual activity and function in younger breast cancer survivors. Psycho-Oncol 24(9):1097–1103. https://doi.org/10.1002/pon.3772

5.

Krychman M, Millheiser LS (2013) Sexual health issues in women with cancer. J Sex Med 10:5–15. https://doi.org/10.1111/jsm.12034

6.

Aerts L, Christiaens MR, Enzlin P, Neven P, Amant F (2014) Sexual functioning in women after mastectomy versus breast conserving therapy for early-stage breast cancer: a prospective controlled study. Breast 23(5):629–636. https://doi.org/10.1016/j.breast.2014.06.012

7.

Barton DL, Ganz PA (2015) Symptoms: menopause, infertility, and sexual health. In: Ganz PA (ed) Improving outcomes for breast cancer survivors: perspectives on research challenges and opportunities, Advances in experimental medicine and biology, vol 862. Springer-Verlag Berlin, Berlin, pp 115–141. https://doi.org/10.1007/978-3-319-16366-6_9

8.

Barni S, Mondin R (1997) Sexual dysfunction in treated breast cancer patients. Ann Oncol 8(2):149–153

9.

Schover LR, Yetman RJ, Tuason LJ, Meisler E, Esselstyn CB, Hermann RE, Grundfest-Broniatowski S, Dowden RV (1995) Partial mastectomy and breast reconstruction. A comparison of their effects on psychosocial adjustment, body image, and sexuality. Cancer 75(1):54–64

10.

Safarinejad MR, Shafiei N, Safarinejad S (2013) Quality of life and sexual functioning in young women with early-stage breast cancer 1year after lumpectomy. Psycho-Oncol 22(6):1242–1248. https://doi.org/10.1002/pon.3130

11.

Ganz PA, Greendale GA, Petersen L, Kahn B, Bower JE (2003) Breast cancer in younger women: reproductive and late health effects of treatment. J Clin Oncol 21(22):4184–4193

12.

Hawkins Y, Ussher J, Gilbert E, Perz J, Sandoval M, Sundquist K (2009) Changes in sexuality and intimacy after the diagnosis and treatment of cancer the experience of partners in a sexual relationship with a person with cancer. Cancer Nurs 32(4):271–280. https://doi.org/10.1097/NCC.0b013e31819b5a93

13.

Toriy AM, Wolpe RE, Pires SA, Sperandio FF (2015) Use of "FSFI" to assess the sexual function of women after gynaecological cancer treatment: systematic literature review. Acta Medica Mediterranea 31(3):697–704

14.

Taylor S, Harley C, Ziegler L, Brown J, Velikova G (2011) Interventions for sexual problems following treatment for breast cancer: a systematic review. Breast Cancer Res Treat 130(3):711–724. https://doi.org/10.1007/s10549-011-1722-9

15.

World Health Organization (2006) Defining sexual health: report of a technical consultation on sexual health, 28-31 January 2002, Geneva

16.

Ganz PA, Desmond KA, Belin TR, Meyerowitz BE, Rowland JH (1999) Predictors of sexual health in women after a breast cancer diagnosis. J Clin Oncol 17(8):2371–2371

17.

Rajaram N, Lim ZY, Song CV, Kaur R, Mohd Taib NA, Muhamad M, Ong WL, Schouwenburg M, See MH, Teo S-H, Saunders C, Yip CH (2019) Patient-reported outcome measures among breast cancer survivors: a cross-sectional comparison between Malaysia and high-income countries. Psycho-Oncol 28(1):147–153. https://doi.org/10.1002/pon.4924

18.

Rosen CB, Heiman J, Leiblum S, Meston C, Shabsigh R, Ferguson D, D'Agostino R (2000) The Female Sexual Function Index (FSFI): a multidimensional self-report instrument for the assessment of female sexual function. J Sex Ther 26(2):191–208

19.

Schneider HP, Heinemann LA, Rosemeier HP, Potthoff P, Potthoff P, Behre HM (2000) The Menopause Rating Scale (MRS): reliability of scores of menopausal complaints. Climacteric 3(1) (1369–7137 (Print)):59–64

20.

Dalton EJ, Rasmussen VN, Classen CC, Grumann M, Palesh OG, Zarcone J, Kraemer HC, Kirshner JJ, Colman LK, Morrow GR, Spiegel D (2009) Sexual adjustment and body image scale (SABIS): a new measure for breast cancer patients. Breast J 15(3):287–290. https://doi.org/10.1111/j.1524-4741.2009.00718.x

21.

Zigmond A, Snaith R (1983) The hospital anxiety and depression scale. Acta Psychiatr Scand 67(6):361–370

22.

Busby DM, Christensen C, Crane DR, Larson JH (1995) A revision of the dyadic adjstment scale for use with distressed and nondistressed couples-construct hierarchy and multidimensional scales. J Marital Fam Ther 21(3):289–308. https://doi.org/10.1111/j.1752-0606.1995.tb00163.x

23.

Spanier GB (1976) Measuring dyadic adjustment: new scales for assessing the quality of marriage and similar dyads. J Marriage Fam:15–28

24.

Muthén BO (2002) Beyond SEM: general latent variable modeling. Behaviormetrika 29(1):81–117

25.

Collins LM, Lanza ST (2010) Latent class and latent transition analysis : with applications in the social behavioral, and health sciences. Wiley, New York

26.

Muthén BO, Muthén L (2010) Mplus T echnical appendices. Los Angeles, CA

27.

Arbuckle JL (1996) Full information estimation in the presence of incomplete data. In: Advanced structural equation modeling: issues and techniques. Lawrence Erlbaum Associates, pp 243-278

28.

Little RJ, Rubin DB (2002) Statistical analysis with missing data, 2nd edn. John Wiley & Sons, New York

29.

Asparouhov T, Muthén B (2014) Auxiliary variables in mixture modeling: three-step approaches using M plus. Struct Equ Model Multidiscip J 21(3):329–341

30.

Nylund KL, Asparouhov T, Muthén BO (2007) Deciding on the number of classes in latent class analysis and growth mixture modeling: a Monte Carlo simulation study. Struct Equ Model Multidiscip J 14(4):535–569

31.

Park H, Yoon HG (2013) Menopausal symptoms, sexual function, depression, and quality of life in Korean patients with breast cancer receiving chemotherapy. Support Care Cancer 21(9):2499–2507. https://doi.org/10.1007/s00520-013-1815-6

32.

Berkey FJ (2010) Managing the adverse effects of radiation therapy. Am Fam Physician 82(4):381–388

33.

Sarenmalm EK, Ohlen J, Jonsson T, Gaston-Johansson F (2007) Coping with recurrent breast cancer: predictors of distressing symptoms and health-related quality of life. J Pain Symptom Manag 34(1):24–39. https://doi.org/10.1016/j.jpainsymman.2006.10.017

34.

Adams PF, Dey AN, Vickerie JL (2007) Summary health statistics for the US population; National Health Interview Survey, 2005

35.

Fu MR, Xu B, Liu Y, Haber J (2008) 'Making the best of it': Chinese women's experiences of adjusting to breast cancer diagnosis and treatment. J Adv Nurs 63(2):155–165

36.

Christie KM, Meyerowitz BE, Maly RC (2010) Depression and sexual adjustment following breast cancer in low-income Hispanic and non-Hispanic White women. Psycho-Oncol 19(10):1069–1077. https://doi.org/10.1002/pon.1661

37.

Boquiren VM, Esplen MJ, Wong JH, Toner B, Warner E, Malik N (2016) Sexual functioning in breast cancer survivors experiencing body image disturbance. Psycho-Oncol 25(1):66–76. https://doi.org/10.1002/pon.3819

38.

Fang S-Y, Lin Y-C, Chen T-C, Lin C-Y (2015) Impact of marital coping on the relationship between body image and sexuality among breast cancer survivors. Support Care Cancer 23(9):2551–2559. https://doi.org/10.1007/s00520-015-2612-1

39.

Kenyon M, Mayer DK, Owens AK (2014) Late and long-term effects of breast cancer treatment and surveillance management for the general practitioner. J Obstet Gynecol Neonatal Nurs 43(3):382–398

40.

Bredart A, Dolbeault S, Savignoni A, Besancenet C, This P, Giami A, Michaels S, Flahault C, Falcou MC, Asselain B, Copel L (2011) Prevalence and associated factors of sexual problems after early-stage breast cancer treatment: results of a French exploratory survey. Psycho-Oncol 20(8):841–850. https://doi.org/10.1002/pon.1789

41.

Wang FL, Chen F, Huo XQ, Xu RB, Wu L, Wang JM, Lu C (2013) A neglected issue on sexual well-being following breast cancer diagnosis and treatment among Chinese women. PLoS One 8 (9). doi:https://doi.org/10.1371/journal.pone.0074473
Funding
The study was sponsored by the National Natural Science Foundation of China, 2019 (No. 71874032) and Scientific Research Foundation of Shanghai Municipal Commission of Health and Family Planning, 2016(No. 20164Y0135).
Ethics declarations
Conflict of interest
The authors declare that they have no conflicts of interest.
Additional information
Publisher's note
Springer Nature remains neutral with regard to jurisdictional claims in published maps and institutional affiliations.
About this article
Cite this article
Yuan, X., Wang, J., Bender, C.M. et al. Patterns of sexual health in patients with breast cancer in China: a latent class analysis. Support Care Cancer 28, 5147–5156 (2020). https://doi.org/10.1007/s00520-020-05332-0
Received:

Accepted:

Published:

Issue Date:
Keywords
Breast cancer

Sexual health

Female sexual dysfunction

Latent class analysis (LCA)