Abstract
Purpose
Patients undergoing hematopoietic stem cell transplantation (HSCT) usually experienced respiratory muscle weakness. Inspiratory muscle training (IMT) at HSCT has not been studied yet. Thus, it is important to evaluate the safety, feasibility, and preliminary effectiveness of IMT for hospitalized patients undergoing HSCT with an unstable and acute clinical condition.
Methods
This is a randomized controlled feasibility study. Thirty-one hospitalized patients undergoing HSCT were randomized to the conventional physical rehabilitation (CON) or to the IMT group (conventional physical rehabilitation + IMT). IMT was carried out at 40% of maximal inspiratory pressure (MIP), 5 sessions weekly, 10–20 min/session. Primary outcomes were safety and feasibility (recruitment, adherence, and attrition rates) of IMT. Secondary outcomes were respiratory strength, respiratory rate, oxygen saturation, and frequency of patients with oxygen desaturation, bleeding, dyspnea, and acute pulmonary edema.
Results
Patients were allocated to the IMT (N = 15; 43.6 years) or to the CON group (N = 16; 46.6 years). The recruitment rate was 100%, the adherence rate was 91%, and attrition was 13% to IMT. Two events were observed in 126 IMT sessions (1.5%). MIP increased in the IMT group (P < 0.01). No differences were observed in respiratory rate and oxygen saturation between groups. Trends to negative outcomes were observed in the CON in comparison to IMT group for a need of oxygen therapy (18% vs. 6%), bleeding (12% vs. 6%), dyspnea (25% vs. 13%), and acute pulmonary edema (6% vs. 0%).
Conclusions
IMT is safe, feasible, and improves the inspiratory muscle strength in hospitalized patients undergoing HSCT.
Trial registration
Clinical trial registration: NCT03373526
This is a preview of subscription content, log in to check access.
Access options
Buy single article
Instant access to the full article PDF.
US$ 39.95
Price includes VAT for USA
Subscribe to journal
Immediate online access to all issues from 2019. Subscription will auto renew annually.
US$ 199
This is the net price. Taxes to be calculated in checkout.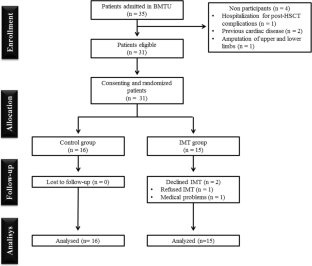 Acknowledgments
The authors would like to thank the BMT team for their assistance.
Funding
This study was financed in part by the Coordenação de Aperfeiçoamento de Pessoal de Nível Superior - Brasil (CAPES) [Finance Code 001], Fundação de Amparo à Pesquisa do Estado de Minas Gerais (FAPEMIG) (8443327/2019), and Conselho Nacional de Desenvolvimento Científico e Tecnológico (CNPq) (425702/2018-9).
Ethics declarations
Conflict of interest
The authors declare that they have no conflict of interest.
Ethical approval
All procedures performed in studies involving human participants were in accordance with the ethical standards of the institutional and/or national research committee (University Hospital of Federal University of Juiz de Fora, Brazil – 2.354.808) and with the 1964 Helsinki declaration and its later amendments or comparable ethical standards.
Informed consent
Informed consent was obtained from all individual participants included in the study.
Additional information
Publisher's note
Springer Nature remains neutral with regard to jurisdictional claims in published maps and institutional affiliations.
About this article
Cite this article
de Almeida, L.B., Trevizan, P.F., Laterza, M.C. et al. Safety and feasibility of inspiratory muscle training for hospitalized patients undergoing hematopoietic stem cell transplantation: a randomized controlled study. Support Care Cancer 28, 3627–3635 (2020). https://doi.org/10.1007/s00520-019-05209-x
Received:

Accepted:

Published:

Issue Date:
Keywords
Hematopoietic stem cell transplantation

Bone marrow transplantation

Rehabilitation

Breathing exercises