Abstract
Purpose
Food insecure cancer patients experience worse health outcomes and poorer quality of life than food secure patients. There has been little research in programs to alleviate food insecurity in cancer patients. The objective of this paper is to report on the food purchasing behaviors of cancer patients enrolled in a supplemental food voucher program.
Methods
This paper utilized data from a three-arm randomized controlled trial investigating the impact of food interventions on alleviating food insecurity in cancer patients receiving chemotherapy and/or radiation therapy. In one arm, patients received a monthly $230 voucher with which to purchase food. Receipts were collected for items purchased with the voucher and were coded to analyze purchasing behaviors.
Results
Thirty-three patients provided receipts for more than 11,000 individual items. Patients spent 50% of voucher funds on animal protein, fruits, and vegetables. Patients spent, on average, 77% of voucher funds on items categorized as "healthy."
Conclusions
Patients who received a food voucher purchased more fruits and vegetables than national averages would suggest. They also spent less on sweetened beverages than national samples. Patients who were born outside of the United States or who were limited English proficient purchased significantly more healthy foods than English-speaking and American-born study patients. Supplemental food vouchers for food insecure cancer patients resulted in the purchase of healthy food items.
This is a preview of subscription content, log in to check access.
Access options
Buy single article
Instant access to the full article PDF.
US$ 39.95
Price includes VAT for USA
Subscribe to journal
Immediate online access to all issues from 2019. Subscription will auto renew annually.
US$ 199
This is the net price. Taxes to be calculated in checkout.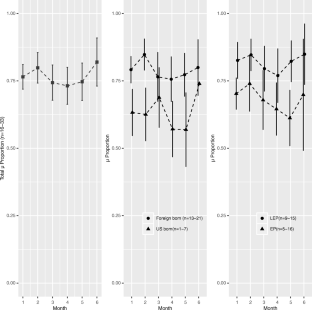 References
1.

Coleman-Jensen A, Rabbitt MP, Gregory CA, Singh A (2016) Household Food Security in the United States in 2015 United States Department of Agriculture

2.

Hunger Free America (2016) The State of the Working Hungry: Low Wages Chief Cause of Malnutrition

3.

Gregory CA, Coleman-Jensen A (2017) Food insecurity, chronic disease, and health among working-age adults United States Department of Agriculture

4.

Holben DH, Pheley AM (2006) Diabetes risk and obesity in food-insecure households in rural Appalachian Ohio J Preventing chronic disease 3

5.

Leung CW, Epel ES, Willett WC, Rimm EB, Laraia BA (2015) Household food insecurity is positively associated with depression among low-income supplemental nutrition assistance program participants and income-eligible nonparticipants. J Nutr 145:622–627

6.

Martin KS, Ferris AM (2007) Food insecurity and gender are risk factors for obesity. J Nutr Educ Behav 39:31–36

7.

Beaulac J, Kristjansson E, Cummins S (2009) A systematic review of food deserts, 1966–2007 J Preventing chronic disease 6

8.

Stuff JE, Casey PH, Szeto KL, Gossett JM, Robbins JM, Simpson PM, Connell C, Bogle ML (2004) Household food insecurity is associated with adult health status. J Nutr 134:2330–2335

9.

Ver Ploeg M, Mancino L, Todd JE, Clay DM, Scharadin B (2015) Where do Americans usually shop for food and how do they travel to get there? Initial findings from the National Household Food Acquisition and Purchase Survey USDA, Economic Research Service

10.

Drewnowski A, Specter SE (2004) Poverty and obesity: the role of energy density and energy costs. Am J Clin Nutr 79:6–16

11.

Chilton M, Black MM, Berkowitz C, Casey PH, Cook J, Cutts D, Jacobs RR, Heeren T, De Cuba SE, Coleman S (2009) Food insecurity and risk of poor health among US-born children of immigrants. J American journal of public health 99:556–562

12.

Gany F, Bari S, Crist M, Moran A, Rastogi N, Leng J (2013) Food insecurity: limitations of emergency food resources for our patients. J Urban Health 90:552–558

13.

Seligman HK, Laraia BA, Kushel MB (2009) Food insecurity is associated with chronic disease among low-income NHANES participants. J Nutr 140:304–310

14.

Vargas ED, Pirog MA (2016) Mixed-status families and WIC uptake: the effects of risk of deportation on program use. J Social science quarterly 97:555–572

15.

Simmons LA, Modesitt SC, Brody AC, Leggin AB (2006) Food insecurity among cancer patients in Kentucky: a pilot study. Journal of oncology practice 2:274–279

16.

Tarasuk V, Mitchell A, McLaren L, McIntyre L (2013) Chronic physical and mental health conditions among adults may increase vulnerability to household food insecurity. J Nutr 143:1785–1793

17.

De Boer AG, Taskila T, Ojajärvi A, Van Dijk FJ, Verbeek JH (2009) Cancer survivors and unemployment: a meta-analysis and meta-regression. Jama 301:753–762

18.

Gany F, Ramirez J, Nierodzick ML, McNish T, Lobach I, Leng J (2011) Cancer portal project: a multidisciplinary approach to cancer care among Hispanic patients. Journal of oncology practice 7:31–38

19.

Laky B, Janda M, Bauer J, Vavra C, Cleghorn G, Obermair A (2007) Malnutrition among gynaecological cancer patients. Eur J Clin Nutr 61:642

20.

Stone P (2002) The measurement, causes and effective management of cancer-related fatigue. Int J Palliat Nurs 8:120–128

21.

French SA, Rydell SA, Mitchell NR, Oakes JM, Elbel B, Harnack L (2017) Financial incentives and purchase restrictions in a food benefit program affect the types of foods and beverages purchased: results from a randomized trial. International Journal of Behavioral Nutrition Physical Activity 14:127

22.

USDA ERS (2012) US household food security survey module: three stage design, with screeners

23.

Bureau of Labor Statistics (2016) Composition of consumer unit: Annual expenditure means, shares, standard errors, and coefficients of variation, Consumer Expenditure Survey

24.

USDA (2015) USDA Food Patterns

25.

USDA (2015) USDA Food Patterns: Healthy U.S.-Style Eating Pattern

26.

IBM Corp (2016) SPSS Statistics for Windows

27.

R Development Core Team (2008) R: A language and environment for statistical computing

28.

Garansky S, Mbwana K, Romualdo A, Tenaglio A, Roy M (2016) Foods Typically Purchased by Supplemental Nutrition Assistance Program (SNAP) Households Prepared by IMPAQ International, LLC for USDA, Food and Nutrition Service

29.

Han E, Powell LM (2013) Consumption patterns of sugar-sweetened beverages in the United States. Journal of the Academy of Nutrition Dietetics 113:43–53

30.

Malik VS, Popkin BM, Bray GA, Després J-P, Hu FB (2010) Sugar-sweetened beverages, obesity, type 2 diabetes mellitus, and cardiovascular disease risk. J Circulation 121:1356–1364

31.

Slavin JL, Lloyd B (2012) Health benefits of fruits and vegetables. J Advances in nutrition 3:506–516

32.

Divi C, Koss RG, Schmaltz SP, Loeb JM (2007) Language proficiency and adverse events in US hospitals: a pilot study. J International for quality in health care 19:60–67

33.

Johnson-Kozlow M, Roussos S, Rovniak L, Hovell M (2009) Colorectal cancer test use among Californians of Mexican origin: influence of language barriers. J Ethnicity disease 19:315

34.

Neuhouser ML, Thompson B, Coronado GD, Solomon CC (2004) Higher fat intake and lower fruit and vegetables intakes are associated with greater acculturation among Mexicans living in Washington state. J Am Diet Assoc 104:51–57

35.

Lesser IA, Gasevic D, Lear SA (2014) The association between acculturation and dietary patterns of south Asian immigrants. J PloS one 9:e88495
Acknowledgments
This study was supported by National Cancer Institute P30 CA008748 Core Cancer Center Support Grant; National Cancer Institute R01 CA230446 FOOD (Food to Overcome Outcomes Disparities); National Cancer Institute U54 CA137788 08; the CCNY/MSKCC Partnership for Cancer Research Training & Community Outreach; Laurie Tisch Illumination Fund; New York Community Trust; New York City Council; and Avon Foundation. Devika R. Jutagir was supported by T32 CA009461.
Ethics declarations
Ethical approval
This project received IRB approval from Memorial Sloan Kettering Cancer Center and from each study site.
Statement of informed consent
Informed consent was obtained from all individual participants included in the study.
Additional information
Publisher's Note
Springer Nature remains neutral with regard to jurisdictional claims in published maps and institutional affiliations.
About this article
Cite this article
Paolantonio, L., Kim, S.Y., Ramirez, J. et al. Food Purchasing Behavior of Food Insecure Cancer Patients Receiving Supplemental Food Vouchers. Support Care Cancer 28, 3739–3746 (2020). https://doi.org/10.1007/s00520-019-05183-4
Received:

Accepted:

Published:

Issue Date:
Keywords
Food insecurity

Cancer

Supplemental nutrition

Quality of life