Abstract
Purpose
Sexual difficulties and vulvovaginal changes are common for women undergoing, and following, cancer treatments. These changes have significant impacts on quality of life and significant relationships. The current study aimed to (1) evaluate women's interest and attendance in a group-based educational workshop to address changes in vulvovaginal health and sexuality after cancer, and (2) describe participant characteristics and presenting concerns.
Methods
Two hundred eighteen women with a history of cancer expressed interest in receiving information about the workshop and completed phone screening. Interested women (n = 156) completed an online questionnaire package examining vulvovaginal health and sexual function prior to attending the workshop.
Results
Approximately 75% of the women who completed screening attended the workshop. Clinically significant sexual distress was reported by 91% of participants, and 97% of sexually active participants exceeded the threshold for sexual dysfunction (per FSFI). Women within 1–2 years of diagnosis tended to report less sexual distress, less severe vulvovaginal symptoms, and less impact from these symptoms compared to women farther out from diagnosis. While the majority of women reported vaginal dryness and pain during intercourse, only a minority reported engaging in health promotion strategies sufficient to expect symptom improvement.
Conclusions
The current study suggests that group-based educational workshops for vulvovaginal and sexual concerns are utilized by patients and should be offered to women well into disease survivorship. Workshops targeting vulvovaginal symptoms and sexual concerns may be a cost-effective method of reducing sexual distress and improving patients' sexual function and quality of life.
This is a preview of subscription content, log in to check access.
Access options
Buy single article
Instant access to the full article PDF.
US$ 39.95
Price includes VAT for USA
Subscribe to journal
Immediate online access to all issues from 2019. Subscription will auto renew annually.
US$ 199
This is the net price. Taxes to be calculated in checkout.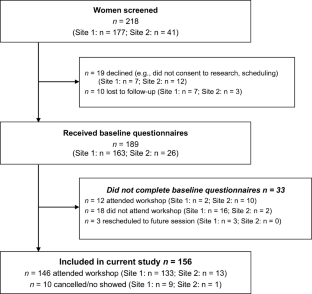 Notes
1.

Date recorded as diagnosis was either the initial diagnosis date, or the most recent date of recurrence for those who had recurred.
References
1.

Boquiren VM, Esplen MJ, Wong J, Toner B, Warner E, Malik N (2016) Sexual functioning in breast cancer survivors experiencing body image disturbance. Psychooncology 25:66–76

2.

Satcher D, Hook EW 3rd, Coleman E (2015) Sexual health in America: improving patient care and public health. JAMA 314:765–766

3.

Bober SL, Varela VS (2012) Sexuality in adult cancer survivors: challenges and intervention. J Clin Oncol 30:3712–3719

4.

Sears CS, Robinson JW, Walker LM (2018) A comprehensive review of sexual health concerns after cancer treatment and the biopsychosocial treatment options available to female patients. Eur J Cancer Care 27:e12738

5.

Abbott-Anderson K, Kwekkeboom KL (2012) A systematic review of sexual concerns reported by gynecological cancer survivors. Gynecol Oncol 124:477–489. https://doi.org/10.1016/j.ygyno.2011.11.030

6.

Maiorino MI, Chiodini P, Bellastella G, Giugliano D, Esposito K (2016) Sexual dysfunction in women with cancer: a systematic review with meta-analysis of studies using the Female Sexual Function Index. Endocrine 54:329–341

7.

Bae H, Park H (2016) Sexual function, depression, and quality of life in patients with cervical cancer. Support Care Cancer 24:1277–1283

8.

DeSimone M, Spriggs E, Gass JS, Carson SA, Krychman ML, Dizon DS (2014) Sexual dysfunction in female cancer survivors. J Clin Oncol 37:101–106

9.

Gilbert E, Ussher JM, Perz J (2011) Sexuality after gynaecological cancer: a review of the material, intrapsychic and discursive aspects of treatment on women's sexual-wellbeing. Maturitas 70:42–57

10.

Lind H, Waldenström A, Dunberger G, al-Abany M, Alevronta E, Johansson K, Olsson C, Nyberg T, Wilderäng U, Steineck G, Åvall-Lundqvist E (2011) Late symptoms in long-term gynaecological cancer survivors after radiation therapy: a population-based cohort study. Br J Cancer 105:737–745

11.

Schover LR, van der Kaaij M, van Dorst E, Cruetzberg C, Huyghe E, Kiserud CE (2014) Sexual dysfunction and infertility as late effects of cancer treatment. EJC Supplement 12(1):41–53

12.

Cleary V, Hegarty J (2011) Understanding sexuality in women with gynaecological cancer. Eur J Oncol Nurs 15:38–45. https://doi.org/10.1016/j.ejon.2010.05.008

13.

Wittmann D (2016) Emotional and sexual health in cancer: partner and relationship issues. Curr Opin Support Palliat Care 10:75–80

14.

Flynn KE, Reese JB, Jeffery DD, Abernethy AP, Lin L, Shelby RA, Porter LS, Dombeck CB, Weinfurt KP (2012) Patient experiences with communication about sex during and after treatment for cancer. Psychooncology 21:594–601

15.

Sporn NJ, Smith KB, Pirl WF, Lennes IT, Hyland KA, Park ER (2015) Sexual health communication between cancer survivors and providers: how frequently does it occur and which providers are preferred? Psychooncology 24:1167–1173

16.

Stead ML, Brown JM, Fallowfield L, Selby P (2003) Lack of communication between healthcare professionals and women with ovarian cancer about sexual issues. Br J Cancer 88:666–671

17.

Julien JO, Thom B, Kline NE (2010) Identification of barriers to sexual health assessment in oncology nursing practice. Oncol Nurs Forum 37(3):E186–E190

18.

Bober SL, Reese JB, Barbera L, Bradford A, Carpenter KM, Goldfarb S, Carter J (2016) How to ask and what to do: a guide for clinical inquiry and intervention regarding female sexual health after cancer. Curr Opin Support Palliat Care 10(1):44–54

19.

Stabile C, Goldfarb S, Baser RE, Goldfrank DJ, Abu-Rustum N, Barakat RR, Dickler MN, Carter J (2017) Sexual health needs and educational intervention preferences for women with cancer. Breast Cancer Res Treat 165:77–84

20.

Advani P, Brewster AM, Baum GP, Schover LR (2017) A pilot randomized trial to prevent sexual dysfunction in postmenopausal breast cancer survivors starting adjuvant aromatase inhibitor therapy. J Cancer Surviv 11(4):477–485

21.

Bober SL, Recklitis CJ, Bakan J, Garber JE, Patenaude AF (2015) Addressing sexual dysfunction after risk-reducing salpingo-oophorectomy: effects of a brief, psychosexual intervention. J Sex Med 12(1):189–197. https://doi.org/10.1111/jsm.12713

22.

Brotto LA, Yule M, Breckon E (2010) Psychological interventions for the sexual sequelae of cancer: a review of the literature. J Cancer Surviv 4(4):346–360

23.

Brotto LA, Erskine Y, Carey M, Ehlen T, Finlayson S, Haywood M, Kwon J, McAlpine J, Stuart G, Thomson S, Miller D (2012) A brief mindfulness-based cognitive behavioral intervention improves sexual functioning versus wait-list control in women treated for gynecologic cancer. Gynecol Oncol 125(2):320–325

24.

Schover LR, Yuan Y, Fellman BM, Odensky E, Lewis PE, Martinetti P (2013) Efficacy trial of an Internet-based intervention for cancer-related female sexual dysfunction. J Natl Compr Canc Netw 11(11):1389–1397

25.

Kingsberg SA, Wysocki S, Magnus L, Krychman ML (2013) Vulvar and vaginal atrophy in postmenopausal women: findings from the REVIVE (REal Women's VIews of Treatment Options for Menopausal Vaginal ChangEs) Survey. J Sex Med 10(7):1790–1799

26.

Basson R (2005) Women's sexual dysfunction: revised and expanded definitions. CMAJ 172:1327–1333

27.

Derogatis L, Clayton A, Lewis-D'Agostino D, Wunderlich G, Fu Y (2008) Validation of the Female Sexual Distress Scale-Revised for assessing distress in women with hypoactive sexual desire disorder. J Sex Med 5(2):357–364

28.

Rosen RC, Brown C, Heiman J, Leiblum S, Meston C, Shabsigh R, Ferguson D, D'Agostino R (2000) The Female Sexual Function Index (FSFI): a multidimensional self-report instrument for the assessment of female sexual function. J Sex Marital Ther 26(2):191–208

29.

Baser RE, Li Y, Carter J (2012) Psychometric validation of the female sexual function index (FSFI) in cancer survivors. Cancer 118:4606–4618

30.

Wiegel M, Meston C, Rosen R (2005) The female sexual function index (FSFI): cross-validation and development of clinical cutoff scores. J Sex Marital Ther 31:1–20

31.

Huang AJ, Gregorich SE, Kuppermann M, Nakagawa S, Van Den Eeden SK, Brown JS, Ritcher HE, Walter LC, Thom D, Stewart AL (2015) Day-to-day impact of Vaginal Aging Questionnaire: a multidimensional measure of the impact of vaginal symptoms on functioning and well-being in postmenopausal women. Menopause 22(2):144–154

32.

Chang VT, Hwang SS, Feuerman M (2000) Validation of the Edmonton Symptom Assessment Scale. Cancer 88:2164–2171

33.

Carpenter KM, Andersen BL, Fowler JM, Maxwell GL (2009) Sexual self schema as a moderator of sexual and psychological outcomes for gynecologic cancer survivors. Arch Sex Behav 38:828–841

34.

Philip EJ, Nelson C, Temple L, Carter J, Schover L, Jennings S, Jandorf L, Starr T, Baser R, DuHamel K (2013) Psychological correlates of sexual dysfunction in female rectal and anal cancer survivors: analysis of baseline intervention data. J Sex Med 10(10):2539–2548. https://doi.org/10.1111/jsm.12152

35.

Canadian Cancer Society (2018) Canadian Cancer Statistics Advisory Committee. Canadian Cancer Statistics. cancer.ca/Canadian-Cancer-Statistics-2018-EN. Accessed November/21 2018.

36.

Bennett N, Incrocci L, Baldwin D, Hackett G, El-Zawahry A, Graziottin A, Lukasiewicz M, McVary K, Sato Y, Krychman M (2016) Cancer, benign gynecology, and sexual function—issues and answers. J Sex Med 13(4):519–537. https://doi.org/10.1016/j.jsxm.2016.01.018

37.

Carter J, Stabile C, Seidel B, Baser RE, Gunn AR, Chi S, Steed RF, Goldfarb S, Goldfrank DJ (2015) Baseline characteristics and concerns of female cancer patients/survivors seeking treatment at a Female Sexual Medicine Program. Support Care Cancer 23(8):2255–2265

38.

Laan E, Both S (2008) What makes women experience desire? Fem Psychol 18:505–514

39.

Classen CC, Chivers ML, Urowitz S, Barbera L, Wiljer D, O'Rinn S, Ferguson SE (2013) Psychosexual distress in women with gynecologic cancer: a feasibility study of an online support group. Psychooncology 22:930–935

40.

van Lankveld J (2016) Internet-based interventions for women's sexual dysfunction. Curr Sex Health Rep 8:136–143

41.

Toivonen K, Millman RD, Santos-Iglesias P, Walker LM (in prep) Prevalence of vulvovaginal symptoms and psychometric evaluation of the Day-to-Day Impact of Vaginal Aging (DIVA) questionnaire in a population of women diagnosed with cancer.

42.

Carter J, Stabile C, Seidel B, Baser R, Goldfarb S, Goldfrank D, Baser RE, Goldfrank DJ (2017) Vaginal and sexual health treatment strategies within a female sexual medicine program for cancer patients and survivors. J Cancer Surviv 11(2):274–283
Acknowledgments
We would like to highlight the important contributions of the members of the OASIS program team. The provincial nature of the team is fundamental to achieving our program goals and offering a comprehensive clinical program. The individual efforts of each of the team members are vital. We would specifically like to thank Reanne Booker, Andrea Beck, Sara Beattie, Amy Driga, and Anisha Abdulla for being the workshop facilitators in addition to authors L.W. and R.M.
Funding
Funding for this project was provided by grants from the Calgary Foundation (26994) and the Alberta Cancer Foundation (26613).
Ethics declarations
Dr. Lauren Walker has full control of all primary data. Data will not be made available in a data repository.
Conflict of interest
The authors declare that they have no conflict of interest.
Additional information
Publisher's note
Springer Nature remains neutral with regard to jurisdictional claims in published maps and institutional affiliations.
About this article
Cite this article
Millman, R., Jacox, N., Sears, C. et al. Patient interest in the Lowdown on Down There: attendance at a vulvovaginal and sexual health workshop post-cancer treatment. Support Care Cancer 28, 3889–3896 (2020). https://doi.org/10.1007/s00520-019-05162-9
Received:

Accepted:

Published:

Issue Date:
Keywords
Female sexual health

Survivorship

Sexual function

Cancer