Abstract
Background
A randomized, controlled trial to evaluate the superiority of percutaneous transesophageal gastro-tubing over nasogastric tubing as palliative care for bowel obstruction in patients with terminal malignancy was conducted.
Subjects and methods
The subjects were patients with malignant bowel obstruction with no prospect of improvement, for whom surgery was not indicated and with a Palliative Prognostic Index of < 6. They were randomly allocated in a 1:1 ratio to receive either percutaneous transesophageal gastro-tubing (PTEG group) or nasogastric tubing (NGT group). Their symptom scores (the worst 0 to no symptoms 10) were measured for a 2-week period after enrollment, and the areas under the curves for the two groups were compared. The EQ-5D and SF-8 were also used to assess overall quality of life.
Results
Forty patients were enrolled between October 2009 and January 2015, with 21 allocated to the PTEG group and 19 to the NGT group. The mean areas under the curves (95% confidence intervals) for the PTEG group and the NGT groups were 149.6 (120.3–178.8) and 44.9 (16.4–73.5), respectively, significantly higher for the NGT group (p < 0.0001). The secondary endpoints of quality of life as assessed by the EQ-5D and SF-8 scores were also significantly higher for patients in the PTEG group (p = 0.0036, p = 0.0020). There was no difference in survival between the groups. No serious adverse events were observed.
Conclusions
In terms of quality of life, percutaneous transesophageal gastro-tubing was superior to nasogastric tubing as palliative care for patients with bowel obstruction due to terminal malignancy.
Access options
Buy single article
Instant access to the full article PDF.
US$ 39.95
Tax calculation will be finalised during checkout.
Subscribe to journal
Immediate online access to all issues from 2019. Subscription will auto renew annually.
US$ 119
Tax calculation will be finalised during checkout.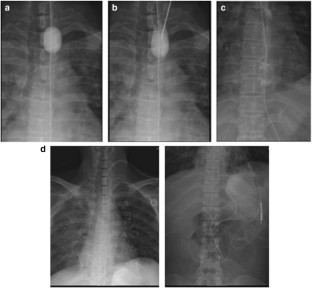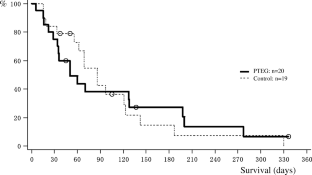 References
1.

Tsuneto S, Ikenaga M, Hosoi J, Kashiwagi T (1998) Malignant intestinal obstruction. In: Eguchi K (ed) Current perspective and future directions palliative medicine. Tokyo, Springer, pp 25–32

2.

Maeno H (2001) Octreotide for gastrointestinal symptoms of terminal cancer patients [in Japanese]. Terminal Care 11:181–185

3.

Ripamonti C (1994) Management of bowel obstruction in advanced cancer. Curr Opin Oncol 6:351–357

4.

Davis MP, Nouneh C (2000) Modern management of cancer-related intestinal obstruction. Curr Oncol Rep 2:343–350

5.

Mercadante S, Casuccio A, Mangione S (2007) Medical treatment for inoperable malignant bowel obstruction: a qualitative systematic review. J Pain Symptom Manag 33:217–223

6.

Cullen J (2001) Percutaneous endoscopic gastrostomy. Oper Tech Gen Surg 3:263–268

7.

Pearl ML, Valea FA, Fischer M, Chalas E (1996) A randomized controlled trial of postoperative nasogastric tube decompression in gynecologic oncology patients undergoing intra-abdominal surgery. Obstet Gynecol 88:399–402

8.

Ponsky JL, Gauderer MWL (1981) Percutaneous endoscopic gastrostomy: a nonoperative technique for feeding gastrostomy. Gastrointest Endosc 27:9–11

9.

Gauderer MWL, Ponsky JL, Izant RJ Jr (1980) Gastrostomy without laparotomy: a percutaneous endoscopic technique. J Pediatr Surg 15:872–875

10.

Pothuri B, Montemarano M, Gerardi M, Shike M, Ben-porat L, Sabbatini P, Barakat RR (2005) Percutaneous endoscopic gastrostomy tube placement in patients with malignant bowel obstruction due to ovarian carcinoma. Gynecol Oncol 96:330–334

11.

Maple J, Petersen B, Baron T, Gostout C, Song L, Buttar N (2005) Direct percutaneous endoscopic jejunostomy: outcomes in 307 consecutive attempts. Am J Gastroenterol 100:2681–2688

12.

Ripamonti CI, Easson AM, Gerdes H (2008) Management of malignant bowel obstruction. Eur J Cancer 44:1105–1115

13.

Kawata N, Kakushima N, Tanaka M, Sawai H, Imai K, Hagiwara T, Takao T, Hotta K, Yamaguchi Y, Takizawa K, Matsubayashi H, Ono H (2014) Percutaneous endoscopic gastrostomy for decompression of malignant bowel obstruction. Dig Endosc 26:208–213

14.

Mercadante S, Spoldi E, Caraceni A, Maddaloni S, Simonetti MT (1993) Octreotide in relieving gastrointestinal symptoms due to bowel obstruction. Palliat Med 7:295–299

15.

Khoo D, Hall E, Motson R, Riley J, Denman K, Waxman J (1994) Palliation of malignant intestinal obstruction using octreotide. Eur J Cancer 30A:28–30

16.

Cascinu S, Del Ferro E, Catalano G (1995) A randomized trial of octreotide vs best supportive care only in advanced gastrointestinal cancer patients refractory to chemotherapy. Br J Cancer 71:97–101

17.

Mangili G, Franchi M, Mariani A, Zanaboni F, Rabaiotti E, Frigerio L, Bolis PF, Ferrari A (1996) Octreotide in the management of bowel obstruction in terminal ovarian cancer. Gynecol Oncol 1:345–348

18.

Maeno H, Ikenaga M, Tsuneto S, Kashiwagi T (1996) The effect of octreotide for bowel obstruction in terminally cancer patients. Jpn J Clin Res Death Dying 19:49–52

19.

Shima Y, Ohtsu A, Shirao K, Sasaki Y (2008) Clinical efficacy and safety of octreotide (SMS201-995) in terminally ill Japanese cancer patients with malignant bowel obstruction. Jpn J Clin Oncol 38:354–359

20.

Oishi H, Murata J, Kameoka S (1998) Percutaneous transesophageal gastric tube drainage. Development and perspective of rupture-free balloon catheter for puncture [in Japanese]. J Jpn Surg Soc 99:275

21.

Chen AS (1983) Method and means for esophageal feeding. United States Patent. Washington, D.C. 4384584

22.

Nakano Y, Kitabayashi K, Sawa T (1993) Two cases of nutrition tube placement by cervical esophagostomy: esophageal dilatation method. J Jpn Surg Soc:943–945

23.

Udomsawaengsup S, Brethauer S, Kroh M, Chand B (2008) Percutaneous transesophageal gastrostomy (PTEG): a safe and effective technique for gastrointestinal decompression in malignant obstruction and massive ascites. Surg Endosc 22:2314–2318

24.

Oishi H, Shindo H, Shirotani N, Kameoka S (2001) Percutaneous transesophageal gastrotubing (PTEG): development and practice [in Japanese]. Jpn J Intervent Radiol 16:149–155

25.

Oishi H, Shindo H, Shirotani N, Kameoka S (2003) A nonsurgical technique to create an esophagostomy for difficult cases of percutaneous endoscopic gastrostomy. Surg Endosc 17:1224–1227

26.

Mackey R, Chand B, Oishi H, Kameoka S, Ponsky JL (2005) Percutaneous transesophageal gastrostomy tube for decompression of malignant obstruction: report of the first case and our series in the US. J Am Coll Surg 201:695–700

27.

Aramaki T, Arai Y, Inaba Y, Sato Y, Saito H, Sone M, Takeuchi Y (2013) Phase II study of percutaneous transesophageal gastrotubing for patients with malignant gastrointestinal obstruction; JIVROSG-0205. J Vasc Interv Radiol 24:1011–1017

28.

Takeuchi Y, Arai Y, Sone M, Sugawara S, Aramaki T, Sato R, Kichikawa K, Tanaka T, Morishita H, Ito T, Yamakado K, Baba Y, Kobayashi T (2019) Evaluation of stent placement for vena cava syndrome: phase II trial and phase III randomized controlled trial. Support Care Cancer 27:1081–1088

29.

Tsuchiya A, Ikeda S, Ikegami N, Nishimura S, Sakai I, Fukuda T, Hamashima C, Hisashige A, Tamura M (2002) Estimating an EQ-5D population value set: the case of Japan. Health Econ 11:341–353

30.

Fukuhara S, Suzukamo Y (2004) Manual of the SF-8 Japanese version. Institute for Health Outcomes & Process Evaluation Research
Acknowledgments
The authors are grateful to their patients and the staff of all participating institutions.
Funding
Funding from the Japan Agency for Medical Research and Development (AMED) [16ck0106058h0003 to Y.A.], the Ministry of Health, Labour and Welfare of Japan [H26-055 to Y.A.], and the National Cancer Center Research and Development Fund [26-A-27 to M.S.] is gratefully acknowledged.
Ethics declarations
Conflict of interest
Y.A. Speaker's Bureau from Guerbet Japan, Kyorin Pharma, Canon Medical Systems and Fuji Pharma, Royalty from Sumitomo Bakelite, and Advisor fee from Japan Lifeline.
Additional information
Publisher's note
Springer Nature remains neutral with regard to jurisdictional claims in published maps and institutional affiliations.
About this article
Cite this article
Aramaki, T., Arai, Y., Takeuchi, Y. et al. A randomized, controlled trial of the efficacy of percutaneous transesophageal gastro-tubing (PTEG) as palliative care for patients with malignant bowel obstruction: the JIVROSG0805 trial. Support Care Cancer 28, 2563–2569 (2020). https://doi.org/10.1007/s00520-019-05066-8
Received:

Accepted:

Published:

Issue Date:
Keywords
Percutaneous transesophageal gastro-tubing

Malignant bowel obstruction

Palliative medicine

Quality of life

Randomized controlled trial