Abstract
Objective
In addition to question prompts for information transfer, we also used prompts to facilitate the expression of emotions. Our aim was to investigate how a question prompt list (QPL) is accepted by patients and whether it enhances interactional empowerment of the patients in the consultation with the radio-oncological treatment team before the beginning of radiotherapy.
Methodology
Adult cancer patients before the beginning of radiotherapy were randomly assigned to the intervention group (IG) or control group (CG). The patients in the IG received a QPL with predefined subsets and subject areas. After the physician's consultation, both groups completed a self-developed, content validated questionnaire on interactional empowerment. The IG evaluated the QPL using a self-developed instrument.
Result
A total of 279 adult cancer patients participated in the study (IG n = 139/CG n = 140). The participants of the IG reported a significantly higher interactional empowerment compared with those of the CG (t(277) = − 2.71, p = .007, 95% CI [− 1.61, − 0.26], d = 0.29). 60.4% of the IG agreed "rather" or "very" that they used the QPL in consultation with the medical team.
Conclusion
The QPL used in the consultation improved the self-assessed competence for interaction with the medical team and strengthened the interactional empowerment. The QPL was well accepted by the patients and is to be introduced into a routine as a practicable and simple instrument in the future. The support of patients in addressing concerns and fears is an important innovation.
Access options
Buy single article
Instant access to the full article PDF.
US$ 39.95
Tax calculation will be finalised during checkout.
Subscribe to journal
Immediate online access to all issues from 2019. Subscription will auto renew annually.
US$ 119
Tax calculation will be finalised during checkout.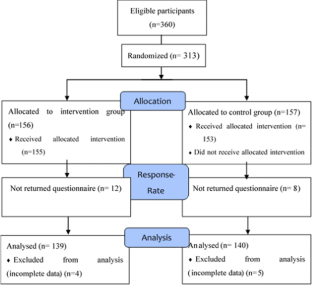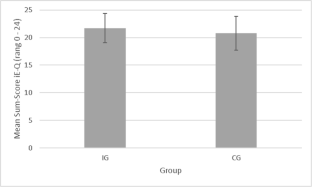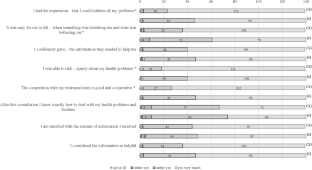 References
1.

Halkett GKB, Kristjanson LJ, Lobb EA (2008) If we get too close to your bones they'll go brittle. Psycho-Oncol 17(9):877–884

2.

Guidolin K, Lock M, Brackstone M (2017) Patient-perceived barriers to radiation therapy for breast cancer. Can J Surg 61(1):15716

3.

Harrison JD, Young JM, Price MA, Butow PN, Solomon MJ (2009) What are the unmet supportive care needs of people with cancer? A systematic review. Supportiv Care Cancer 17(8):1117–1128

4.

Wang S-Y, Kelly G, Gross C, Killelea BK, Mougalian S, Presley C, Fraenkel L, Evans SB (2017) Information needs of older women with early-stage breast cancer when making radiation therapy decisions. Int J Radiat Oncol 98(4):733–740

5.

Halkett GKB, Kristjanson LJ, Lobb EA et al (2010) Meeting breast cancer patients' information needs during radiotherapy. Eur J Cancer Care 19(4):538–547

6.

Kinnersley P, Edwards A, Hood K et al (2008) Interventions before consultations for helping patients address their information needs. BMJ 3

7.

Jefford M, Tattersall MHN (2002) Informing and involving cancer patients in their own care. The Lancet Oncology 3(10):629–637

8.

Groen WG, Kuijpers W, Oldenburg HS et al (2015) Empowerment of cancer survivors through information technology. J Med Internet Res 17(11):e270–e270. https://doi.org/10.2196/jmir.4818

9.

Fröjd C, Lampic C, Larsson G, Essen L (2009) Is satisfaction with doctors' care related to health-related quality of life, anxiety and depression among patients with carcinoid tumours? A longitudinal report. Scand J Caring Sci 23(1):107–116. https://doi.org/10.1111/j.1471-6712.2008.00596.x

10.

Vogel BA, Leonhart R, Helmes AW (2009) Communication matters. Patient Educ Couns 77(3):391–397

11.

Eskildsen NB, Joergensen CR, Thomsen TG, Ross L, Dietz SM, Groenvold M, Johnsen AT (2017) Patient empowerment. Acta Oncol 56(2):156–165

12.

Dimoska A, Butow PN, Lynch J, Hovey E, Agar M, Beale P, Tattersall MHN (2012) Implementing patient question-prompt lists into routine cancer care. Patient Educ Couns 86(2):252–258

13.

Rodenbach RA, Brandes K, Fiscella K, Kravitz RL, Butow PN, Walczak A, Duberstein PR, Sullivan P, Hoh B, Xing G, Plumb S, Epstein RM (2017) Promoting end-of-life discussions in advanced cancer. J Clin Oncol 35(8):842–851

14.

Smith SK, Trevena L, Simpson JM, Barratt A, Nutbeam D, McCaffery KJ (2010) A decision aid to support informed choices about bowel cancer screening among adults with low education. BMJ 341:c5370

15.

Brandes K, Butow PN, Tattersall MHN, Clayton JM, Davidson PM, Young J, Epstein RM, Walczak A (2014) Advanced cancer patients' and caregivers' use of a Question Prompt List. Patient Educ Couns 97(1):30–37

16.

Spiegle G, Al-Sukhni E, Schmocker S et al (2013) Patient decision aids for cancer treatment. Cancer 119(1):189–200

17.

Bensing J, Verhaak PFM (eds) (2004) Chapter 11: communication in medical encounters. Health Psychology. Blackwell Publishing, Oxford

18.

Street RL Jr, Millay B (2001) Analyzing patient participation in medical encounters. Health Commun 13(1):61–73

19.

Zimmerman MA (1995) Psychological empowerment. Am J Commun Psychol 23(5):581–599

20.

Brown RF, Butow PN, Dunn SM, Tattersall MHN (2001) Promoting patient participation and shortening cancer consultations. Brit J Cancer 85(9):1273–1279

21.

Bausewein C, Fegg M, Radbruch L, Nauck F, von Mackensen S, Borasio GD, Higginson IJ (2005) Validation and clinical application of the german version of the palliative care outcome scale. J Pain Symptom Manag 30(1):51–62

22.

National Comprehensive Cancer Network (NCCN) (2003) Distress management clinical practice guidelines. J Natl Compr Canc Netw 1:344–374

23.

Maunsell E, Lauzier S, Brunet J, Pelletier S, Osborne RH, Campbell HS (2014) Health-related empowerment in cancer. Cancer 120(20):3228–3236

24.

Schuler M, Musekamp G, Faller H et al (2013) Assessment of proximal outcomes of self-management programs: translation and psychometric evaluationof a German ersion of the health education impact questionnaire (heiQ). Qual Life Res 22:1391–1403

25.

van den Berg SW, van Amstel FKP, Ottevanger PB, Gielissen MFM, Prins JB (2013) The cancer empowerment questionnaire. J Psychosoc Oncol 31(5):565–583

26.

Langewitz W, Keller A, Denz M et al (1995) The Patient Satisfaction Questionnaire. Psychother Med Psych 45(9–10):351–357

27.

Arraras JI, Greimel E, Sezer O, Chie WC, Bergenmar M, Costantini A, Young T, Vlasic KK, Velikova G (2010) An international validation study of the EORTC QLQ-INFO25 questionnaire. Eur J Cancer 46(15):2726–2738

28.

Jakobsen JC, Gluud C, Wetterslev J, Winkel P (2017) When and how should multiple imputation be used for handling missing data in randomised clinical trials – a practical guide with flowcharts. BMC Med Res Methodol 17(1):162

29.

Tamirisa NP, Goodwin JS, Kandalam A, Linder SK, Weller S, Turrubiate S, Silva C, Riall TS (2017) Patient and physician views of shared decision making in cancer. Health Exp 20(6):1248–1253

30.

Schofield PE, Butow PN, Thompson JF et al (2003) Psychological responses of patients receiving a diagnosis of cancer. Ann Oncol 14:48–56

31.

Llewellyn A, Howard C, McCabe C (2019) An exploration of the experiences of women treated with radiotherapy for breast cancer. Eur J Oncol Nurs 39:47–54

32.

Shepherd HL, Barratt A, Trevena LJ, McGeechan K, Carey K, Epstein RM, Butow PN, del Mar CB, Entwistle V, Tattersall MHN (2011) Three questions that patients can ask to improve the quality of information physicians give about treatment options. Patient Educ Couns 84(3):379–385

33.

Bottacini A, Goss C, Mazzi MA, Ghilardi A, Buizza C, Molino A, Fiorio E, Nortilli R, Amoroso V, Vassalli L, Brown RF (2017) The involvement of early stage breast cancer patients during oncology consultations in Italy. BMJ Open 7(8):e015079

34.

Janz NK, Li Y, Zikmund-Fisher BJ, Jagsi R, Kurian AW, An LC, McLeod MC, Lee KL, Katz SJ, Hawley ST (2017) The impact of doctor–patient communication on patients' perceptions of their risk of breast cancer recurrence. Breast Cancer Res Tr 161(3):525–535

35.

Prip A, Møller KA, Nielsen DL, Jarden M, Olsen MH, Danielsen AK (2018) The patient–healthcare professional relationship and communication in the oncology outpatient setting. Cancer Nurs 41(5):E11–E22

36.

Müller E, Hahlweg P, Scholl I (2016) What do stakeholders need to implement shared decision making in routine cancer care? A qualitative needs assessment. Acta Oncol 55(12):1484–1491

37.

Kunneman M, Engelhardt EG, ten Hove FLL et al (2016) Deciding about (neo-)adjuvant rectal and breast cancer treatment. Acta Oncol 55(2):134–139

38.

Ahamad A, Wallner P, Salenius S et al (2019) Information needs expressed during patient-oriented oncology consultations. J Canc Educ 34(3):488–497. https://doi.org/10.1007/s13187-018-1329-5

39.

Sansoni JE, Grootemaat P, Duncan C (2015) Question. Prompt Lists Health Consult 98(12):1454–1464
Ethics declarations
Conflict of interest
Zetzl, Mann, and Gruner report grants from Deutsche Krebshilfe, during conduct of the study. Schuler, Jentschke, Neuderth, Roch, and Oorschot have nothing to disclose.
Disclaimer
The design, conduct, data collection, analysis, and interpretation of the results were performed independently of the funders. The funders played no role in the review or approval of this manuscript.
Additional information
Publisher's note
Springer Nature remains neutral with regard to jurisdictional claims in published maps and institutional affiliations.
About this article
Cite this article
Zetzl, T., Mann, D., Gruner, S. et al. Question prompts to empower cancer patients: results of a randomized controlled trial. Support Care Cancer 28, 2571–2579 (2020). https://doi.org/10.1007/s00520-019-05036-0
Received:

Accepted:

Published:

Issue Date:
Keywords
Question prompt lists

Empowerment

Oncology

Information needs