Zusammenfassung
Beim Betrieb von schnellschaltenden Umrichtern treten in elektrischen Antrieben parasitäre, hochfrequente Effekte auf. Bei einem Zweipunkt-Wechselrichter ist der Mittelwert der drei Ausgangsspannungen aufgrund der diskreten Schaltzustände der Leistungstransitoren eine von Null verschiedene Gleichtaktspannung. Die Common-Mode-Spannung wird durch den Umrichter in die Motorwicklung eingeprägt und verursacht einen kapazitiven, hochfrequenten Common-Mode-Strom, der als Umladestrom der Kapazität zwischen Wicklung und Statorblechpaket und –gehäuse verstanden werden kann.
Die Wicklung-Stator-Kapazität setzt sich aus einem Nut- und einem Stirnraumanteil zusammen. In diesem Artikel wird eine analytische Bestimmung des Stirnraumanteils der Wicklung-Stator-Kapazität vorgestellt, welche neben der Stirnraumgeometrie den Einfluss von Materialien mit unterschiedlichen Permittivitäten berücksichtigt. Die Ermittlung des Stirnraumanteils der Wicklung-Stator-Kapazität basiert auf der Berechnung des skalaren Potenzialfelds unterhalb und oberhalb des Wicklungskopfs der Statorwicklung. Das vorgestellte Modell wird mit Hilfe von FEM-Simulationen für verschiedene Geometrien und Materialien validiert.
Abstract
Parasitic, high-frequency effects occur in electric drives during operation of fast-switching converters. In a two-point inverter, the mean value of the three output voltages is a non-zero common mode voltage due to the discrete switching states of the power transistors. The common-mode voltage is impressed into the motor winding by the inverter and causes a capacitive, high-frequency common-mode current, which can be understood as charging current of the capacity between winding and stator core plus stator housing.
The winding stator capacity is composed of a slot and an end-winding portion. In this article, an analytical determination of the end-winding portion of the winding stator capacity is presented, which, in addition to the end-winding geometry, takes into account the influence of materials with different permittivities. The determination of the end-winding portion of the winding stator capacity is based on the calculation of the scalar potential field in the area below and above the end-winding. The method is validated by means of FEM simulations for different geometries and materials.
Access options
Buy single article
Instant access to the full article PDF.
US$ 39.95
Tax calculation will be finalised during checkout.
Subscribe to journal
Immediate online access to all issues from 2019. Subscription will auto renew annually.
US$ 259
Tax calculation will be finalised during checkout.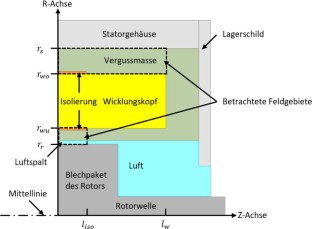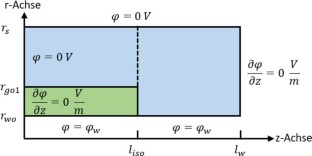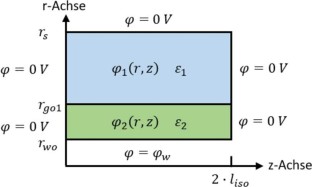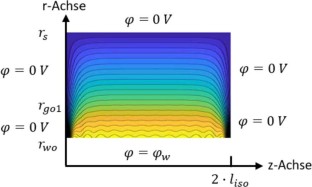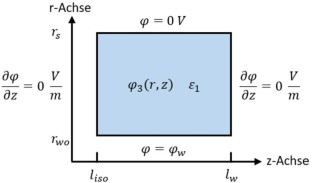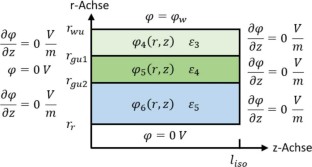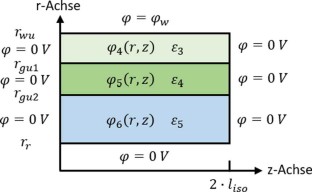 Literatur
1.

Tischmacher, H. (2017): Systemanalysen zur elektrischen Belastung von Wälzlagern bei umrichtergespeisten Elektromotoren. Dissertation, Leibniz Universität Hannover.

2.

Vostrov, K., Pyrhönen, J., Ahola, J. (2019): The role of end-winding in building up parasitic capacitances in induction motors. In 2019 IEEE international electric machines & drives conference (IEMDC), USA (S. 154–159).

3.

Mütze, A. (2004): Bearing currents in inverter fed AC-motors. Dissertation, TU Darmstadt.

4.

Ma, X., Liu, R., Zheng, B., Zhang, Y. (2012): Analysis and calculation of capacitance parameters in induction machines to predict shaft voltage. In 15th international conference on electrical machines and systems (ICEMS), Sapporo (S. 1–5).

5.

Schuster, M., Springer, J., Binder, A. (2018): Comparison of a 1.1 kW-induction machine and a 1.5 kW-PMSM regarding common-mode bearing currents. In International symposium on power electronics, electrical drives, automation and motion (SPEEDAM), Amalfi (S. 1–6).

6.

Vukotić, M., Miljavec, D., Vončina, D. (2016): Calculation and measurement of the capacitance between stator frame and slot conductors and its influence on common-mode current. In International conference on compatibility (S. 260–264). Bydgoszcz: Power Electronics and Power Engineering.

7.

Magdun, O., Binder, A. (2012): The high-frequency induction machine parameters and their influence on the common mode stator ground current. In International conference on electrical machines, Marseille (S. 505–511).

8.

Küpfmüller, K., Mathis, W., Reibiger, A. (2013): Theoretische Elektrotechnik Eine Einführung. 19. aktualisierte Aufl. Berlin Heidelberg: Springer.

9.

Lehner, G. (2009): Elektromagnetische Feldtheorie. 6. Aufl. Berlin Heidelberg: Springer.
Additional information
Hinweis des Verlags
Der Verlag bleibt in Hinblick auf geografische Zuordnungen und Gebietsbezeichnungen in veröffentlichten Karten und Institutsadressen neutral.
About this article
Cite this article
Stockbrügger, J.O., Ponick, B. Analytische Ermittlung des Stirnraumanteils der Wicklung-Stator-Kapazität in elektrischen Maschinen zur Vorausberechnung des hochfrequenten Common-Mode-Stroms. Elektrotech. Inftech. 137, 203–211 (2020). https://doi.org/10.1007/s00502-020-00803-y
Received:

Accepted:

Published:

Issue Date:
Schlüsselwörter
Wicklung-Stator-Kapazität

Wellenspannung

zirkulare Lagerströme

Traktionsantrieb
Keywords
winding-to-stator capacity

shaft voltage

circulating bearing currents

traction motor