Zusammenfassung
Bei der Stahlherstellung fallen nicht unerhebliche Mengen an Nebenprodukten an. Die Fraktion der schwermetallhaltigen Stäube ist intern prozesstechnisch nur bedingt recycelbar. Die mengenmäßig bedeutendste Stoffgruppe, mit Zinkgehalten von bis zu 20 %, stellen Konverterstäube dar. Ein neues Verfahren zur Behandlung von zinkreichen Stäuben ist der pyrometallurgische RecoDust-Prozess. In diesem Prozess wird der Stahlwerksstaub mit einem Erdgas-Sauerstoffbrenner im sogenannten Flash-Reaktor erschmolzen. Durch eine unterstöchiometrische Verbrennung wird eine reduzierende Atmosphäre hergestellt, dadurch wird das Zink reduziert und verflüchtigt. Die beiden entstehenden Produkte sind die eisenreiche RecoDust-Schlacke und ein zinkoxidreicher Filterstaub. Der Prozess wurde in der Barbarahalle des Lehrstuhls für Thermoprozesstechnik der Montanuniversität Leoben umgesetzt und in elf Schmelzkampagnen erfolgreich betrieben.
Aufgrund der positiven Versuchsergebnisse wird derzeit an dem Up-Scaling des Verfahrens von derzeit 250 auf 1000 kg/h geforscht. Kernthema des Up-Scalings ist ein neuer Staubeintrag, bei dem der Stahlwerksstaub pneumatisch mit dem Brenngas in den Reaktor gefördert wird.
Durch die selektive Prozesssteuerung ist die RecoDust-Pilotanlage auch für andere Anwendungen, wie z. B.: als Schmelzaggregat für staubförmige Stoffe oder für Kalzinierungen, geeignet.
Abstract
There are significant amounts of by-products in the steel production. The fraction of heavy metals containing dusts is only partially recyclable internally in terms of process technology. One of these by-products, with zinc contents of up to 20%, are converter dusts. A new process for the treatment of zinc rich dusts is the pyrometallurgical RecoDust process presented here. In this process, the steel mill dust is melted with a natural gas-oxygen burner in the so-called Flash Reactor. An air ratio below one creates a reducing atmosphere, in which the zinc is reduced and volatilized. The two resulting products are the iron-rich RecoDust slag and a zinc oxide rich filter dust. The process was realized in the technical centre of the Chair of Thermal Processing Technology at the Montanuniversität Leoben and was successfully carried out in eleven smelting campaigns.
Due to the positive test results, research is currently focused on the Up-Scaling of the process from currently 250 to 1000 kg/h throughput. The core topic of the Up-Scaling is a new dust input system, in which the steel mill dust is pneumatically conveyed into the reactor with the fuel gas.
Due to the selective process control, the RecoDust pilot plant is also suitable for other applications, such as a special melting unit or for calcinations.
This is a preview of subscription content, log in to check access.
Access options
Buy single article
Instant access to the full article PDF.
US$ 39.95
Price includes VAT for USA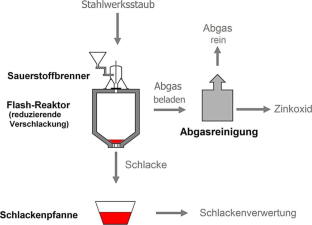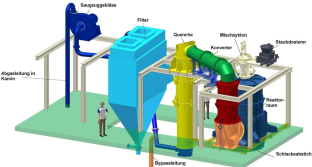 Literatur
1.

Geier, B.; Raupenstrauch, H.; Reiter, W.; Pilz, P.: Pyrometallurgisches Recycling von Stäuben aus der metallurgischen Industrie mit dem RecoDust Prozess, Mineralische Nebenprodukte und Abfälle, 2 (2015), Nr. 2, S. 503–512

2.

Rieger, J.; Thaler, C.; Reiter, W.; Raupenstrauch, H.; Lasser, M.: Recycling of steelmaking dust—RecoDust concept for an enhanced circular economy, ESTEP Workshop "Green Steel by EAF Route", Bergamo, 11/14/2019

3.

K1-MET, Success Story—Flash-Reactor From an idea to full scale pilot-plant and further, K1-MET, Competence Centre for Excellent Technologies in Advanced Metallurgical and Environmental Process Development; Programme: COMET—Competence Centres for Excellent Technologies; Programme line: K1-Centres; COMET—1.2.

4.

Raupenstrauch, H.; Doschek-Held, K.; Rieger, J.; Reiter, W.: RecoDust—An Efficient Way of Processing Steel Mill Dusts, J. Sustain. Metall., 5 (2019), Nr. 3, S. 310–318

5.

Geier, B.; Reiter, W.; Raupenstrauch, H.: K1-MET Projekt 1.2—Centralized Recycling Die ersten sieben Jahre, Lehrstuhl für Thermoprozesstechnik, Montanuniversität Leoben, 2015

6.

Geier, B.; Raupenstrauch, H.; Pilz, K.: RecoDust-Process for the Recycling of Steel Mill Dusts, METEC & 2nd ESTAD 2015, Düsseldorf, 15.06.2015, 2015

7.

Delfs, N.; Kofler, M.; Geier, B.; Rimser, A.; Raupenstrauch, H.; Bürgler, T.; et al.: The Flash-Reactor as Special Melting Unit for Powdery Materials in DSG (Dry Slag Granulation) Application, Berg Huettenmaenn Monatsh, 156 (2011), Nr. 9, S. 343–346
Danksagung
Die Autoren bedanken sich für die Unterstützung der K1-MET GmbH. Das Forschungsprogramm des Competence Center for Excellent Technologies in "Advanced Metalurgical and Environmental Process Development" ("K1-MET") wird im Rahmen des österreichischen Kompetenzzentren-Programms COMET (Competence Center for Excellent Technologies) mit Mitteln des Bundesministeriums für Verkehr, Innovation und Technologie, des Bundesministeriums für Digitalisierung und Wirtschaftsstandort, der Bundesländer Oberösterreich, Tirol und Steiermark, sowie der steirischen Wirtschaftsförderungsgesellschaft (SFG) gefördert. Neben der Finanzierung durch das COMET Programm kommen die weiteren finanziellen Mittel vom Industriepartner voestalpine Stahl GmbH.
Additional information
Hinweis des Verlags
Der Verlag bleibt in Hinblick auf geografische Zuordnungen und Gebietsbezeichnungen in veröffentlichten Karten und Institutsadressen neutral.
About this article
Cite this article
Reiter, W., Lasser, M., Rieger, J. et al. Der RecoDust-Prozess – Behandlung von zinkhaltigen Stahlwerksstäuben und weiteren Nebenprodukten aus integrierten Hüttenwerken. Berg Huettenmaenn Monatsh 165, 297–301 (2020). https://doi.org/10.1007/s00501-020-00996-x
Received:

Accepted:

Published:

Issue Date:
Schlüsselwörter
Keywords