Abstract
The widespread availability of advanced digital image technology and powerful image editing tools has made it extremely easy to manipulate image content. One popular technique that is challenging for tampering detection methods is the copy–move forgery. Here, one part of the image is copied and is pasted into another part of the same image. Image tampering is very difficult to detect with the naked eye. The authenticity of digital images is critical when they are used as evidence in court, for news reports or insurance claims, as they have the power to influence decisions and outcomes. Hence, this paper presents an efficient method for copy–move forgery detection by means of a HOG descriptor and local binary pattern variance algorithms. The copy–move forgery detection (CMFD) approach is introduced and is applied to the forged region by determining suitable post-processing techniques. The proposed technique is evaluated using MICC-F220, MICC-F2000, UCID, CoMoFoD and CASIA TIDE data sets in which translation, flipping, rotation, scaling, color reduction, brightness change and JPEG compression are applied to an image. The experimental performance of the proposed technique is assessed in terms of the true- and false-detection rates. Ultimately, our proposed method is highly suitable for detecting the altered region, and accurate CMFD results are obtained in forensic image applications.
Access options
Buy single article
Instant access to the full article PDF.
US$ 39.95
Tax calculation will be finalised during checkout.
Subscribe to journal
Immediate online access to all issues from 2019. Subscription will auto renew annually.
US$ 79
Tax calculation will be finalised during checkout.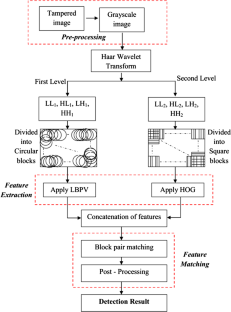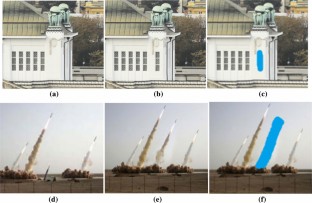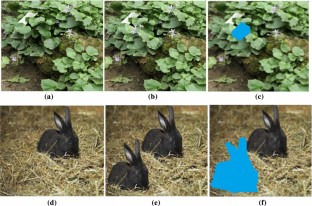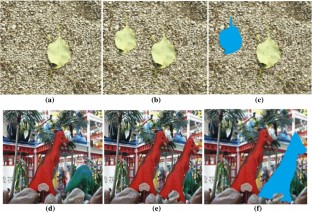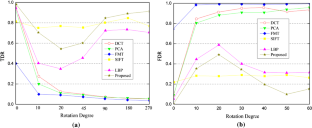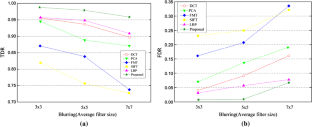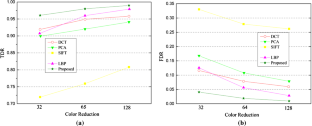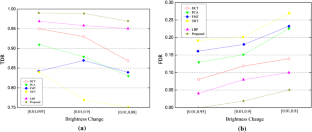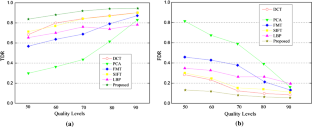 References
AI-Qershi OM, Khoo BE (2013) Passive detection of copy–move forgery in digital images: state-of-the-art. Forensic Sci Int 231(1):284–295

Alkawaz M, Sulong G, Saba T, Rehman A (2018) Detection of copy–move image forgery based on discrete cosine transform. Neural Comput Appl 30(1):183–192

Al-Qershi OM, Khoo BE (2018) Evaluation of copy–move forgery detection: datasets and evaluation metrics. Multimed Tools Appl 77:1–27

Amerini I, Lamberto R, Alberto GS (2011) A SIFT-based forensic method for copy–move attack detection and transformation recovery. IEEE Trans Inf Forensics Secur 6(3):1099–1110

Ardizzone E, Bruno A, Mazzola G (2015) Copy–move forgery detection by matching triangles of keypoint. IEEE Trans Inf Forensics Secur 10(10):2084–2094

Bayram S, Sencar HT, Memom N (2009) An efficient and robust method for detecting copy–move forgery. In: Acoustics, speech and signal processing, pp 1053–1056

Bravo-Solorio S, Nandi AK (2011) Automated detection and localisation of duplicated regions affected by reflection, rotation and scaling in image forensics. Sig Process 91(8):1759–1770

Chen L, Lu W, Ni J, Sun W, Huang J (2013) Region duplication detection based on Harris corner points and step sector statistics. J Vis Commun Image Represent 24(3):244–254

Cozzolino D, Poggi G, Verdoliva L (2015) Efficient dense-field copy–move forgery detection. IEEE Trans Inf Forensics Secur 10(11):2284–2297

Dixit R, Naskar R, Mishra S (2017) Blur invariant copy–move forgery detection technique with improved detection accuracy utilizing SWT-SVD. IET Image Proc 11(5):301–309

Fridrich AJ, Soukal BD, Rehman A (2003) Detection of copy–move forgery in digital images. In: Proceedings of digital forensic workshop

Guo Z, Zhang L, Zhang D (2010) Rotation invariant texture classification using LBP variance with global matching. Pattern Recogn 43(3):706–719

Hossain S, Muhammad G, Qurishi MA (2018) Verifying the image authenticity in cognitive internet of things (CIoT)-oriented cyber physical system. Mobile Netw Appl 23:1–12

Hu R, Collomosse J (2013) A performance evaluation of gradient field hog descriptor for sketch based image retrieval. Comput Vis Image Underst 117(7):790–806

Imamoglu MB, Ulutas G, Ulutas M (2013) Detection of copy–move forgery using Krawtchouk moment in electrical engineering. In: International conference on IEEE, pp 311–314

Jaberi M, Bebis G, Hussain M, Muhammad G (2014) Accurate and robust localization of duplicated region in copy–move image forgery. Mach Vis Appl 25:451–475

Kakar P, Sudha N (2012) Exposing post processed copy–paste forgeries through transform invariant features. Inf Forensics Secur IEEE Trans 7:1018–1028

Kang X, Wei S (2009) Identifying tampered regions using singular value decomposition in digital image forensics. In: International conference on computer science and software engineering, vol 3, pp 926–930

Khizear H, Qazi T (2017) Forgery detection in digital images via discrete wavelet and discrete cosine transforms. Comput Electr Eng 62:448–458

Li Y (2013) Image copy–move forgery detection based on polar cosine transform and approximate nearest neighbour searching. Forensic Sci Int 224:59–67

Li L, Li S, Wang J (2012) Copy–move forgery detection based on PHT. In: Information and communication technologies (WICT), pp 1061–1065

Li L, Li S, Zhu H, Chu C, Roddick F, Pan JS (2013) An efficient scheme for detecting copy–move forged images by local binary patterns. J Inf Hiding Multimed Signal Process 4:46–56

Li L, Li S, Zhu H, Wu X (2014) Detecting copy–move forgery under affine transforms for image forensics. Comput Electr Eng 40(6):1951–1962

Li J, Li X, Yang B, Sun X (2015) Segmentation-based image copy–move forgery detection scheme. IEEE Trans Inf Forensics Secur 10(3):507–518

Lowe DG (2004) Distinctive image features from scale invariant keypoint. Int J Comput Vision 60(2):91–110

Mahadian B, Sai S (2009) Using noise inconsistencies for blind image forensics. Image Vis Comput 27:1497–1503

Mahmood T, Nawaz T, Ashraf R, Shah M, Khan Z, Irtaza A, Mehmood Z (2015) A survey on block based copy move image forgery detection techniques. In: Emerging technologies (ICET), pp 1–6

Mahmood T, Nawaz T, Irtaza A, Ashraf R, Shah M, Mahmood MT (2016) Copy–move forgery detection technique for forensic analysis in digital images. Math Probl Eng 2016:13

Mahmood T, Mehmood Z, Shah S (2018) A robust technique for copy–move forgery detection and localization in digital images via stationary wavelet and discrete cosine transform. J Vis Commun Image Represent 53:202–214

Popescu AC, Farid H (2005) Exposing digital forgeries by detecting traces of resampling. IEEE Trans Sig Process 53(2):758–767

Pun C-M, Xiao-Chen Y, Bi X-L (2015) Image forgery detection using adaptive over segmentation and feature point matching. IEEE Trans Inf Forensics Secur 10(8):1705–1716

Quershi MA, Deriche M (2015) A bibliography of pixel-based blind image forgery detection techniques. Sig Process Image Commun 39:46–74

Ryu SJ, Kirchner M, Lee MJ, Lee HK (2013) Rotation invariant localization of duplicated image regions based on zernike moments. IEEE Trans Inf Forensics Secur 8(8):1355–1370

Sadeghi S, Jalab HA, Wong KS, Uliyan D, Dadkhah S (2017) Keypoint based authentication and localization of copy–move forgery in digital image. Malays J Comput Sci 30(2):117–133

Schaefer G, Stich M (2004) UCID: an uncompressed color image database. Storage Retr Methods Appl Multimed 5307:472–481

Sujatha K, Punithavathani DS (2018) Optimized ensemble decision-based multi-focus image fusion using binary genetic Grey-Wolf optimizer in camera sensor networks. Multimedia Tools Appl 77(2):1735–1759

Sundararaj V (2016) An efficient threshold prediction scheme for wavelet based ECG signal noise reduction using variable step size firefly algorithm. Int J Intell Eng Syst 9(3):117–126

Sundararaj V (2019) Optimal task assignment in mobile cloud computing by queue based ant-bee algorithm. Wireless Pers Commun 104(1):173–197

Sundararaj V, Muthukumar S, Kumar RS (2018) An optimal cluster formation based energy efficient dynamic scheduling hybrid MAC protocol for heavy traffic load in wireless sensor networks. Comput Secur 77:277–288

Thirunavukkaras V, Kumar J, Chae G, Kishorkumar J (2018) Non-intrusive forensic detection method using DSWT with reduced feature set for copy–move image tampering. Wireless Pers Commun 98(4):3039–3057

Tralic D, Zupancic I, Sona, Mislay (2013) CoMoFoD—new database for copy–move forgery detection. In: ELMAR, pp 49–54

Uliyan DM, Jalab HA, Wahab AWA, Sadeghi S (2016) Image region duplication forgery detection based on angular radial partitioning and Harris key-points. Symmetry (Basel) 8(7):62

Wang X-Y, Liu Y-N, Huan X, Wang P, Yang H-Y (2018) Robust copy–move forgery detection using quaternion exponent moments. Pattern Anal Appl 21(2):451–467

Xiuli C-MP, Yuan X-C (2016) Multilevel dense descriptor and hierarchical feature matching for copy–move forgery detection. Inf Sci 345:226–242

Yang ZC, Li Z-H (2012) An anti-JPEG compression digital watermarking technology with an ability in detecting forgery region for color images. In: International conference on computer distributed control and intelligent environmental monitoring, pp 93–97

Zhang J, Feng Z, Su Y (2017) A new approach for detecting copy–move forgery in digital images. In: Communication systems, pp 362–366

Zhangi Z, Ren Y, Ping X-J, He Z-Y, Zhang S-Z (2008) A survey on passive-blind image forgery by doctor method detection. Int Conf Mach Learn Cybern Kunming 6:3463–3467

Zhao J, Guo J (2013) Passive forensics for copy–move forgery using a method based on DCT and SVD. Forensic Sci Int 233(1–3):158–166
Ethics declarations
Conflict of interest
The authors declare that they have no conflict of interest.
Human and animal rights
This article does not contain any studies with animal/human participants performed by any of the authors.
Informed consent
Informed consent was obtained from all individual participants included in the study.
Additional information
Publisher's Note
Springer Nature remains neutral with regard to jurisdictional claims in published maps and institutional affiliations.
Communicated by V. Loia.
About this article
Cite this article
Nirmal Jothi, J., Letitia, S. Tampering detection using hybrid local and global features in wavelet-transformed space with digital images. Soft Comput 24, 5427–5443 (2020). https://doi.org/10.1007/s00500-019-04298-4
Keywords
Altered image

Forensics

Square block

Circular block

Passive method