Abstract
The banks serve in a highly dynamic and competitive environment and need to systematically evaluate their performance to improve their competitiveness. Performance evaluation is an important and complex process that requires flexible and analytic methods while handling the multidimensionality of the problem. This study presents a hybrid multi-criteria performance evaluation model for banking sector which combines two multi-criteria decision making methods that are simulation-integrated hesitant fuzzy linguistic term sets-based analytic hierarchy process method to determine the importance level of each criterion according to the decision makers' subjective judgements and grey relational analysis method to rank bank regions according to their performance values. The presented model is based on both probability theory and fuzzy sets theory and thus better represents all the dimensions of the uncertainty inherent in decision making process. A real-life application of the proposed performance evaluation model for a private bank operating in agricultural banking sector in Turkey is also given to illustrate the effectiveness and the applicability of the model.
Access options
Buy single article
Instant access to the full article PDF.
US$ 39.95
Tax calculation will be finalised during checkout.
Subscribe to journal
Immediate online access to all issues from 2019. Subscription will auto renew annually.
US$ 79
Tax calculation will be finalised during checkout.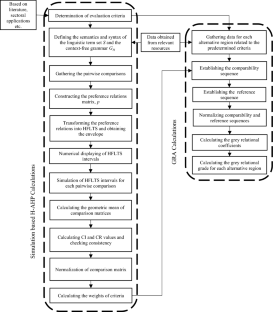 References
Ahn H, Le MH (2014) An insight into the specification of the input–output set for DEA-based bank efficiency measurement. Manag Rev Q 64(1):3–37

Aiello F, Bonanno G (2016) Efficiency in banking: a meta-regression analysis. Int Rev Appl Econ 30(1):112–149

Aigner D, Lovell CK, Schmidt P (1977) Formulation and estimation of stochastic frontier production function models. J Econ 6(1):21–37

Albayrak YE, Erkut H (2005) Banka performans değerlendirmede analitik hiyerarşi süreç yaklaşımı. İTÜDERGİSİ/d 4(6):47–58 (in Turkish)

An Q, Chen H, Wu J, Liang L (2015) Measuring slacks-based efficiency for commercial banks in China by using a two-stage DEA model with undesirable output. Ann Oper Res 235(1):13–35

Atanassov K (1986) Intuitionistic fuzzy sets. Fuzzy Sets Syst 20(1):87–96

Avkiran NK (2015) An illustration of dynamic network DEA in commercial banking including robustness tests. Omega 55:141–150

Aydogan EK (2011) Performance measurement model for Turkish aviation firms using the rough-AHP and TOPSIS methods under fuzzy environment. Expert Syst Appl 38(4):3992–3998

Bai C, Dhavale D, Sarkis J (2014) Integrating fuzzy C-means and TOPSIS for performance evaluation: an application and comparative analysis. Expert Syst Appl 41(9):4186–4196

Bentes AV, Carneiro J, da Silva JF, Kimura H (2012) Multidimensional assessment of organizational performance: Integrating BSC and AHP. J Bus Res 65(12):1790–1799

Berger AN (1993) "Distribution-free" estimates of efficiency in the US banking industry and tests of the standard distributional assumptions. J Prod Anal 4(3):261–292

Berger AN, Di Patti EB (2006) Capital structure and firm performance: a new approach to testing agency theory and an application to the banking industry. J Bank Finance 30(4):1065–1102

Berger AN, Humphrey DB (1992) Measurement and efficiency issues in commercial banking. In: Griliches Z (ed) Output measurement in the service sectors. University of Chicago Press, Chicago, pp 245–300

Berger AN, Humphrey DB (1997) Efficiency of financial institutions: international survey and directions for future research. Eur J Oper Res 98(2):175–212

Berger AN, Hancock D, Humphrey DB (1993) Bank efficiency derived from the profit function. J Bank Finance 17(2):317–347

Bolt W, Humphrey D (2010) Bank competition efficiency in Europe: a frontier approach. J Bank Finance 34(8):1808–1817

Büyüközkan G, Karabulut Y (2017) Energy project performance evaluation with sustainability perspective. Energy 119:549–560

Çelen A, Yalçın N (2012) Performance assessment of Turkish electricity distribution utilities: an application of combined FAHP/TOPSIS/DEA methodology to incorporate quality of service. Util Policy 23:59–71

Chantapong S (2005) Comparative study of domestic and foreign bank performance in Thailand: the regression analysis. Econ Change Restruct 38(1):63–83

Charnes A, Cooper WW, Rhodes E (1978) Measuring the efficiency of decision making units. Eur J Oper Res 2(6):429–444

Chen FH, Hsu TS, Tzeng GH (2011) A balanced scorecard approach to establish a performance evaluation and relationship model for hot spring hotels based on a hybrid MCDM model combining DEMATEL and ANP. Int J Hosp Manag 30(4):908–932

Chithambaranathan P, Subramanian N, Gunasekaran A, Palaniappan PK (2015) Service supply chain environmental performance evaluation using grey based hybrid MCDM approach. Int J Prod Econ 166:163–176

Chiu YH, Luo Z, Chen YC, Wang Z, Tsai MP (2013) A comparison of operating performance management between Taiwan banks and foreign banks based on the meta-hybrid DEA model. Econ Model 33:433–439

Cook WD, Ramón N, Ruiz JL, Sirvent I, Zhu J (2019) DEA-based benchmarking for performance evaluation in pay-for-performance incentive plans. Omega 84:45–54

Daly S, Frikha M (2017) Determinants of bank performance: comparative study between conventional and Islamic banking in Bahrain. J Knowl Econ 8(2):471–488

Das MC, Sarkar B, Ray S (2012) A framework to measure relative performance of Indian technical institutions using integrated fuzzy AHP and COPRAS methodology. Socio-Econ Plan Sci 46(3):230–241

Delen D, Kuzey C, Uyar A (2013) Measuring firm performance using financial ratios: a decision tree approach. Expert Syst Appl 40(10):3970–3983

Demir Y, Astarcıoğlu M (2007) Determining bank performance via financial prediction: an application in ISE. Suleyman Demirel University. J Bus Adm Econ Fac 12(1):273–292

Deng JL (1982) Control problems of grey systems. Syst Control Lett 1(5):288–294

Dey PK, Cheffi W (2013) Green supply chain performance measurement using the analytic hierarchy process: a comparative analysis of manufacturing organisations. Prod Plan Control 24(8–9):702–720

Dinçer H, Görener A (2011) Analitik Hiyerarşi Süreci ve VIKOR Tekniği ile Dinamik Performans Analizi: Bankacılık Sektöründe Bir Uygulama. Istanb Ticaret Üniv Sos Bilimler Derg 10(19):109–127 (in Turkish)

dos Santos BM, Godoy LP, Campos LM (2019) Performance evaluation of green suppliers using entropy-TOPSIS-F. J Clean Prod 207:498–509

Duman GM, Tozanli O, Kongar E, Gupta SM (2017) A holistic approach for performance evaluation using quantitative and qualitative data: a food industry case study. Expert Syst Appl 81:410–422

Emrouznejad A, Tavana M, Hatami-Marbini A (2014) The state of the art in fuzzy data envelopment analysis. In: Emrouznejad A, Tavana M (eds) Performance measurement with fuzzy data envelopment analysis. Springer, Berlin, Heidelberg, pp 1–45

Ertuğrul İ, Karakaşoğlu N (2009) Performance evaluation of Turkish cement firms with fuzzy analytic hierarchy process and TOPSIS methods. Expert Syst Appl 36(1):702–715

Färe R, Grosskopf S (2000) Network dea. Socio-Econ Plan Sci 34(1):35–49

Fu HP, Chang TH, Shieh L, Lin A, Lin SW (2015) Applying DEA–BPN to enhance the explanatory power of performance measurement. Syst Res Behav Sci 32(6):707–720

Fukuyama H, Matousek R (2017) Modelling bank performance: a network DEA approach. Eur J Oper Res 259(2):721–732

Fukuyama H, Weber WL (2015) Measuring Japanese bank performance: a dynamic network DEA approach. J Prod Anal 44(3):249–264

Fukuyama H, Weber WL (2017) Japanese bank productivity, 2007–2012: a dynamic network approach. Pac Econ Rev 22:649–676

Garibaldi JM, Ozen T (2007) Uncertain fuzzy reasoning: a case study in modelling expert decision making. IEEE Trans Fuzzy Syst 15(1):16–30

Gil-Alana LA, Barros C, Mandlaze D (2017) A performance assessment of Mozambique banks: a Bayesian stochastic frontier. Appl Econ 49(45):4579–4587

Görener A, Ayvaz B, Kuşakcı AO, Altınok E (2017) A hybrid type-2 fuzzy based supplier performance evaluation methodology: the Turkish Airlines technic case. Appl Soft Comput 56:436–445

Goyal S, Grover S (2013) Manufacturing system's effectiveness measurement by using combined approach of ANP and GTMA. Int J Syst Assur Eng Manag 4(4):404–423

Grifell-Tatjé E, Marques-Gou P (2008) Internal performance evaluation: the case of bank branches. Int J Serv Ind Manag 19(3):302–324

Gürbüz T, Albayrak YE (2014) An engineering approach to human resources performance evaluation: hybrid MCDM application with interactions. Appl Soft Comput 21:365–375

Haghighi SM, Torabi SA, Ghasemi R (2016) An integrated approach for performance evaluation in sustainable supply chain networks (with a case study). J Clean Prod 137:579–597

Han H, Trimi S (2018) A fuzzy TOPSIS method for performance evaluation of reverse logistics in social commerce platforms. Expert Syst Appl 103:133–145

Ho CTB, Wu DD (2009) Online banking performance evaluation using data envelopment analysis and principal component analysis. Comput Oper Res 36(6):1835–1842

Hsieh LF, Lin LH (2010) A performance evaluation model for international tourist hotels in Taiwan—an application of the relational network DEA. Int J Hosp Manag 29(1):14–24

Jain S, Triantis KP, Liu S (2011) Manufacturing performance measurement and target setting: a data envelopment analysis approach. Eur J Oper Res 214(3):616–626

Jyoti, Banwet DK, Deshmukh SG (2008) Evaluating performance of national R&D organizations using integrated DEA-AHP technique. Int J Product Perform Manag 57(5):370–388

Kahraman C (2018) A special issue on extensions of fuzzy sets in decision-making. Soft Comput 22(15):4851–4853

Kahraman C, Onar SC, Oztaysi B (2015) Fuzzy multicriteria decision-making: a literature review. Int J Comput Intell Syst 8(4):637–666

Kahraman C, Öztayşi B, Çevik Onar S (2016) A comprehensive literature review of 50 years of fuzzy set theory. Int J Comput Intell Syst 9(sup1):3–24

Kalogeras N, Baourakis G, Zopounidis C, van Dijk G (2005) Evaluating the financial performance of agri-food firms: a multicriteria decision-aid approach. J Food Eng 70(3):365–371

Kumar V (2016) Evaluating the financial performance and financial stability of national commercial banks in the UAE. Int J Bus Glob 16(2):109–128

Kuo MS, Liang GS (2012) A soft computing method of performance evaluation with MCDM based on interval-valued fuzzy numbers. Appl Soft Comput 12(1):476–485

Lang G, Welzel P (1998) Technology and cost efficiency in universal banking a "Thick Frontier"-analysis of the German banking ındustry. J Prod Anal 10(1):63–84

Lee ZY, Pai CC (2011) Operation analysis and performance assessment for TFT-LCD manufacturers using improved DEA. Expert Syst Appl 38(4):4014–4024

Lee AH, Chen WC, Chang CJ (2008) A fuzzy AHP and BSC approach for evaluating performance of IT department in the manufacturing industry in Taiwan. Expert Syst Appl 34(1):96–107

Lensink R, Meesters A (2014) Institutions and bank performance: a stochastic frontier analysis. Oxf Bull Econ Stat 76(1):67–92

Li N, Zhao H (2016) Performance evaluation of eco-industrial thermal power plants by using fuzzy GRA-VIKOR and combination weighting techniques. J Clean Prod 135:169–183

Li H, Chen C, Cook WD, Zhang J, Zhu J (2018) Two-stage network DEA: who is the leader? Omega 74:15–19

Lin TY, Chiu SH (2013) Using independent component analysis and network DEA to improve bank performance evaluation. Econ Model 32:608–616

Matthews K (2013) Risk management and managerial efficiency in Chinese banks: a network DEA framework. Omega 41(2):207–215

Mercan M, Reisman A, Yolalan R, Emel AB (2003) The effect of scale and mode of ownership on the financial performance of the Turkish banking sector: results of a DEA-based analysis. Socio-Econ Plan Sci 37(3):185–202

Modak M, Pathak K, Ghosh KK (2017) Performance evaluation of outsourcing decision using a BSC and fuzzy AHP approach: a case of the Indian coal mining organization. Resour Policy 52:181–191

Moghimi R, Anvari A (2014) An integrated fuzzy MCDM approach and analysis to evaluate the financial performance of Iranian cement companies. Int J Adv Manuf Technol 71(1–4):685–698

Nguyen TPT, Nghiem SH, Roca E, Sharma P (2016) Bank reforms and efficiency in Vietnamese banks: evidence based on SFA and DEA. Appl Econ 48(30):2822–2835

Omrani H, Beiragh RG, Kaleibari SS (2015) Performance assessment of Iranian electricity distribution companies by an integrated cooperative game data envelopment analysis principal component analysis approach. Int J Electr Power Energy Syst 64:617–625

Önder E, Taş N, Hepsen A (2013) Performance evaluation of Turkish banks using analytical hierarchy process and TOPSIS methods. J Int Sci Publ Econ Bus 7(Part 1):470–503

Oral M, Yolalan R (1990) An empirical study on measuring operating efficiency and profitability of bank branches. Eur J Oper Res 46(3):282–294

Ozcan T, Tuysuz F (2016) Modified grey relational analysis integrated with grey dematel approach for the performance evaluation of retail stores. Int J Inf Technol Decis Mak 15(02):353–386

Özceylan E, Çetinkaya C, Erbaş M, Kabak M (2016) Logistic performance evaluation of provinces in Turkey: a GIS-based multi-criteria decision analysis. Transp Res Part A Policy Pract 94:323–337

Öztayşi B, Kaya T, Kahraman C (2011) Performance comparison based on customer relationship management using analytic network process. Expert Syst Appl 38(8):9788–9798

Parkan C, Wu ML (1999) Measurement of the performance of an investment bank using the operational competitiveness rating procedure. Omega 27(2):201–217

Piltan M, Sowlati T (2016) A multi-criteria decision support model for evaluating the performance of partnerships. Expert Syst Appl 45:373–384

Rabbani A, Zamani M, Yazdani-Chamzini A, Zavadskas EK (2014) Proposing a new integrated model based on sustainability balanced scorecard (SBSC) and MCDM approaches by using linguistic variables for the performance evaluation of oil producing companies. Expert Syst Appl 41(16):7316–7327

Rangan N, Grabowski R, Aly HY, Pasurka C (1988) The technical efficiency of US banks. Econ Lett 28(2):169–175

Rezaie K, Ramiyani SS, Nazari-Shirkouhi S, Badizadeh A (2014) Evaluating performance of Iranian cement firms using an integrated fuzzy AHP–VIKOR method. Appl Math Model 38(21):5033–5046

Rodríguez RM, Martinez L, Herrera F (2012) Hesitant fuzzy linguistic term sets for decision making. IEEE Trans Fuzzy Syst 20(1):109–119

Rushton A, Croucher P, Baker P (2014) The handbook of logistics and distribution management: understanding the supply chain, 5th edn. Kogan Page Publishers, The Chartered Institute of Logistics and Transport

Saleh H, Malkhalifeh MR (2013) Performance evaluation in bank branch with two-stage DEA model. Shiraz J Syst Manag 1(1):17–33

Salimi N, Rezaei J (2018) Evaluating firms' R&D performance using best worst method. Eval Progr Plan 66:147–155

Saranga H, Moser R (2010) Performance evaluation of purchasing and supply management using value chain DEA approach. Eur J Oper Res 207(1):197–205

Seçme NY, Bayrakdaroğlu A, Kahraman C (2009) Fuzzy performance evaluation in Turkish banking sector using analytic hierarchy process and TOPSIS. Expert Syst Appl 36(9):11699–11709

Seiford LM, Zhu J (1999) Profitability and marketability of the top 55 US commercial banks. Manage Sci 45(9):1270–1288

Sengupta JK (1992) A fuzzy systems approach in data envelopment analysis. Comput Math Appl 24(8–9):259–266

Shafiee M, Sangi M, Ghaderi M (2013) Bank performance evaluation using dynamic DEA: a slacks-based measure approach. J Data Envel Anal Decis Sci 2013(26):1–12

Shafiee M, Lotfi FH, Saleh H, Ghaderi M (2016) A mixed integer bi-level DEA model for bank branch performance evaluation by Stackelberg approach. J Ind Eng Int 12(1):81–91

Shahroudi K, Assimi S (2012) Performance evaluation of banks using DEA (Case study: Guilan Saderat Bank Branches). Iran J Optim 4(2):375–387

Shaik MN, Abdul-Kader W (2014) Comprehensive performance measurement and causal-effect decision making model for reverse logistics enterprise. Comput Ind Eng 68:87–103

Shaverdi M, Heshmati MR, Ramezani I (2014) Application of fuzzy AHP approach for financial performance evaluation of Iranian petrochemical sector. Proc Comput Sci 31:995–1004

Silva TC, Tabak BM, Cajueiro DO, Dias MVB (2017) A comparison of DEA and SFA using micro-and macro-level perspectives: efficiency of Chinese local banks. Phys A 469:216–223

Sokic A (2015) Cost efficiency of the banking industry and unilateral euroisation: a stochastic frontier approach in Serbia and Montenegro. Econ Syst 39(3):541–551

Srinivasan R, Jain V, Dharmaraja S (2019) Perception based performance analysis of higher education institutions: a soft computing approach. Soft Comput. https://doi.org/10.1007/s00500-019-03931-6

Sun CC (2010) A performance evaluation model by integrating fuzzy AHP and fuzzy TOPSIS methods. Expert Syst Appl 37(12):7745–7754

Tavana M, Khalili-Damghani K, Rahmatian R (2015) A hybrid fuzzy MCDM method for measuring the performance of publicly held pharmaceutical companies. Ann Oper Res 226(1):589–621

Thanassoulis E, Boussofiane A, Dyson RG (1996) A comparison of data envelopment analysis and ratio analysis as tools for performance assessment. Omega 24(3):229–244

Titko J, Stankevičienė J, Lāce N (2014) Measuring bank efficiency: DEA application. Technol Econ Dev Econ 20(4):739–757

Torra V (2010) Hesitant fuzzy sets. Int J Intell Syst 25(6):529–539

Torra V, Narukawa Y (2009) On hesitant fuzzy sets and decision. In: IEEE international conference on fuzzy systems, 2009. FUZZ-IEEE 2009. IEEE, pp 1378–1382

Tözüm H (2002) Performance evaluation of banks. Act J Bank Finance 27:1–9

Tsai HY, Chang CW, Lin HL (2010) Fuzzy hierarchy sensitive with Delphi method to evaluate hospital organization performance. Expert Syst Appl 37(8):5533–5541

Tseng ML (2010) Implementation and performance evaluation using the fuzzy network balanced scorecard. Comput Educ 55(1):188–201

Tuysuz F (2018) Simulated hesitant fuzzy linguistic term sets based approach for modeling uncertainty in AHP method. Int J Inf Technol Decis Mak. https://doi.org/10.1142/S0219622018500074

Tüysüz F, Şimşek B (2017) A hesitant fuzzy linguistic term sets-based AHP approach for analyzing the performance evaluation factors: an application to cargo sector. Complex Intell Syst 3(3):167–175

Uygun Ö, Dede A (2016) Performance evaluation of green supply chain management using integrated fuzzy multi-criteria decision making techniques. Comput Ind Eng 102:502–511

Varmazyar M, Dehghanbaghi M, Afkhami M (2016) A novel hybrid MCDM model for performance evaluation of research and technology organizations based on BSC approach. Eval Progr Plan 58:125–140

Vincent FY, Hu KJ (2010) An integrated fuzzy multi-criteria approach for the performance evaluation of multiple manufacturing plants. Comput Ind Eng 58(2):269–277

Waemustafa W, Sukri S (2015) Bank specific and macroeconomics dynamic determinants of credit risk in Islamic banks and conventional banks. Int J Econ Financ Issues 5(2):476–481

Wang RT, Ho CTB, Oh K (2010) Measuring production and marketing efficiency using grey relation analysis and data envelopment analysis. Int J Prod Res 48(1):183–199

Wang K, Huang W, Wu J, Liu YN (2014) Efficiency measures of the Chinese commercial banking system using an additive two-stage DEA. Omega 44:5–20

Wanke P, Barros C (2014) Two-stage DEA: an application to major Brazilian banks. Expert Syst Appl 41(5):2337–2344

Wanke P, Barros CP, Emrouznejad A (2016) Assessing productive efficiency of banks using integrated fuzzy-DEA and bootstrapping: a case of Mozambican banks. Eur J Oper Res 249(1):378–389

Wei GW (2011) Grey relational analysis method for 2-tuple linguistic multiple attribute group decision making with incomplete weight information. Expert Syst Appl 38(5):4824–4828

Wu D, Dash Wu D (2010) Performance evaluation and risk analysis of online banking service. Kybernetes 39(5):723–734

Wu HY, Tzeng GH, Chen YH (2009) A fuzzy MCDM approach for evaluating banking performance based on Balanced Scorecard. Expert Syst Appl 36(6):10135–10147

Wu CR, Lin CT, Tsai PH (2010) Evaluating business performance of wealth management banks. Eur J Oper Res 207(2):971–979

Wu HY, Lin YK, Chang CH (2011) Performance evaluation of extension education centers in universities based on the balanced scorecard. Eval Progr Plan 34(1):37–50

Wu HY, Chen JK, Chen IS, Zhuo HH (2012a) Ranking universities based on performance evaluation by a hybrid MCDM model. Measurement 45(5):856–880

Wu HY, Chen J, Chen I (2012b) Performance evaluation of aircraft maintenance staff using a fuzzy MCDM approach. Int J Innov Comput Inf Control 8:3919–3937

Xu Z, Xia M (2011) Distance and similarity measures for hesitant fuzzy sets. Inf Sci 181(11):2128–2138

Yager RR (1986) On the theory of bags. Int J Gen Syst 13(1):23–37

Yaghoobi T, Haddadi F (2016) Organizational performance measurement by a framework integrating BSC and AHP. Int J Prod Perform Manag 65(7):959–976

Yalcin N, Bayrakdaroglu A, Kahraman C (2012) Application of fuzzy multi-criteria decision making methods for financial performance evaluation of Turkish manufacturing industries. Expert Syst Appl 39(1):350–364

Yang C, Liu HM (2012) Managerial efficiency in Taiwan bank branches: a network DEA. Econ Model 29(2):450–461

Yang CL, Chuang SP, Huang RH (2009) Manufacturing evaluation system based on AHP/ANP approach for wafer fabricating industry. Expert Syst Appl 36(8):11369–11377

Yang JB, Wong BYH, Xu DL, Liu XB, Steuer RE (2010) Integrated bank performance assessment and management planning using hybrid minimax reference point–DEA approach. Eur J Oper Res 207(3):1506–1518

Yıldız N, Tüysüz F (2018) A hybrid multi-criteria decision making approach for strategic retail location investment: application to Turkish food retailing. Socio-Econ Plan Sci. https://doi.org/10.1016/j.seps.2018.02.006

Yılmaz AA (2013) Bank efficiency analysis in Turkish banking system. In: WEU International Academic Conference Proceedings, pp 112–121

Yurdakul M, Ic YT (2005) Development of a performance measurement model for manufacturing companies using the AHP and TOPSIS approaches. Int J Prod Res 43(21):4609–4641

Zadeh LA (1965) Fuzzy sets. Inf Control 8(3):338–353

Zadeh LA (1975) The concept of a linguistic variable and its application to approximate reasoning—I. Inf Sci 8(3):199–249

Zaim O (1995) The effect of financial liberalization on the efficiency of Turkish commercial banks. Appl Financ Econ 5(4):257–264

Zeydan M, Çolpan C, Çobanoğlu C (2011) A combined methodology for supplier selection and performance evaluation. Expert Syst Appl 38(3):2741–2751

Zhou L, Li H, Sun K (2017) Teaching performance evaluation by means of a hierarchical multifactorial evaluation model based on type-2 fuzzy sets. Appl Intell 46(1):34–44
Ethics declarations
Conflict of interest
Fatih Tüysüz declares that he has no conflict of interest. Nurdan Yıldız declares that she has no conflict of interest.
Ethical approval
This article does not contain any studies with human participants or animals performed by any of the authors.
Additional information
Publisher's Note
Springer Nature remains neutral with regard to jurisdictional claims in published maps and institutional affiliations.
Communicated by V. Loia.
About this article
Cite this article
Tüysüz, F., Yıldız, N. A novel multi-criteria analysis model for the performance evaluation of bank regions: an application to Turkish agricultural banking. Soft Comput 24, 5289–5311 (2020). https://doi.org/10.1007/s00500-019-04279-7
Keywords
Banking

Performance evaluation

Simulation

Hesitant fuzzy sets

AHP

GRA