Key message
We describe a simple method to view meiotic cells in whole anthers from a range of plants. The method retains spatial organisation and enables simultaneous analysis of many meiotic cells.
Abstract
Understanding the process of male meiosis in flowering plants, and the role of genes involved in this process, offers potential for plant breeding, such as through increasing the level of genetic variation or the manipulation of ploidy levels in the gametes. A key to the characterisation of meiotic gene function and meiosis in non-model crop plants, is the analysis of cells undergoing meiosis, a task made difficult by the inaccessible nature of these cells. Here, we describe a simple and rapid method to analyse plant male meiosis in intact anthers in a range of plant species. This method allows analysis of numerous cells undergoing meiosis and, as meiotic cells stay within the anther, it retains information of the three-dimensional organisation and the location of organelles in meiotic cells. We show that the technique provides information on male meiosis by looking at the synchrony of meiotic progression between and within locules, and comparing wildtype and mutant plants through the chromosome separation stages in Arabidopsis thaliana. Additionally, we demonstrate that the protocol can be adopted to other plants with different floral morphology using Medicago truncatula as an example with small floral buds and the non-model plant kiwifruit (Actinidia chinensis) with larger buds and anthers.
Access options
Buy single article
Instant access to the full article PDF.
US$ 39.95
Tax calculation will be finalised during checkout.
Subscribe to journal
Immediate online access to all issues from 2019. Subscription will auto renew annually.
US$ 79
Tax calculation will be finalised during checkout.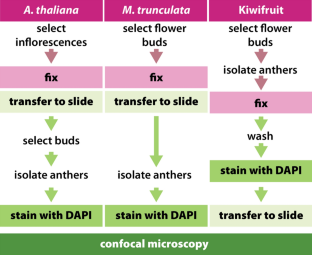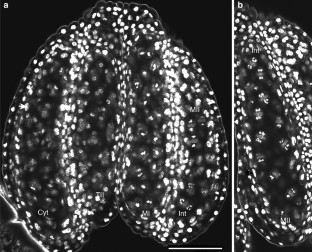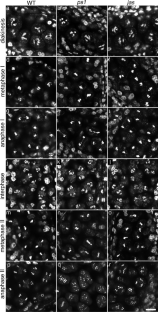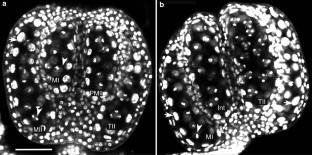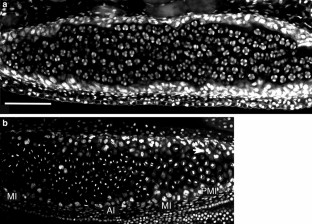 Availability of data and materials
Additional electronic material is available online.
References
Armstrong SJ, Franklin FCH, Jones GH (2003) A meiotic time-course for Arabidopsis thaliana. Sex Plant Reprod 16:141–149. https://doi.org/10.1007/s00497-003-0186-4

Barker DG, Pfaff T, Moreau D, Groves E, Ruffel S, Lepetit M, Whitehand S, Maillet F, Nair RM, Journet EP (2006) Growing M. truncatula: choice of substrates and growth conditions. In: Medicago truncatula Handbook, version November 2006, Noble Research Institute. ISBN 0-9754303-1-9

Bell CJ, Dixon RA, Farmer AD, Flores R, Inman J, Gonzales RA, Harrison MJ, Paiva NL, Scott AD, Weller JW, May GD (2001) The Medicago genome initiative: a model legume database. Nucleic Acid Res 29:114–117. https://doi.org/10.1093/nar/29.1.114

Bennett MD, Chapman V, Riley R (1971) The duration of meiosis in pollen mother cells of wheat, rye and Triticale. Proc R Soc Lond Ser B 178:259–275. https://doi.org/10.1098/rspb.1971.0065

Brownfield L, Jun Y, Jiang H, Minina EA, Twell D, Köhler C (2015) Organelles maintain spindle position in plant meiosis. Nat Comms 6:6492. https://doi.org/10.1038/ncomms7492

Cabout S, Leask MP, Varghese S, Yi J, Peters B, Conze LL, Köhler C, Brownfield L (2017) The meiotic regulator JASON utilizes alternative translation initiation sites to produce differentially localized forms. J Exp Bot 68(5):4205–4217. https://doi.org/10.1093/jxb/erx222

Caporali E, Testolin R, Pierce S, Spada A (2019) Sex change in kiwifruit (Actinidia chinensis Planch.): a developmental framework for the bisexual to unisexual floral transition. Plant Reprod 32:323–330. https://doi.org/10.1007/s00497-019-00373-w

Cardarelli M, Cecchetti V (2014) Auxin polar transport in stamen formation and development: how many actors? Front Plant Sci 5:333. https://doi.org/10.3389/fpls.2014.00333/full

Chelysheva L, Diallo S, Vezon D, Gendrot G, Vrielynck N, Belcram K, Rocques N, Marquez-Lema A, Bhatt AM, Horlow C, Mercier R, Mezard C, Grelon M (2005) AtREC8 and AtSCC3 are essential to the monopolar orientation of the kinetochores during meiosis. J Cell Sci 118:4621–4632. https://doi.org/10.1242/jcs.02583

Colas I, Darrier B, Arrieta M, Mittmann SU, Ramsay L, Sourdille P, Waugh R (2017) Observation of extensive chromosome axis remodelling during the "diffuse-phase" of meiosis in large genome cereals. Front Plant Sci 8:1235. https://doi.org/10.3389/fpls.2017.01235

Crismani W, Girard C, Mercier R (2013) Tinkering with meiosis. J Exp Bot 64:55–65. https://doi.org/10.1093/jxb/ers314

d'Erfurth L, Jolivet S, Froger N, Catrice O, Novatchkova M, Simon M, Jenczewski E, Mercier R (2008) Mutations in AtPS1 (Arabidopsis thaliana Parallel Spindle 1) lead to the production of diploid pollen grains. PLoS Genet 4:e1000274. https://doi.org/10.1371/journal.pgen.1000274

De Storme N, Geelen D (2011) The Arabidopsis mutant jason produces unreduced first division restitution male gametes through a parallel/fused spindle mechanism in meiosis II. Plant Physiol 155:1403–1415. https://doi.org/10.1104/pp.110.170415

De Storme N, Geelen D (2013) Cytokinesis in plant male meiosis. Plant Signal Behav 8:e23394. https://doi.org/10.4161/psb.23394

Erilova A, Brownfield L, Exner V, Rosa M, Twell D, Mittelsten Scheid O, Hennig L, Köhler C (2009) Imprinting of the polycomb group gene medea serves as a ploidy sensor in arabidopsis. PLoS Genet 5(9):e1000663. https://doi.org/10.1371/journal.pgen.1000663

Falasca G, D'Anheli S, Biasa R, Fattorini L, Matteucci M, Canini A, Altamura MM (2013) Tapetum and middle layer control male fertility in Actinidia deliciosa. Ann Bot 112:1045–1055

Fransz P, Armstrong S, Alonso-Blanco C, Fischer TC, Torres-Ruiz RA, Jones G (1998) Cytogenetics for the model system Arabidopsis thaliana. Plant J 13(6):867–876. https://doi.org/10.1046/j.1365-313X.1998.00086.x

Goldberg RB, Beals TP, Sanders PM (1993) Anther development: Basic principles and practical applications. Plant Cell 5:1217–1229

Harrison CJ, Alvey E, Henderson IR (2010) Meiosis in flowering plants and other green organisms. J Exp Bot 61:2863–2875. https://doi.org/10.1093/jxb/erq191

Kurihara D, Mizuta Y, Sato Y, Higashiyama T (2015) ClearSee: a rapid clearing reagent for whole-plant fluorescence imaging. Development 142:4168–4179

Lambing C, Heckmann S (2018) Tackling plant meiosis: from model research to crop improvement. Front Plant Sci. https://doi.org/10.3389/fpls.2018.00829

Lei X, Liu B (2020) Tapetum-dependent male meiosis progression in plants: increasing evidence emerges. Front Plant Sci. https://doi.org/10.3389/fpls.2019.01667

Li J, Dukowic-Schulze S, Lindquist IE, Farmer AD, Kelly B, Li T, Smith AG, Retzel EF, Mudge J, Chen C (2015) The plant-specific protein FEHLSTART controls male meiotic entry, initializing meiotic synchronization in Arabidopsis. Plant J 84:659–671. https://doi.org/10.1111/tpj.13026

Mariani A, Campanoni P, Giani S, Breviario D (2000) Meiotic mutants of Medicago sativa show altered levels of α- and β-tubulin. Genome 43:166–171. https://doi.org/10.1139/g99-105

Nair RM, Peck DM, Dundas IS, Samac DA, Moore A, Randles JW (2008) Morphological characterisation and genetic analysis of a bi-pistil mutant (bip) in Medicago truncatula Gaertn. Sex Plant Reprod 21:133–141. https://doi.org/10.1007/s00497-008-0073-0

Pilkington SM, Crowhurst R, Hilario E, Nardozza S, Fraser L, Peng Y, Gunaseelan K, Simpson R, Tahir J, Deroles SC et al (2018) A manually annotated Actinidia chinensis var. chinensis (kiwifruit) genome highlights the challenges associated with draft genomes and gene prediction in plants. BMC Genom 19:257. https://doi.org/10.1186/s12864-018-4656-3

Prusicki MA, Keizer EM, van Rosmalen R, Komaki S, Seifert F, Mueller K, Wijnker E, Fleck C, Schnittger A (2019) Live cell imaging of meiosis in Arabidopsis thaliana. eLIFE 8:e42834. https://doi.org/10.7554/eLife.42834

Sanders PM, Bui AQ, Weterings K, McIntire KN, Hsu Y-C, Lee PY, Truong MT, Beals TP, Goldberg RB (1999) Anther developmental defects in Arabidopsis thaliana male-sterile mutants. Sex Plant Reprod 11:297–322. https://doi.org/10.1007/s004970050158

Scott RJ, Spielman M, Dickinson HG (2004) Stamen structure and function. Plant Cell 16:S46. https://doi.org/10.1105/tpc.017012

Smyth DR, Bowman JL, Meyerowitz EM (1990) Early flower development in Arabidopsis. Plant Cell 2:755–767. https://doi.org/10.1105/tpc.2.8.755

Tavoletti S, Mariani A, Veronesi F (1991) Cytological analysis of macro- and microsporogenesis of a diploid alfalfa clone producing male and female 2n gametes. Crop Sci 31:1258–1263. https://doi.org/10.2135/cropsci1991.0011183X003100050035x

Wilson ZA, Song J, Taylor B, Yang C (2011) The final split: the regulation of anther dehiscence. J Exp Bot 62:1633–1649
Acknowledgements
We would like to thank Shona Seymour at Plant & Food Research for the collection of kiwifruit budwood. This work was funded by the Department of Biochemistry, University of Otago, New Zealand and the Endeavour Fund from the Ministry of Business Innovation and Employment (Smart Idea UOOX1801).
Funding
Department of Biochemistry, University of Otago and Ministry of Business Innovation and Employment Endeavour Fund (Smart Idea UOOX1801).
Ethics declarations
Conflict of interest
The authors declare that they have no conflict of interest.
Additional information
Publisher's Note
Springer Nature remains neutral with regard to jurisdictional claims in published maps and institutional affiliations.
Communicated by Dolf Weijers.
Supplementary Information
Below is the link to the Supplementary Information.
A z-series whole intact anther of Arabidopsis thaliana Ler. Meiocytes in two locules can be observed with the top locule contained meiocytes of telophase II and the bottom locule meiocytes at metaphase II. A single optical section of this anther is shown in Online Resource 1 (AVI 5233 kb)
A z-series whole intact anther of Arabidopsis thaliana Col-0. From left to right locules contain: meiotic products close to cytokinesis; telophase II with the two meiotic divisions are complete; metaphase I with homologous chromosomes aligned; Interphase between the two meiotic divisions at the bottom of the anther to metaphase II with two sets of sister chromatins aligned at the top. A single section of this anther is shown in Fig. 2a (AVI 7031 kb)
A z-series whole intact anther of Arabidopsis thaliana Col-0. From top to bottom locules contain: anaphase I, telophase II, telophase II and prometaphase/metaphase II (AVI 11,999 kb)
Z-series of part of a locule in an anther from a wild type  A. thaliana Col-0 plant with meiocytes in diakinesis. A z-projection of this region is shown in Fig. 3a (AVI 2023 kb)
Z-series of part of a locule in an anther from a ps1 A. thaliana Col-0 plant with meiocytes in diakinesis. A z-projection of this region is shown in Fig. 3b (AVI 556 kb)
Z-series of part of a locule in an anther from a jas A. thaliana Col-0 plant with meiocytes in diakinesis. A z-projection of this region is shown in Fig. 3 (AVI 936 kb)
Z-series of part of a locule in an anther from a wild type A. thaliana Col-0 plant with meiocytes in metaphase I. A z-projection of this region is shown in Fig. 3d (AVI 620 kb)
Z-series of part of a locule in an anther from a w ps1 A. thaliana Col-0 plant with meiocytes in metaphase I. A z-projection of this region is shown in Fig. 3e (AVI 570 kb)
Z-series of part of a locule in an anther from a  jas A. thaliana Col-0 plant with meiocytes in metaphase I. A z-projection of this region is shown in Fig. 3f (AVI 369 kb)
Z-series of part of a locule in an anther from a wild type A. thaliana Col-0 plant with meiocytes in anaphase I. A z-projection of this region is shown in Fig. 3g (AVI 751 kb)
Z-series of part of a locule in an anther from a  ps1 A. thaliana Col-0 plant with meiocytes in anaphase I. A z-projection of this region is shown in Fig. 3h (AVI 638 kb)
Z-series of part of a locule in an anther from a jas A. thaliana Col-0 plant with meiocytes in anaphase I. A z-projection of this region is shown in Fig. 3i (AVI 710 kb)
Z-series of part of a locule in an anther from a wild type A. thaliana Col-0 planti with meiocytes in interphase. A z-projection of this region is shown in Fig. 3j (AVI 565 kb)
Z-series of part of a locule in an anther from a ps1 A. thaliana Col-0 plant with meiocytes in interphase. A z-projection of this region is shown in Fig. 3k (AVI 1171 kb)
Z-series of part of a locule in an anther from a jas A. thaliana Col-0 plant with meiocytes in interphase. A z-projection of this region is shown in Fig. 3l (AVI 723 kb)
Z-series of part of a locule in an anther from a wild type A. thaliana Col-0 plant with meiocytes in metaphase II. A z-projection of this region is shown in Fig. 3m (AVI 862 kb)
Z-series of part of a locule in an anther from a ps1 A. thaliana Col-0 plant with meiocytes in metaphase II. A z-projection of this region is shown in Fig. 3n (AVI 668 kb)
Z-series of part of a locule in an anther from a jas A. thaliana Col-0 plant with meiocytes in metaphase II. A z-projection of this region is shown in Fig. 3 (AVI 562 kb)
Z-series of part of a locule in an anther from a wild type A. thaliana Col-0 plant with meiocytes in anaphase II. A z-projection of this region is shown in Fig. 3p (AVI 1024 kb)
Z-series of part of a locule in an anther from a ps1 A. thaliana Col-0 plant with meiocytes in anaphase II. A z-projection of this region is shown in Fig. 3q (AVI 819 kb)
Z-series of part of a locule in an anther from a jas A. thaliana Col-0 plant with meiocytes in anaphase II. A z-projection of this region is shown in Fig. 3r (AVI 1117 kb)
A z-series of an intact anther of Medicago truncatula. Chromosomal DNA and organelles have been stained with DAPI. From left to right locules contain: metaphase II, metaphase I, prometaphase II and telophase II. A single section of this anther is shown in Fig. 4a (AVI 3448 kb)
A z-series of an intact anther of Medicago truncatula. Chromosomal DNA and organelles have been stained with DAPI. From left to right locules contain: metaphase I, interphase and telophase II. A single section of this anther is shown in Fig. 4b (AVI 4380 kb)
Single optical section from CLSM analysis of an anther from A. thaliana Ler. The anther was isolated from a flower bud, chromosomal and organelle DNA stained with DAPI and observed with CLSM. A z-series for this anther is shown in Online Resource 2. Two locules are visible, one with meiocytes of metaphase II (MII) and one at telophase II (TII). Not all nuclei are visible in the optical section. An arrow indicates a binucleate tapetal cell and an arrowhead indicates an organelle band between two chromosome groups in meiosis II. Scale, 50 µm (TIF 5538 kb)
About this article
Cite this article
Rossig, C., Le Lievre, L., Pilkington, S.M. et al. A simple and rapid method for imaging male meiotic cells in anthers of model and non-model plant species. Plant Reprod 34, 37–46 (2021). https://doi.org/10.1007/s00497-021-00404-5
Received:

Accepted:

Published:

Issue Date:
Keywords
Male meiosis

Meiocytes

Anther

Confocal laser scanning microscopy

Fluorescent staining