Abstract
To explore the reference values of fibrinogen degradation products (FDP) of healthy adults in different regions of China, determine the relationship between them and geographic factors and determine the geographic distribution of FDP reference value healthy adults in China. The collected FDP reference values of 11,013 healthy adults in 209 Chinese units were firstly determined by spatial autocorrelation to correlate with geographic factors; secondly, using ridge regression analysis and principal component analysis to fit China 2322 FDP reference values of healthy adults in each city, and the selection of the optimal model through comparison; and finally, combined with geostatistical analysis, explore the geographical distribution of FDP reference values of healthy adults in China. The specific distribution of FDP reference values of healthy adults in different regions of China showed a trend of being lower to the north and higher to the south of the Qinling-Huaihe River. If the numerical value of geographical factors in a certain region of China is known, the ridge regression prediction equation can be combined from this: Ŷ = 3.30 − 0.002900X2 − 0.0001400X5 + 0.0001300X6 − 0.009040X6 + 0.0003500X8 − 0.002300X11 + 0.02149X14 − 0.01626X16 ± 0.89 calculates the reference value of FDP for healthy adults in the region and provides a scientific reference for the FDP reference value in different regions of China.
Access options
Buy single article
Instant access to the full article PDF.
US$ 39.95
Tax calculation will be finalised during checkout.
Subscribe to journal
Immediate online access to all issues from 2019. Subscription will auto renew annually.
US$ 79
Tax calculation will be finalised during checkout.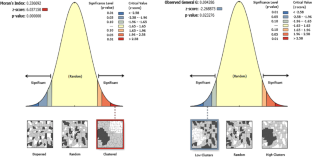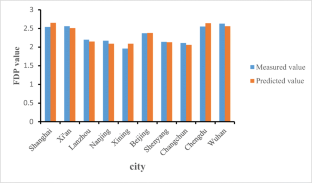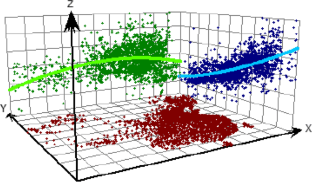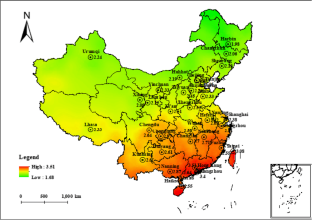 References
Bian L-Y (2016) Effect of extracorporeal circulation hemodilution on coagulation function and hemorheology. D Observation Beijing Union Medical College, Beijing

Che L, Wang H-Q, Fei T et al (2017) Kriging interpolation method based on multiscale least squares support vector machine optimization. J Geoinformatics 19(08):1001–1010

Dilinour C, Mutalifu A (2016) Clinical significance of combined detection of plasma D-dimer and FDP in pregnant women before delivery. Thromb Hemost 22(04):424–425

Dong J-Y, Zhu Q-H, Luo M-H et al (2016) Clinical significance of coagulation and fibrinolysis indicators during transcatheter thrombolysis of acute deep vein thrombosis. J South Med Univ 36(04):588–591

Duan Y-H (2011) Influencing factors of D-dimer and FDP determination. Inner Mong Med J 43(S1):30–31

Hu L-P (2018) Ridge regression analysis. Sichuan Ment Health 31(03):193–196

Jiang J-Q (2004) The relationship between environmental geochemistry and human health and agricultural production. Geophys Geochem Explor 28(04):330–332

Li S-M (2005) GIS-based spatial interpolation analysis and pollution assessment of heavy metals in soil. Nanjing Agricultural University, Nanjing

Marquardt D, Snee R (1975) Ridge regression in practice. Am Stat 29(1):3–20

Meng S-P, Zhao J-F, Liu J et al (2014) Analysis on the status quo of meteorological factors and cardiovascular and cerebrovascular diseases. China Mod Med Appl 8(16):234–235

Tan Z-H (2011) Calculation and simulation of North-South boundary in China based on GIS. Lanzhou University, Lanzhou

Wang Y-F (1988) Qinling Huaihe River in China's comprehensive natural regionalization. J Henan Univ (Nat Sc Ed) 03(01):67–70

Wang L-M (2013) Changes and clinical significance of four coagulation, FDP, D-dimer in late pregnancy. Chin Gen Pract 11(12):1951–1952

Wang Y-F, He H-L (2007) Spatial data analysis. Science Press, Beijing

Wu H-J (2003) Basic ideas and application examples of principal component analysis. Henan Prov Situat Stat 04(011):30–31

Wu Z-Y, Li J, Jia D-Q et al (2013) Diagnostic value of combined detection of Fib, DD, FDP and β2-MG in lung cancer. J Clin Exp Med 12(04):285–286 +288

Xiang X-H (2019) Significance of detection of fibrinogen degradation products in thrombotic diseases. Med Crit Care Med 25(02):146–148

Xiang S-T, Ge M, Zhang Y-P et al (2013) Factor analysis of the reference value of heart rate of the elderly in China and geographical environment. Chin J Gerontol 33(01):1–4

Yang X-F, Hu C-Q (2015) Application of ordinary kriging method in seawater temperature profile interpolation. Acoustics 34(05):385–388

Yu L-H, Qian L-L, Li L (2018) Clinical value of detection of D-dimer combined with fibrinogen degradation products in the diagnosis of acute pulmonary embolism. World Med Abstr Abstr 18(80):1–3

Zhang C-H (2019) The effect of cistretracurium combined with dexmedetomidine in laparoscopic hysterectomy and its effect on ATIII, DD, FDP, Cor. J Clin Med Lit Electron 6(41):60–62

Zhang W-T, Tong C-W (2011) Basic course of SPSS statistical analysis. Higher Education Press, Beijing

Zhang X-L, Wu M (2018) Spatial association analysis of regional information development in the internet age—application based on exploratory spatial data analysis (ESDA) method. Zhejiang Acad J 16(01):132–138
Additional information
Publisher's Note
Springer Nature remains neutral with regard to jurisdictional claims in published maps and institutional affiliations.
Supplementary Information
About this article
Cite this article
Zhang, L., Ge, M., Yang, W. et al. Geographical distribution of reference values of fibrinogen degradation products in healthy adults in China. Int J Biometeorol (2021). https://doi.org/10.1007/s00484-021-02082-4
Received:

Revised:

Accepted:

Published:
Keywords
Fibrinogen degradation products

Spatial autocorrelation

Ridge regression analysis

Principal component analysis

Kriging interpolation

Geographical distribution