Abstract
The influence of climate conditions in the agricultural environment is important in evapotranspiration, water availability for plants and roots, and other processes. This research focuses on two aspects: (1) the effects of climate change on the occurrence of extreme events that may affect agricultural processes in a region in Illinois (USA), and (2) the effects of climate change on the soil water dynamics in a corn crop. Different climate scenarios developed by the Institut Pierre Simon Laplace, using a climate model with medium resolution—IPSL(CM5MR), provided input to simulate soil water dynamics in two fields with different drainage system layouts. The Hydrus model simulated surface flux and runoff. Results indicate that the variation of precipitation and temperature in the future may increase extreme events, representing a risk for agriculture. Hydrus simulations indicate different results accordingly to the drainage layout, suggesting that it may be necessary to make adjustments in drainage systems in the future. In general, surface flux and runoff will increase over time, and these changes are more related to extreme events than average values. Extreme event indices show vulnerability in agriculture and will be reflected in changes in the soil water dynamics, and may increase the climatic risk of corn production.
Access options
Buy single article
Instant access to the full article PDF.
US$ 39.95
Tax calculation will be finalised during checkout.
Subscribe to journal
Immediate online access to all issues from 2019. Subscription will auto renew annually.
US$ 79
Tax calculation will be finalised during checkout.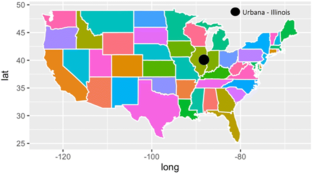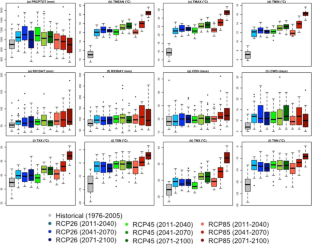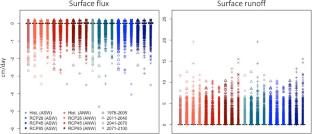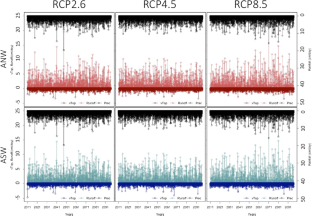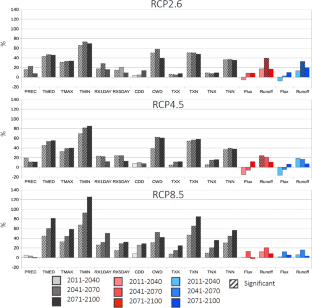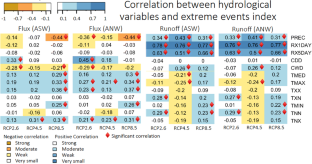 References
Allen RG, Pereira LS, Raes D, Smith M (1998) Guidelines for computing crop water requirements-FAO Irrigation and drainage paper 56, FAO-Food and Agriculture Organisation of the United Nations, Rome (http://www. fao. org/docrep) ARPAV (2000), La caratterizzazione climatica della Regione Veneto, Quaderni per. Geophysics, 156, 178.

Arnell NW (1999) Climate change and global water resources. Glob Environ Chang 9:S31–S49

Bader DC, Covey C, Gutowski JR WJ, Held IM, Miller RL, Tokmakian RT, Zhang MH (2008) Climate models: an assessment of strengths and limitations.

Baier W (1965) The interrelationship of meteorological factors, soil moisture and plant growth. Int J Biometeorol 9(1):5–20

Ashraf M (1999) Interactive effects of nitrate and long-term waterlogging on growth, water relations, and gaseous exchange properties of maize (Zea mays L.). Plant Sci 144(1):35–43

Badiger SM (2001) Integrated numerical modeling of spatial and time-variant hydrologic response in subsurface drained watersheds (Doctoral dissertation, University of Illinois at Urbana-Champaign).

Boughton W, Chiew F (2007) Estimating runoff in ungauged catchments from rainfall, PET and the AWBM model. Environ Model Softw 22(4):476–487

Chang H, Jung IW (2010) Spatial and temporal changes in runoff caused by climate change in a complex large river basin in Oregon. J Hydrol 388(3-4):186–207

Cooke R, Verma S (2012) Performance of drainage water management systems in Illinois, United States. J Soil Water Conserv 67(6):453–464

Denmead OT, Shaw RH (1962) Availability of soil water to plants as affected by soil moisture content and meteorological conditions 1. Agron J 54(5):385–390

Diffenbaugh NS (2020) Verification of extreme event attribution: Using out-of-sample observations to assess changes in probabilities of unprecedented events. Sci Adv 6(12):eaay2368

Dufresne JL, Foujols MA, Denvil S, Caubel A, Marti O, Aumont O et al (2013) Climate change projections using the IPSL-CM5 Earth System Model: from CMIP3 to CMIP5. Clim Dyn 40(9-10):2123–2165

Eagleson PS (1978) Climate, soil, and vegetation: 6. Dynamics of the annual water balance. Water Resour Res 14(5):749–764

Feddes RA, Bresler E, Neuman SP (1974) Field test of a modified numerical model for water uptake by root systems. Water Resour Res 10(6):1199–1206

Ferreira NCR (2017) Effects of climate change on corn: numerical simulation of soil water dynamics in a corn crop in Illinois (USA) (Doctoral dissertation, Universidade de São Paulo).

Frich P, Alexander LV, Della-Marta PM, Gleason B, Haylock M, Tank AK, Peterson T (2002) Observed coherent changes in climatic extremes during the second half of the twentieth century. Clim Res 19(3):193–212

Gandolfi C, Facchi A, Maggi D (2006) Comparison of 1D models of water flow in unsaturated soils. Environ Model Softw 21(12):1759–1764

Guo S, Wang J, Xiong L, Ying A, Li D (2002) A macro-scale and semi-distributed monthly water balance model to predict climate change impacts in China. J Hydrol 268(1):1–15

Hales S, De Wet N, Maindonald J, Woodward A (2002) Potential effect of population and climate changes on global distribution of dengue fever: an empirical model. Lancet 360(9336):830–834

Hallema DW, Rousseau AN, Gumiere SJ, Périard Y, Hiemstra PH, Bouttier L, Fossey M, Paquette A, Cogliastro A, Olivier A (2014) Framework for studying the hydrological impact of climate change in an alley cropping system. J Hydrol 517:547–556

Hess LJT, Hinckley ELS, Robertson GP, Hamilton SK, Matson PA (2018) Rainfall intensification enhances deep percolation and soil water content in tilled and no-till cropping systems of the US Midwest. Vadose Zone J 17(1)

Hooghoudt SB (1940) Contributions to knowledge of some natural properties of soil. VII. General consideration of the problem of local draining of soil, and of infiltration from parallel running drains and open drain furrows, ditches and drainage channels. Verslagen van Landbouwkundige Onderzoekingen, 515-707.

Jones PG, Thornton PK (2003) The potential impacts of climate change on maize production in Africa and Latin America in 2055. Glob Environ Chang 13(1):51–59

Karl TR, Nicholls N, Ghazi A (1999) Clivar/GCOS/WMO workshop on indices and indicators for climate extremes workshop summary. In Weather and Climate Extremes (pp. 3-7). Springer, Dordrecht.

Khan MB, Hussain N, Iqbal M (2001) Effect of water stress on growth and yield components of maize variety YHS 202. J Res Sci 12(1):15–18

Knutti R, Masson D, Gettelman A (2013) Climate model genealogy: generation CMIP5 and how we got there. Geophys Res Lett 40(6):1194–1199

Knutti R, Sedlacek J (2013) Robustness and uncertainties in the new CMIP5 climate model projections. Nat Clim Chang 3(4):369–373

Kong DX, Miao CY, Borthwick AGL, Duan QY, Liu H, Sun QH, Ye AZ, Di ZH, Gong W (2015) Evolution of the Yellow River Delta and its relationship with runoff and sediment load from 1983 to 2011. J Hydrol 520:157–167. https://doi.org/10.1016/j.jhydrol.2014.09.038

Kozdrój J, van Elsas JD (2000) Response of the bacterial community to root exudates in soil polluted with heavy metals assessed by molecular and cultural approaches. Soil Biol Biochem 32(10):1405–1417

Lobell DB, Bänziger M, Magorokosho C, Vivek B (2011) Nonlinear heat effects on African maize as evidenced by historical yield trials. Nat Clim Chang 1:42–45

Lobell D, Asner G (2003) Climate and management contributions to recent trends in US agricultural yields. Science 299:1032

Lohse KA, Brooks PD, McIntosh JC, Meixner T, Huxman TE (2009) Interactions between biogeochemistry and hydrologic systems. Annu Rev Environ Resour 34:65–96

Luo Y, Gerten D, Le Maire G, Parton WJ, Weng E, Zhou X, Dukes JS (2008) Modeled interactive effects of precipitation, temperature, and [CO2] on ecosystem carbon and water dynamics in different climatic zones. Glob Chang Biol 14(9):1986–1999

McCulley RL, Burke IC, Lauenroth WK (2009) Conservation of nitrogen increases with precipitation across a major grassland gradient in the Central Great Plains of North America. Oecologia 159:571–581

Meehl GA, Goddard L, Murphy J, Stouffer RJ, Boer G, Danabasoglu G, Dixon K, Giorgetta MA, Greene AM, Hawkins E, Hegerl G, Karoly D, Keenlyside N, Kimoto M, Kirtman B, Navarra A, Pulwarty R, Smith D, Stammer D, Stockdale T, Smith D, Stammer D, Stockdale T (2009) Decadal prediction: can it be skillful? Bull Am Meteorol Soc 90(10):1467–1486

Mearns LO, Easterling W, Hays C, Marx D (2001) Comparison of agricultural impacts of climate change calculated from high and low resolution climate change scenarios: part I. The uncertainty due to spatial scale. Clim Chang 51(2):131–172

Melillo JM, Richmond TC, Yohe GW. (Eds.) (2014) Climate change impacts in the United States: the third national climate assessment. U.S. Global Change Research Program.

Milly PCD (1994) Climate, soil water storage, and the average annual water balance. Water Resour Res 30(7):2143–2156

Monteith JL (1981) Evaporation and surface temperature. Q J R Meteorol Soc 107(451):1–27

Moss RH, Edmonds JA, Hibbard KA, Manning MR, Rose SK, Van Vuuren DP et al (2010) The next generation of scenarios for climate change research and assessment. Nature 463(7282):747–756

Nearing MA, Pruski FF, O'Neal MR (2004) Expected climate change impacts on soil erosion rates: a review. J Soil Water Conserv 59(1):43–50

Niemann JD, Eltahir EA (2005) Sensitivity of regional hydrology to climate changes, with application to the Illinois River basin. Water Resour Res 41(7)

O'Neal MR, Nearing MA, Vining RC, Southworth J, Pfeifer RA (2005) Climate change impacts on soil erosion in Midwest United States with changes in crop management. Catena 61(2-3):165–184

Parry M, Parry ML, Canziani O, Palutikof J, Van Der Linden P, Hanson C. (Eds.) (2007) Climate change 2007-impacts, adaptation and vulnerability: Working group II contribution to the fourth assessment report of the IPCC (Vol. 4). Cambridge University Press

Patz JA, Campbell-Lendrum D, Holloway T, Foley JA (2005) Impact of regional climate change on human health. Nature 438(7066):310–317

Porporato A, Daly E, Rodriguez-Iturbe I (2004) Soil water balance and ecosystem response to climate change. Am Nat 164(5):625–632

Resende NC, Miranda JH (2017) Evaluation of climate scenarios projections and associated errors in a region in Illinois (USA) according to CMIP5 models. Revista Brasileira de Climatologia, 21.

Rienzner M, de Maria SC, Facchi A, Wassar F, Gandolfi C (2013) Estimating the contribution of rainfall, irrigation and upward soil water flux to crop water requirements of a maize agroecosystem in the Lombardy plain. J Agric Eng 44(2s)

Rosenzweig C, Elliott J, Deryng D, Ruane AC, Müller C, Arneth A, Boote KJ, Folberth C, Glotter M, Khabarov N, Neumann K, Piontek F, Tam P, Schmid E, Stehfest E, Yang H, Jones JW (2014) Assessing agricultural risks of climate change in the 21st century in a global gridded crop model intercomparison. Proc Natl Acad Sci 111(9):3268–3273

Sakurai G, Iizumi T, Yokozawa M (2012) Varying temporal and spatial effects of climate on maize and soybean affect yield prediction. Clim Res 49:143–154

Scott D, Mcboyle G, Mills B (2003) Climate change and the skiing industry in southern Ontario (Canada): exploring the importance of snowmaking as a technical adaptation. Clim Res 23(2):171–181

Schlenker W, Lobell DB (2010) Robust negative impacts of climate change on African agriculture. Environ Res Lett 014010

Schlenker W, Roberts MJ (2009) Nonlinear temperature effects indicate severe damage to U.S. crop yields under climate change. Proc. Natl Acad. Sci. USA 106:15594–15598

Schmidhuber J, Tubiello FN (2007) Global food security under cli- mate change. Proc Natl Acad Sci U S A 104:19703–19708. https://doi.org/10.1073/pnas.0701976104

Simunek J, Suarez DL, Sejna M (1996) The UNSATCHEM software package for simulating one-dimensional variably saturated water flow, heat transport, carbon dioxide production and transport, and multicomponent solute transport with major ion equilibrium and kinetic chemistry. Res Rep 141:186

Simunek J, Van Genuchten M, Sejna M (2005) The HYDRUS-1D software package for simulating the one-dimensional movement of water, heat, and multiple solutes in variably-saturated media. University of California-Riverside Research Reports, 3, 1-240.

Southworth J, Randolph JC, Habeck M, Doering OC, Pfeifer RA, Rao DG, Johnston JJ (2000) Consequences of future climate change and changing climate variability on maize yields in the midwestern United States. Agric Ecosyst Environ 82(1-3):139–158

Sun Q, Miao C, Duan Q (2016) Extreme climate events and agricultural climate indices in China: CMIP5 model evaluation and projections. Int J Climatol 36(1):43–61

Tao F, Yokozawa M, Liu J, Zhang Z (2008) Climate–crop yield relationships at provincial scales in China and the impacts of recent climate trends. Clim Res 38:83–94

Taylor KE, Stouffer RJ, Meehl GA (2012) An overview of CMIP5 and the experiment design. Bull Am Meteorol Soc 93(4):485–498

Van Genuchten MT (1980) A closed-form equation for predicting the hydraulic conductivity of unsaturated soils 1. Soil Sci Soc Am J 44(5):892–898

Wang D, Hejazi M, Cai X, Valocchi AJ (2011) Climate change impact on meteorological, agricultural, and hydrological drought in central Illinois. Water Resour Res 47(9)

Wesseling JG (1991) Meerjarige simulatie van grondwaterstroming voor verschillende bodemprofielen, grondwatertrappen en gewassen met het model SWATRE (No. 152). DLO-Staring Centrum.

Wesseling J (1974) Crop growth and wet soils. Drainage for agriculture, (drainageforagri), 7-37.

Wheeler T, von Braun J (2013) Climate change impacts on global food security. Science 341:508–513. https://doi.org/10.1126/science.1239402
Acknowledgements
The authors would like to thank the National Council for Scientific and Technological Development (CNPq/Brazil) and the program Science Without Borders (CSF/Brazil).
About this article
Cite this article
C. R. Ferreira, N., H. Miranda, J. & Cooke, R. Climate change and extreme events on drainage systems: numerical simulation of soil water in corn crops in Illinois (USA). Int J Biometeorol (2021). https://doi.org/10.1007/s00484-021-02081-5
Received:

Revised:

Accepted:

Published: