Abstract
One of the particularly vulnerable groups for adverse weather conditions is people with heart disease. Most of the studies analyzed the association between certain weather conditions and increased mortality, morbidity, hospital admissions, calls, or visits to the emergency department and used as statistical data. This study evaluated associations between daily weather conditions and daily weather-related well-being in patients with coronary artery disease (CAD). From June 2008 to October 2012, a total of 865 consecutive patients with CAD (mean age 60 years; 30% of women) were recruited from the cardiac rehabilitation program at the Hospital Palanga Clinic, Lithuania. To evaluate the well-being, all patients filled in Palanga self-assessment diary for weather sensitivity every day from 8 to 21 days (average 15 ± 3 days) about their well-being (psychological, cardiac, and physical symptoms) on the last day. The weather data was recorded in the database eight times every day with a 3-hour interval using the weather station "Vantage Pro2 Plus" which was located in the same Clinic. The daily averages of the eight time records for weather parameters were calculated and were linked to the same-day diary data. We found that the well-being of patients with CAD was associated with weather parameters; specifically, general well-being was better within the temperature range 9–15 °C and worse on both sides of this range. Worsened general well-being was also associated with higher relative humidity and lower atmospheric pressure. Weather parameters can explain from 3 to 8% of the variance of well-being in patients with CAD.
This is a preview of subscription content, log in to check access.
Access options
Buy single article
Instant access to the full article PDF.
US$ 39.95
Price includes VAT for USA
Subscribe to journal
Immediate online access to all issues from 2019. Subscription will auto renew annually.
US$ 99
This is the net price. Taxes to be calculated in checkout.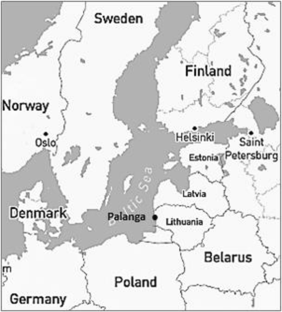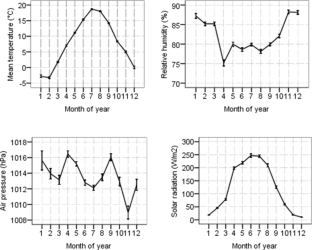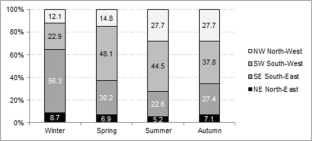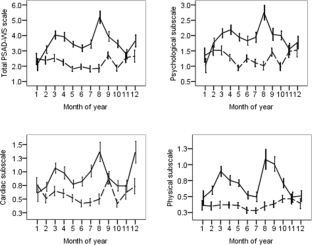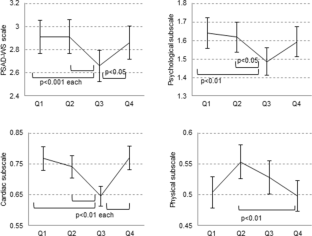 References
Aiello SR, Hirsch AR (2013) Phantosmia as a meteorological forecaster. Int J Biometeorol 57(5):813–815. https://doi.org/10.1007/s00484-013-0639-x

Bakal JA, Ezekowitz JA, Westerhout CM, Boersma E, Armstrong PW (2013) Association of global weather changes with acute coronary syndromes: gaining insights from clinical trials data. Int J Biometeorol 57(3):401–408. https://doi.org/10.1007/s00484-012-0565-3

Basu R (2009) High ambient temperature and mortality: a review of epidemiologic studies from 2001 to 2008. Environ Health 8:40. https://doi.org/10.1186/1476-069X-8-40

Bhatnagar A (2017) Environmental determinants of cardiovascular disease. Circ Res 121(2):162–180. https://doi.org/10.1161/CIRCRESAHA.117.306458

Blazejczyk A, Blazejczyk K, Baranowski J, Kuchcik M (2018) Heat stress mortality and desired adaptation responses of healthcare system in Poland. Int J Biometeorol 62(3):307–318. https://doi.org/10.1007/s00484-017-1423-0

Bolger N, Davis A, Rafaeli E (2003) Diary methods: capturing life as it is lived. Annu Rev Psychol 54:579–616. https://doi.org/10.1146/annurev.psych.54.101601.145030

Bos EH, Hoenders R, de Jonge P (2012) Wind direction and mental health: a time-series analysis of weather influences in a patient with anxiety disorder. BMJ Case 2012:1–5. https://doi.org/10.1136/bcr-2012-006300

Bossema ER, van Middendorp H, Jacobs JW, Bijlsma JW, Geenen R (2013) Influence of weather on daily symptoms of pain and fatigue in female patients with fibromyalgia: a multilevel regression analysis. Arthritis Care Res (Hoboken) 65(7):1019–1025. https://doi.org/10.1002/acr.22008

Buxton N, Liu C, Dasic D, Moody P, Hope DT (2001) Relationship of aneurysmal subarachnoid hemorrhage to changes in atmospheric pressure: Results of a prospective study. J Neurosurg 95(3):391–392. https://doi.org/10.3171/jns.2001.95.3.0391

Dawson J, Weir C, Wright F, Bryden C, Aslanyan S, Lees K, Bird W, Walters M (2008) Associations between meteorological variables and acute stroke hospital admissions in the west of Scotland. Acta Neurol Scand 117(2):85–89. https://doi.org/10.1111/j.1600-0404.2007.00916.x

de Figueiredo EC, Figueiredo GC, Dantas RT (2011) Influence of meteorological elements on osteoarthritis pain: a review of the literature. Rev Bras Reumatol 51(6):622–628

Denissen JJ, Butalid L, Penke L, van Aken MA (2008) The effects of weather on daily mood: a multilevel approach. Emotion 8(5):662–667. https://doi.org/10.1037/a0013497

Dixon PG, McDonald AN, Scheitlin KN, Stapleton JE, Allen JS, Carter WM, Holley MR, Inman DD, Roberts JB (2007) Effects of temperature variation on suicide in five U.S. counties, 1991-2001. Int J Biometeorol 51(5):395–403. https://doi.org/10.1007/s00484-006-0081-4

Drane D, Berry G, Bieri D, McFarlane AC, Brooks P (1997) The association between external weather conditions and pain and stiffness in women with rheumatoid arthritis. J Rheumatol 24(7):1309–1316

Ferreira ML, Zhang Y, Metcalf B, Makovey J, Bennell KL, March L, Hunter DJ (2016) The influence of weather on the risk of pain exacerbation in patients with knee osteoarthritis-a case-crossover study. Osteoarthritis Cartilage 24(12):2042–2047

Fors EA, Sexton H (2002) Weather and the pain in fibromyalgia: are they related? Ann Rheum Dis 61(3):247–250

Fouillet A, Rey G, Laurent F, Pavillon G, Bellec S, Guihenneuc-Jouyaux C, Clavel J, Jougla E, Hemon D (2006) Excess mortality related to the August 2003 heat wave in France. Int Arch Occup Environ Health 80(1):16–24. https://doi.org/10.1007/s00420-006-0089-4

Galvonaitė A, Kilpys J, Kitrienė Z, Valiukas D (2015) Lietuvos kurortų klimatas. Vilnius.

Garcia FM, Boada SS, Collsamata AX, Joaquim IG, Perez YA, Tricio OG, Ibiza CM (2009) Meteorological factors and psychiatric emergencies. Actas Esp Psiquiatr 37(1):34–41

Gasparrini A, Guo Y, Hashizume M, Lavigne E, Zanobetti A, Schwartz J, Tobias A, Tong S, Rocklov J, Forsberg B et al (2015) Mortality risk attributable to high and low ambient temperature: a multicountry observational study. Lancet 386(9991):369–375. https://doi.org/10.1016/S0140-6736(14)62114-0

Goncalves FL, Braun S, Dias PL, Sharovsky R (2007) Influences of the weather and air pollutants on cardiovascular disease in the metropolitan area of Sao Paulo. Environ Res 104(2):275–281. https://doi.org/10.1016/j.envres.2007.01.004

Houck PD, Lethen JE, Riggs MW, Gantt DS, Dehmer GJ (2005) Relation of atmospheric pressure changes and the occurrences of acute myocardial infarction and stroke. Am J Cardiol 96(1):45–51. https://doi.org/10.1016/j.amjcard.2005.02.042

Jamison RN, Anderson KO, Slater MA (1995) Weather changes and pain: perceived influence of local climate on pain complaint in chronic pain patients. Pain 61(2):309–315

Jimenez-Conde J, Ois A, Gomis M, Rodriguez-Campello A, Cuadrado-Godia E, Subirana I, Roquer J (2008) Weather as a trigger of stroke. Daily meteorological factors and incidence of stroke subtypes. Cerebrovasc Dis 26(4):348–354. https://doi.org/10.1159/000151637

Kalkstein LS, Davis RE (1989) Weather and human mortality: an evaluation of demographic and inter-regional responses in the United States. Ann Am Assoc Geogr 79:44–64

Kloner RA (2006) Natural and unnatural triggers of myocardial infarction. Prog Cardiovasc Dis 48(4):285–300. https://doi.org/10.1016/j.pcad.2005.07.001

Kuchcik M(2017) Warunki termiczne w Polsce na przełomie XX i XXI wieku i ich wpływ na umieralność. Prace Geograficzne, 263, Instytut Geografii i Przestrzennego Zagospodarowania PAN, Warszawa.

Law HY, Wong GK, Chan DT, Wong L, Poon WS (2009) Meteorological factors and aneurysmal subarachnoid haemorrhage in Hong Kong. Hong Kong Med J 15(2):85–89

Lee M, Ohde S, Urayama KY, Takahashi O, Fukui T (2018) Weather and health symptoms. Int J Environ Res Public Health 15(8):e1670. https://doi.org/10.3390/ijerph15081670

Lee S, Lee E, Park MS, Kwon BY, Kim H, Jung DH, Jo KH, Jeong MH, Rha SW (2014) Short-term effect of temperature on daily emergency visits for acute myocardial infarction with threshold temperatures. PLoS One 9(4):e94070. https://doi.org/10.1371/journal.pone.0094070

Liu C, Yavar Z, Sun Q (2015) Cardiovascular response to thermoregulatory challenges. Am J Physiol Heart Circ Physiol 1 309(11):H1793–H1812. https://doi.org/10.1152/ajpheart.00199.2015

Mazza M, Di Nicola M, Catalano V, Callea A, Martinotti G, Harnic D, Bruschi A, Battaglia C, Janiri L (2012) Description and validation of a questionnaire for the detection of meteoropathy and meteorosensitivity: the METEO-Q. Compr Psychiatry 53(1):103–106. https://doi.org/10.1016/j.comppsych.2011.02.002

McGregor GR (2005) Winter North Atlantic Oscillation, temperature and ischaemic heart disease mortality in three English counties. Int J Biometeorol 49(3):197–204. https://doi.org/10.1007/s00484-004-0221-7

Mohammad MA, Koul S, Rylance R, Frobert O, Alfredsson J, Sahlen A, Witt N, Jernberg T, Muller J, Erlinge D (2018) Association of weather with day-to-day incidence of myocardial infarction: a SWEDEHEART nationwide observational study. JAMA Cardiol 13(11):1081–1089. https://doi.org/10.1001/jamacardio.2018.3466

Morabito M, Crisci A, Vallorani R, Modesti PA, Gensini GF, Orlandini S (2011) Innovative approaches helpful to enhance knowledge on weather-related stroke events over a wide geographical area and a large population. Stroke 42(3):593–600. https://doi.org/10.1161/STROKEAHA.110.602037

Näyhä S (2002) Cold and the risk of cardiovascular diseases. A review. Int J Circumpolar Health 61(4):373-80. https://doi.org/10.3402/ijch.v61i4.17495

Ng J, Scott D, Taneja A, Gow P, Gosai A (2004) Weather changes and pain in rheumatology patients. APLAR Journal of Rheumatology 7(3):204–206. https://doi.org/10.1111/j.1479-8077.2004.00099.x

Persinger MA (1987) Mental processes and disorders: a neurobehavioral perspective in human biometeorology. Experientia 43(1):39–48

Quick DC (1997) Joint pain and weather. A critical review of the literature. Minn Med 80(3):25–29

Radisauskas R, Bernotiene G, Baceviciene M, Ustinaviciene R, Kirvaitiene J, Kranciukaite-Butylkiniene D (2014) Trends of myocardial infarction morbidity and its associations with weather conditions. Medicina 50(3):182–189. https://doi.org/10.1016/j.medici.2014.08.00

Revich B, Shaposhnikov D (2008) Temperature-induced excess mortality in Moscow, Russia. Int J Biometeorol 52(5):367–374. https://doi.org/10.1007/s00484-007-0131-6

Rusticucci M, Bettolli ML, de l (2002) Association between weather conditions and the number of patients at the emergency room in an Argentine hospital. Int J Biometeorol 46(1):42-51.

Saez M, Sunyer J, Tobias A, Ballester F, Anto JM (2000) Ischaemic heart disease mortality and weather temperature in Barcelona, Spain. Eur J Public Health 10(1):58–63. https://doi.org/10.1093/eurpub/10.1.58

Sapoka V, Molyte I (2012) Relationship between acute coronary syndrome, chronic coronary artery disease exacerbations and meteorological conditions. Gerontology 13(4):221–227

Schneider A, Schuh A, Maetzel FK, Ruckerl R, Breitner S, Peters A (2008) Weather-induced ischemia and arrhythmia in patients undergoing cardiac rehabilitation: another difference between men and women. Int J Biometeorol 52(6):535–547. https://doi.org/10.1007/s00484-008-0144-9

Seltenrich N (2015) Between extremes: health effects of heat and cold. Environ Health Perspect 123(11):A275–A280. https://doi.org/10.1289/ehp.123-A275

Shutty MS Jr, Cundiff G, DeGood DE (1992) Pain complaint and the weather: weather sensitivity and symptom complaints in chronic pain patients. Pain 49(2):199–204

Smedslund G, Eide H, Kristjansdottir OB, Nes AA, Sexton H, Fors EA (2014) Do weather changes influence pain levels in women with fibromyalgia, and can psychosocial variables moderate these influences? Int J Biometeorol 58(7):1451–1457. https://doi.org/10.1007/s00484-013-0747-7

Stropute D, Raskauskiene N, Bunevicius R (2014) Psychometric properties of the Palanga self-assessment diary for weather sensitivity in patients with coronary artery disease. Biol Psychiatry and Psychopharmacol 16(1):3–9

Sugg MM, Konrad CE 2nd, Fuhrmann CM (2016) Relationships between maximum temperature and heat-related illness across North Carolina, USA. Int J Biometeorol 60(5):663–675. https://doi.org/10.1007/s00484-015-1060-4

Sun Z, Chen C, Xu D, Li T (2018) Effects of ambient temperature on myocardial infarction: a systematic review and meta-analysis. Environ Pollut 241:1106–1114. https://doi.org/10.1016/j.envpol.2018.06.045

Talaei A, Hedjazi A, Rezaei Ardani A, Fayyazi Bordbar MR, Talaei A (2014) The relationship between meteorological conditions and homicide, suicide, rage, and psychiatric hospitalization. J Forensic Sci 59(5):1397–1402. https://doi.org/10.1111/1556-4029.12471

Tamasauskiene L, Rastenyte D, Radisauskas R, Tamosiunas A, Tamasauskas D, Vaiciulis V, Kranciukaite-Butylkiniene D, Milinaviciene E (2017) Relationship of meteorological factors and acute stroke events in Kaunas (Lithuania) in 2000-2010. Environ Sci Pollut Res Int 24(10):9286–9293. https://doi.org/10.1007/s11356-017-8590-8

Timmermans EJ, Schaap LA, Herbolsheimer F, Dennison EM, Maggi S, Pedersen NL, Castell MV, Denkinger MD, Edwards MH, Limongi F et al (2015) Weather conditions on joint pain in older people with osteoarthritis: results from the European project on OSteoArthritis. J Rheumatol 42(10):1885–1892. https://doi.org/10.3899/jrheum.141594

Timmermans EJ, van der Pas S, Schaap LA, Sanchez-Martinez M, Zambon S, Peter R, Pedersen NL, Dennison EM, Denkinger M, Castell MV et al (2014) Self-perceived weather sensitivity and joint pain in older people with osteoarthritis in six European countries: results from the European project on OSteoArthritis (EPOSA). BMC Musculoskelet Disord 15:66. https://doi.org/10.1186/1471-2474-15-66

Turin TC, Rumana N, Kita Y, Nakamura Y, Miura K, Ueshima H (2010) Ambient weather conditions and the onset of acute myocardial infarction: the consociation between triggering factors and conventional risk factors. J Cardiol 55(2):283–284. https://doi.org/10.1016/j.jjcc.2009.12.006

Vida S, Durocher M, Ouarda TB, Gosselin P (2012) Relationship between ambient temperature and humidity and visits to mental health emergency departments in Quebec. Psychiatr Serv 63(11):1150–1153. https://doi.org/10.1176/appi.ps.201100485

von Mackensen S, Hoeppe P, Maarouf A, Tourigny P, Nowak D (2005) Prevalence of weather sensitivity in Germany and Canada. Int J Biometeorol 49(3):156–166. https://doi.org/10.1007/s00484-004-0226-2

Wanka ER, Bayerstadler A, Heumann C, Nowak D, Jorres RA, Fischer R (2014) Weather and air pollutants have an impact on patients with respiratory diseases and breathing difficulties in Munich, Germany. Int J Biometeorol 58(2):249–262. https://doi.org/10.1007/s00484-013-0730-3

Wolf K, Schneider A, Breitner S, von Klot S, Meisinger C, Cyrys J, Hymer H, Wichmann HE, Peters A, Cooperative Health Research in the Region of Augsburg Study Group (2009) Air temperature and the occurrence of myocardial infarction in Augsburg, Germany. Circulation 120(9):735–742. https://doi.org/10.1161/CIRCULATIONAHA.108.815860

Xu X, Chen Z, Huo X, Wang C, Li N, Meng X, Wang Q, Liu Q, Bi P, Li J (2019) The effects of temperature on human mortality in a Chinese city: burden of disease calculation, attributable risk exploration, and vulnerability identification. Int J Biometeorol 63(10):1319–1329. https://doi.org/10.1007/s00484-019-01746-6

Yackerson NS, Zilberman A, Todder D, Kaplan Z (2011) The influence of several changes in atmospheric states over semi-arid areas on the incidence of mental health disorders. Int J Biometeorol 55(3):403–410. https://doi.org/10.1007/s00484-010-0350-0

Yan Y (2010) Association between daily mortality and weather in Hong Kong. The Int J Public Health 1(2):1–7
Acknowledgments
We would cordially thank all the staff members at the Laboratory of Behavioral Medicine of Neuroscience Institute of Lithuanian University of Health Science for their strong support of this study. We express our appreciation to the late Dr. Robertas Bunevicius, whose contribution to this work was of great significance. We would also like to thank the patients for their time and willingness to contribute to this study.
Additional information
Publisher's note
Springer Nature remains neutral with regard to jurisdictional claims in published maps and institutional affiliations.
About this article
Cite this article
Martinaitiene, D., Raskauskiene, N. Weather-related subjective well-being in patients with coronary artery disease. Int J Biometeorol (2020). https://doi.org/10.1007/s00484-020-01942-9
Received:

Revised:

Accepted:

Published:
Keywords
Weather

Subjective well-being

Weather sensitivity

Coronary artery diseases

Temperature