Abstract
Populus deltoides is a fast-growing woody species possessing plethora of industrial applications. This species evolutionarily developed unisexual male and female catkin inflorescence on separate trees. Flowering usually occurs during early spring before the development of foliage, where buds appear near axils or at the extending shoots. In 2019, surveys were undertaken to study the flowering pattern of P. deltoides in the states of Punjab, Haryana, Uttar Pradesh and Uttarakhand in northern India. Interestingly, an anomalous flowering behaviour (appearance of off-season male catkins during autumn, i.e. October) was observed in a plantation trial at Kapurthala, Punjab. The male catkins were 2.7–3.1 ± 0.07 cm long and 0.3–0.5 ± 0.03 cm wide, which is significant for flowering and liberation of pollen grains. Preliminary results suggested that climatic factors, such as episodes of high or low temperature and the precipitation variation forcing the tree species to behave differently. Unearthing the climate-driven off-season flowering in other tree species alluded the stimulation of phytohormones, such as gibberellic and salicylic acid concentrations influencing the flowering time, therefore, needs further investigation in case of P. deltoides. Overall, this work provides early clues of changing climatic scenario altering the flowering pattern of a tropical forestry tree species.
This is a preview of subscription content,
to check access.
Access this article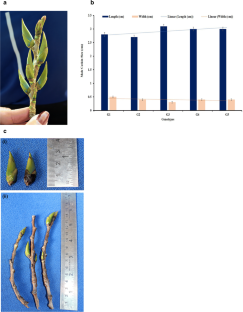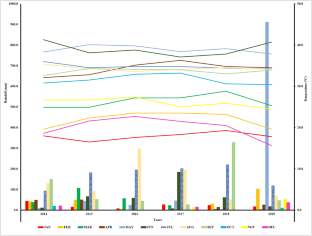 References
Barthwal S, Yasodha R, Gurumurthi K (2009) An anomalous male inflorescence development in Casuarina equisetifolia Forst.: reversion of inflorescence to vegetative phase. Ann For 17(1):32–36

Bogeat-Triboulot MB, Brosche M, Renaut J, Jouve L, Fayyaz D, Le Thiec P (2007) Gradual soil water depletion results in reversible changes of gene expression, protein profiles, ecophysiology, and growth performance in Populus euphratica, a poplar growing in arid regions. Plant Physiol 143:876–892. https://doi.org/10.1104/pp.106.088708

Bonhomme L, Monclus R, Vincent D, Carpin S, Lomenech AM, Plomion C (2009) Leaf proteome analysis of eight Populus x euramericana genotypes: genetic variation in drought response and in water-use efficiency involves photosynthesis-related proteins. Proteomics 9:4121–4142. https://doi.org/10.1016/j.phytochem.2009.05.013

Chaturvedi AN, Rawat BS (1994) Poplar tree improvement programme. Indian For 120(2):97–94

Chaukiyal SP (2011) Shifting in flowering behavior of Myrica esculenta Buch-ham. Ex D don-a Report Indian Forester 137(11):1350–1352

FAO (Food and Agriculture Organization) (1998) In: Cut flower production in Asia. Chapter 11: Flower forcing for cut flower production – by Narong Chomchalow. FAO Regional Office for Asia and the Pacific Bangkok, Thailand. http://www.fao.org/3/ac452e/ac452e0b.htm#bm11

Furr JR, Cooper WC, Reece PC (1947) An investigation of flower formation in adult and juvenile citrus trees. Ame J Bot 34(1):1–8. https://doi.org/10.1002/j.1537-2197.1947.tb12952.x

Gaira KS, Rawal RS, Rawat B, Bhatt ID (2014) Impact of climate change on the flowering of Rhododendron arboreum in central Himalaya. India Curr Sci 106(12):1735–1738 https://www.currentscience.ac.in/Volumes/106/12/1735.pdf

Gourcilleau D, Bogeat-Triboulot MB, Lafon-Placette D, Le Thiec C, Delaunay A, El-Soud WA (2010) DNA methylation and histone acetylation: genotypic variations in hybrid poplars, impact of water deficit and relationships with productivity. Ann For Sci 67(2):208–208. https://doi.org/10.1051/forest/2009101

Hamanishi ET, Campbell MM (2011) Genome-wide responses to drought in forest trees. Forestry 84:273–283. https://doi.org/10.1093/forestry/cpr012

Hegde SS, Hegde RS (2014) Gooseberry troubles. Spectrum environment. Deccan Herald 4. http://www.deccanherald.com/content/412497/gooseberry-troubles.html

Heo JB, Sung S (2011) Vernalization-mediated epigenetic silencing by a long intronic noncoding RNA. Science 331:76–79. https://doi.org/10.1007/s10577-013-9392-6

Hsu CY, Liu Y, Luthe DS, Yuceera C (2006) Poplar FT2 shortens the juvenile phase and promotes seasonal flowering. Plant Cell 18(8):1846–1861. https://doi.org/10.1105/tpc.106.041038

Kaviarasu A, Balakrishnan S, Indirakumar K (2017) Environmental influence under off-season production on yield and quality attributes of mango. Int J Curr Microbiol App Sci 6(2):494–502. https://doi.org/10.20546/ijcmas.2017.602.056

Kumar D, Singh NB (2012) Status of poplar introduction in India. ENVIS Forestry Bulletin 12(1):9–14 http://www.frienvis.nic.in/WriteReadData/UserFiles/file/Content-Page/Vol-12-No-1/Vol-12-1-1-Status-of-poplar-introduction-in-India.pdf

Lisch D (2009) Epigenetic regulation of transposable elements in plants. Annu Rev Plant Biol 60(1):43–66. https://doi.org/10.1146/annurev.arplant.59.032607.092744

Luna RK (2005) 128- Populus deltoides Bartr. Ex Marsh. p. 556. In: Plantation trees. International Book Distributors, Dehra Dun, pp 1–995p

Martinez C, Pons E, Prats G, León J (2003) Salicylic acid regulates flowering time and links defence responses and reproductive development. The Pla J 37:209–217. https://doi.org/10.1046/j.1365-313X.2003.01954.x

NCERT (National Council for Educational, Research & Training) (1998) Chapter 4. Climate. Unit III – Climate, Vegetation and Soil. In: India: Physical Environment. pp 49

NOAA (National Oceanic and Atmospheric Administration (2020). NASA Global Climate Change. Vital Signs of the Planet https://climatenasagov/vital-signs/carbon-dioxide/ Date of accession 31st January 2020

Plomion C, Lalanne C, Claverol S, Meddour H, Kohler A, Bogeat-Triboulot MB, Barre A, Provost GL, Dumazet H, Jacob D, Bastien C, Dreyer E, Daruvar AD, Guehl JM, Schmitter JM, Martin F, Bonneu M (2006) Mapping the proteome of poplar and application to the discovery of drought-stress responsive proteins. Proteomics 6(24):6509–6527. https://doi.org/10.1002/pmic.200600362

Raj S, Brautigam K, Hamanishi ET, Wilkins O, Thomas BR, Schroeder W, Mansfield SD, Plant AL, Campbell MM (2011) Clone history shapes Populus drought responses. Proc Natl Acad Sci 108(30):12521–12526. https://doi.org/10.1073/pnas.1103341108

Rohde A, Junttila O (2008) Remembrances of an embryo: long-term effects on phenology traits in spruce. New Phytol 177:2–5. https://doi.org/10.1111/j.1469-8137.2007.02319.x

Shah S, Tewari A, Verma A (2013) Timing of shifts in seed maturity indices in Myrica esculenta, Buch-Ham Ex D Don and Pyracantha crenulata Roxb influenced by climatic irregularities in Kumaun region of central Himalaya. Journal of Environment and Bio-Sciences 27(1):47–51

Shavrukov Y, Kurishbayev A, Jatayev S, Shvidchenko V, Zotova L, Koekemoer F, Langridge, Groot SD, Soole K, Langridge P (2017) Early flowering as a drought escape mechanism in plants: how can it aid wheat production? Front in Pla Sci 8(1950):1–8. https://doi.org/10.3389/fpls.2017.01950

Soppe WJ, Jacobsen SE, Alonso-Blanco C, Jackson JP, Kakutani T, Koornneef M, Peeters AJ (2000) The late flowering phenotype of fwa mutants is caused by gain-of-function epigenetic alleles of a homeodomain gene. Mol Cell 6(4):791–802. https://doi.org/10.1016/S1097-2765(05)00090-0

Taylor G (2002) Populus: Arabidopsis for forestry. Do we need a model tree? Ann Bot 90(6):681–689. https://doi.org/10.1093/aob/mcf255

Thumma BR, Matheson BA, Zhang D, Meeske C, Meder R, Downes GM, Southerton SG (2009) Identification of a Cis-acting regulatory polymorphism in a eucalypt COBRA-like gene affecting cellulose content. Genetics. 183(3):1153–1164. https://doi.org/10.1534/genetics.109.106591

Wilkins O, Waldron L, Nahal H, Provart NJ, Campbell MM (2009) Genotype and time of day shape the Populus drought response. Plant J 60(4):703–715. https://doi.org/10.1111/j.1365-313X.2009.03993.x

Yaish MW, Colasanti J, Rothstein SJ (2011) The role of epigenetic processes in controlling flowering time in plants exposed to stress. J Exp Bot 62(11):3727–3735. https://doi.org/10.1093/jxb/err177
Acknowledgements
The authors are grateful to the Director, Forest Research Institute, Dehradun, for providing research facilities during the compilation of the manuscript. Authors wish to thank the two anonymous reviewers for their constructive comments on early version of the manuscript.
Ethics declarations
Conflict of interest
The authors declare that they have no conflict of interest.
About this article
Cite this article
Thapliyal, G., Vemanna, R.S., Pawar, P.M. et al. First record of off-season flowering in Populus deltoides from India: paradigm of climate change indicator. Int J Biometeorol 64, 1629–1634 (2020). https://doi.org/10.1007/s00484-020-01915-y
Received:

Accepted:

Published:

Issue Date:

DOI: https://doi.org/10.1007/s00484-020-01915-y
Keywords