Abstract
The study examines the consequences of climate change in Malus (apple) and Pyrus (pear) on four phenological stages: bud swelling (code 51 BBCH Monograph), budburst (code 53), beginning of flowering (code 61), and end of flowering (code 69) in the temperate-continental climate of southern Romania. The hypothesis tested is how much the onset dates (TOD) of phenology stages moved earlier due to climate change. Weather and phenological data were collected from 1969 to 2018 and were statistically processed. There was an increase in air temperature (T) during the first 5 months in the year, with a significant rise in March and April; significant linear relationships show an advance in TOD with the years elapsed. Inverse linear relationships were found between TOD, maximum (Tmax), mean (Tmean), minimum (Tmin) temperature, and sunshine hours (Sh). The relationships between TOD and Tmax were the strongest. The early stages of flowering phenology are advancing more strongly than later flowering stages. For apple, in the last 50 years, there was an advance of 13.8 days for stage 51, 14.8 days for stage 53, 10.7 days for stage 61, and only 7.3 days for stage 69; for pear trees, the advance was lower: 10 days for stage 51, 9 days for stage 53, 6.7 days for stage 61, and only 2.1 days for stage 69. These findings, which might be extrapolated to similar environments, have important consequences in fruit growing, like the occurrence of climate accidents due to late frost, insect pollination, and application of pesticides and irrigation water.
This is a preview of subscription content,
to check access.
Access this article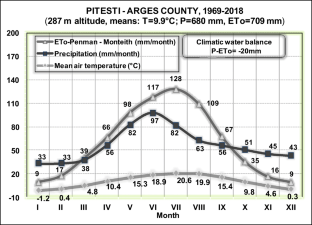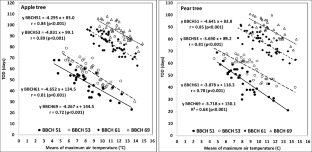 Similar content being viewed by others
References
Atkinson CJ, Brennan RM, Jones HG (2013) Declining chilling and its impact on temperate perennial crops. Environ Exp Bot 91:48–62. https://doi.org/10.1016/j.envexpbot.2013.02.004

Atauri IGC, Brisson N, Baculat B, Seguin B, Legave JM, Calleja M, Farrera I, Guedon Y (2010) Analysis of the flowering time in apple and pear and bud break in vine, in relation to global warming in France. Acta Hortic 872:61–68. https://doi.org/10.17660/ActaHortic.2010.872.5

Blanke MM, Kunz A (2017) Cherry phenology as bioindicator for climate change. Acta Hortic 1162:1–7. https://doi.org/10.17660/ActaHortic.2017.1162.1

Busuioc A, Dobrinescu A, Birsan MV, Dumitrescu A, Orzan A (2015) Spatial and temporal variability of climate extremes in Romania and associated large-scale mechanisms. Int J Climatol. https://doi.org/10.1002/joc.4054

Chitu E, Giosanu D, Mateescu E (2015) The variability of seasonal and annual extreme temperature trends of the latest three decades in Romania. Agric Agric Sci Procedia 6:429–437. https://doi.org/10.1016/j.aaspro.2015.08.113

Chitu E, Sumedrea D, Chitu V, Topor E, Paltineanu C, Dumitru ML, Ionita AD, Filipescu L (2011) Phenological and climatic modelling of the late frost damage in apricot orchards under the changing climatic conditions of south-eastern Romania. Acta Hortic 919:57–64. https://www.ishs.org/ishs-article/919_7. Accessed 26 March 2020

Chiţu V, Braniste N, Militaru M, Chiţu E (2013) Effect of treatment with prohexadione-ca product on pear fruits shelf life. Acta Hortic 981:573–580. https://doi.org/10.17660/ActaHortic.2013.981.92

Chmielewski FM, Müller A, Bruns E (2004) Climate changes and trends in phenology of fruit trees and field crops in Germany, 1961–2000. Agric For Meteorol 121:69–78

Chmielewski FM, Blumel K, Henniges Y, Blanke M, Weber RWS, Zoth M (2011) Phenological models for the beginning of apple blossom in Germany. Meteorol Z 20(5):487–496. https://doi.org/10.1127/0941-2948/2011/0258

Darbyshire R, Farrera I, Martinez-Lüscher J, Berenhauser Leite G, Mathieu V, El Yaacoubi A, Legave JM (2017) A global evaluation of apple flowering phenology models for climate adaptation. Agric For Meteorol 240–241:67–77. https://doi.org/10.1016/j.agrformet.2017.03.021

Dobrinescu A, Busuioc A, Birsan MV, Dumitrescu A, Orzan A (2015) Changes in thermal discomfort indices in Romania and their connections with large-scale mechanisms. Clim Res 64:213–226. https://doi.org/10.3354/cr01312

Drkenda P, Musić O, Marić S, Jevremović D, Radičević S, Hudina M, Hodžić S, Kunz A, Blanke MM (2018) Comparison of climate change effects on pome and stone fruit phenology between Balkan countries and Bonn/Germany. Erwerbs-Obstbau 60(4):295–304

El Yaacoubi A, Oukabli A, Hafidi M, Farrera I, Ainane T, Cherkaoui SI, Legave JM (2019) Validated model for apple flowering prediction in the Mediterranean area in response to temperature variation. Sci Hortic 249:59–64. https://doi.org/10.1016/j.scienta.2019.01.036

Guedon Y, Legave JM (2008) Analyzing the time-course variation of apple and pear tree dates of flowering stages in the global warming context. Ecol Model 219(1–2):189–199. https://doi.org/10.1016/j.ecolmodel.2008.08.010

Lepaja L, Kullaj E, Lepaja K, Shehaj M, Zajmi A (2015) Fruit quality parameters of five pear cultivars in western Kosovo. J Int Sci Publ: Agriculture and Food. 2:245–250. ISSN 1314-8591 (Online) . https://www.academia.edu/22370883/Fruit_quality_parameters_of_five_pear_cultivars_in_Western_Kosovo. Accessed 26 March 2020

Legave JM, Farrera I, Almeras T, Calleja M (2008) Selecting models of apple flowering time and understanding how global warming has had an impact on this trait. J Hortic Sci Biotechnol 83(1):76–84. https://doi.org/10.1080/14620316.2008.11512350

Measham PF, Quentin AG, MacNair N (2014) Climate, winter chill, and decision making in sweet cherry production. HortScience 49(3):254–259

Menzel A, Sparks T et al (2006) European phenological response to climate change matches the warming pattern. Glob Chang Biol 12(10):1969–1976. https://doi.org/10.1111/j.1365-2486.2006.01193.x

Paltineanu C, Chitu E (2020) Climate change impact on phenological stages of sweet and sour cherry trees in a continental climate environment. Sci Hortic 261. https://doi.org/10.1016/j.scienta.2019.109011

Paltineanu C, Chitu E, Mateescu E (2011) Changes in crop evapotranspiration and irrigation water requirements. International Agrophysics 25(4):369–373

Paltineanu C, Chitu E, Mateescu E (2012) New trends for reference evapotranspiration and climatic water deficit. International Agrophysics 26:159–165. https://doi.org/10.2478/v10247-012-0023-9

Paltineanu C, Septar L, Chitu E (2016a) Temperature profile in apricot tree canopies under the soil and climate conditions of the Romanian Black Sea Coast. Int J Biometeorol 60(3):401–410. https://doi.org/10.1007/s00484-015-1037-3

Paltineanu C, Tanasescu N, Chitu E (2016b) Pattern of soil physical properties in intensive plum and apple orchards on medium and course textured soils. Soil Tillage Res 163(C):80–88. https://doi.org/10.1016/j.still.2016.05.013

Paltineanu C, Chitu E, Tanasescu N, Apostol G, Pufu MN (2000) Irrigation water requirements for some fruit trees specific to the Arges-Vedea river basin, Romania. Acta Hortic 537:113–119

Paltineanu C, Nicolae S, Tanasescu N, Chitu E, Ancu S (2016c) Investigating root density of plum and apple trees grafted on low-vigor rootstocks to improve orchard management. Erwerbs-Obstbau 59:29–37. https://doi.org/10.1007/s10341-016-0293-7

Paltineanu C, Septar L, Gavat C, Chitu E, Oprita A, Moale C, Calciu I, Vizitiu O, Lamureanu G (2016d) Characterizing root density of peach trees in a semi-arid Chernozem to increase plant density. International Agrophysics 30(1):67–74. https://doi.org/10.1515/intag-2015-0079

Paltineanu C, Septar L, Gavat C, Chitu E, Iancu M, Oprita A, Moale C, Lamureanu G, Calciu I, Stroe VM (2016e) Spatial distribution of apricot roots in a semi-arid environment. Agrofor Syst 90:469–478. https://doi.org/10.1007/s10457-015-9869-8

Paniagua LL, García-Martín A, Moral FJ, Rebollo FJ (2019) Aridity in the Iberian Peninsula (1960–2017): distribution, tendencies, and changes. Theor Appl Climatol 138:811–830. https://doi.org/10.1007/s00704-019-02866-0

Peng X, Zhang T, Frauenfeld OW, Wang K, Sun W, Luo J (2019) Evaluation and quantification of surface air temperature over Eurasia based on CMIP5 models. Clim Res 77:167–180. https://doi.org/10.3354/cr01549

Rai R, Joshi S, Roy S, Singh O, Samir M, Anil Chandra A (2015) Implications of changing climate on productivity of temperate fruit crops with special reference to apple. J Horticult. https://doi.org/10.4172/2376-0354.1000135

Rivero R, Sonsteby A, Heide OM, Mage F, Remberg SF (2017) Flowering phenology and the interrelations between phenological stages in apple trees (Malus domestica Borkh.) as influenced by the Nordic climate. Acta Agric Scand Section B-Soil Plant Sci 67(4):292–302. https://doi.org/10.1080/09064710.2016.1267256

Schmidt H, Kellerhals M (2012) Progress in temperate fruit breeding: proceedings of the Eucarpia fruit breeding section meeting held at Wädenswil/Einsiedeln. Book Springer Science & Business Media, 472 pages

Sunley RJ, Atkinson CJ, Jones HG (2006) Chill unit models and recent changes in the occurrence of winter chill and spring frost in the United Kingdom. J Hortic Sci Biotechnol 81(6):949–958. https://doi.org/10.1080/14620316.2006.11512181

Tomczyk AM, Szyga-Pluta K, Bednorz E (2019) Occurrence and synoptic background of strong and very strong frost in spring and autumn in central Europe. Int J Biometeorol 64:59–70. https://doi.org/10.1007/s00484-019-01793-z

Waldau T, Chmielewski FM (2018) Spatial and temporal changes of spring temperature, thermal growing season and spring phenology in Germany 1951-2015. Meteorol Z 4(27):335–342. https://doi.org/10.1127/metz/2018/0923

Weinberger JH (1950) Chilling requirements of peach varieties. Proc Am Soc Hortic Sci 56:122–128

Wenden B, Mariadassou M, Campoy JA, Quero-Garcia J, Dirlewanger E (2017) Statistical analysis of trends in sweet cherry flowering data across Europe. Acta Hortic 1160:215–220. https://doi.org/10.17660/ActaHortic.2017.1160.31

Wypych A, Ustrnul Z, Sulikowska A, Chmielewski FM, Bochenek B (2016) Spatial and temporal variability of the frost-free season in Central Europe and its circulation background. Int J Climatol 37(8):3340–3352. https://doi.org/10.1002/joc.4920

Growth stages of mono-and dicotyledonous plants - BBCH Monograph, 2nd Edition, (2001) Edited by Uwe Meier, Federal Biological Research Centre for Agriculture and Forestry, 158 p
Funding
The authors received financial support from the Romanian Ministry of Research and Innovation: Project PN-III-P1-1.2-PCCDI-2017-0721 – INTER-ASPA.
Ethics declarations
Conflict of interest
The authors declare that they have no conflict of interest.
Ethics statement
The authors declare that the work complies with the current laws of the country in which it was performed, Romania.
Additional information
Publisher's Note
Springer Nature remains neutral with regard to jurisdictional claims in published maps and institutional affiliations.
About this article
Cite this article
Chitu, E., Paltineanu, C. Timing of phenological stages for apple and pear trees under climate change in a temperate-continental climate. Int J Biometeorol 64, 1263–1271 (2020). https://doi.org/10.1007/s00484-020-01903-2
Received:

Revised:

Accepted:

Published:

Issue Date:

DOI: https://doi.org/10.1007/s00484-020-01903-2
Keywords