Abstract
Religious spaces are an integral part of Indian cities. Unique in their spatiality, they function as socio-cultural hubs drawing users from varied economic and social hierarchies. This study deals with physical and perceptional assessments of micrometeorological conditions in two religious squares namely Hanuman Mandir Square (HMS) and Gurudwara Bangla Sahib Square (GBS) located in New Delhi (28.6° N; 77.2° E), India. The study involved real-time physical measurement of environmental variables such as dry-bulb temperature (Ta, °C), globe temperature (Tg, °C), relative humidity (RH), and air velocity (Va). Variables such as physiological effective temperature (PET), universal thermal comfort index (UTCI), and mean radiant temperature (Tmrt, °C) were computed from measured variables. Concurrent thermal comfort surveys were carried out with 353 respondents in both the squares. The paper describes the thermal characteristics of the studied squares and presents the associated subjective thermal response and preferences of the users. PET was found to correlate well with the subjective responses. The neutral value of PET is found to be 24.7 °C. The neutral PET value of respondents visiting for non-worship purposes was found to be 2.7 °C lesser than those visiting for worship purposes. People visiting the squares for non-worship purpose however were found to be more tolerant of higher PET conditions as compared to others. Factors such as intent of visit, solar exposure, thermal history, and landscape elements were found to have a statistically significant influence on the thermal perception. The paper further summarizes the adaptive opportunities preferred by the users in order to improve thermal comfort in the studied squares. A weighted ranking of adaptive preferences reported by the respondents has also been presented.
This is a preview of subscription content,
to check access.
Access this article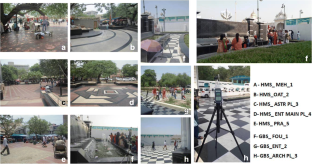 References
Ahmed KS (2003) Comfort in urban spaces: defining the boundaries of outdoor thermal comfort for the tropical urban environments. Energ Build 35(1):103–110

Ali SB, Patnaik S (2017) Thermal comfort in urban open spaces: objective assessment and subjective perception study in tropical city of Bhopal, India. Urban Clim 0–1 . doi: https://doi.org/10.1016/j.uclim.2017.11.006

Aljawabra F, Nikolopoulou M (2010) Influence of hot arid climate on the use of outdoor urban spaces and thermal comfort: do cultural and social backgrounds matter? Intell Build Int 2:3, 198–217

ASHRAE (2004) ASHRAE Standard, ANSI/ASHRAE Standard 55-2004: thermal environmental conditions for human occupancy. American Society of Heating, Refrigerating, and Air-Conditioning Engineers, Atlanta

ASHRAE, ASHRAE/ANSI Standard 55-2010 (2010) Thermal environmental conditions for human occupancy. American Society of Heating, Refrigerating, and Air-Conditioning Engineers: Atlanta, GA

ASHRAE (2013) ANSI/ASHRAE Standard 55. Thermal Environmental Conditions for Human Occupancy. American Society of Heating, Refrigerating and Air-Conditioning Engineers, Atlanta

Auliciems A (1981) Towards a psycho-physiological model of thermal perception. Int J Biometeorol 25(2):109–122

Broede P (2009) Program for calculating UTCI Temperature (UTCI). u. V. a. 0.002

Chatzidimitriou A, Chrissomallidou N, Yannas S, Sites U (2006) Ground surface materials and microclimates in urban open spaces. 23rd Conf Passiv Low Energy Archit 485–490

Cohen P, Potchter O, Matzarakis A (2013) Human thermal perception of coastal Mediterranean outdoor urban environments. Appl Geogr 37:1–10

Fanger PO (1972) Thermal comfort. McGraw Hill, New York

Gagge AP, Fobelets A, Berglund LG (1986) A standard predictive index of human response to the thermal environment. ASHRAE Trans 92:709–731

Herzog TR (1992) A cognitive analysis of preference for urban spaces. J Environ Psychol 12(3):237–248

Herzog TR, Kaplan S, Kaplan R (1976) The prediction of preference for familiar urban places. Environ Behav 8:627–645

Höppe P (2002) Different aspects of assessing indoor and outdoor thermal comfort. Energy and Buildings 34:661–665

Houghten FC, Yaglou C (1923) Determining lines of equal comfort. ASHVE Trans 29(10):163–176

Humphreys M (1970) A simple theoretical derivation of thermal comfort conditions. J Inst Heat Ven Eng 38:95–98

Indraganti M (2010) Adaptive use of natural ventilation for thermal comfort in Indian apartments. Build Environ 45:1490–1507. https://doi.org/10.1016/j.buildenv.2009.12.013

Indraganti M, Ooka R, Rijal HB (2015) Thermal comfort in offices in India: Behavioral adaptation and the effect of age and gender. Energy and Buildings 103:284–295

Indraganti M, Lee J, Zhang H, Arens E (2016) Why is the Indian Sari an all-weather gear? Clothing insulation of Sari, Salwar-Kurti, Pancha, Lungi, and Dhoti. UC Berkeley: Center for the Built Environment. Retrieved from https://escholarship.org/uc/item/0080t60q

ISO 8996 (2004) Ergonomics of the thermal environment— Determination of metabolic rate. International Organization for Standardization, Geneva

ISO 7730 (2005) Ergonomics of the thermal environment-analytical determination and interpretation of thermal comfort using calculation of the PMV and PPD indices and local thermal comfort criteria. International Standards Organization, Geneva

Johansson E, Yahia MW, Arroyo I et al (2018) Outdoor thermal comfort in public space in warm-humid Guayaquil, Ecuador. Int J Biometeorol 62:387

Kántor N, Égerházi L, Unger J (2012) Subjective estimation of thermal environment in recreational urban spaces—part 1: investigations in Szeged, Hungary. Int J Biometeorol 56:1075–1088

Klemm W, Heusinkveld BG, Lenzholzer S, Jacobs MM, Van Hove B (2015) Psychological and physical impact of urban green spaces on outdoor thermal comfort during summertime in The Netherlands. Build Environ 83:120–128

Knez I, Thorsson S (2006) Influences of culture and environmental attitude on thermal, emotional and perceptual evaluations of a public square. Int J Biometeorol 50(5):258–268

Knez I, Thorsson S, Eliasson I, Lindberg F (2009) Psychological mechanisms in outdoor place and weather assessment: towards a conceptual model. Int J Biometeorol 53(1):101–111

Krüger E, Drach P, Broede P (2017) Outdoor comfort study in Rio de Janeiro: site-related context effects on reported thermal sensation. Int J Biometeorol 61:463–475

Lenzholzer S (2010) Engrained experience—a comparison of microclimate perception schemata and microclimate measurements in Dutch urban squares. Int J Biometeorol 54:141

Li L, Zhou XQ, Yang L (2017) The Analysis of Outdoor Thermal Comfort in Guangzhou during Summer. Procedia Eng 205:1996–2002

Lin TP (2009) Thermal perception, adaptation and attendance in a public square in hot and humid regions. Build Environ 44:2017–2026

Lin TP, de Dear R, Hwang RL (2011) Effect of thermal adaptation on seasonal outdoor thermal comfort. Int J Climatol 31:302–312

Lin TP, Matzarakis A (2008) Tourism climate and thermal comfort in Sun Moon Lake, Taiwan. Int J Biometeorol 52:281–290

Lin TP, Tsai K-T, Liao C-C, Huang Y-C (2013) Effects of thermal comfort and adaptation on park attendance regarding different shading levels and activity types. Build Environ 59:599–611. https://doi.org/10.1016/j.buildenv.2012.10.005

Lindal PJ, Hartig T (2013) Architectural variation, building height, and the restorative quality of urban residential streetscapes. J Environ Psychol 33:26–36

Matzarakis A, Rutz F, Mayer H (2007) Int J Biometeorol 51:323. https://doi.org/10.1007/s00484-006-0061-8

Mayer H, Höppe P (1987) Thermal comfort of man in different urban environments. Theor Appl Climatol 38(1):43–49

Middel A, Selover N, Hagen B, Chhetri N (2016) Impact of shade on outdoor thermal comfort—a seasonal field study in Tempe, Arizona. Int J Biometeorol 60:1849. https://doi.org/10.1007/s00484-016-1172-5

Monteiro LM, Alucci MP (2012) Thermal comfort in central areas of Sao Paulo, Brazil. In: Bodart M, Evrard A (eds) , vol I. Architecture & sustainable development, Presses universitaires de Louvain, Lovain-la-Neuve, pp 433–438

Nikolopoulou M (2011) Outdoor thermal comfort. Front Biosci 3:1552–1568

Nikolopoulou M, Lykoudis S (2006) Thermal comfort in outdoor urban spaces: analysis across different European countries. Build Environ 41(11):1455–1470

Nikolopoulou M, (coord.), Kofoed N, Gaardsted M, Scudo G, Dessi V, Rogora A, Steemers K, Ramos M, Sinou M, Katzschner L, Bosch U, Roettgen M, Compagnon R, Goyette-Pernot J, Kang J, Yang W, Zhang M, Chrisomallidou N, Chrisomallidis M, Theodosiou T, Avdelidi K (2004) RUROS: rediscovering the urban realm and open spaces. CRES edition, Athens. http://alpha.cres.gr/ruros/ (Accessed 7 Sept 2017)

Ng E, Cheng V (2012) Urban human thermal comfort in hot and humid Hong Kong. Energy Buildings 55:51–65

Reffat RM, Harkness EL (2001) Environmental Comfort Criteria: Weighting and Integration. J Perform Constr Facil 15(3):104–108

Rohles FH (1980) Temperature or temperament—a psychologist looks at thermal comfort. ASHRAE Trans:541–551

Siple P, Passel C (1945) Measurements of dry atmospheric cooling in subfreezing temperatures. Proc Am Philos Soc 89(1):177–199

Smardon RC (1988) Perception and aesthetics of the urban environment review of the role of vegetation. Landsc Urban Plan 15(1–2):85–106

Spagnolo J, de Dear R (2003) A field study of thermal comfort in outdoor and semi-outdoor environments in subtropical Sydney Australia. Build Environ 38:721–738

Thom EC (1959) The discomfort index. Weatherwise 12:2, 57–61. https://doi.org/10.1080/00431672.1959.9926960

Tseliou A, Tsiros IX, Lykoudis S, Nikolopoulou M (2010) An evaluation of three biometeorological indices for human thermal comfort in urban outdoor areas under real climatic conditions. Build Environ 45:1346–1352. https://doi.org/10.1016/j.buildenv.2009.11.009

Tuan Y-F (1974) Topophilia: A study of environmental perception, attitudes, and values. Prentice-Hall, Englewood Cliffs

Vasilikou (2015) The Role of Urban Morphology and Pedestrian Movement in the Perception of Thermal Comfort in Historic City Centres, PhD thesis Architecture & Planning, University of Kent, Canterbury

Yahia MW, Johansson E (2013) Evaluating the behaviour of different thermal indices by investigating various outdoor urban environments in the hot dry city of Damascus, Syria. Int J Biometeorol 57(4):615–630

Zacharias J, Stathopoulos T, Wu H (2001) Microclimate and downtown open space activity. Environ Behav 33(2):296–315
Acknowledgements
The authors wish to acknowledge the support of administrative authorities for conducting the field studies. Further, the authors are extremely grateful to the reviewers whose valuable and insightful comments helped shape this paper.
Electronic supplementary material
About this article
Cite this article
Manavvi, S., Rajasekar, E. Semantics of outdoor thermal comfort in religious squares of composite climate: New Delhi, India. Int J Biometeorol 64, 253–264 (2020). https://doi.org/10.1007/s00484-019-01708-y
Received:

Revised:

Accepted:

Published:

Issue Date:

DOI: https://doi.org/10.1007/s00484-019-01708-y