Abstract
Current evidence suggests that climate change has directly affected the phenology of many invertebrate species associated with agriculture. Such changes in phenology have the potential to cause temporal mismatches between predators and prey and may lead to a disruption in natural pest control ecosystem. Understanding the synchrony between pest insects and host plant responses to climate change is a key step to improve integrated pest management strategies. Cotton bollworm larvae damage cotton, and thus, data from Magaiti County, China, collected during the period of 1990–2015 were analyzed to assess the effects of climate change on cotton bollworm larvae and cotton flowering. The results showed that a warming climate advanced the phenology of cotton bollworm larvae and cotton flowering. However, the phenological rate of change was faster in cotton bollworm larvae than that in cotton flowering, and the larval period was prolonged, resulting in a great increase of the larval population. The abrupt phenological changes in cotton bollworm larvae occurred earlier than that in cotton, and the abrupt phenological changes in cotton flowering occurred earlier than that in larval abundance. However, the timing of abrupt changes in larval abundance all occurred later than that in temperature. Thus, the abrupt changes that occurred in larvae, cotton flowering and climate were asynchronous. The interval days between the cotton flowering date (CFD) and the half-amount larvae date (HLD) expanded by 3.41 and 4.41 days with a 1 °C increase of Tmean in May and June, respectively. The asynchrony between cotton bollworm larvae and cotton flowering will likely broaden as the climate changes. The effective temperature in March and April and the end date of larvae (ED) were the primary factors affecting asynchrony.
Access options
Buy single article
Instant access to the full article PDF.
USD 39.95
Price includes VAT (USA)
Tax calculation will be finalised during checkout.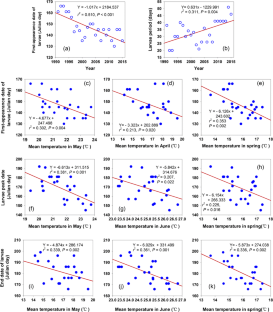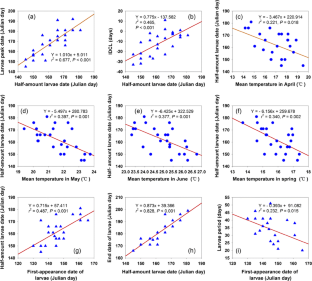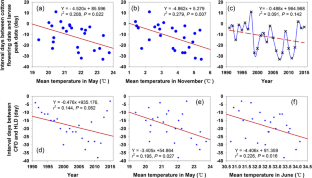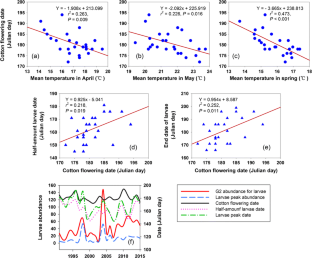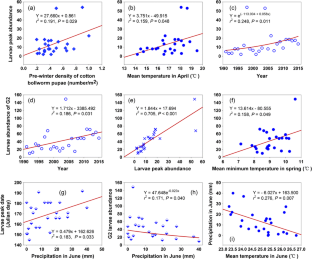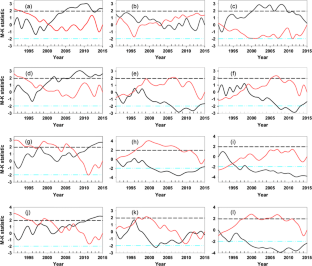 Abbreviations
FD:

First-appearance date of larvae

ED:

End date of larvae

LP:

Larvae period

LPD:

Larvae peak date

HLD:

Half-amount larvae date

CFD:

Cotton flowering date

IDCL:

Interval days between CFD and LPD

PLS:

Partial least squares

PCA:

Principal component analysis

T mean :

Mean temperature

T min :

Minimum temperature

T max :

Maximum temperature

G2 :

The second generation

LPA:

Larval peak abundance
References
Anderson DE, Vogel EK, Awh E (2013) Selection and storage of perceptual groups is constrained by a discrete resource in working memory. J Exp Psychol Hum Percept Perform 39(3):824–835

van Asch M, Visser ME (2007) Phenology of forest caterpillars and their host tress: the importance of synchrony. Annu Rew Entomol 52:37–55

Bale JS, Masters GJ, Hodkinson ID, Awmack C, Bezemer TM, Brown VK, Butterfield J, Buse A, Coulson JC, Farrar J, Good JEG, Harrington R, Hartley S, Jones TH, Lindroth RL, Press MC, Symrnioudis I, Watt AD, Whittaker JB (2002) Herbivory in global climate change research: direct effects of rising temperature on insect herbivores. Glob Change Biol 8(16):1–16

Bartomeus I, Ascher JS, Wagner D, Danforth BN, Colla S, Kornbluth S, Winfree R (2011) Climate-associated phenological advances in bee pollinators and bee-pollinated plants. PNAS 108(51):20645–60649

Berggren Å, Björkman C, Bylund H, Ayres MP (2009) The distribution and abundance of animal populations in a climate of uncertainty. Oikos 118:1121–1126

Chen FJ, Zai BP, Zhang XX (2003) Effects of soil mositure during pupal stage on population development of cotton bollworm, Helicoverpa armigera (Hübner). Acta Ecol Sin 23(1):112–121

Cornelissen T (2011) Climate change and its effects on terrestrial insects and herbivory patterns. Neotropical Entomol 40:155–163

Creel S, Creel M (2009) Density dependence and climate effects in Rocky Mountain elk: an application of regression with instrumental variables for population time series with sampling error. J Anim Ecol 78:1291–1297

Deutsch CA, Tewksbury JJ, Huey RB, Sheldon KS, Ghalambor CK, Haak DC, Martin PR (2008) Impacts of climate warming on terrestrial ectotherms across latitude. Proc Natl Acad Sci U S A 105(18):6668–6672

Dewer RC, Watt AD (1992) Predicted changes in the synchrony of larval emergence and budburst under climatic warming. Oecologia 89:557–559

Diongue A, Talekar NS, Chang YF, Lai PY (2004) Ovipositional responses of the tomato fruitworm (Helicoverpa armigera) (Lepidoptera: Noctuidae) to the presence of eggs and to different stages of the tomato plant. Plant Protect Bull (Taipei) 46:303–314

Duffield SJ, Steer AP (2006) The ecology of Helicoverpa spp. (Lepidoptera:Noctuidae) in the Riverina region of southeastern Australia and the implications for tactical and strategic management. B Entomol Res 96(6):583–596

Duffield SJ, Winder L, Chapple DG (2005) Calibration of sampling techniques and determination of sample size for the estimation of egg and larval polulations of Helicoverpa spp. (Lepidoptera; Noctuidae) on irrigated soybean. Aust J Entomol 44:293–298

Durant JM, Hjermann DO, Ottersen G, Stenseth NC (2007) Climate and the match or mismatch between predator requirements and resource availability. Clim Res 33:271–283

Feng HQ, Wu KM, Cheng DF, Guo YY (2004) Northward migration of Helicoverpa armigera (Lepidoptera: Noctuidae) and other moths in early summer observed with radar in northern China. J Econ Entomol 97(6):1874–1883

Fu CB, Wang Q (1992) The definition and detection of the abrupt climatic change. Sci Atmos Sin 16(4):482–493

Ge F, Liu XH, Ding YQ, Wang XZ, Zhao YF (2003) Life-able of Helicoverpa armigera in northern China and characters of population development in southern and northern China. Chinese. J Appl Ecol 14(2):214–245

Ge F, Chen FJ, Parajulee MN, Yardim EN (2005) Quantification of diapausing fourth generation and suicidal fifth generation cotton bollworm, Helicoverpa armigera, in cotton and corn in northern China. Entomol Exp Appl 116:1–7

Gerstengarbe FW, Werner PC (1999) Estimation of the beginning and end of recurrent events within a climate regime. Clim Res 11:97–107

Gordo O, Sanz JJ (2005) Phenology and climate change: a long-term study in a Mediterranean locality. Oecologia 146:484–495

Gormus O, Yucel C (2002) Different planting date and potassium fertility effects on cotton yield and fiber properties in the Çukurova region, Turkey. Field Crops Research 78(2/3):141–149

Guo KUN, Hao SG, Sun OJ, Kang LE (2009) Differential responses to warming and increased precipitation among three contrasting grasshopper species. Glob Change Biol 15:2539–2548

Harrington R, Clark SJ, Welham SJ, Verrier PJ, Denholm CH, Hullé M, Maurice D, Rounsevell MD, Cocu N (2007) Environmental change and the phenology of European aphids. Glob Change Biol 13:1550–1564

Hsu HH, Gale F (2001) Regional shifts in China's cotton production and use. Cotton Wool Situation Outlook II: 19–25

Huang J (2016a) Different sowing dates affected cotton yield and yield components. Int J Plant Prod 10(1):63–84

Huang J (2016b) Effects of soil temperature and snow cover on the mortality of overwintering pupae of the cotton bollworm, Helicoverpa armigera (Hübner) (Lepidoptera: Noctuidae). Int J Biometeorol 60:977–989

Huang J, Ji F (2015) Effects of climate change on phenological trends and seed cotton yields in oasis of arid regions. Int J Biometeorol 59:877–888

Huang J, Li J (2015) Effects of climate change on overwintering pupae of the cotton bollworm, Helicoverpa armigera (Hübner) (Lepidoptera: Noctuidae). Int J Biometeorol 59:863–876

Huang J, Gao YJ, Li Y, Zhang P, Wang MZ (2010) Effects of rainfall intensity on eggs of Helicoverpa armigera. Chin J Agrometeol 31(4):617–620

Johnson ML, Zalucki MP (2005) Foraging behaviour of Helicoverpa armigera first instar larvae on crop plants of different developmental stages. J Emerg Nurs 129:239–245

Kellermann JL, van Riper C III (2015) Detecting mismatches of bird migration stopover and tree phenology in response to changing climate. Oecologia 178:1227–1238

Kendall MG (1948) Rank correlation methods. Hafner, New York

Kerslake JE, Hartley SE (1997) Phenology of winter moth feeding on common heather: effects of source population and experimental manipulation of hatch dates. J Anim Ecol 66:375–385

Kiritanil K (2006) Predicting impacts of global warming on population dynamics and distribution of arthropods in Japan. Popul Ecol 48:5–12

Knape J, de Valpine P (2011) Effects of weather and climate on the dynamics of animal population time series. Proc R Soc B Biol Sci 278:985–992

Kreyling J (2010) Winter climate change: a critical factor for temperate vegetation performance. Ecology 91:1939–1948

Land Jr WH, Ford W, Park JW, Mathur R, Hotchkiss N, Heine J, Eschrich S, Qiao X, Yeatman T (2011) Partial least squares (PLS) applied to medical bioinformatics. Procedia Comp Sci 6:273–278

Liu Y, Gu D (1997) An analysis of occurrence trend of crop pests with warming climate in China. Nat Enemies Insects 19(2):93–96

Liu Z, Gong P, Wu K, Wei W, Sun J, Li D (2007) Effects of larval host plants on over-wintering preparedness and survival of the cotton bollworm, Helicoverpa armigera (Hübner) (Lepidoptera: Noctuidae). J Insect Physiol 53:1016–1026

Liu Z, Gong P, Heckel DG, Wei W, Sun J, Li D (2009) Effects of larval host plants on overwintering physiological dynamics and survival of the cotton bollworm, Helicoverpa armigera (Hübner) (Lepidoptera: Noctuidae). J Insect Physiol 55:1–9

Liu Z, Scheirs J, Heckel D (2010) Host plant flowering increase both adult oviposition preference and larval performance of a generalist herbivore. Environ Entomol 39(2):552–560

Logan JA, Macfarlane WW, Willcox L (2010) Whitebark pine vulnerability to climate-driven mountain pine beetle disturbance in the greater Yellowstone ecosystem. Ecol Appl 20:895–902

Lu ZZ, Tian JH, Shen ZR, Tian CY, Wang T (2005) Single sine phenolgical model of thermal accumulation and its application. Chinese J Ecol 24(12):1549–1552

Ma Q, Li HB, Wang F, Arkdan W, Yao J, Yang XR (2000) Study of integration protection and control technological system for insect pest to cotton in Xinjiang. Xinjiang Agr Sci 1:1–5

Mann HB (1945) Non-parametric test against trend. Econometrika 13:245–259

Massad TJ, Dyer LA (2010) A meta-analysis of the effects of global environmental change on plant–herbivore interactions. Arthropod–Plant Interact 4:181–188

Masters GJ, Brown VK, Clarke IP, Whittaker JB, Hollier JA (1998) Direct and indirect effects of climate change on insect herbivores: Auchenorrhyncha (Homoptera). Ecol Entomol 23:45–52

Memmott J, Craze PG, Waser NM, Price MV (2007) Global warming and the disruption of plant-pollinator interactions. Ecol Lett 10:1–8

Murray DAH, Miles MM, McLennan AJ, Lloyd RJ, Hopkinson JE (2005) Area-wide management of Helicoverpa spp. In an Australian mixed cropping agroecosystem. Proceedings of the Belwide Cotton Coferenes, 4–7, Janyary, New Orleans, Lousiana. National Cotton Council of America

Musolin DL, Tougou D, Fujisaki K (2010) Too hot to handle? Phenological and life-history responses to simulated climate change of the southern green stink bug Nezara viridula (Heteroptera: Pentatomidae). Glob Change Biol 16:37–38

Ouyang F, Hui C, Ge S, Men XY, Zhao ZH, Shi PJ, Zhang YS, Li BL (2014) Weakening density dependence from climate change and agricultural intensification triggers pest outbreaks: a 37-year observation of cotton bollworms. Ecol Evol 4:3362–3374

Ouyang F, Hui C, Men XY, Zhang YS, Fan LP, Shi PJ, Zhao ZH, Ge F (2016) Early eclosion of overwintering cotton bollworm moths from warming temperatures accentuates yield loss in wheat. Agric Ecosyst Environ 217:89–98

Parmesan C (2007) Influences of species, latitudes and methodologies on estimates of phenological response to global warming. Glob Chang Biol 13(9):1860–1872

Perkins LE, Cribb BW, Hanan J, Glaze E, Beveridge C, Zalucki MP (2008) Where to from here? The mechanisms enabling the movement of first instar caterpillars on whole plants using Helicoverpa armigera (Hübner). Arthropod-Plant Interact 2:197–207

Rajapakse CNK, Walter GH (2007) Polyphagy and primary host plants: oviposition preference versus larval performance in the lepidopteran pest Helicoverpa armigera. Arthropod-Plant Interact. 1:17–26

Reddy GVP, Shi PJ, Hui C, Cheng XF, Ouyang F, Ge F (2015) The seesaw effect of winter temperature change on the recruitment of cotton bollworms Helicoverpa armigera through mismatched phenology. Ecol Evol 5(23):5652–5661

Roberts AMI, Tansey C, Smithers RJ, Phillimore AB (2015) Predicting a change in the order of spring phenology in temperate forests. Glob Change Biol 21:2603–2611

Satake A, Ohgushi T, Urano S, Uchimura K (2006) Modeling population dynamics of a tea pest with temperature-dependent development: predicting emergence timing and potential damage. Ecol Res 21(1):l07–l16

Scholz B, Cleary A, Lloyd R (2002) The value of unsprayed strip crops as nurseries for beneficials in dryland cotton on the Darling Downs. Pp. 307–314 in Proceedings of the Eleventh Australian Cooton Conference, 13–15 August. Queensland. Australian Cotton Growers Research Association, Brisbance, p 2002

Schwartzberg EG, Jamieson MA, Raffa KF, Reich PB, Montgomery RA, Lindroth RL (2014) Simulated climate warming alters phenological synchrony between an outbreak insect herbivore and host trees. Oecologia 175:1041–1049

Song ZM, Li Z, Li DM, Xie BY, Xia J (2007) Adult feeding increases fecundity in female Helicoverpa armigera (Lepidoptera: Noctuidae). Eur J Entomol 104:721–724

Tennenhaus M (1998) PLS regression methods. J Chemo:211–228

Tryjanowski P, Pawlikowski T, Pawlikowski K, Sparks TH (2010) Does climate influence phenological trends in social wasps (Hymenoptera: Vespinae) in Poland? Eur J Entomol 107:203–208

Visser ME, Holleman LJM (2001) Warmer springs disrupt the synochrony of oak and winter moth phenology. Proc R Soc Lond B 268:289–294

Voigt W, Perner J, Davis AJ, Eggers T, Schumacher J, Bährmann R, Fabian B, Heinrich W, Köhler G, Lichter D, Marstaller R, Sander FW (2003) Trophic levels are differentially sensitive to climate. Ecology 84:2444–2453

Wäckers FL, Romeis J, van Rijn P (2007) Nectar and pollen feeding by insect herbivores and implications for multitrophic interactions. Annu Rev Entomol 52:301–323

Ward NL, Masters GJ (2007) Linking climate change and species invasion: an illustration using insect herbivores. Glob Change Biol 13:1605–1615

Wei FY (1999) Modern technology of statistics, diagnosis and forecast for climate. China Meteorological Press, Beijing, pp 62–76

Westgarth-Smith AR, Leroy SAG, Collins PEF, Harrington R (2006) Temporal variations in English populations of a forest insect pest, the green spruce aphid (Elatobium abietinum), associated with the North Atlantic Oscillation and global warming. Quatern Int 173:153–160

Wheeler HC, Hoye TT, Schmidt NM, Svenning JC, Forchhammer MC (2015) Phenological mismatch with abiotic conditions-implications for flowering in Arctic plants. Ecology 96:775–787

Wu KM, Guo YY (2005) The evolution of cotton pest management practices in China. Annu Rev Entomol 50:31–52

Wu KM, Lu YH, Feng HQ, Jiang YY, Zhao JZ (2008) Suppression of cotton bollworm in multiple crops in China in areas with Bt toxin-containing cotton. Science 321:1676–1678

Xu WN, She WM (1980) China agricultural meteorological observation guidelines. China Meteorology Press, Beijing, p 212

Yan MH, Deng W, Chen PQ (2003) Analysis of climate jumps in the Sanjiang Plain. Sci Geogr Sin 23(6):661–667

Yang YZ, Johnson ML, Zalucki MP (2008) Possible effect of genetically modified cotton on foraging habits of early instar Helicoverpa armigera (Hübner) (Lepidoptera: Noctuidae) larvae. Aust J Entomol 47:137–141

Zhang XW, Zhang JB (2006) Xinjiang Meteorology Manual [M]. Meteorology Publishing, Beijing
Acknowledgements
The authors give thanks to the staff of the Bachu Meteorological Administration for observing the cotton phenology and to the staff of the Bachu plant protection station for collecting cotton bollworm larvae. The National Natural Science Foundation of China (41775109, 41275119) supported this work.
About this article
Cite this article
Huang, J., Hao, H. Detecting mismatches in the phenology of cotton bollworm larvae and cotton flowering in response to climate change. Int J Biometeorol 62, 1507–1520 (2018). https://doi.org/10.1007/s00484-018-1552-0
Received:

Revised:

Accepted:

Published:

Issue Date:
Keywords
Helicoverpa armigera

Climate change

Cotton flowering

Synchrony

Abrupt climate change