For the IJB special issue on Latin America and the Caribbean
The Cuban Meteorological Society and the International Society of Biometeorology jointly organized among 30th November to 2nd December of 2015 an international expert meeting to promote the implementation of biometeorological forecast and climate services in the region of Latin America and the Caribbean. The expert meeting was a significant contribution to the success of the 8th Cuban Congress of Meteorology, held in Havana, Cuba
Along sessions of the expert meeting, characteristics and observed impacts of actual bioclimatic and biometeorological forecasts services in the region were considered, as well as the needs, priorities, and projections of international organizations related with the broad spectrum of biometeorology in the fields of humans, animal health, and phenology (agrometeorology).
The expert meeting also contributed to the interdisciplinary interaction between experts and Cuban postgraduate students working in different areas of biometeorology, trying to make easier a common methodological approach for the application of biometeorological and bioclimatic services, to assure the validation within the user's community of the service outputs and to implement known best practices in managing efficiently and seamlessly the interaction among the international and national partners involved, meteorological services, mass media, and the general public.
The main topics under discussion were as follows:
Session A: Biometeorological forecast services for human health.

Session B: Experiences from the medical side during the application of biometeorological forecasts.

Session C: Development of climate services for human health.

Session D: Impacts of climate services on the control of transmissible and vector-borne diseases.

Session E: Impacts of agrometeorological services in the food production, plant diseases, and plagues prevention.
Each session began with an initial lecture presented by international well known experts. They gave to the participants an important update on the "state of the art" in the different fields of action of Biometeorology, as well as the user perspective on these services. The titles of lectures and the expert names were as follows:
Development of Early Health Warning Systems in big cities of the United States, Canada and China. Larry S. Kalkstein, University of Miami, USA.

Development of public health surveillance in the Republic of Cuba. Daniel Rodríguez Milord, National Institute of Hygiene, Epidemiology and Microbiology, Cuba.

Climate Services for Health – Accelerating Applications for Public Health. Joy Shumake-Guillemot, WHO-WMO Climate and Health Office, World Meteorological Organization, Geneva, Switzerland. Presented by Simon Hales, WHO, Geneva, Switzerland.

A WHO perspective on climate services for health. Simon Hales, World Health Organization, Geneva, Switzerland.

Impacts of climate change on animal agriculture. John Gaughan, University of Queensland, Australia.

Impact of hot climate on health and productivity of dairy cows. Nicola Lacetera, University of Viterbo, Italy.

New perspectives for products and services in agricultural meteorology. Simone Orlandini, University of Florence, Italy.

Strategies to improve reproduction and milk production of dairy cows during heat stress. David Wolfenson, Hebrew University, Rehovot, Israel.
During the expert meeting four Round Tables were organized with an initial presentation followed by a fruitful discussion. The topics under analysis were as follows:
Impacts of biometeorological forecast services on health surveillance and the prevention of health crisis due to some chronic diseases. Chair: Susana Suárez Toledo, National Institute of Hygiene, Epidemiology and Microbiology, Cuba.

Impacts of climate services on human health. Chair: Paulo L. Ortíz Bultó, National Climate Center, Institute of Meteorology, Cuba.

Agrometeorological services for food production and prevention of plagues and diseases occurrence in Cuba. Chair: Eva Mejías Sedeño, National Center for Agrometeorology, Institute of Meteorology, Cuba.

Effects of UV radiation on skin cancer occurrence and other diseases in Cuba. Chair: Eudimio Martínez Chapman, Air Pollution Monitoring Center, Institute of Meteorology, Cuba.
The full list of presentations is given in Table
1
, referring author's names, titles, institutions and countries. A selection of full papers and abstracts from this expert meeting is included in this Special Issue. This is the first printed reference of ISB regional activities, following the recommendations from the last XXI ISB congress in Durham, where the participants addressed the importance to enhance visibility of ISB regional development. Moreover, the publication of this IJB Special Issue is coincident with WMO priorities, when this year put the world attention on the motto of the Meteorological Day: "weather-ready, climate-smart." This may be the way for next contributions from ISB regional members to this necessary approach, facing potential impacts of climate and weather variability on human society.
Table 1
Full list of presentations during the sessions of ISB Expert Meeting on bioclimatic and biometeorological forecast services in Havana, Cuba
| No. | Experts names | Title of presentation | Institution | City | Country |
| --- | --- | --- | --- | --- | --- |
| 1 | John Gaughan | Impacts of Climate Change on Animal Agriculture | Queensland University | Queensland | Australia |
| 2 | Luis Monteagudo Lima | Anomalies detected in hypertense patients due to the influence of meteor-tropic effects | Cardiological Center "Ernesto Che Guevara" | Santa Clara | Cuba |
| 3 | Luis B. Lecha Estela | Biometeorological forecasts for health surveillance and prevention of meteor-tropic effects | Center for Environmental Researches and Services | Santa Clara | Cuba |
| 4 | Daniel Barceló Rodríguez | Environmental health issues related to climate and human health obtained in Cuba | National Inst. of Hygiene, Epidemiology and Microbiology | Havana | Cuba |
| 5 | Daniel Rodríguez Milord | Development of public health surveillance in the Republic of Cuba | National Inst. of Hygiene, Epidemiology and Microbiology | Havana | Cuba |
| 6 | Susana Suárez Tamayo | Biometeorological forecasts: a prospective view into the health sector | National Inst. of Hygiene, Epidemiology and Microbiology | Havana | Cuba |
| 7 | Jorge L. Alonso Freyre | Integrated attention to cerebrovascular disease for prevention of meteor-tropic effects | Hospital "Mártires del 9 de Abril" | Sagua la Grande | Cuba |
| 8 | Héctor Díaz Águila | Report on heat stroke attentions at Emergencies in Sagua la Grande during the summer of 2015 | Hospital "Mártires del 9 de Abril" | Sagua la Grande | Cuba |
| 9 | Alina Rivero Valencia | Design of Early Warning System for the occurrence of acute myocardial infarction | Institute of Meteorology | Havana | Cuba |
| 10 | Vladimir Guevara Arce | The offer of bioclimatic products and services from Climate Center at INSMET | Institute of Meteorology | Havana | Cuba |
| 11 | Paulo L. Ortíz Bultó | A new approach for the monthly and seasonal forecast of complex bioclimatic variables | Institute of Meteorology | Havana | Cuba |
| 12 | Eugenio Mojena López | Impacts from Saharian dust on the health of Caribbean populations | Institute of Meteorology | Havana | Cuba |
| 13 | Eudimio Martínez Chapman | Tendency of UV solar radiation and it impact on skin cancer in Cuba | Institute of Meteorology | Havana | Cuba |
| 14 | Karel Durán Marrero | Ultraviolet solar radiation and its impact in the skin diseases | Institute of Meteorology | Havana | Cuba |
| 15 | Ransés J. Vázquez Montenegro | Early Alert System on Vegetation Conditions, Agricultural Drought and Forest Fires | Institute of Meteorology | Havana | Cuba |
| 16 | Susana Borroto Gutiérrez | Utility of bioclimatic information for infectious diseases forecasts | Institute of Tropical Medicine "Pedro Kourí" | Havana | Cuba |
| 17 | Odalys Valdés Ramírez | Climate information to describe seasonal behavior of respiratory Syncytial virus | Institute of Tropical Medicine "Pedro Kourí" | Havana | Cuba |
| 18 | María C. Reyes Fernández | Disaster management in public health: the Cuban experience | Ministry of Public Health | Havana | Cuba |
| 19 | Olaine R. Gray Lovio | Epidemiology of skin cancer in Cuba during the period 1990–2011 | Ministry of Public Health | Havana | Cuba |
| 20 | Tatiana de la Vega Pazitková | A community intervention based on biomet. forecasts in order to prevent asthma crisis | University of Medical Sciences "Victoria de Girón" | Havana | Cuba |
| 21 | José L. Santos Dávila | ENSO Warnings: applications in Biometeorology and lessons learned in Ecuador | Escuela Superior Politécnica del Litoral (ESPOL) | Guayaquil | Ecuador |
| 22 | Pablo Fernández de Arróyabe Hernáez | Weather Derivated on Human Health: the case of OXYALERT | University of Cantabria | Santander | Spain |
| 23 | David Wolfenson | Cooling strategies during summer heat stress and their impact on cows production | Hebrew University | Rehovot | Israel |
| 24 | Simone Orlandini | New perspectives for products and services in agricultural meteorology | University of Florence | Florence | Italy |
| 25 | Nicola Lacetera | Impact of hot climate on health and productivity of dairy cows | University of Viterbo | Viterbo | Italy |
| 26 | Elena Ciómina de Carvajal | Biomet. forecast services to facilitate adaptation of long distance travelers | Russian State Hydrometeorological University | Saint Petersburg | Russia |
| 27 | Joy Shumake-Guillemot | Climate Services for Health–Accelerating Applications for Public Health | World Meteorological Organization, WMO | Geneva | Switzerland |
| 28 | Simon Hales and Joy Shumake-Guillemot | Climate services for health: a World Health Organization perspective | World Health Organization, WHO | Geneva | Switzerland |
| 29 | Simon Hales | Modelling climate sensitive diseases: application to early warning systems | World Health Organization, WHO | Geneva | Switzerland |
| 30 | Michael Allen | Spatial and Temporal Variability of Temperature Impacts | Old Dominion University | Norfolk, Virginia | USA |
| 31 | Laurence S. Kalkstein | Excessive Weather Impacts: Warnings, Interventions and Improvements | Florida International University | Miami | USA |
| 32 | John Uldrich | Med-Weather Health Forecasting | Globien Inc. | Minneapolis | USA |
| 33 | Noel J. Petit | Nowcasting of Human Health Hazards from Terrestrial and Space Weather | Ausburg College | Minneapolis | USA |
| 34 | Paul Grady Dixon | Expanding the analysis of suicide frequency during anomalously warm temperatures | Fort Hays University | Fort Hays | USA |
| 35 | Pablo A. Méndez Lázaro | Adaptation strategies facing heat mortality in the urban area of San Juan, Puerto Rico | School of Public Health, University of Puerto Rico | San Juan, Puerto Rico | USA |
| 36 | Scott Sheridan | Biometeorological warnings: perceptions and response | Kent University | Cleveland | USA |
| No. | Postgraduate student names | Title of Presentation | Institution | City | Country |
| 37 | Carolina C. Nagib Nascimento | Evaluation of respiratory function and gas exchange in small ruminants | Sao Paulo State University | Sao Paulo | Brazil |
| 38 | Cintia C. de Melo Costa | Thermal balance of Nellore cattle | Sao Paulo State University | Sao Paulo | Brazil |
| 39 | Yazenia Linares Vega | Fundaments for seasonal prediction of syncytial respiratory virus | Institute of Meteorology | Havana | Cuba |
| 40 | Alberth Rodríguez | Evaluation of cows discomfort and early alerts of Cuban agrometeorological system | Provincial Meteorological Center in Camaguey, INSMET | Camaguey | Cuba |
| 41 | Dayasmín H. Rodríguez Caboverde | Products and services for monitoring and forecast of forest fires in Cuba | Institute of Meteorology | Havana | Cuba |
| 42 | Dayron Chang Domínguez | The Hysplit model to forecast transport of biological agents through the air | Institute of Meteorology | Havana | Cuba |
| 43 | Dilianis Rodríguez Peña | Application of Hysplit model for the early detection of plagues and air-borne diseases | Institute of Meteorology | Havana | Cuba |
| 44 | Ingrid R. Suárez Angarica | Structure and operation of the Cuban Phenological Observation System at INSMET | Institute of Meteorology | Havana | Cuba |
| 45 | Ismabel M. Domínguez Hurtado | Integration of weather forecast models with biometeorological monitoring in Cuba | Provincial Meteorological Center in Villa Clara, INSMET | Santa Clara | Cuba |
| 46 | Loima Sánchez Rodríguez | Agrometeorological services from the Cuban National Center of Agrometeorology | Institute of Meteorology | Havana | Cuba |
| 47 | Antonia León Lee | Pediatric urgencies by bronchial asthma and local climate variability in Havana, Cuba | Institute of Meteorology | Havana | Cuba |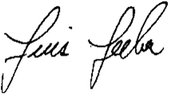 Luis B. Lecha Estela
ISB Councilor for Latin America and the Caribbean