Abstract
To investigate the influence of estimated wet bulb globe temperature (WBGT) and the International Institute of Race Medicine (IIRM) activity modification guidelines on the incidence of exertional heat stroke (EHS) and heat exhaustion (HEx) and the ability of an on-site medical team to treat those afflicted. Medical records of EHS and HEx patients over a 17-year period from the New Balance Falmouth Road Race were examined. Climatologic data from nearby weather stations were obtained to calculate WBGT with the Australian Bureau of Meteorology (WBGTA) and Liljegren (WBGTL) models. Incidence rate (IR) of EHS, HEx, and combined total of EHS and HEx (COM) were calculated, and linear regression analyses were performed to assess the relationship between IR and WBGTA or WBGTL. One-way ANOVA was performed to compare differences in EHS, HEx, and COM incidence to four alert levels in the IIRM guidelines. Incidence of EHS, HEx, and COM was 2.12, 0.98, and 3.10 cases per 1000 finishers. WBGTA explained 48, 4, and 46% of the variance in EHS, HEx, and COM IR; WBGTL explained 63, 13, and 69% of the variance in EHS, HEx, and COM IR. Main effect of WBGTA and WBGTL on the alert levels were observed in EHS and COM IR (p < 0.05). The cumulative number of EHS patients treated did not exceed the number of cold water immersion tubs available to treat them. EHS IR increased as WBGT and IIRM alert level increased, indicating the need for appropriate risk mitigation strategies and on-site medical treatment.
Access options
Buy single article
Instant access to the full article PDF.
US$ 39.95
Tax calculation will be finalised during checkout.
Subscribe to journal
Immediate online access to all issues from 2019. Subscription will auto renew annually.
US$ 79
Tax calculation will be finalised during checkout.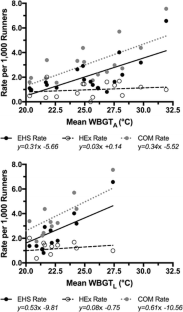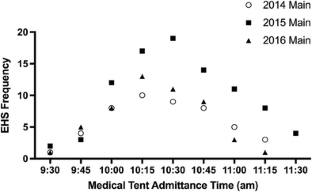 References
Adams WM, Hosokawa Y, Casa DJ (2015) The timing of exertional heat stroke survival starts prior to collapse. Curr Sports Med Rep 14:273–274. https://doi.org/10.1249/JSR.0000000000000166

Armstrong LE, Casa DJ, Millard-Stafford M et al (2007) American College of Sports Medicine position stand. Exertional heat illness during training and competition. Med Sci Sports Exerc 39:556–572. https://doi.org/10.1249/MSS.0b013e31802fa199

Army USD of the (2013) TB MED 507: heat stress control and heat casualty management. BiblioGov

Casa DJ, DeMartini JK, Bergeron MF et al (2015) National Athletic Trainers' association position statement: exertional heat illnesses. J Athl Train 50:986–1000. https://doi.org/10.4085/1062-6050-50.9.07

Chiampas GT, Goyal AV (2015) Innovative operations measures and nutritional support for mass endurance events. Sports Med Auckl NZ 45(Suppl 1):S61–S69. https://doi.org/10.1007/s40279-015-0396-6

Cooper E, Grundstein A, Rosen A, Miles J, Ko J, Curry P (2017) An evaluation of portable wet bulb globe temperature monitor accuracy. J Athl Train 52:1161–1167. https://doi.org/10.4085/1062-6050-52.12.18

Cooper ER, Ferrara MS, Broglio SP (2006) Exertional heat illness and environmental conditions during a single football season in the southeast. J Athl Train 41:332–336

DeMartini JK, Casa DJ, Belval LN et al (2014) Environmental conditions and the occurrence of exertional heat illnesses and exertional heat stroke at the Falmouth Road Race. J Athl Train 49:478–485. https://doi.org/10.4085/1062-6050-49.3.26

Demartini JK, Casa DJ, Stearns R et al (2015) Effectiveness of cold water immersion in the treatment of exertional heat stroke at the Falmouth Road Race. Med Sci Sports Exerc 47:240–245. https://doi.org/10.1249/MSS.0000000000000409

Grundstein AJ, Ramseyer C, Zhao F, Pesses JL, Akers P, Qureshi A, Becker L, Knox JA, Petro M (2012) A retrospective analysis of American football hyperthermia deaths in the United States. Int J Biometeorol 56:11–20. https://doi.org/10.1007/s00484-010-0391-4

Kenny GP, Journeay WS (2010) Human thermoregulation: separating thermal and nonthermal effects on heat loss. Front Biosci Landmark Ed 15:259–290

Lemke B, Kjellstrom T (2012) Calculating workplace WBGT from meteorological data: a tool for climate change assessment. Ind Health 50:267–278

Liljegren JC, Carhart RA, Lawday P, Tschopp S, Sharp R (2008) Modeling the wet bulb globe temperature using standard meteorological measurements. J Occup Environ Hyg 5:645–655. https://doi.org/10.1080/15459620802310770

McDermott BP, Casa DJ, Ganio MS et al (2009) Acute whole-body cooling for exercise-induced hyperthermia: a systematic review. J Athl Train 44:84–93

Mears S, Watson P (2015) IIRM Medical Care Manual. International Institute for Race Medicine

Roberts WO (2010) Determining a "do not start" temperature for a marathon on the basis of adverse outcomes. Med Sci Sports Exerc 42:226–232. https://doi.org/10.1249/MSS.0b013e3181b1cdcf

Ross C, BaşDere M, Chan JL et al (2015) Data value in patient tracking systems at racing events. Med Sci Sports Exerc 47:2014–2023. https://doi.org/10.1249/MSS.0000000000000637

Sawka MN, Leon LR, Montain SJ, Sonna LA (2011) Integrated physiological mechanisms of exercise performance, adaptation, and maladaptation to heat stress. Compr Physiol 1:1883–1928. https://doi.org/10.1002/cphy.c100082

Steadman RG (1979) The assessment of sultriness Part I: a Temperature-Humidity Index Based on Human Physiology and Clothing Science. J Appl Meteorol 18:861–873. doi: https://doi.org/10.1175/1520-0450(1979)018<0861:TAOSPI>2.0.CO;2

Yaglou CP, Minard D (1957) Control of heat casualties at military training centers. AMA Arch Ind Health 16:302–316
About this article
Cite this article
Hosokawa, Y., Adams, W.M., Belval, L.N. et al. Exertional heat illness incidence and on-site medical team preparedness in warm weather. Int J Biometeorol 62, 1147–1153 (2018). https://doi.org/10.1007/s00484-018-1517-3
Received:

Revised:

Accepted:

Published:

Issue Date:
Keywords
Wet bulb globe temperature

Activity modification

Road race medicine

Environmental stress