Abstract
The present study aims to evaluate the influence of climate conditions on tourism in the port of Chabahar, southeastern Iran, using the climate comfort indices (CIT, PMV, and TCI) and the field data relative to the tourist satisfaction. According to the computed TCI, the autumn-winter season (October–April) is climatically favorable for tourism in Chabahar, but it is ideal during January to March. Based on the computed PMV index, the studied region is in the range of climate comfort in most parts of the year. However, when the PMV thermal comfort limits (− 0.5 < PMV < 0.5) and the PPD limits (0 < PPD < 10) are considered, only the March and November are included in the thermal comfort range. The CIT index also indicates that all months of the year are acceptable for tourism that does not coincide with the reality of the region. However, by blending the PMV and the tourist's degree of satisfaction, a slight modification was made to the CIT index to better represent the reality of the region regarding the climate comfort. The modified CIT gave a different result, reflecting the importance of tourists' perceptions in defining the climate comfort rather than merely relying on the climate variables. The modified CIT also suggests November–March as a period with favorable to ideal climate condition for tourism in Chabahar which is a more realistic assessment of climate condition of the region as perceived by the tourists interviewed.
Access options
Buy single article
Instant access to the full article PDF.
USD 39.95
Price includes VAT (USA)
Tax calculation will be finalised during checkout.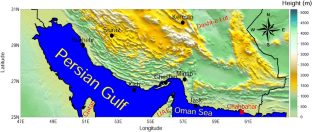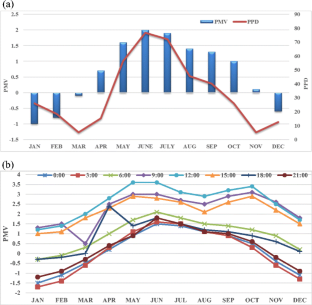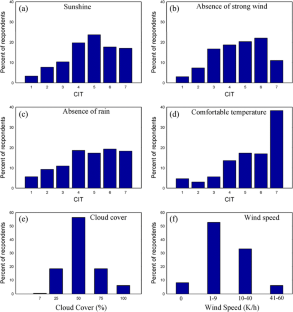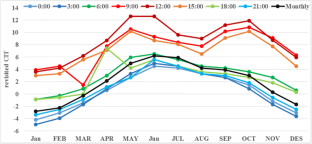 References
Amelung B, Viner D (2006) Mediterranean tourism: exploring the future with the tourism climatic index. J Sustain Tourism 14:620–644

Bafaluy D, Amengual A, Romero R, Homar V (2014) Present and future climate resources for various types of tourism in the Bay of Palma, Spain. Reg Environ Chang 14:1995–2006

Caliskan O, Cicek H, Matzarakis A (2013) The climate and bioclimate of Bursa (Turkey) from the perspective of tourism. Theor Appl Climatol 107(3–4):417–425

Chen H, Ooka R, Harayama K, Kato S, Li X (2004) Study on outdoor thermal environment of apartment block in Shenzhen, China with coupled simulation of convection, radiation and conduction. Energ Buildings 36:1247–1258

Chengcai T, Linsheng ZH, McDonald K, Shengkui CH (2012) A comprehensive evaluation of tourism climate suitability in Qinghai Province China. J Mt Sci 9:403–413

Cochran WG (1977) Sampling techniques, 3rd edn. John Wiley & Sons, New York

De Freitas CR (2003) Tourism climatology: evaluating environmental information for decision making and business planning in the recreation and tourism sector. Int J Biometeorol 48:45–54

De Freitas CR (2005) The climate-tourism relationship and its relevance to climate change impact assessment. In: Hall CM (ed) Tourism, recreation and climate change. Clevedon, pp 29-43

De Freitas CR, Scott D, McBoyle G (2008) A second generation climate index for tourism (CIT): specification and verification. Int J Biometeorol 52:399–407

Ebrahimzadeh E, Aghasizadeh A (2009) The effect of Chabahar free trade zone on tourism development in the coastal areas of Chabahar using regression models and statistical t-test. J Geogr Dev 21:5–26 (in Persian)

Endler C, Matzarakis A, (2007) Climate change and climate-tourism relationships in Germany. In: A. Matzarakis CR (ed) Developments in tourism climatology, pp.260–266

Fang Y, Yin J (2015) National assessment of climate resources for tourism seasonality in China using the Tourism Climate Index. Atmosphere 6:183–194

Fanger PO (1970) Thermal Comfort Danish Technical Press Copenhagen. Republished by McGraw-Hill Book Co, New York, 1973

Farajzadeh H, Matzarakis A (2009) Quantification of climate for tourism in the northwest of Iran. Meteorol Appl 16:545–555

Grillakis MG, Koutroulis AG, Tsanis IK (2015) The 2 °C global warming effect on summer European tourism through different indices. Int J Biometeorol 60:1205–1215

Hein L, Metzger MJ, Moreno A (2009) Potential impacts of climate change on tourism; a case study for Spain. Curr Opin Environ Sustain 1:170–178

Höppe P (1999) The physiological equivalent temperature—a universal index for the biometeorological assessment of the thermal environment. Int J Biometeorol 43:71–75

Kumar A, Singh IP, Sud SK (2010) An approach towards development of PMV based thermal comfort smart sensor. Int J Smart Sens and Intell Syst 10:621–642

Lin T, Matzarakis A (2011) Tourism climate information based on human thermal perception in Taiwan and Eastern China. Tour Manag 32:492–500

Maiti R (2014) PMV model is insufficient to capture subjective thermal response from Indians. Int J Ind Ergon 44:349–361

Matzarakis A, Mayer H (1996) Another kind of environmental stress: thermal stress, WHO collaborating Centre for air Quality Management and air Pollution Control. News Lett 18:7–10

Matzarakis A, Mayer H, Iziomon M (1999) Heat stress in Greece. Applications of a universal thermal index: physiological equivalent temperature. Int J Biometeorol 43:76–84

Matzarakis A, Rutz F, Mayer H (2010) Modelling radiation fluxes in simple and complex environments—basics of the RayMan model. Int J Biometeorol 54:131–139

Matzarakis A, Hämmerle M, Koch E, Rudel E (2012) The climate tourism potential of alpine destinations using the example of Sonnblick, Rauris and Salzburg. Theor Appl Climatol 110:645–658

Matzarakis A, Endler C, Nastos PT (2014) Quantification of climate-tourism potential for Athens, Greece—recent and future climate simulations. Glob Nest J l16:43–51

Mendez-Lazaro P, Terrasa-Soler JJ, Torres-Pena CH, Seguinot T (2014) Tourism and climate conditions in San Juan, Puerto Rico, 2000-2010. Ecol Soc 19:1–7

Mieczkowski Z (1985) The tourism climate index: a method for evaluating world climates for tourism. Can Geogr 29:220–235

Murray R (1972) A simple summer index with an illustration for summer 1971. Weather 27:161–169

Parsons KC (1993) Human thermal environments. Taylor & Francis, London, p 635

Perch-Nielsen SL, Amelung B, Knutti R (2010) Future climate resources for tourism in Europe based on the daily Tourism Climatic Index. Clim Chang 103:363–381

Pou A, Santaner VH, March RR, Oroza SA, Noguera CR (2010) Projections of climate potential for a touristic resort in Mallorca. J Geophys Res 12:EGU2010–EG14391

Raziei T, Mofidi A, Santos JA, Bordi I (2012) Spatial patterns and regimes of daily precipitation in Iran in relation to large-scale atmospheric circulation. Int J Climatol 32:1226–1237

Roshan GH, Yousefi R, Fitchett J (2016) Long-term trends in tourism climate index scores for 40 stations across Iran: the role of climate change and influence on tourism sustainability. Int J Biometeorol 60:33–52

Scott D, McBoyle G, Schwartzentruber M (2004) Climate change and the distribution of climatic resources for tourism in North America. Clim Res 27:105–117

Steadman RG (1971) Indices of windchill of clothed persons. J Appl Meteorol 10:674–683

Thom EC (1959) The discomfort index. Weatherwise 12:57–60

Yearbook of Sistan and Baluchestan Province, Iran, statistical center of Iran, 2014

Yu G, Schwartz Z, Walsh JE (2009) Weather-resolving index for assessing the impact of climate change on tourism related climate resources. Clim Chang 95:551–573

Zaninovic K (2013) Potential of beach tourism in Croatia using Climate index for tourism. EMS Annual Meeting, 10: EMS 2013–435, 13th EMS / 11th ECAM

Zaninovic K (2015) Implications of climate change to Croatian tourism. 5th International Conference on Meteorology and Climatology of the Mediterranean, Istanbul (Turkey)

Zaninovic K, Matzarakis A (2004) Variation and trends of thermal comfort at the Adriatic coast. In: Matzarakis A (ed) Advances in tourism climatology, Freiburg, Germany, pp 74–81
Acknowledgements
The authors appreciate very much the anonymous reviewers for their fruitful comments and recommendations that helped to improve the presentation of the paper.
About this article
Cite this article
Sabzevari, A.A., Miri, M., Raziei, T. et al. Evaluating the climate capabilities of the coastal areas of southeastern Iran for tourism: a case study on port of Chabahar. Int J Biometeorol 62, 1135–1145 (2018). https://doi.org/10.1007/s00484-018-1516-4
Received:

Revised:

Accepted:

Published:

Issue Date:
Keywords
Climate suitability

Climate index tourism

PMV

Tourism planning

Chabahar