Abstract
In most midlatitude locations, human morbidity and mortality are highly seasonal, with winter peaks driven by respiratory disease and associated comorbidities. But the transition between high and low mortality/morbidity months varies spatially. We use a measure of the thermal biophysical strain imposed on the respiratory system—the Acclimatization Thermal Strain Index (ATSI)—to examine respiratory hospital admissions in Charlottesville, VA. Daily respiratory admissions to the University of Virginia over a 19-year period are compared to ATSI values derived from hourly surface weather data acquired from the Charlottesville airport. Negative ATSI values (associated with transitions from warm (and humid) to cold (and dry) conditions) are related to admission peaks at seasonal and weekly timescales, whereas positive ATSI values (cold to warm) exhibit weaker relationships. This research marks the first application of the ATSI to human morbidity, and results suggest that respiratory strain may account for how people who are acclimated to different climates respond to short-term weather changes.
Access options
Buy single article
Instant access to the full article PDF.
USD 39.95
Price includes VAT (USA)
Tax calculation will be finalised during checkout.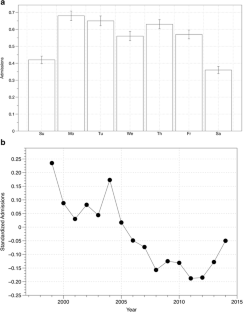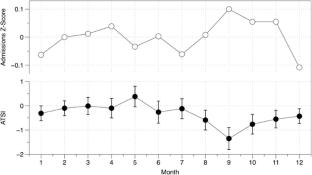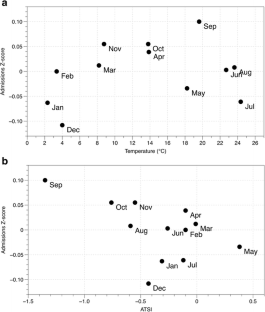 References
Armstrong LE, Maresh CM (1991) The induction and decay of heat acclimatisation in trained athletes. Sports Med 12(5):302–312. https://doi.org/10.2165/00007256-199112050-00003

Baile EM, Dahlby RW, Wiggs BR, Pare PD (1985) Role of tracheal and bronchial circulation in respiratory heat exchange. J Appl Physiol 58(1):217–222. https://doi.org/10.1152/jappl.1985.58.1.217

Cain JB, Livingstone SD, Nolan RW, Keefe AA (1990) Respiratory heat loss during work at various ambient temperatures. Respir Physiol 79(2):145–150. https://doi.org/10.1016/0034-5687(90)90014-P

Chen G, Zhang Y, Song G, Jiang L, Zhao N, Chen B, Kan H (2007) Is diurnal temperature range a risk factor for acute stroke death? Int J Cardiol 116(3):408–409

Davis RE, Knappenberger PC, Michaels PJ, Novicoff WM (2004) Seasonality of climate–human mortality relationships in US cities and impacts of climate change. Clim Res 26(1):61–76. https://doi.org/10.3354/cr026061

Davis RE, Rossier CE, Enfield KB (2012) The impact of weather on influenza and pneumonia mortality in New York City, 1975–2002: a retrospective study. PLoS One 7(3):e34091. https://doi.org/10.1371/journal.pone.0034091

Davis RE, Dougherty E, McArthur C, Huang QS, Baker MG (2016) Cold, dry air is associated with influenza and pneumonia mortality in Auckland, New Zealand. Influenza Other Respir Viruses 10(4):310–313. https://doi.org/10.1111/irv.12369

De Arróyabe Hernáez PF (2004) Climate, weather and flu diagnoses incidence in the region of Santander (Northern Spain) during the 1999–2000 epidemic diffusion period. Aerobiologia 20(4):223–228. https://doi.org/10.1007/s10453-004-1186-z

De Freitas CR (1985) Assessment of human bioclimate based on thermal response. Int J Biometeorol 29(2):97–119. https://doi.org/10.1007/BF02189029

De Freitas CR, Ryken MG (1989) Climate and physiological heat strain during exercise. Int J Biometeorol 33(3):157–164. https://doi.org/10.1007/BF01084600

De Freitas CR, Grigorieva EA (2009) The Acclimatization Thermal Strain Index (ATSI): a preliminary study of the methodology applied to climatic conditions of the Russian Far East. Int J Biometeorol 53(4):307–315. https://doi.org/10.1007/s00484-009-0215-6

De Freitas CR, Grigorieva EA (2014) The impact of acclimatization on thermophysiological strain for contrasting regional climates. Int J Biometeorol 58(10):2129–2137. https://doi.org/10.1007/s00484-014-0813-9

De Freitas CR, Grigorieva EA (2015) Role of acclimatization in weather-related human mortality during the transition seasons of autumn and spring in a thermally extreme mid-latitude continental climate. Int J Environ Res Public Health 12(12):14974–14987. https://doi.org/10.3390/ijerph121214962

Fanger PO (1970). Thermal comfort. Analysis and applications in environmental engineering. Danish Technical Press, Copenhagen

Fuhrmann C (2010) The effects of weather and climate on the seasonality of influenza: what we know and what we need to know. Geography Compass 4(7):718–730. https://doi.org/10.1111/j.1749-8198.2010.00343.x

Graudenz GS, Landgraf RG, Jancar S, Tribess A, Fonseca SG, Faé KC, Kalil J (2006) The role of allergic rhinitis in nasal responses to sudden temperature changes. J Allergy Clin Immunol 118(5):1126–1132. https://doi.org/10.1016/j.jaci.2006.07.005

Greenleaf JE, Kaciuba-Uscilko H (1989) Acclimatization to heat in humans. NASA Technical Memorandum 101011. Ames Research Center Moffett Field, California 43 pp

Höppe P (1981) Temperatures of expired air under varying climatic conditions. Int J Biometeorol 25(2):127–132. https://doi.org/10.1007/BF02184460

Hori S (1978) Index for the assessment of heat tolerance. J Hum Ergol 7(2):135–144

Hori S (1995) Adaptation to heat. Jpn J Physiol 45(6):921–946. https://doi.org/10.2170/jjphysiol.45.921

Kaciuba-Uscilko H, Greenleaf JE (1989) Acclimatization to cold in humans. NASA Technical Memorandum 101012. Ames Research Center Moffett Field, California 43 pp

Kalkstein AJ (2013) Regional similarities in seasonal mortality across the United States: an examination of 28 metropolitan statistical areas. PLoS One 8(5):e63971. https://doi.org/10.1371/journal.pone.0063971

Kampmann B, Brode P, Schutte M et al (2008) Lowering of resting core temperature during acclimation is influenced by exercise stimulus. Eur J Appl Physiol 104:321–327

Latvala JJ, Reijula KE, Clifford PS, Rintamäki H (1995) Cold-induced responses in the upper respiratory tract. Arctic Med Res 54:4–4

Lim YH, Hong YC, Kim H (2012a) Effects of diurnal temperature range on cardiovascular and respiratory hospital admissions in Korea. Sci Total Environ 417:55–60

Lim YH, Park AK, Kim H (2012b) Modifiers of diurnal temperature range and mortality association in six Korean cities. Int J Biometeorol 56(1):33–42. https://doi.org/10.1007/s00484-010-0395-0

Liu Y, Guo Y, Wang C, Li W, Lu J, Shen S, Xia H, He J, Qiu X (2015) Association between temperature change and outpatient visits for respiratory tract infections among children in Guangzhou, China. Int J Environ Res Public Health 12(1):439–454. https://doi.org/10.3390/ijerph120100439

Manney GL, Hegglin MI, Daffer WH, Schwartz MJ, Santee ML, Pawson S (2014) Climatology of upper tropospheric–lower stratospheric (UTLS) jets and tropopauses in MERRA. J Clim 27(9):3248–3271. https://doi.org/10.1175/JCLI-D-13-00243.1

Mathew L, Purkayastha SS, Jayashankar A, Nayar HS (1981) Physiological characteristics of cold acclimatization in man. Int J Biometeorol 25(3):191–198. https://doi.org/10.1007/BF02184518

McFadden ER Jr (1992) Heat and water exchange in human airways. Am Rev Respir Dis 146(5_pt_2):S8–S10. https://doi.org/10.1164/ajrccm/146.5_Pt_2.S8

Mireku N, Wang Y, Ager J, Reddy RC, Baptist AP (2009) Changes in weather and the effects on pediatric asthma exacerbations. Ann Allergy Asthma Immunol 103(3):220–224. https://doi.org/10.1016/S1081-1206(10)60185-8

Reichert TA, Simonsen L, Sharma A, Pardo SA, Fedson DS, Miller MA (2004) Influenza and the winter increase in mortality in the United States, 1959–1999. Am J Epidemiol 160(5):492–502. https://doi.org/10.1093/aje/kwh227

Rosenstein AH, O'daniel M, White S, Taylor K (2009) Medicare's value-based payment initiatives: impact on and implications for improving physician documentation and coding. Am J Med Qual 24(3):250–258. https://doi.org/10.1177/1062860609332511

Rothnie KJ, Yan R, Smeeth L, Quint JK (2015) Risk of myocardial infarction (MI) and death following MI in people with chronic obstructive pulmonary disease (COPD): a systematic review and meta-analysis. BMJ Open 5(9):e007824. https://doi.org/10.1136/bmjopen-2015-007824

Rusanov VI (1989) Appraisal of meteorological conditions defining human respiration. Bull Russ Acad Med Sci 1:57–60 (in Russian)

Rusanov V (2004) Bioclimate of the Western Siberia Plain. Institute of Atmospheric Optics SB RAS, Tomsk (in Russian)

Saat M, Sirisinghe RG, Singh R, Tochihara Y (2005) Effects of short-term exercise in the heat on thermoregulation, blood parameters, sweat secretion and sweat composition of tropic-dwelling subjects. J Physiol Anthropol Appl Hum Sci 24(5):541–549. https://doi.org/10.2114/jpa.24.541

Shaman J, Kohn M (2009) Absolute humidity modulates influenza survival, transmission, and seasonality. Proc Natl Acad Sci 106:3645–3646

Song G, Chen G, Jiang L, Zhang Y, Zhao N, Chen B, Kan H (2008) Diurnal temperature range as a novel risk factor for COPD death. Respirology 13(7):1066–1069

Togias AG, Naclerio RM, Proud D, Fish JE, Adkinson NF Jr, Kagey-Sobotka A et al (1985) Nasal challenge with cold, dry air results in release of inflammatory mediators. Possible mast cell involvement. J Clin Investig 76(4):1375–1381. https://doi.org/10.1172/JCI112113

Wernli H, Schwierz C (2006) Surface cyclones in the ERA-40 dataset (1958–2001). Part I: Novel identification method and global climatology. J Atmos Sci 63(10):2486–2507. https://doi.org/10.1175/JAS3766.1

Williams CG, Wyndham CH, Morrison JF (1967) Rate of loss of acclimatization in summer and winter. J Appl Physiol 22(1):21–26. https://doi.org/10.1152/jappl.1967.22.1.21

Wyndham CH, Rogers GG, Senay LC, Mitchell D (1976) Acclimization in a hot, humid environment: cardiovascular adjustments. J Appl Physiol 40(5):779–785. https://doi.org/10.1152/jappl.1976.40.5.779

Xu Z, Huang C, Su H, Turner LR, Qiao Z, Tong S (2013) Diurnal temperature range and childhood asthma: a time-series study. Environ Health 12(1):12. https://doi.org/10.1186/1476-069X-12-12
Acknowledgements
We thank Elena Grigorieva (Russian Academy of Sciences) for her assistance with some of the intricacies of the ATSI calculation, as well as the anonymous reviewers for their careful reading of our initial manuscript. This research is dedicated to the memory of Chris de Freitas (1948–2017), who provided extremely valuable insights and ideas about the calculation, testing, and application of the ATSI.
Ethics declarations
Statement of informed consent
For this type of study, formal consent is not required as the subjects were de-identified and examined in aggregate.
About this article
Cite this article
Davis, R.E., Enfield, K.B. Respiratory hospital admissions and weather changes: a retrospective study in Charlottesville, Virginia, USA. Int J Biometeorol 62, 1015–1025 (2018). https://doi.org/10.1007/s00484-018-1503-9
Received:

Revised:

Accepted:

Published:

Issue Date:
Keywords
Acclimatization

Respiratory

Strain

Hospital admissions

Weather

Seasonality