Abstract
The aims of this study are to explore the "offensive" summer weather types classified under the spatial synoptic classification (SSC) system and to evaluate their impacts on excess mortality in 14 Korean cities. All-cause deaths per day for the entire population were examined over the summer months (May–September) of 1991–2010. Daily deaths were standardized to account for long-term trends of subcycles (annual, seasonal, and weekly) at the mid-latitudes. In addition, a mortality prediction model was constructed through multiple stepwise regression to develop a heat–health warning system based on synoptic climatology. The result showed that dry tropical (DT) days during early summer caused excess mortality due to non-acclimatization by inhabitants, and moist tropical (MT) plus and double plus resulted in greater spikes of excess mortality due to extremely hot and humid conditions. Among the 14 Korean cities, highly excess mortality for the elderly was observed in Incheon (23.2%, 95%CI 5.6), Seoul (15.8%, 95%CI 2.6), and Jeonju (15.8%, 95%CI 4.6). No time lag effect was observed, and excess mortality gradually increased with time and hot weather simultaneously. The model showed weak performance as its predictions were underestimated for the validation period (2011–2015). Nevertheless, the results clearly revealed the efficiency of relative and multiple-variable approaches better than absolute and single-variable approaches. The results indicate the potential of the SSC as a suitable system for investigating heat vulnerability in South Korea, where hot summers could be a significant risk factor.
Access options
Buy single article
Instant access to the full article PDF.
USD 39.95
Price includes VAT (USA)
Tax calculation will be finalised during checkout.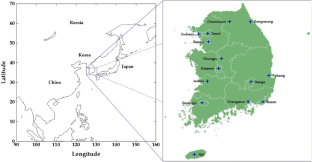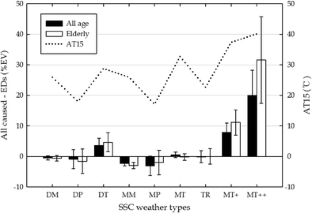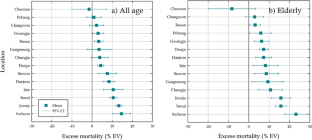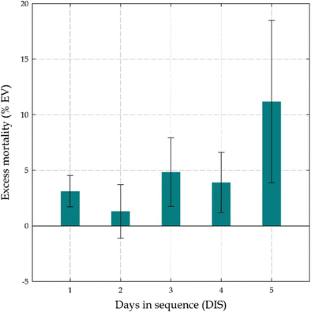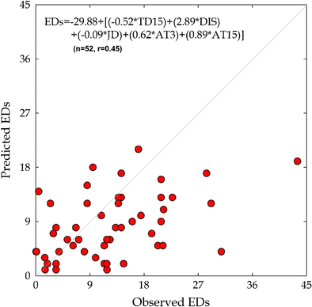 References
Botelho J, Catarino J, Carreira M, Calado R, Nogueira J, Eleonora JP, Falcão MJ (2004) The heat wave of August 2003: its effects on the mortality of the Portuguese population. Direccao Geral da Saúde e Inst. Nacional de Saúde Dr. Ricardo Jorge

Diaz J, García-Herrera R, Trigo RM, Linares C, Valente MA, De Miguel JM, Hernández E (2006) The impact of the summer 2003 heat wave in Iberia: how should we measure it? Int J Biometeorol 50(3):159–166. https://doi.org/10.1007/s00484-005-0005-8

Ebi KL, Teisberg TJ, Kalkstein LS, Robinson L, Weiher LH (2004) Heat watch/warning systems save lives: estimated costs and benefits for Philadelphia 1995–1998. Bull Am Meteorol Soc 85(8):1067–1074. https://doi.org/10.1175/BAMS-85-8-1067

Field CB, Mortsch LD, Brklacich M, Forbes DL, Kovacs P, Patz JA, Running SW, Scott MJ (2007) Climate change 2007: impacts, adaptation and vulnerability. In: Parry ML, Canziani OF, Palutikof JP, van der Linden PJ, Hanson CE (eds) Contribution of Working Group II to the Fourth Assessment Report of the Intergovernmental Panel on Climate Change. Cambridge University Press, Cambridge, pp 617–652

Ghaemi NS (2016) A clinician's guide to statistics and epidemiology in mental health: measuring truth and uncertainty. Cambridge Medicine, ISBN-13: 978–0521709583, 335pp

Greene JS, Kalkstein LS, Kim KR, Choi YJ, Lee DG (2016) The application of the European heat wave of 2003 to Korean cities to analyze impacts on heat-related mortality. Int J Biometeorol 60(2):231–243. https://doi.org/10.1007/s00484-015-1020-z

Grynszpan D (2004) Lessons from the French heatwave. Lancet 362:1169–1170

Guest CS, Wilson K, Woodward A, Hennessy K, Kalkstein LS, Skinner C, McMichael AJ (1999) Climate and mortality in Australia: retrospective study, 1970–1990 and predicted impacts in five major cities in 2030. Clim Res 13:1–15. https://doi.org/10.3354/cr013001

Honda Y, Masaji O, Akihiko S, Iwao U (1998) Shift of the short-term temperature–mortality relationship by a climate factor—some evidence necessary to take account of in estimating the health effect of global warming. J Risk Res 1(3):209–220. https://doi.org/10.1080/136698798377132

Hondula DM, Vanos JK, Gosling SN (2014) The SSC: a decade of climate–health research and future directions. Int J Biometorol. 58(2):109–120. https://doi.org/10.1007/s00484-012-0619-6

Kalkstein LS (1991) A new approach to evaluate the impact of climate on human mortality. Environ Health Perspect 96:145–150. https://doi.org/10.1289/ehp.9196145

Kalkstein LS, Nichols MC, Barthel CD, Greene JS (1996) A new spatial synoptic classification: application to air-mass analysis. Int J Climatol 16(9):983–1004. https://doi.org/10.1002/(SICI)1097-0088(199609)16:9<983::AID-JOC61>3.0.CO;2-N

Kalkstein LS, Greene JS, Mills D, Perrin A, Samenow J, Cohen JC (2008) Analog European heat waves for U.S. cities to analyze impacts on heat-related mortality. Bull Am Meteorol Soc 89(1):75–86. https://doi.org/10.1175/BAMS-89-1-75

Kassomenos PA, Gryparis A, Katsouyanni K (2007) On the association between daily mortality and air mass types in Athens, Greece during winter and summer. Int J Biometeorol 51(4):315–322. https://doi.org/10.1007/s00484-006-0062-7

Kim H, Ha JS, Park J (2006a) High temperature, heat index, and mortality in 6 major cities in South Korea. Arch Environ Occup Health 61(6):265–270. https://doi.org/10.3200/AEOH.61.6.265-270

Kim J, Lee DG, Park IS, Choi BC, Kim JS (2006b) Influences of heat waves on daily mortality in South Korea. Atmosphere 16(4):269–278

Kim J, Lee DG, Choi BC, (2007a) Lessons from the drought in summer of 1994: human biometeorological impacts. The 6th International Symposium on Asian Monsoon System (ISAM6), December, Fukuoka, Japan

Kim J, Lee DG, Choi BC, Park IS (2007b) Synoptic air mass classification using cluster analysis and relation to daily mortality in Seoul, South Korea. Atmosphere 17(1):45–53

Kim J, Kim KR, Choi BC, Lee DG, Kim JS (2009a) Regional distribution of perceived temperature estimated by the human heat budget model (the Klima-Michel model) in South Korea. Adv Atmos Sci 26(2):275–282. https://doi.org/10.1007/s00376-009-0275-x

Kim J, Lee DG, Kysely J (2009b) Characteristics of heat acclimatization for major Korean cities. Atmosphere 19(4):309–318

Klinenberg E (2002) Heat wave: a social autopsy of disaster in Chicago. University of Chicago Press, Chicago. https://doi.org/10.7208/chicago/9780226026718.001.0001

Koppe C, Jendritzky G (2005) Inclusion of short-term adaptation to thermal stresses in a heat load warning procedure. Meteorol Z 14(2):271–278. https://doi.org/10.1127/0941-2948/2005/0030

Kysely J (2004) Mortality and displaced mortality during heat waves in the Czech Republic. Int J Biometeorol 49(2):91–97. https://doi.org/10.1007/s00484-004-0218-2

Kysely J, Kim J (2009) Mortality during heat waves in South Korea, 1991 to 2005: how exceptional was the 1994 heat wave? Int J Climatol 38:105–116

Kysely J, Huth R, Kim J (2009) Evaluating heat-related mortality in Korea by objective classification of 'air masses'. Int J Climatol 30:1484–1501

Lee DG, Kim J, Choi BC (2007) Characteristics of daily mortality due to heat waves in Busan in July 1994. Atmosphere 17(4):463–470

Lee DG, Choi YJ, Kim KR, Byon JY, Kalkstein LS, Sheridan SC (2010) Development of heat-health warning system based on regional properties between climate and human health. J Clim Change Res 1(2):109–120

Lerchl A (1998) Changes in the seasonality of mortality in Germany from 1946 to 1995: the role of temperature. Int J Biometeorol 42(2):84–88. https://doi.org/10.1007/s004840050089

Matzarakis A, Muthers S, Koch E (2011) Human biometeorological evaluation of heat-related mortality in Vienna. Theor Appl Climatol 105(1-2):1–10. https://doi.org/10.1007/s00704-010-0372-x

McMichael AJ, Campbell-Lendrum DH, Corvalan CF, Ebi KL, Githeki A, Scheraga JD, Woodward A (2003) Climate change and human health: risks and responses. World Health Organization, World Meteorological Organization, and United Nations Environment Programme, 322pp

McGregor GR (1999) Winter ischaemic heart disease in Birmingham, United Kimdom: a synoptic climatological analysis. Clim Res 13:17–31. https://doi.org/10.3354/cr013017

McGregor GR, Watkin HA, Cox M (2004) Relationships between the seasonality of temperature and ischaemic heart disease mortality: implication for climate based health forecasting. Clim Res 25:256–263

Meehl GA, Tebaldi C (2004) More intense, more frequent and longer lasting heat waves in the 21st century. Science 305(5686):994–997. https://doi.org/10.1126/science.1098704

Nakai S, Itoh T, Morimoto T (1999) Deaths from heat-stroke in Japan: 1968–1994. Int J Biometeorol 43(3):124–127. https://doi.org/10.1007/s004840050127

Park CK, Shubert SD (1997) On the nature of the 1994 East Asian summer drought. J Clim 10(5):1056–1070. https://doi.org/10.1175/1520-0442(1997)010<1056:OTNOTE>2.0.CO;2

Shaposhnikov D, Revich B, Bellander T, Bedada GB, Bottai M, Kharkova T, Kvasha E, Lezina E, Lind T, Semutnikova E, Pershagen G (2014) Mortality related to air pollution with the Moscow heat wave and wildfire of 2010. Epidemiology 25(3):359–364. https://doi.org/10.1097/EDE.0000000000000090

Sheridan SC (2000) The redevelopment of an air-mass classification scheme for North America, with applications to climate trends and teleconnections, Dissertation on Ph. D., University of Delaware, 308pp

Sheridan SC (2002) The redevelopment of a weather-type classification scheme for North America. Int J Climatol 22(1):51–68. https://doi.org/10.1002/joc.709

Sheridan SC, Kalkstein LS (2004) Progress in heat watch-warning system technology. Bull Am Meteorol Soc 85(12):1931–1941

Smoyer KE, Kalkstein LS, Greene JS, Ye H (2000) The impacts of weather and pollution on human mortality in Birmingham, Alabama and Philadelphia, Pennsylvania. Int J Climatol 20(8):881–897. https://doi.org/10.1002/1097-0088(20000630)20:8<881::AID-JOC507>3.0.CO;2-V

Steadman RG (1979a) The assessment of sultriness. Part 1: a temperature-humidity index based on physiology and clothing science. J Appl Meteorol 18(7):861–873. https://doi.org/10.1175/1520-0450(1979)018<0861:TAOSPI>2.0.CO;2

Steadman RG (1979b) The assessment of sultriness. Part 2: effects of wind, extra radiation and barometric pressure on apparent temperature. J Appl Meteorol 18(7):874–885. https://doi.org/10.1175/1520-0450(1979)018<0874:TAOSPI>2.0.CO;2

Tan J, Kalkstein LS, Huang J, Lin S, Yin H, Shao D (2004) An operational heat/health warning system in Shanghai. Int. J. Biometorol. 48(3):157–162. https://doi.org/10.1007/s00484-003-0193-z

Tan J, Youfei Z, Guixiang S, Kalkstein LS, Kalkstein AJ, Tang X (2007) Heat wave impacts on mortality in Shanghai, 1998 and 2003. Int J Biometorol 51:193–200

Toloo G, Gerard F, Peter A, Kenneth V, Shilu T (2013) Are heat warning systems effective? Environ Health 12(1):27. https://doi.org/10.1186/1476-069X-12-27

Trigo RM, García R, Díaz J, Trigo IF, Valente MA (2005) How exceptional was the early August 2003 heat wave in France? Geophys Res Lett 32:L10701. https://doi.org/10.1029/2005GL022410

Whitman S, Good G, Donoghue ER, Benbow N, Shou WY, Mou SX (1997) Mortality in Chicago attributed to the July 1995 heat wave. Amer J Pub Health 87(9):1515–1518. https://doi.org/10.2105/AJPH.87.9.1515

WHO (2004) Heat waves: risks and responses. Health and global environmental change. Series 2. World Health Organization

Yihui D, Chan JCL (2005) The East Asian summer monsoon: an overview. Meteorog Atmos Phys 89(1-4):117–142. https://doi.org/10.1007/s00703-005-0125-z
Acknowledgements
This work was carried out as a part of "Research and Development for KMA Weather, Climate, and Earth system Services (NIMS-2016-3100)" supported by the 2016 R&D project of KMA/National Institute of Meteorological Sciences. And we deeply appreciate to Dr. Il-Soo Park, Dr. Byoung-Choel Choi, Dr. Young-Jean Choi, and Dr. Jae-Young Byon for their helpful comments.
About this article
Cite this article
Lee, DG., Kim, K.R., Kim, J. et al. Effects of heat waves on daily excess mortality in 14 Korean cities during the past 20 years (1991–2010): an application of the spatial synoptic classification approach. Int J Biometeorol 62, 575–583 (2018). https://doi.org/10.1007/s00484-017-1466-2
Received:

Revised:

Accepted:

Published:

Issue Date:
Keywords
Spatial synoptic classification

Excess mortality

Heat–health warning system

Korea