Abstract
This study provides insight from the use of weather radar observations to understand the characteristics of the eared grebe migration near the Great Salt Lake (GSL) and provides unique information on weather conditions connected to these migration events. Doppler weather radar measurements from the Salt Lake City, Utah WSR-88D radar site (KMTX), along with meteorological surface and rawinsonde data, were used to identify and examine 281 eared grebe migration events across 15 winters from 1997/1998 through 2011/2012. An average of about 19 migration events occurred each winter with considerable interannual variability, as well as large variance in the spatial area and number of birds departing the GSL during each event. The migration events typically occurred during clear sky conditions in the presence of surface high pressure and colder than average surface temperatures. Migration events began 55 min after sunset, on average across the winter seasons, and in one case we demonstrate that an extended, nonstop flight was initiated of the departing eared grebes to northern Mexico. Eared grebes leaving the GSL largely flew above the freezing level with a mean northerly tailwind at flight altitude of 3.1 m s−1 and a westerly, cross-flight wind of 5.0 m s−1 while having an average flight speed at cruising altitude of 16.9 m s−1, or 61 km h−1. In addition to determining the variability of meteorological conditions during migration events across the 15 winters, atmospheric conditions during the largest migration event observed are presented and discussed.
This is a preview of subscription content, log in to check access.
Access options
Buy single article
Instant access to the full article PDF.
US$ 39.95
Tax calculation will be finalised during checkout.
Subscribe to journal
Immediate online access to all issues from 2019. Subscription will auto renew annually.
US$ 99
Tax calculation will be finalised during checkout.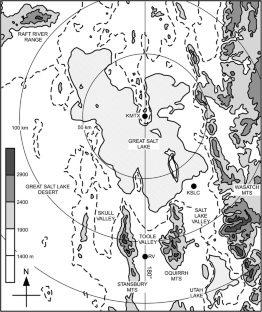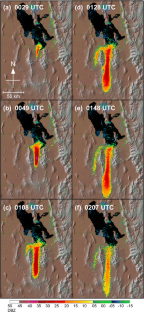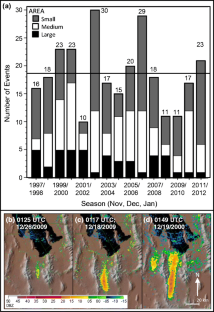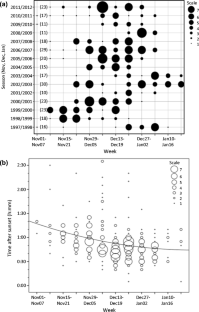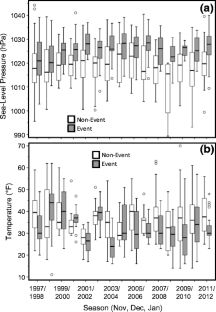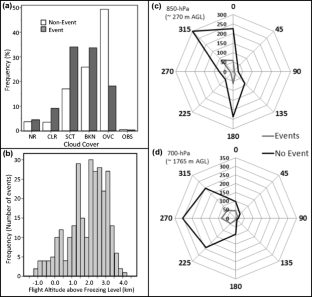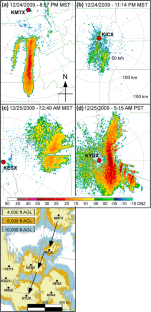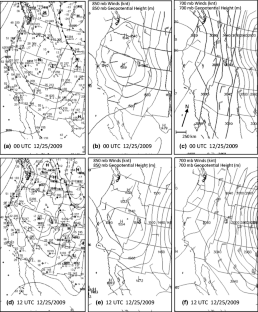 References
Beason RC (1978) The influences of weather and topography on water bird migration in the Southwestern United States. Oecologia 32:153–169

Blokpoel H, Burton J (1975) Weather and height of nocturnal migration in east central Alberta: a radar study. Bird-Banding 46:311–328

Caudell JN, Conover MR (2006) Behavioral and physiological responses of eared grebes (Podiceps nigricollis) to variations in brine shrimp (Artemia franciscana) densities. Western North. Am Nat 66:12–22

Chilson PB, Frick WF, Kelly JF, Howard KW, Larkin RP, Diehl RH, Westbrooke JK, Kelly TA, Kunz TH (2012) Partly cloudy with a chance of migration. Bull Amer Meteor Soc 93:669–686

Cullen SA, Jehl JR Jr and Nuechterlein GL, (1999) Eared grebe (Podiceps nigricollis), the birds of North America online (A. Poole, Ed.). Ithaca: Cornell Lab of Ornithology. http://bna.birds.cornell.edu/bna/species/433/articles/introduction. Accessed 8 Aug 2014

Diehl RH, Larkin RP, Black JE (2003) Radar observations of bird migration over the Great Lakes. Auk 120(2):278–290

Frank MG, Conover MR (2017) Weather and prey availability affect the timing of fall migration of eared grebes (Podiceps nigricollis) from Great Salt Lake. Wilson J Ornithol 129:98–111

Gaunt AS, Hikida RS, Jehl Jr JR, Fenbert L (1990) Rapid atrophy and hypertrophy of an avian flight muscle. Auk 107:649–659

Gauthreaux JSA (1971) A radar and direct visual study of passerine spring migration in Southern Louisiana. Auk 88:343–365

Gould JL, Gould CG (2012) Nature's compass: the mystery of animal migration. Princeton University Press, Princeton

Holleman I, van Gasteren H, Bouten W (2008) Quality assessment of weather radar wind profiles during bird migration. J Atmos Ocean Technol 25:2188–2198

Horel J et al (2002) Mesowest: cooperative mesonets in the Western United States. Bull Amer Meteor Soc 83:211–225

Jehl JR Jr (1988) Biology of the eared grebe and Wilson's phalarope in the nonbreeding season: a study of adaptations to saline lakes. Stud Avian Biol No. 12

Jehl JR Jr (1993) Observations on the fall migration of eared grebes, based on evidence from a mass downing in Utah. Condor 95(2):470–473

Jehl JR Jr (1997) Cyclical changes in body composition in the annual cycle and migration of the eared grebe Podiceps nigricollis. J Avian Biology 28:132–142

Jehl JR Jr (1998) Conspecific collisions can precipitate mortality in migrating eared grebes. Wilson J Ornithol 110:409–411

Jehl JR Jr (2007) Why do eared grebes leave hypersaline lakes in autumn? Waterbirds 30:112–115

Jehl JR Jr, Henry AE, Bond SE (1999) Flying the gantlet: population characteristics, sampling bias, and migration routes of eared grebes downed in the Utah desert. Auk 116:178–183

Jehl JR Jr, Johansson C (2002) Autumnal migration of eared grebes (Podiceps nigricollis) through Southwestern Wyoming: a key to assessing the size of the North American population. Western North Am Nat 62:335–340

Jehl JR Jr, McKernan RL (2002) Biology and migration of eared grebes at the Salton Sea. Hydrobiologia 473:245–253

Jehl JR Jr, Boyd WS, Paul DS, Anderson DW (2002) Massive collapse and rapid rebound: population dynamics of eared grebes (Podiceps nigricollis) during an ENSO event. Auk 119:1162–1166

Jehl JR Jr, Henry AE and Ellis HI ( 2003) Optimizing migration in a reluctant and inefficient flier: The Eared Grebe. In: Avian Migration, Springer Berlin, Heidelberg, pp 199–209

Jehl JR Jr, Day K, Schmidt B (2012) The spectacular (and hazardous) migration of eared grebes (Podicips nigricollis) through southern Utah. North Am Birds 66:2–9

Koistinen J (2000) Bird migration patterns on weather radars. Phys Chem Earth Part B 25(10):1185–1193

Larkin RP, Evans WR, Diehl RH (2002) Nocturnal flight calls of dickcissels and Doppler radar echoes over South Texas in spring. J Field Ornithol 73:2–8

Liechti F, Klaassen M, Bruderer B (2000) Predicting migratory flight altitudes by physiological migration models. Auk 117:205–214

Martin WJ, Shapiro A (2007) Discrimination of bird and insect radar echoes in clear air using high-resolution radars. J Atmos Ocean Technol 24:1215–1230

O'Neal BJ, Stafford JD, Larkin RP (2010) Waterfowl on weather radar: applying ground-truth to classify and quantify bird movements. J Field Ornithol 81(1):71–82

Roberts AJ, Conover MR, Luft J, Neill J (2013) Population fluctuations and distribution of staging eared grebes (Podiceps nigricollis) in North America. Can J Zoology 91:906–913

Roberts AJ, Conover MR, Fusaro JL (2014) Factors influencing mortality of eared grebes (Podiceps nigricollis) during a mass downing. Wilson J Ornithol 126:584–591

Shamoun-Baranes J, van Loon E, van Gasteren H, van Belle J, Bouten W, Buurma L (2006) A comparative analysis of the influence of weather on the flight altitudes of birds. Bull Am Meteorol Soc 87:47–61

Steenburgh WJ, Halvorson SF, Onton DJ (2000) Climatology of lake-effect snowstorms of the Great Salt Lake. Mon Wea Rev 128:709–727

Whitman DW, Agrawal AA (2009) What is phenotypic plasticity and why is important? In: Whitman DW, Anathakrishnan TN (eds) Phenotypic plasticity of insects: mechanisms and consequences. Science Publishers, New York, pp 1–63

Williams, A., 2013: Weather and weather radar observations during eared grebe migration in the vicinity of the Great Salt Lake. Honors Thesis. Hobart & William Smith Colleges, Geneva
Acknowledgements
Much of this research was conducted during the 2010 Hobart and William Smith Colleges Summer Research Program and the 2012/2013 academic year as the first author's senior undergraduate Honors research project. This work greatly benefited from discussions with Dr. Joseph Jehl and the efforts provided by Ms. Jennifer Hanger. The authors also thank Drs. Mark Deutschlander, Eric Hoffman, Nicholas Metz, Robert Beason, Mark Olivieri, and James Steenburgh whose expertise, comments, and suggestions greatly improved the work.
Funding
This work was partially funded by the Hobart and William Smith Colleges Environmental Studies Grant, the Hobart and William Smith Colleges Kloman Fund grant, and the Rochester Academy of Sciences.
About this article
Cite this article
Williams, A.A., Laird, N.F. Weather and eared grebe winter migration near the Great Salt Lake, Utah. Int J Biometeorol 62, 433–447 (2018). https://doi.org/10.1007/s00484-017-1452-8
Received:

Revised:

Accepted:

Published:

Issue Date:
Keywords
Weather

Migration

Radar

Waterfowl

Eared grebe

Great Salt Lake