Abstract
Spring frost can be a limiting factor in sweet cherry (Prunus avium L.) production. Rising temperatures in spring force the development of buds, whereby their vulnerability to freezing temperatures continuously increases. With the beginning of blossom, flowers can resist only light frosts without any significant damage. In this study, we investigated the risk of spring frost damages during cherry blossom for historical and future climate conditions at two different sites in NE (Berlin) and SW Germany (Geisenheim). Two phenological models, developed on the basis of phenological observations at the experimental sweet cherry orchard in Berlin-Dahlem and validated for endodormancy release and for warmer climate conditions (already published), were used to calculate the beginning of cherry blossom in Geisenheim, 1951–2015 (external model validation). Afterwards, on the basis of a statistical regionalisation model WETTREG (RCP 8.5), the frequency of frost during cherry blossom was calculated at both sites for historical (1971–2000) and future climate conditions (2011–2100). From these data, we derived the final flower damage, defined as the percentage of frozen flowers due to single or multiple frost events during blossom. The results showed that rising temperatures in this century can premature the beginning of cherry blossom up to 17 days at both sites, independent of the used phenological model. The frequency and strength of frost was characterised by a high temporal and local variability. For both sites, no significant increase in frost frequency and frost damage during blossom was found. In Geisenheim, frost damages significantly decreased from the middle of the twenty-first century. This study additionally emphasises the importance of reliable phenological models which not only work for current but also for changed climate conditions and at different sites. The date of endodormancy release should always be a known parameter in chilling/forcing models.
Access options
Buy single article
Instant access to the full article PDF.
USD 39.95
Price includes VAT (USA)
Tax calculation will be finalised during checkout.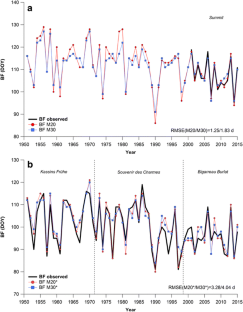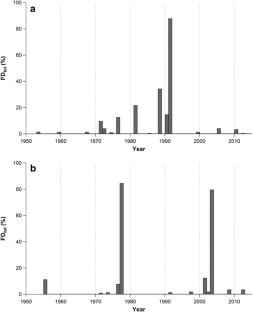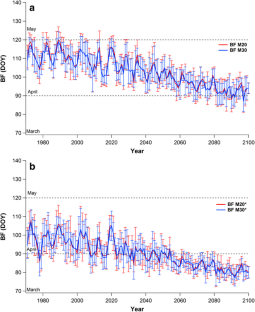 References
Alburquerque N, García-Montiel F, Carrillo A, Burgos L (2008) Chilling and heat requirements of sweet cherry cultivars and the relationship between altitude and the probability of satisfying the chill requirements. Environ Exp Bot 64:162–170

Augspurger CK (2013) Reconstructing patterns of temperature, phenology, and frost damage over 124 years: spring damage risk is increasing. Ecology 94(1):41–50

Ballard JK, Proebsting EL, Tukey RB (1997) Critical temperatures for blossom buds, cherries. Extension bulletin no. 1128. Washington State University, Pullman

Chmielewski FM, Götz KP (2016) Performance of models for the beginning of sweet cherry blossom under current and changed climate conditions. Agric For Meteorol 218–219:85–91

Chmielewski FM, Götz KP (2017) Identification and timing of dormant and ontogenetic phase for sweet cherries in Northeast Germany for modelling purposes. J Hortic 4:205. https://doi.org/10.4172/2376-0354.1000205

Chmielewski FM, Götz KP, Homann T, Huschek G, Rawel HM (2017) Identification of endodormancy release for cherries (Prunus avium L.) by absisic acid and sugrars. J Hortic 4:3. doi 10.4172/2376-0354.1000210

Chuine I, Cortazar-Atauri IG, Kramer K, Hänninen H (2013) Plant development models. In: Schwartz MD (ed) Phenology: an integrative environmental science, 2nd edn. Springer Science + Business Media B.V, Dordrecht, pp 275–293

Chuine I, Bonhomme M, Legave JM, Garcia De Cortazar Atauri I, Charrier G, Lacointe A, Ameglio T (2016) Can phenological models predict tree phenology accurately in the future? The unrevealed hurdle of endodormancy break. Glob Chang Biol 22(10):3444–3460

Cittadini ED, de Ridder N, Peri PL, van Keulen H (2006) A method for assessing frost damage risk in sweet cherry orchards of South Patagonia. Agric For Meteorol 141:235–243

Darbyshire R, Webb L, Goodwin I, Barlow S (2011) Winter chilling trends for deciduous fruit trees in Australia. Agric For Meteorol 151:1074–1085

Darbyshire R, Pope K, Goodwin I (2016) An evaluation of the chill overlap model to predict flowering time in apple. Sci Hortic 198:142–149

Dennis FG, Howell GS (1974) Cold hardiness of tart cherry bark and flower buds. Michigan State University farm scientists research report no. 220 of MSU

Eccel E, Rea R, Caffarra A (2009) Risk of spring frost to apple production under future climate scenarios: the role of phenological acclimation. Int J Biometeorol 53(3):273–286

Federal Office of Statistics (2015) http://www.destatistics.de

Fernández-Long ME, Müller GV, Beltrán-Przekurat A, Scarpati OE (2013) Long-term and recent changes in temperature-based agroclimatic indices in Argentina. Int J Climatol 33:1673–1686

Götz KP, Chmielewski FM, Homann T, Huschek G, Matzneller P, Rawel M (2014) Seasonal changes of physiological parameters in sweet cherry (Prunus avium L.) buds. Sci Hortic 172:183–190

Hue DT, Götz KP, Chmielewski FM (2016) Yield formation of sweet cherry cultivar 'Summit'. DACH-meteorological conference, 14–18 March 2016, abstract book:45, Berlin

Jacob D, Petersen J, Eggert B, Alias A, Christensen OB, Bouwer L, Braun A, Colette A, Déqué M, Georgievski G, Georgopoulou E, Gobiet A, Menut L, Nikulin G, Haensler A, Hempelmann N, Jones C, Keuler K, Kovats S, Kröner N, Kotlarski S, Kriegsmann A, Martin E, Meijgaard E, Moseley C, Pfeifer S, Preuschmann S, Radermacher C, Radtke K, Rechid D, Rounsevell M, Samuelsson P, Somot S, Soussana JF, Teichmann C, Valentini R, Vautard R, Weber B, Yiou (2013) EURO-CORDEX: new high-resolution climate change projections for European impact research regional environmental change. Springer Berlin, Heidelberg, pp 1–16

Kappel F (2010) Sweet cherry cultivars vary in their susceptibility to spring frosts. Hortscience 45(1):176–177

Kaukoranta T, Tahvonen R, Ylämäki A (2010) Climatic potential and risks of apple growing by 2040. Agric Food Sci 19:144–159

Kreienkamp F, Spekat A, Enke W (2013) The weather generator used in the empirical statistical downscaling method, WETTREG. Atmosphere 4:169–197

Lasheen AM, Chaplin CE (1971) Biochemical comparison of seasonal variations in three peach cultivars differing in cold hardiness. J Am Soc Hortic Sci 96:154–159

Longstroth M, Perry RL (1996) Selecting the orchard site, orchard planning and establishment. In: Webster AD, Looney NE (eds) Cherries: crop physiology, production and uses. CAB International, Cambridge, pp 203–221

Luedeling E (2012) Climate change impacts on winter chill for temperate fruit and nut production: a review. Sci Hortic 144:218–229

Luedeling E, Kunz A, Blanke MM (2013a) Identification of chilling and heat requirements of cherry trees—a statistical approach. Int J Biometeorol 57(5):679–689

Luedeling E, Guo L, Dai J, Lesli C, Blanke MM (2013b) Differential responses of trees to temperature variation during the chilling and forcing phases. Agric For Meteorol 181:33–42

Matzneller P, Götz KP, Chmielewski FM (2016) Spring frost vulnerability of sweet cherries under controlled conditions. Int J Biometeorol 60:123–130

Measham PF, Quentin AG, MacNair N (2014) Climate, winter chill, and decision-making in sweet cherry production. Hortscience 49:254–259

Measham PF, Darbyshire R, Turpin SR, Murphy-White S (2017) Complexity in chill calculations: a case study in cherries. Sci Hortic 216:134–140

Miranda C, Santesteban LG, Royo B (2005) Variability in the relationship between frost temperature and injury level for some cultivated Prunus species. Hortscience 40(2):357–361

Moss RH, Edmonds JA, Hibbard KA, Manning MR, Rose SK et al (2010) The next generation of scenarios for climate change research and assessment. Nature 463:747–756

Pope KS, Da Silva D, Brown PH, DeJong TM (2014) A biologically based approach to modeling spring phenology in temperate deciduous trees. Agric For Meteorol 198-199:15–13

Proebsting EL (1982) Cold resistance of stone fruit flower buds. Cooperative Extension of Washington State University, Washington

Proebsting EL, Mills HH (1978) Low temperature resistance of developing flower buds of six deciduous fruit species. J Am Soc Hortic Sci 103:192–198

Pulatov B, Linderson ML, Hall K, Jönsson AM (2015) Modeling climate change impact on potato crop phenology, and risk of frost damage and heat stress in northern Europe. Agric For Meteorol 214-215:281–292

Riahi K, Rao S, Krey V, Cho C, Chirkov V, Fischer G, Kindermann G, Nakicenovic N, Rafaj P (2011) RCP 8.5—a scenario of comparatively high greenhouse gas emissions. Clim Chang 109:33–57

Richardson AD, Keenan TF, Migliavacca M, Ryu Y, Sonnentag O, Toomey M (2013) Climate change, phenology, and phenological control of vegetation feedbacks to the climate system. Agric For Meteorol 169:156–173

Rieger M (1989) Freeze protection for horticultural crops. Hortic Rev 11:45–109

Rigby JR, Porporato A (2008) Spring frost risk in a changing climate. Geophys Res Lett 35:L12703

Robeson SM (2002) Increasing growing-season length in Illinois during the 20th century. Clim Chang 52:219–238

Rochette P, Bélanger G, Castonguay Y, Bootsma A, Mongrain D (2004) Climate change and winter damage to fruit trees in eastern Canada. Can J Plant Sci 84:1113–1125

Rodrigo J (2000) Spring frost in deciduous fruit trees-morphological damage and flower hardiness. Sci Hortic 85(3):155–173

Salazar-Gutiérrez MR, Chaves B, Anothai J, Whiting M, Hoogenboom G (2014) Variation in cold hardiness of sweet cherry flower buds through different phenological stages. Sci Hortic 172(9):161–167

Scheifinger H, Menzel A, Koch E, Peter C (2003) Trends of spring time frost events and phenological dates in central Europe. Theor Appl Climatol 74:41–51

Schwartz MD, Ahas R, Aasa A (2006) Onset of spring starting earlier across the northern hemisphere. Glob Chang Biol 12:343–351

Vitasse Y, Francois C, Delpierre N, Dufrene E, Kremer A, Chuine I, Delzon S (2011) Assessing the effects of climate change on the phenology of European temperate trees. Agric For Meteorol 151:969–980

Vitasse Y, Lenz A, Hoch G, Körner C (2014) Earlier leaf-out rather than difference in freezing resistance puts juvenile trees at greater risk of damage than adult trees. J Ecol 102:981–988

White GG, Haas JE (1975) Assesment of research on natural hazards. The MIT Press, Cambridge

Whiting MD, Lang GA (2004) 'Bing' sweet cherry on the dwarfing rootstock 'Gisela 5': thinning affects fruit quality and vegetative growth but not net CO2 exchange. J Am Soc Hortic Sci 129:407–415

Winkler JA, Cinderich AB, Ddumba SD, Doubler D, Nikolic J, Perdinan PAM, Young DR, Zavalloni C (2013) Understanding the impacts of climate on perennial crops. In: Pielke RA Sr (ed) Climate vulnerability: understanding and addressing threats to essential resources, volume 2: vulnerability of food resources to climate. Elsevier Inc., Academic Press, pp 37–49

Wypych A, Ustrnul Z, Sulikowska A, Chmielewski FM, Bochenek B (2016) Spatial and temporal variability of the frost-free season in Central Europe and its circulation background. Int J Climatol 37(8):3340–3352

Yu L, Zhong S, Bian X, Heilmanc WE, Andresen JA (2014) Temporal and spatial variability of frost-free seasons in the Great Lakes region of the United States. Int J Climatol 34:3499–3514
Acknowledgements
This work was supported by the Deutsche Forschungsgemeinschaft (DFG) in the project 'Progress in Phenological Modelling on the Basis of Metabolomic Approaches' by the grant CH 228/5-1. We are very thankful to Mrs. Christine Polte-Rudolph and Mrs. Carola Grundmann from the German Weather Service for the long-term phenological observation in Geisenheim and some hints on these data. We are also very grateful to Arne Spekart (Climate & Environment Consulting Potsdam GmbH) and Frank Kreienkamp (German Weather Service), who provided us the up-to-date WETTREG calculations (version 2017).
About this article
Cite this article
Chmielewski, FM., Götz, KP., Weber, K.C. et al. Climate change and spring frost damages for sweet cherries in Germany. Int J Biometeorol 62, 217–228 (2018). https://doi.org/10.1007/s00484-017-1443-9
Received:

Revised:

Accepted:

Published:

Issue Date:
Keywords
Late frost

Flower damage

Prunus avium L.

Phenological models

Climate scenarios