Abstract
Heat-related effects on mortality have been widely analyzed using maximum and minimum temperatures as exposure variables. Nevertheless, the main focus is usually on the former with the minimum temperature being limited in use as far as human health effects are concerned. Therefore, new thermal indices were used in this research to describe the duration of night hours with air temperatures higher than the 95% percentile of the minimum temperature (hot night hours) and intensity as the summation of these air temperatures in degrees (hot night degrees). An exposure-response relationship between mortality due to natural, respiratory, and cardiovascular causes and summer night temperatures was assessed using data from the Barcelona region between 2003 and 2013. The non-linear relationship between the exposure and response variables was modeled using a distributed lag non-linear model. The estimated associations for both exposure variables and mortality shows a relationship with high and medium values that persist significantly up to a lag of 1–2 days. In mortality due to natural causes, an increase of 1.1% per 10% (CI95% 0.6–1.5) for hot night hours and 5.8% per each 10° (CI95% 3.5–8.2%) for hot night degrees is observed. The effects of hot night hours reach their maximum with 100% and lead to an increase by 9.2% (CI95% 5.3–13.1%). The hourly description of night heat effects reduced to a single indicator in duration and intensity is a new approach and shows a different perspective and significant heat-related effects on human health.
Access options
Buy single article
Instant access to the full article PDF.
US$ 39.95
Tax calculation will be finalised during checkout.
Subscribe to journal
Immediate online access to all issues from 2019. Subscription will auto renew annually.
US$ 79
Tax calculation will be finalised during checkout.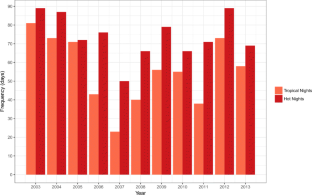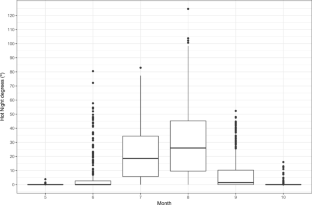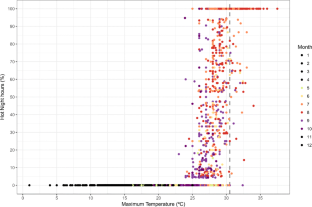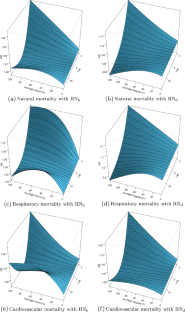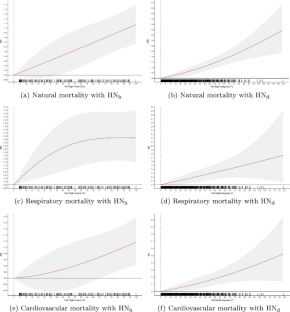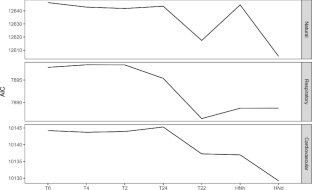 References
Alexander LV, Zhang X, Peterson TC, Caesar J, Gleason B, Klein Tank AMG, Haylock M, Collins D, Trewin B, Rahimzadeh F, Tagipour A, Rupa Kumar K, Revadekar J, Griffiths G, Vincent L, Stephenson DB, Burn J, Aguilar E, Brunet M, Taylor M, New M, Zhai P, Rusticucci M, Vazquez-Aguirre JL (2006) Global observed changes in daily climate extremes of temperature and precipitation. J Geophys Res 111:D05,109

Alexander L, Tapper N, Zhang X, Fowler HJ, Tebaldi C, Lynch A (2009) Climate extremes: progress and future directions. Int J Climatol 29(3):317–319

Allen M, Sheridan S (2015) Mortality risks during extreme temperature events (ETEs) using a distributed lag non-linear model. Int J Biometeorol. https://doi.org/10.1007/s00484-015-1117-4

Andrade H, Alcoforado MJ (2008) Microclimatic variation of thermal comfort in a district of Lisbon (Telheiras) at night. Theor Appl Climatol 92:225–237

Aström C, Orru H, Rocklöv J, Strandberg G, Ebi K, Forsberg B (2013) Heat-related respiratory hospital admissions in Europe in a changing climate: a health impact assessment. BMJ Open 3:e001,842. https://doi.org/10.1136/bmjopen-2012-001842

Basagaña X, Sartini C, Barrera-Gómez J, Dadvand P, Cunillera J, Ostro B, Sunyer J, Medina-Ramón M (2011) Heat waves and cause-specific mortality at all ages. Epidemiology 22:765–772

Bhaskaran K, Gasparrini A, Hajat S, Smeeth L, Armstrong B (2013) Time series regression studies in environmental epidemiology. Int J Epidemiol 42:1187–1195

Bobb JF, Peng RD, Bell ML, Dominici F (2014) Heat-related mortality and adaptation to heat in the United States. Environ Health Perspect 122:811–816

Buguet A (2007) Sleep under extreme environments: Effects of heat and cold exposure, altitude, hyperbaric pressure and microgravity in space. J Neurol Sci 262:145–152

Buuren S, Groothuis-Oudshoorn K (2011) Mice: multivariate imputation by chained equations in R. J Stat Softw 45(3)

Cappuccio FP, Cooper D, D'elia L, Strazzullo P, Miller MA (2011) Sleep duration predicts cardiovascular outcomes: a systematic review and meta-analysis of prospective studies. Eur Heart J 32:1484–1492

Coumou D, Rahmstorf S (2012) A decade of weather extremes. Nat Clim Chang 2:491–496

Coumou D, Robinson A (2013) Historic and future increase in the global land area affected by monthly heat extremes. Environ Res Lett 8:034,018

Cuinica LG, Cruz A, Abreu I, Esteves da Silva JCG (2015) Effects of atmospheric pollutants (CO, O3, SO2) on the allergenicity of Betula pendula, Ostrya carpinifolia, and Carpinus betulus pollen. Int J Environ Health Res 25(3):312–321

Dapi LN, Joacim Rocklöv J, Nguefack-Tsague G, Tetanye E, Kjellstrom T (2010) Heat impact on schoolchildren in Cameroon, Africa: potential health threat from climate change. Global Health Action 3(1)

Davis R, Hondula D, Patel A (2016) Temperature observation time and type influence estimates of heat-related mortality in seven U.S. cities. Environ Health Perspect 124:795–804

Díaz J, Carmona R, Miron IJ, Ortiz C, Leon I, Linares C (2015) Geographical variation in relative risks associated with heat: update of Spain's heat wave prevention plan. Environ Int 85:273–283

Donat MG, Alexander LV, Yang H, Durre I, Vose R, Dunn RJH, Willett KM, Aguilar E, Brunet M, Caesar J, Hewitson B, Jack C, Klein Tank AMG, Kruger AC, Marengo J, Peterson TC, Renom M, Oria Rojas C, Rusticucci M, Salinger J, Elrayah AS, Sekele SS, Srivastava AK, Trewin B, Villarroel C, Vincent LA, Zhai P, Zhang X, Kitching S (2013) Updated analyses of temperature and precipitation extreme indices since the beginning of the twentieth century. J Geophys Res Atmos 118:1–16

EEA (2012) Urban adaptation to climate change in Europe: challenges and opportunities for cities together with supportive national and European policies. Tech rep. Copenhagen, European Environment Agency

Fischer EM, Schär C (2010) Consistent geographical patterns of changes in high-impact European heatwaves. Nat Geosci 3:398–403

Fujii H, Fukuda S, Narumi D, Ihara T, Watanabe Y (2015) Fatigue and sleep under large summer temperature differences. Environ Res 138:17–21

Gasparrini A (2011) Distributed lag linear and non-linear models in R: the package dlnm. J Stat Softw 43(8):1–20

Gasparrini A (2014) Modeling exposure-lag-response associations with distributed lag non-linear models. Stat Med 33:881–889

Gasparrini A, Guo Y, Hashizume M, Lavigne E, Zanobetti A, Schwartz J, Tobias A, Tong S, Rocklöv J, Forsberg B, Leone M, De Sario M, Bell ML, Guo YLL, Wu C, Kan H, Yi SM, Coelho M, Saldiva P, Honda Y, Kim H, Armstrong B (2015) Mortality risk attributable to high and low ambient temperature: a multicountry observational study. Lancet 386:369–375

Gronlund CJ, Zanobetti A, Schwartz JD, Wellenius GA, ONeill MS (2014) Heat, heat waves, and hospital admissions among the elderly in the United States, 1992–2006. Environ Health Perspect 122:1187–1192

Guo Y, Barnett A, Pan X, Yu W, Tong S (2011) The impact of temperature on mortality in Tianjin, China: a case-crossover design with a distributed lag non-linear model. Environ Health Perspect 119:1719–1725

Hajat S, Kosatky T (2010) Heat-related mortality: a review and exploration of heterogeneity. J Epidemiol Community Health 64:753–760

Hanna EG, Tait PW (2015) Limitations to thermoregulation and acclimatization challenge human adaptation to global warming. Int J Environ Res Public Health 12:8034–8074. https://doi.org/10.3390/ijerph120708034

Haskella E, Palcaa J, Walkera J, Bergera R, Hellera H (1981) The effects of high and low ambient temperatures on human sleep stages. Electroencephalogr Clin Neurophysiol 51:494–501

Hastie T, Tibshirani R (1990) A generalized additive models. Monographson statistics & applied probability, vol 43. Chapman&Hall/CRC

Höppe P, Martinac I (1998) Indoor climate and air quality. review of current and future topics in the field of ISB study group 10. Int J Biometeorol 42:1–7

IPCC (2014) Impacts, adaptation and vulnerability. Tech. rep., Working Group II Contribution to AR5

Joshi SS, Lesser TJ, Olsen JW, BF O'Hara (2016) The importance of temperature and thermoregulation for optimal human sleep. Energy Build 131:153–157

Laaidi K, Zeghnoun A, Dousset B, Bretin P, Vandentorren S, Giraudet E, Beaudeau P (2012) The impact of heat islands on mortality in Paris during the August 2003 heat wave. Environ Health Perspect 120:254–259

Lavigne E, Gasparrini A, Wang X, Chen H, Yagouti A, Fleury M, Cakmak S (2014) Extreme ambient temperatures and cardiorespiratory emergency room visits: assessing risk by comorbid health conditions in a time series study. Environ Health 13(5). https://doi.org/10.1186/1476-069X-13-5

Lim YH, Hong YC, Kim H (2012) Effects of diurnal temperature range on cardiovascular and respiratory hospital admissions in Korea. Sci Total Environ 417-418:55–60

Lin H, Zhang Y, Xu Y, Xu X, Liu T, Luo Y, Xiao J, Wu W, Ma W (2013) Temperature changes between neighboring days and mortality in summer: a distributed lag non-linear time series analysis. PLOS 6:e66,403. https://doi.org/10.1371/journal.pone.0066403

Luo Y, Zhang Y, Liu T, Rutherford S, Xu Y, Xu X, Wu W, Xiao J, Zeng W, Chu C, Ma W (2013) Lagged effect of diurnal temperature range on mortality in a subtropical megacity of China. PLOS ONE 8(2):e55,280

Martin-Vide J, Montlleó M, Sanromá I (2016) Villes et changement climatique. La ville en train de se faire / Cities and climate change. Urban heat islands. Parenthè,ses, chap Leffet îlot de chaleur à Barcelone / Barcelona: urban heat islands, pp 38–52

Miron IJ, Montero JC, Criado-Alvarez JJ, Linares C, Díaz J (2012) Intense cold and mortality in Castile-La Mancha (Spain): study of mortality trigger thresholds from 1975 to 2003. Int J Biometeorol 56:145–152

Moreno-García M (1994) Intensity and form of the urban heat island in Barcelona. Int J Climatol 14 (6):705–710

Nagai M, Hoshide S, Kario K (2010) Sleep duration as a risk factor for cardiovascular disease—a review of the recent literature. Curr Cardiol Rev 6:54–61

Nastos PT, Matzarakis A (2008) Human-biometeorological effects on sleep disturbances in Athens, Greece: a preliminary evaluation. Indoor Built Environ 17:535–542

Okamoto-Mizuno K, Mizuno K (2012) Effects of thermal environment on sleep and circadian rhythm. J Physiol Anthropol 31:1,14

Okamoto-Mizuno K, Tsuzuki K, Mizuno K (2005) Effects of humid heat exposure in later sleep segments on sleep stages and body temperature in humans. Int J Biometeorol 49:232–237

Palagini L, Bruno R, Gemignani A, Baglioni C, Ghiadoni L, Riemann D (2013) Sleep loss and hypertension: a systematic review. Curr Pharm Des 19(13):2409–2419

Park JK, Lu R, Li C, Kim E (2012) Interannual variation of tropical night frequency in Beijing and associated large-scale circulation background. Adv Atmos Sci 29(2):295–306

Parsons K (2014) Human thermal environments. The effects of hot, moderate and cold environments on human health, comfort and performance, 3rd edn. CRC Press

Quinn A, Kinney P, Shaman J (2017) Predictors of summertime heat index levels in New York City apartments. Indoor Air In Press

R Core Team (2016) R: a language and environment for statistical computing. R Foundation for Statistical Computing

Rooney C, McMichael JA, Kovats RS, Coleman MP (1995) Excess mortality in England and Wales, and in Greater London, during the 1995 heatwave. J Epidemiol Commun Health 52:482–486

Royé (2015) The overarching issues of the European space: spatial planning and multiple paths to sustainable and inclusive development, Faculdade de Letras da Universidade do Porto, chap Another approach for tropical nights: case studies of Faro. Lisbon and Porto, pp 269–283

Royé D, Martí A (2015) Análisis de las noches tropicales en la fachada atlántica de la península ibérica. Una propuesta metodológica. Boletín de la Asociación de Geógrafos Españoles 69:351–368

Royé D, Martí A (2016) Clima, sociedad, riesgos y ordenación del territorio., Universidad de Alicante. Instituto Interuniversitario de geografía. Asociació,n Española de Climatología, chap Análisis espacio-temporal de las noches cálidas en el litoral mediterráneo de España, pp 689–700

Russo S, Sterl A (2011) Global changes in indices describing moderate temperature extremes from the daily output of a climate model. J Geophys Res Atmos 116(16)

Sanchez-Lorenzo A, Pereira P, Lopez-Bustins J, Lolis CJ (2012) Summer night-time temperature trends on the Iberian Peninsula and their connection with large-scale atmospheric circulation patterns. Int J Climatol 32(9)

Smith TT, Zaitchik BF, Gohlke JM (2013) Heat waves in the United States: definitions, patterns and trends. Clim Change 118:811–825

Tobías A, Díaz J (2014) Global environmental change. Springer, chap Heat waves, human health, and climate change, pp 447–453. Serie Handbook of Global Environmental Pollution

Tobías A, García de Olalla P, Linares C, Bleda M, Cayla J, díaz J (2010) Short-term effects of extreme hot summer temperatures on total daily mortality in Barcelona, Spain. Int J Biometeorol 54:115–117

Tobías A, Armstrong B, Zuza I, Gasparrini A, Linares C, Diaz J (2012) Mortality on extreme heat days using official thresholds in Spain: a multi-city time series analysis. BMC Public Health 12:133

Todd N, Valleron AJ (2015) Space–time covariation of mortality with temperature: a systematic study of deaths in France, 1968–2009. Environ Health Perspect 123(7):659–664

Vincent L, Peterson T, Barros V, Marino M, Rusticucci M, Carrasco G, Ramirez E, Alves L, Ambrizzi T, Berlato M, Grimm A, Marengo J, Molion L, Moncunill D, Rebello E, Anunciação Y, Quintana J, Santos J, Baez J, Coronel G, Garcia J, Trebejo I, Bidegain M, Haylock M, Karoly D (2005) Observed trends in indices of daily temperature extremes in south america 1960–2000. J Climate 18:5011–5023

Wood S (2006) Generalized additive models: an introduction with R. Chapman & Hall/CRC

Xu Y, Dadvand P, Barrera-Gómez J, Sartini C, Marí-Dell'Olmo M, Borrell C, Medina-Ramón M, Sunyer J, Basagaña X (2013) Differences on the effect of heat waves on mortality by sociodemographic and urban landscape characteristics. J Epidemiol Community Health 67:519–525

Ye X, Wolf R, Yu W, Vaneckova P, Pan SX, Tong (2012) Ambient temperature and morbidity: a review of epidemiological evidence. Environ Health Perspect 120:19–28

Zaninović K, Matzarakis A (2009) The bioclimatological leaflet as a means conveying climatological information to tourists and the tourism industry. Int J Biometeorol 53:369–374

Zhang K, Li Y, Schwartz JC, O'Neill MS (2014) What weather variables are important in predicting heat-related mortality? A new application of statistical learning methods. Environ Res 132:350–359

Zhang Y, Li C, Feng R, Zhu Y, Wu K, Tan X, Ma L (2016) The short-term effect of ambient temperature on mortality in Wuhan, China: a time-series study using a distributed lag non-linear model. Int J Environ Res Public Health 13(7):722. https://doi.org/10.3390/ijerph13070722

Zuvela-Aloise M (2016) Enhancement of urban heat load through social inequalities on an example of a fictional city King's Landing. Int J Biometeorol. https://doi.org/10.1007/s00484-016-1230-z
Acknowledgements
The author thanks the National Oceanic and Atmospheric Administration, the Palynology Laboratory of the Botany Unit of the Autonomous University of Barcelona, the Barcelona City Council, and the Health Department of the Government of Catalonia for providing the required data.
About this article
Cite this article
Royé, D. The effects of hot nights on mortality in Barcelona, Spain. Int J Biometeorol 61, 2127–2140 (2017). https://doi.org/10.1007/s00484-017-1416-z
Received:

Revised:

Accepted:

Published:

Issue Date:
Keywords
Heat

Mortality

Tropical night

Hot night

Effects

Human health

Climate change