Abstract
The present study attempts to assess changes in soccer players' physical activity profiles under the simultaneous influence of the different combinations of ambient temperature and relative humidity characterising matches of the 2014 FIFA World Cup hosted by Brazil. The study material consisted of observations of 340 players representing 32 national teams taking part in the tournament. The measured indices included total distances covered; distances covered with low, moderate, or high intensity; numbers of sprints performed, and peak running speeds achieved. The analysis was carried out using FIFA official match data from the Castrol Performance Index system. Ultimately, consideration was given to a combination of three air temperature ranges, i.e. below 22 °C, 22–28 °C, and above 28 °C; and two relative humidity ranges below 60 % and above 60 %. The greatest average distance recorded (10.54 ± 0.91 km) covered by players at an air temperature below 22 °C and a relative humidity below 60 %, while the shortest (9.83 ± 1.08 km) characterised the same air temperature range, but conditions of relative humidity above 60 % (p ≤ 0.001). Two-way ANOVA revealed significant differences (p ≤ 0.001) in numbers of sprints performed by players, depending on whether the air temperature range was below 22 °C (40.48 ± 11.17) or above 28 °C (30.72 ± 9.40), but only where the relative humidity was at the same time below 60 %. Results presented indicate that the conditions most comfortable for physical activity on the part of players occur at 22 °C, and with relative humidity under 60 %.
Access options
Buy single article
Instant access to the full article PDF.
US$ 39.95
Tax calculation will be finalised during checkout.
Subscribe to journal
Immediate online access to all issues from 2019. Subscription will auto renew annually.
US$ 79
Tax calculation will be finalised during checkout.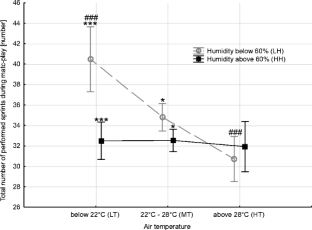 References
Aldous JW, Chrismas BC, Beel L, Akubat I, Dascombe B, Taylor L (2014) Hot environment mediated decrements in soccer-specific capacity utilising a non motorised treadmill soccer-specific simulation. In: 4th World Conference on Science and Soccer (WCSS), Portland, USA

Arsac LM, Deschodt-Arsac V, Lacour JR (2013) Influence of individual energy cost on running capacity in warm, humid environments. Eur J Appl Physiol 113:2587–2594

Aughey RJ, Goodman CA, McKenna MJ (2014) Greater chance of high core temperatures with modified pacing strategy during team sport in the heat. J Sci Med Sport 17:113–118

Bangsbo J, Mohr M, Krustrup P (2006) Physical and metabolic demands of training and match-play in the elite football player. J Sports Sci 24:665–674

Barros RM, Misuta MS, Menezes RP, Figueroa PJ, Moura FA, Cunha SA, Anido R, Leite NJ (2007) Analysis of the distances covered by first division Brazilian soccer players obtained with an automatic tracking method. J Sports Sci Med 6:233–242

Bradley PS, Noakes TD (2013) Match running performance fluctuations in elite soccer: indicative of fatigue, pacing or situational influences? J Sports Sci 31:1627–1638

Bradley PS, Sheldon W, Wooster B, Olsen P, Boanas P, Krustrup P (2009) High-intensity running in English FA Premier League soccer matches. J Sports Sci 27:159–168

Bradley PS, Carling C, Archer D, Roberts J, Dodds A, Di Mascio M, Paul D, Diaz AG, Peart D, Krustrup P (2011) The effect of playing formation on high-intensity running and technical profiles in English FA Premier League soccer matches. J Sports Sci 29:821–830

Brocherie F, Girard O, Farooq A, Millet GP (2015) Influence of weather, rank, and home advantage on football outcomes in the gulf region. Med Sci Sports Exerc 47:401–410

Causer J, Ford PR (2014) Decisions, decisions, decisions": transfer and specificity of decision-making skill between sports. Cogn Process 15:385–389

Di Salvo V, Baron R, Tschan H, Calderon Montero FJ, Bachl N, Pigozzi F (2007) Performance characteristics according to playing position in elite soccer. Int J Sports Med 28:222–227

Di Salvo V, Gregson W, Atkinson G, Tordoff P, Drust B (2009) Analysis of high intensity activity in Premier League soccer. Int J Sports Med 30:205–212

Drust B, Atkinson G, Reilly T (2007) Future perspectives in the evaluation of the physiological demands of soccer. Sports Med 37:783–805

Duffield R, McCall A, Coutts AJ, Peiffer JJ (2012) Hydration, sweat and thermoregulatory responses to professional football training in the heat. J Sports Sci 30:957–965

Dupont G, Nedelec M, McCall A, McCormack D, Berthoin S, Wisløff U (2010) Effect of 2 soccer matches in a week on physical performance and injury rate. Am J Sports Med 38:1752–1758

Edwards AM, Clark NA (2006) Thermoregulatory observations in soccer match play: professional and recreational level applications using an intestinal pill system to measure core temperature. Br J Sports Med 40:133–138

Edwards AM, Mann ME, Marfell-Jones MJ, Rankin DM, Noakes TD, Shillington DP (2007) Influence of moderate dehydration on soccer performance: physiological responses to 45 min of outdoor match-play and the immediate subsequent performance of sport-specific and mental concentration tests. Br J Sports Med 41:385–391

Faude O, Koch T, Meyer T (2012) Straight sprinting is the most frequent action in goal situations in professional football. J Sports Sci 30:625–631

Grantham J, Cheung SS, Connes P, Febbraio MA, Gaoua N, Gonzalez-Alonso J, Hue O, Johnson JM, Maughan RJ, Meeusen R, Nybo L, Racinais S, Shirreffs SM, Dvorak J (2010) Current knowledge on playing football in hot environments. Scand J Med Sci Sports 20(Suppl 3):161–167

Gregson W, Drust B, Atkinson G, Di Salvo V (2010) Match-to-match variability of high speed activities in premier league soccer. Int J Sports Med 31:237–242

Hayes M, Castle PC, Ross EZ, Maxwell NS (2014) The influence of hot humid and hot dry environments on intermittent-sprint exercise performance. Int J Sports Physiol Perform 9:387–396

Hensen JLM (1990) Literature review on thermal comfort in transient conditions. Build Environ 25:309–316

Hensen SM, Heldens L, van Genesen ST, Pruijn GJ, Lubsen NH (2013) A delayed antioxidant response in heat-stressed cells expressing a non-DNA binding HSF1 mutant. Cell Stress Chaperones 18:455–473

Iaia M, Rampinini E, Bangsbo J (2009) High-intensity training in football. Int J Sports Physiol Perform 4:291–306

IUPS (2003) Glossary of terms for thermal physiology. Third edition revised by the Commission for Thermal Physiology of the International Union of Physiological Sciences. J Therm Biol 28:75–106

Konefał M, Chmura P, Andrzejewski M, Chmura J (2014) Analysis of motor performance of professional soccer players in different environmental conditions. Trends Sport Sci 4:221–227

Krustrup P, Mohr M, Steensberg A, Bencke J, Kjær M, Bangsbo J (2006) Muscle and blood metabolites during a soccer game: implications for sprint performance. Med Sci Sports Exerc 38:1165–1174

Kurdak SS, Shirreffs SM, Maughan RJ, Ozgunen KT, Zeren C, Korkmaz S, Yazici Z, Ersoz G, Binnet MS, Dvorak J (2010) Hydration and sweating responses to hot-weather football competition. Scand J Med Sci Sports 20(Suppl 3):133–139

Link D, Weber H (2015) Effect of ambient temperature on pacing in soccer depends on skill level. J Strength Cond Res Epub ahead of print

Maughan RJ, Merson SJ, Broad NP, Shirreffs NP (2004) Fluid and electrolyte intake and loss in elite soccer players during training. Int J Sport Nutr Exerc Metab 14:327–340

Maughan RJ, Shirreffs SM, Merson SJ, Horswill CA (2005) Fluid and electrolyte balance in elite male football (soccer) players training in a cool environment. J Sports Sci 23:73–79

Maughan RJ, Shirreffs SM, Ozgunen KT, Kurdak SS, Ersoz G, Binnet MS, Dvorak J (2010) Living, training and playing in the heat: challenges to the football player and strategies for coping with environmental extremes. Scand J Med Sci Sports 20(Suppl 3):117–124

Mohr M, Krustrup P, Bangsbo J (2003) Match performance of high-standard soccer players with special reference to development of fatigue. J Sports Sci 21:519–528

Mohr M, Mujika I, Santisteban J, Randers MB, Bischoff R, Solano R, Hewitt A, Zubillaga A, Peltola E, Krustrup P (2010) Examination of fatigue development in elite soccer in a hot environment: a multi-experimental approach. Scand J Med Sci Sports 20(Suppl 3):125–132

Mohr M, Nybo L, Grantham J, Racinais S (2012) Physiological responses and physical performance during football in the heat. PLoS One 7 e39202

Nassis GP, Brito J, Dvorak J, Chalabi H, Racinais S (2015) The association of environmental heat stress with performance: analysis of the 2014 FIFA World Cup Brazil. Br J Sports Med 49:609–613

Nybo L (2010) Cycling in the heat: performance perspectives and cerebral challenges. Scand J Med Sci Sports 20(Suppl 3):71–79

Nybo L, Rasmussen P, Sawka MN (2014) Performance in the heat—physiological factors of importance for hyperthermia-induced fatigue. Compr Physiol 4:657–689

O'Toole ML, Douglas PS (1995) Applied physiology of triathlon. Sports Med 19:251–267

Özgünen KT, Kurdak SS, Maughan RJ, Zeren C, Korkmaz S, Yazici Z, Ersoz G, Shirreffs SM, Binnet MS, Dvorak J (2010) Effect of hot environmental conditions on physical activity patterns and temperature response of football players. Scand J Med Sci Sports 20(Suppl 3):140–147

Payne SM, Hudson J, Akehurst S, Ntoumanis N (2013) Development and initial validation of the impression motivation in sport questionnaire-team. J Sport Exerc Psychol 35:281–298

Racinais S, Gaoua N, Grantham J (2008) Hyperthermia impairs short-term memory and peripheral motor drive transmission. J Physiol 586:4751–4762

Rebelo A, Brito J, Seabra A, Oliveira J, Krustrup P (2014) Physical match performance of youth football players in relation to physical capacity. Eur J Sport Sci 14(Suppl 1):S148–S156

Reilly T (2003) Motion analysis and physiological demands. In: Reilly T, Williams AM (eds) Science and Soccer. E & FN Spon, London, pp. 9–72

Reilly T, Drust B, Clarke N (2008) Muscle fatigue during football match-play. Sports Med 5:357–367

Sawka MN, Burke LM, Eichner ER, Maughan RJ, Montain SJ, Stachenfeld NS (2007) American College of Sports Medicine position stand. Exercise and fluid replacement. Med Sci Sports Exerc 39:377–390

Shirreffs SM, Sawka MN, Stone M (2006) Water and electrolyte needs for football training and match-play. J Sports Sci 24:699–707

Soroka A (2014) The locomotor activity of football players based on playing positions during the 2010 World Cup. J Sports Med Phys Fitness Epub ahead of print

Stolen T, Chamari K, Castagna C, Wisloff U (2005) Physiology of soccer: an update. Sports Med 35:501–536

Suarez-Arrones L, Torreno N, Requena B, Saez de Villarreal E, Casamichana D, Barbero-Alvarez JC, Munguia-Izquierdo D (2014) Match-play activity profile in professional soccer players during official games and the relationship between external and internal load. J Sports Med Phys Fitness Epub ahead of print

Yue Z, Broich H, Mester J (2014) Statistical analysis for the soccer matches of the first Bundesliga. Int J Sports Sci Coa 9:553–560
About this article
Cite this article
Chmura, P., Konefał, M., Andrzejewski, M. et al. Physical activity profile of 2014 FIFA World Cup players, with regard to different ranges of air temperature and relative humidity. Int J Biometeorol 61, 677–684 (2017). https://doi.org/10.1007/s00484-016-1245-5
Received:

Revised:

Accepted:

Published:

Issue Date:
Keywords
Thermal and hygric conditions

Professional soccer players

Distances covered

Sprinting

Exercise intensity

Peak running speeds