Abstract
Diurnal temperature range (DTR) and temperature change between neighboring days (TCN) are important meteorological indicators closely associated with global climate change. However, up to date, there have been no studies addressing the impacts of both DTR and TCN on emergency hospital admissions for schizophrenia. We conducted a time-series analysis to assess the relationship between temperature variability and daily schizophrenia onset in Hefei, an inland city in southeast China. Daily meteorological data and emergency hospital admissions for schizophrenia from 2005 to 2014 in Hefei were collected. After stratifying by season of birth, Poisson generalized linear regression combined with distributed lag nonlinear model (DLNM) was used to examine the relationship between temperature variability and schizophrenia, adjusting for long-term trend and seasonality, mean temperature, and relative humidity. Our analysis revealed that extreme temperature variability may increase the risk for schizophrenia onset among patients born in spring, while no such association was found in patients born in summer and autumn. In patients born in spring, the relative risks of extremely high DTR comparing the 95th and 99th percentiles with the reference (50th, 10 °C) at 3-day lag were 1.078 (95 % confidence interval (CI) 1.025–1.135) and 1.159 (95 % CI 1.050–1.279), respectively. For TCN effects, only comparing 99th percentile with reference (50th, 0.7 °C) was significantly associated with emergency hospital admissions for schizophrenia (relative risk (RR) 1.111, 95 % CI 1.002–1.231). This study suggested that exposure to extreme temperature variability in short-term may trigger later days of schizophrenia onset for patients born in spring, which may have important implications for developing intervention strategies to prevent large temperature variability exposure.
Access options
Buy single article
Instant access to the full article PDF.
US$ 39.95
Tax calculation will be finalised during checkout.
Subscribe to journal
Immediate online access to all issues from 2019. Subscription will auto renew annually.
US$ 79
Tax calculation will be finalised during checkout.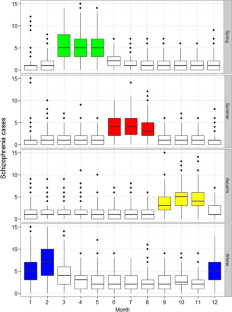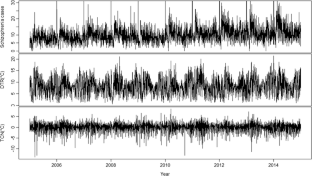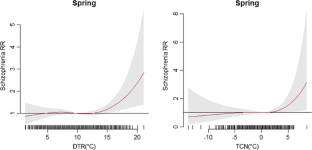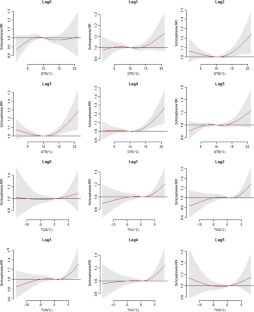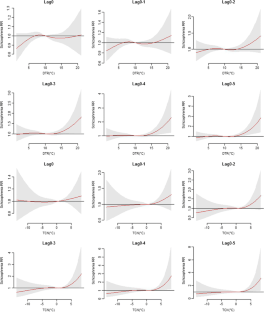 References
Bolinskey PK, Iati CA, Hunter HK, Novi JH (2013) Season of birth, mixed- handedness, and psychometric schizotypy: preliminary results from a prospective study. Psychiatry Res 208(3):210–214

Buckley LA, Maayan N, Soares-Weiser K, Adams CE (2015) Supportive therapy for schizophrenia. Cochrane Database Syst Rev 4:CD004716

Cheng J, Zhu R, Xu Z, Xu X, Wang X, Li K, Su H (2014) Temperature variation between neighboring days and mortality: a distributed lag non-linear analysis. Int J Public Health 59(6):923–931

Cheng J, Zhu R, Xu Z, Wu J, Wang X, Li K, Wen L, Yang H, Su H (2016) Impact of temperature variation between adjacent days on childhood hand, foot and mouth disease during April and July in urban and rural Hefei, China. Int J Biometeorol 60(6):883–890

Clarke M, Moran P, Keogh F, Morris M, Kinsella A, Larkin C, Walsh D, O'Callaghan E (1999) Seasonal influences on admissions for affective disorder and schizophrenia in Ireland: a comparison of first and readmissions. Eur Psychiatry 14(5):251–255

Davies G, Welham J, Chant D, Torrey EF, McGrath J (2003) A systematic review and meta-analysis of Northern Hemisphere season of birth studies in schizophrenia. Schizophr Bull 29(3):587–593

Epstein PR (2005) Climate change and human health. N Engl J Med 353(14):1433–1436

Faergeman O (2008) Climate change, disease and public health. Ugeskr Laeger 170(35):2667–2668

Gasparrini A, Armstrong B (2012) Distributed lag non-linear models in R: the package dlnm. Available: http://cran.r-project.org/web/packages/dlnm/vignettes /dlnm Overview. pdf.

Gupta S, Murray RM (1992) The relationship of environmental temperature to the incidence and outcome of schizophrenia. Br J Psychiatry 160:788–792

Hansen A, Bi P, Nitschke M, Ryan P, Pisaniello D, Tucker G (2008) The effect of heat waves on mental health in a temperate Australian city. Environ Health Perspect 116(10):1369–1375

Hansen J, Sato M, Ruedy R (2012) Perception of climate change. Proc Natl Acad Sci U S A 109(37):E2415–E2423

Hare EH, Walter SD (1978) Seasonal variation in admissions of psychiatric patients and its relation to seasonal variation in their births. J Epidemiol Community Health 32(1):47–52

Jablensky AV, Kalaydjieva LV (2003) Genetic epidemiology of schizophrenia: phenotypes, risk factors, and reproductive behavior. Am J Psychiatry 160(3):425–429

King DJ, Cooper SJ, Earle JA, et al. (1985) A survey of serum antibodies to eight common viruses in psychiatric patients. Br J Psychiatry 147(2):137–144

Liang WM, Liu WP, Kuo HW (2009) Diurnal temperature range and emergency room admissions for chronic obstructive pulmonary disease in Taiwan. Int J Biometeorol 53(1):17–23

Lim YH, Park AK, Kim H (2012) Modifiers of diurnal temperature range and mortality association in six Korean cities. Int J Biometeorol 56(1):33–42

Martin-Latry K, Goumy MP, Latry P, Gabinski C, Bégaud B, Faure I, Verdoux H (2007) Psychotropic drugs use and risk of heat-related hospitalisation. Eur Psychiatry 22(6):335–338

Mercer JB, Osterud B, Tveita T (1999) The effect of short-term cold exposure on risk factors for cardiovascular disease. Thromb Res 95(2):93–104

Owens N, McGorry PD (2003) Seasonality of symptom onset in first-episode schizophrenia. Psychol Med 33(1):163–167

Phillips MR, Zhang J, Shi Q, Song Z, Ding Z, Pang S, Li X, Zhang Y, Wang Z (2009) Prevalence, treatment, and associated disability of mental disorders in four provinces in China during 2001-05: an epidemiological survey. Lancet 373(968 0):2041–2053

Roberts GW (1991) Schizophrenia: a neuropathological perspective. Br J Psychiatry 158(1):8–17

Rössler W, Salize HJ, van Os J, Riecher-Rössler A (2005) Size of burden of schizophrenia and psychotic disorders. Eur Neuropsychopharmacol 15(4):399–409

Sham PC, O'Callaghan E, Takei N, Murray GK, Hare EH, Murray RM (1992) Schizophrenia following pre-natal exposure to influenza epidemics between 1939 and 1960. Br J Psychiatry 160(4):461–466

Shiloh R, Weizman A, Epstein Y, Rosenberg SL, Valevski A, Dorfman-Etrog P, Wiezer N, Katz N, Munitz H, Hermesh H (2001) Abnormal thermoregulation in drug-free male schizophrenia patients. Eur Neuropsychopharmacol 11(4):285–288

Shiloh R, Shapira A, Potchter O, Hermesh H, Popper M, Weizman A (2005) Effects of climate on admission rates of schizophrenia patients to psychiatric hospitals. Eur Psychiatry 20(1):61–64

Shinkawa A, Ueda K, Hasuo Y, Kiyohara Y, Fujishima M (1990) Seasonal variation in stroke incidence in Hisayama, Japan. Stroke 21(9):1262–1267

Sung TI, Chen MJ, Lin CY, Lung SC, Su HJ (2011) Relationship between mean daily ambient temperature range and hospital admissions for schizophrenia: results from a national cohort of psychiatric inpatients. Sci Total Environ 410-411:41–46

Tian WH, Lee HC, Liu TC, Chen CS, Lin HC (2006) Seasonal variation in schizophrenia admissions in a Chinese population. Schizophr Res 86(1–3):333–334

Tochigi M, Nishida A, Shimodera S, Okazaki Y, Sasaki T (2013) Season of birth effect on psychotic-like experiences in Japanese adolescents. Eur Child Adolesc Psychiatry 22(2):89–93

Torrey EF, Miller J, Rawlings R, Yolken RH (1997) Seasonality of births in schizophrenia and bipolar disorder: a review of the literature. Schizophr Res 28(1):1–38

Wang MZ, Zheng S, He SL, et al. (2013) The association between diurnal temperature range and emergency room admissions for cardiovascular, respiratory, digestive and genitourinary disease among the elderly: a time series study. Sci Total Environ 456:370–375

Wang X, Lavigne E, Ouellette-kuntz H, Chen BE (2014) Acute impacts of extreme temperature exposure on emergency room admissions related to mental and behavior disorders in Toronto, Canada. J Affect Disord 155:154–161

Wyatt RJ, Apud JA, Potkin S (1996) New directions in the prevention and treatment of schizophrenia: a biological perspective. Psychiatry 59(4):357–370

Xu Z, Huang C, Su H, Turner LR, Qiao Z, Tong S (2013) Diurnal temperature range and childhood asthma: a time-series study. Environ Health 12:12

Yuan J, Hatzidimitriou G, Suthar P, Mueller M, McCann U, Ricaurte G (2006) Relationship between temperature, dopaminergic neurotoxicity, and plasma drug concentrations in methamphetamine-treated squirrel monkeys. J Pharmacol Exp Ther 316(3):1210–1218

Zanobetti A, O'Neill MS, Gronlund CJ, Schwartz JD (2012) Summer temperature variability and long-term survival among elderly people with chronic disease. Proc Natl Acad Sci U S A 109(17):6608–6613
Ethics declarations
Ethical approval was obtained from the Ethics Committee of Anhui Medical University prior to the schizophrenia cases being collected, and no informed consent was required because the data were analyzed at aggregate level and no participants were contacted.
Conflict of interest
The authors declared that they have no competing interest.
Funding
This research was funded by Anhui Natural Science Fund (No. 1408085MH159).
Additional information
Desheng Zhao and Xulai Zhang contributed equally to this work.
Electronic supplementary material
About this article
Cite this article
Zhao, D., Zhang, X., Xu, Z. et al. Impact of short-term temperature variability on emergency hospital admissions for schizophrenia stratified by season of birth. Int J Biometeorol 61, 589–599 (2017). https://doi.org/10.1007/s00484-016-1235-7
Received:

Revised:

Accepted:

Published:

Issue Date:
Keywords
Temperature variability

DTR/TCN

Schizophrenia

Admission