Abstract
Assessing diet composition of White Storks (Ciconia ciconia) breeding under North African conditions provides key information to understanding its trophic niche for conservation purpose. Since, climate controls productivities of foraging habitats and thus food availability for predators, this study examines how Storks' diet parameters varied following a climate gradient along with rural-to-urban landscapes in north-eastern Algeria. Feeding strategies to cope with severe conditions were discussed in light of climate aridity and urbanization and how these influence reproduction, population dynamics and distribution. While invertebrate prey accounted for 94 % of ingested individuals, the biomass intake was dominated by chicken remains scavenged from rubbish dumps (67 %) and small mammals (14 %). Generalized linear models revealed that prey numbers varied significantly between climatic regions and landscapes types, but no significant differences were observed for other dietary parameters, including prey biomass. The study showed high dietary similarity between study climates and landscapes, mainly among rural and urban colonies located in semi-arid and sub-humid areas, which differed from those in suburban and arid climate. Rarefaction and extrapolation curves indicated that prey species richness in White Stork diets was expected to be higher in urban colonies located in sub-humid climate. Despite low prey species diversity in arid regions, the White Stork demonstrates a broad trophic niche, which could be due to supplementary feeding from human refuse. This study suggests that regardless of the climate or landscape, White Storks ensure a constant food intake, despite prey biomass fluctuations, by adapting their diet. Foraging in diverse habitats, including trash dumps, ensures a sufficiently balanced diet to meet nutritional requirements.
Access options
Buy single article
Instant access to the full article PDF.
US$ 39.95
Tax calculation will be finalised during checkout.
Subscribe to journal
Immediate online access to all issues from 2019. Subscription will auto renew annually.
US$ 79
Tax calculation will be finalised during checkout.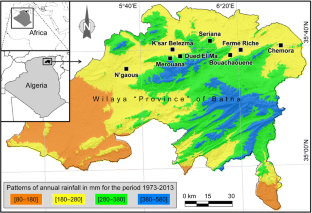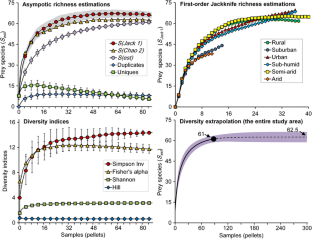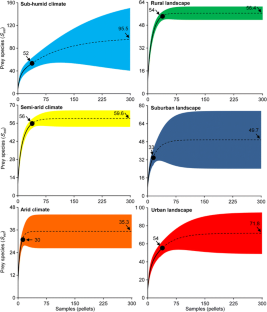 References
Alberti M (2005) The effects of urban patterns on ecosystem function. Int Reg Sci Rev 28:168–192. doi:10.1177/0160017605275160

Alonso JC, Alonso JA, Carrascal LM (1991) Habitat selection by foraging White Storks, Ciconia ciconia, during the breeding season. Can J Zool 69:1957–1962. doi:10.1139/z91-270

Barbraud C, Barbraud J-C (1998) Le régime alimentaire des poussins de Cigogne blanche Ciconia ciconia, en Charente-Maritime: importance des insectes. Alauda 65:259–262

Bensizerara D, Chenchouni H, Si Bachir A, Houhamdi M (2013) Ecological status interactions for assessing bird diversity in relation to a heterogeneous landscape structure. Avian Biology Research 6:67–77. doi:10.3184/175815513X13577344603957

Boukhemza M. (2001). Étude bio-écologique de la Cigogne blanche (Ciconia ciconia L, 1775) et du Héron garde-bœufs (Bubulcus ibis L, 1775) en Kabylie. Analyse démographique, éthologique et essai d'interprétation des stratégies trophiques. PhD Thesis, INA El Harrach, Algiers

Boukhemza M, Righi M, Doumandji S, Hamdine W (1995) Le régime alimentaire de la Cigogne blanche (Ciconia ciconia L, 1775) dans la vallée du Sébaou, région de Kabylie, Algérie. Alauda 63:199–207

Boukhemza M, Doumandji S, Voisin C, Voisin J-F (2004) Comparative utilization pattern of trophic resources by White Storks Ciconia ciconia and cattle egrets Bubulcus ibis in Kabylia (Algeria). Revue d'Ecologie-La Terre et la Vie 59:559–580

Boukhemza M, Boukhemza-Zemmouri N, Voisin J-F, Baziz B (2006) Écologie trophique de la Cigogne blanche (Ciconia ciconia) et du Héron garde-bœufs (Bubulcus ibis) en Kabylie (Algérie). Ecologia Mediterranea 32:15–28

Bradai L, Bissati S, Chenchouni H, Amrani K (2015) Effects of climate on the productivity of desert truffles beneath hyper-arid conditions. Int J Biometeorol 59:907–915. doi:10.1007/s00484-014-0891-8

Brasher MG, Steckel JD, Gates RJ (2007) Energetic carrying capacity of actively and passively managed wetlands for migrating ducks in Ohio. J Wildl Manag 71:2532–2541. doi:10.2193/2006-401

Brose U, Martinez ND (2004) Estimating the richness of species with variable mobility. Oikos 105:292–300. doi:10.1111/j.0030-1299.2004.12884.x

Brose U, Martinez ND, Williams RJ (2003) Estimating species richness: sensitivity to sample coverage and insensitivity to spatial patterns. Ecology 84:2364–2377. doi:10.1890/02-0558

Budyko MI (1974) Climate and life. Academic Press, New York

Byholm P, Kekkonen M (2008) Food regulates reproduction differently in different habitats: experimental evidence in the goshawk. Ecology 89:1696–1702. doi:10.1890/07-0675.1

Chace JF, Walsh JJ (2006) Urban effects on native avifauna: a review. Landsc Urban Plan 74:46–69. doi:10.1016/j.landurbplan.2004.08.007

Chao A (1987) Estimating the population size for capture-recapture data with unequal catchability. Biometrics 43:783–791. doi:10.2307/2531532

Chao A, Chazdon RL, Colwell RK, Shen T-J (2005) A new statistical approach for assessing compositional similarity based on incidence and abundance data. Ecol Lett 8:148–159. doi:10.1111/j.1461-0248.2004.00707.x

Chenchouni H (2012) Diversity assessment of vertebrate fauna in a wetland of hot hyperarid lands. Arid Ecosyst 2:253–263. doi:10.1134/s2079096113010022

Chenchouni H (2014) Diet of the little owl (Athene noctua) during the pre-reproductive period in a semi-arid Mediterranean region. Zool Ecol 24:314–323. doi:10.1080/21658005.2014.965919

Chenchouni H. 2016. Modelling the foraging habitats use of breeding white storks (Ciconia ciconia) across a mesic-xeric climatic gradient in North Africa. Under review

Chenchouni H, Zanati K, Rezougui A, Briki A, Arar A (2010) Population monitoring of pine processionary moth (Thaumetopoea pityocampa) by pheromone trapping at the southern limit of distribution of Pinus halepensis in Eastern Algeria. For Sci Technol 6:67–79. doi:10.1080/21580103.2010.9671974

Chenchouni H, Si Bachir A, AlRashidi M (2015) Trophic niche and feeding strategy of the White Stork (Ciconia ciconia) during different phases of the breeding season. Avian Biol Res 9:1–13. doi:10.3184/175815515x14232310459990

Chenchouni H, Smai I, Nezzar C, Si Bachir A, Tobolka M, Sparks TH, Tryjanowski P, Norris K. 2016. Breeding success of White Storks (Ciconia ciconia) nesting on phone masts and electricity pylons under North African conditions. Under review

Chetara S, Mechouma W. 2012. Contribution à la connaissance de la diversité des micromammifères du parc national de Belezma. Master dissertation, University of Batna, Algeria

Ciach M, Kruszyk R (2010) Foraging of white storks Ciconia ciconia on rubbish dumps on non-breeding grounds. Waterbirds 33:101–104. doi:10.1675/063.033.0112

Colwell RK. 2013. EstimateS: statistical estimation of species richness and shared species from samples. Version 9. Available at: http://purl.oclc.org/estimates

Colwell RK, Chao A, Gotelli NJ, Lin S-Y, Mao CX, Chazdon RL, Longino JT (2012) Models and estimators linking individual-based and sample-based rarefaction, extrapolation, and comparison of assemblages. J Plant Ecol 5:3–21. doi:10.1093/jpe/rtr044

R Core Team. 2015. R: A Language and Environment for Statistical Computing. R Foundation for Statistical Computing, Vienna, Austria. Available at www.r-project.org.

Crampton LH, Longland WS, Murphy DD, Sedinger JS (2011) Food abundance determines distribution and density of a frugivorous bird across seasons. Oikos 120:65–76. doi:10.1111/j.1600-0706.2010.18624.x

De Martonne E. 1925. Traité de Géographie Physique: 3 tomes. Paris

Denac D (2006) Resource-dependent weather effect in the reproduction of the White Stork Ciconia ciconia. Ardea 94:233–240

Djerdali S, Tortosa FS, Hillstrom L, Doumandji S (2008) Food supply and external cues limit the clutch size and hatchability in the White Stork Ciconia ciconia. Acta Ornithologica 43:145–150. doi:10.3161/000164508x395252

Djerdali S, Guerrero-Casado J, Tortosa FS (2016) Food from dumps increases the reproductive value of last laid eggs in the White Stork Ciconia ciconia. Bird Study 63:107–114. doi:10.1080/00063657.2015.1135305

Drent RH, Fox AD, Stahl J (2006) Travelling to breed. J Ornithol 147:122–134. doi:10.1007/s10336-006-0066-4

Duffy DC, Jackson S (1986) Diet studies of seabirds: a review of methods. Colonial Waterbirds 9:1–17. doi:10.2307/1521138

Durant JM, Hjermann DØ, Ottersen G, Stenseth NC (2007) Climate and the match or mismatch between predator requirements and resource availability. Clim Res 33:271. doi:10.3354/cr033271

Ehrlich PR, Ehrlich AH, Daily GC (1993) Food security, population and environment. Popul Dev Rev 19:1–32. doi:10.2307/2938383

Fuller RA, Warren PH, Armsworth PR, Barbosa O, Gaston KJ (2008) Garden bird feeding predicts the structure of urban avian assemblages. Divers Distrib 14:131–137. doi:10.1111/j.1472-4642.2007.00439.x

Fuller RA, Irvine KN, Davies ZG, Armsworth PR, Gaston KJ (2012) Interactions between people and birds in urban landscapes. In: Lepczyk CA, Warren PS (eds) Urban bird ecology and conservation. Studies in avian biology (no. 45). University of California Press, Berkeley, CA, pp. 249–266

Ghenam K, Si Bachir A. 2011. Approche biométrique et calorimétrique de quelques ordres d'insectes (Coleoptera, Orthoptera, Dermaptera et Hymenoptera) de la région de Batna (Algérie). Proceedings of SIBFA Conference, Univ. Ouargla, Algeria, pp. 150–156

Gregory RD, Strien AV (2010) Wild bird indicators: using composite population trends of birds as measures of environmental health. Ornithol Sci 9:3–22. doi:10.2326/osj.9.3

Heltshe J, Forrester NE (1983) Estimating species richness using the jackknife procedure. Biometrics 39:1–11. doi:10.2307/2530802

Hilgartner R, Stahl D, Zinner D (2014) Impact of supplementary feeding on reproductive success of white storks. PLoS One 9:e104276. doi:10.1371/journal.pone.0104276

Hušek J, Adamík P, Albrecht T, Cepák J, Kania W, Mikolášková E, Stenseth NC (2013) Cyclicity and variability in prey dynamics strengthens predator numerical response: the effects of vole fluctuations on White Stork productivity. Popul Ecol 55:363–375. doi:10.1007/s10144-013-0366-5

Janiszewski T, Minias P, Wojciechowski Z, Podlaszczuk P (2014) Habitat selection by White Storks breeding in a mosaic agricultural landscape of Central Poland. Wilson J Ornithol 126:591–599. doi:10.1676/13-219.1

Jin M, Dickinson RE, Zhang DA (2005) The footprint of urban areas on global climate as characterized by MODIS. J Clim 18:1551–1565. doi:10.1175/jcli3334.1

Johst K, Brandl R, Pfeifer R (2001) Foraging in a patchy and dynamic landscape: human land use and the white stork. Ecol Appl 11:60–69. doi:10.1890/1051-0761(2001)011[0060:FIAPAD]2.0.CO;2

Jovani R, Tella JL (2004) Age-related environmental sensitivity and weather mediated nestling mortality in white storks Ciconia ciconia. Ecography 27:611–618. doi:10.1111/j.0906-7590.2004.03925.x

Karasov WH. 1996. Digestive plasticity in avian energetics and feeding ecology. In Carey C. (ed) Avian energetics and nutritional ecology. Springer US, pp. 61–84. DOI 10.1007/978-1-4613-0425-8_3

Kosicki JZ (2010) Reproductive success of the White Stork Ciconia ciconia population in intensively cultivated farmlands in western Poland. Ardeola 57:243–255

Kosicki JZ (2012) Effect of weather conditions on nestling survival in the White Stork Ciconia ciconia population. Ethol Ecol Evol 24:140–148. doi:10.1080/03949370.2011.616228

Kosicki JZ, Profus P, Dolata PT, Tobółka M (2006) Food composition and energy demand of the White Stork Ciconia ciconia breeding population. Literature survey and preliminary results from Poland. In: Tryjanowski P, Sparks TH, Jerzak L (eds) The White Stork in Poland: studies in biology, ecology and conservation. Bogucki Wydawnictwo Naukowe., Poznań, pp. 169–183

Kruszyk R, Ciach M (2010) White Storks, Ciconia ciconia, forage on rubbish dumps in Poland—a novel behaviour in population. Eur J Wildl Res 56:83–87. doi:10.1007/s10344-009-0313-0

Latus C, Kujawa K (2005) The effect of land cover and fragmentation of agricultural landscape on the density of White Stork (Ciconia ciconia L.) in Brandenburg, Germany. Pol J Ecol 53:535–543

Levins R. 1968. Evolution in changing environments: some theoretical explorations. Princeton University Press

Magurran AE (2004) Measuring biological diversity. Wiley-Blackwell, New York

Mainwaring MC (2015) The use of man-made structures as nesting sites by birds: a review of the costs and benefits. J Nat Conserv 25:17–22. doi:10.1016/j.jnc.2015.02.007

Massemin-Challet S, Gendner JP, Samtmann S, Pichegru L, Wulgué A, Le Maho Y (2006) The effect of migration strategy and food availability on White Stork Ciconia ciconia breeding success. Ibis 148:503–508. doi:10.1111/j.1474-919x.2006.00550.x

Milchev B, Chobanov D, Simov N (2013) Diet and foraging habitats of non-breeding White Storks (Ciconia ciconia) in Bulgaria. Arch Biol Sci 65:1007–1013. doi:10.2298/abs1303007m

Mužinić J, Rašajski J (1992) On food and feeding habits of the White Stork, Ciconia c. ciconia, in the Central Balkans. Ökologie der Vögel 14:211–223

Myers RH, Montgomery DC, Vining GG, Robinson TJ (2012) Generalized linear models: with applications in engineering and the sciences, vol. 791. John Wiley & Sons, New York

Noy-Meir I (1973) Desert ecosystems: environment and producers. Annu Rev Ecol Syst 4:25–51. doi:10.1146/annurev.es.04.110173.000325

Peris SJ (2003) Feeding in urban refuse dumps: ingestion of plastic objects by the white stork (Ciconia ciconia). Ardeola 50:81–84

Ramo C, Aguilera E, Figuerola J, Máñez M, Green AJ (2013) Long-term population trends of colonial wading birds breeding in Doñana (SW Spain) in relation to environmental and anthropogenic factors. Ardeola 60:305–326. doi:10.13157/arla.60.2.2013.305

Rosenberg KV, Cooper RJ (1990) Approaches to avian diet analysis. Stud Avian Biol 13:80–90

Sbiki M. 2009. Contribution à l'étude comparative des niches trophiques de deux échassiers de la région de Tébessa: La Cigogne blanche (Ciconia ciconia) et le Héron garde-bœufs (Ardea ibis). Magister dissertation, University of Tebessa, Algeria

Schaub M, Kania W, Köppen U (2005) Variation of primary production during winter induces synchrony in survival rates in migratory white storks Ciconia ciconia. J Anim Ecol 74:656–666. doi:10.1111/j.1365-2656.2005.00961.x

Sekour M, Beddiaf R, Souttou K, Denys C, Doumandji S, Guezoul O (2011) Variation saisonnière du régime alimentaire de la chouette chevêche (Athene noctua)(Scopoli1769) dans l'extrême sud-est du Sahara algérien (Djanet, Algérie). Revue d'Ecologie-La Terre et la Vie 66:79–91

Si Bachir A, Chenchouni H, Djeddou N, Barbraud C, Céréghino R, Santoul F (2013) Using self-organizing maps to investigate environmental factors regulating colony size and breeding success of the White Stork (Ciconia ciconia). J Ornithol 154:481–489. doi:10.1007/s10336-012-0915-2

Thomas DW, Blondel J, Perret P, Lambrechts MM, Speakman JR (2001) Energetic and fitness costs of mismatching resource supply and demand in seasonally breeding birds. Science 291:2598–2600. doi:10.1126/science.1057487

Tobolka M, Zolnierowicz KM, Reeve NF (2015) The effect of extreme weather events on breeding parameters of the White Stork Ciconia ciconia. Bird Study 62:377–385. doi:10.1080/00063657.2015.1058745

Tortosa FS, Caballero JM, Reyes-López J (2002) Effect of rubbish dumps on breeding success in the White Stork in southern Spain. Waterbirds 25:39–43. doi:10.1675/1524-4695(2002)025[0039:EORDOB]2.0.CO;2

Tortosa FS, Pérez L, Hillström L (2003) Effect of food abundance on laying date and clutch size in the White Stork Ciconia ciconia. Bird Study 50:112–115. doi:10.1080/00063650309461302

Tryjanowski P, Kuzniak S (2002) Population size and productivity of the White Stork Ciconia ciconia in relation to common vole Microtus arvalis density. Ardea 90:213–217

Tryjanowski P, Jerzak L, Radkiewicz J (2005a) Effect of water level and livestock on the productivity and numbers of breeding white storks. Waterbirds 28:378–382. doi:10.1675/1524-4695(2005)028[0378:eowlal]2.0.co;2

Tryjanowski P, Sparks TH, Profus P (2005b) Uphill shifts in the distribution of the white stork Ciconia ciconia in southern Poland: the importance of nest quality. Divers Distrib 11:219–223. doi:10.1111/j.1366-9516.2005.00140.x

Tryjanowski P, Sparks TH, Profus P (2009) Severe flooding causes a crash in production of white stork (Ciconia ciconia) chicks across central and Eastern Europe. Basic Appl Ecol 10:387–392. doi:10.1016/j.baae.2008.08.002

Tryjanowski P, Hartel T, Báldi A, Szymański P, Tobolka M, Herzon I, Golawski A, Konvicka M, Hromada M, Jerzak L, Kujawa K, Lenda M, Orlowski G, Panek M, Skórka P, Sparks TH, Tworek S, Wuczynski A, Zmihorski M (2011) Conservation of farmland birds faces different challenges in western and Central-Eastern Europe. Acta Ornithologica 46:1–12. doi:10.3161/000164511X589857

Tsachalidis EP, Goutner V (2002) Diet of the White Stork in Greece in relation to habitat. Waterbirds 25:417–423. doi:10.1675/1524-4695(2002)025[0417:dotwsi]2.0.co;2

van den Burg AB (2009) Limitations of owl reproduction in the wild: is there a role for food quality besides quantity? Ardea 97:609–614

Van Der Jeugd HP, Eichhorn G, Litvin KE, Stahl J, Larsson K, Van Der Graaf AJ, Drent RH (2009) Keeping up with early springs: rapid range expansion in an avian herbivore incurs a mismatch between reproductive timing and food supply. Glob Chang Biol 15:1057–1071. doi:10.1111/j.1365-2486.2008.01804.x

Vivien ML (1973) Régime et comportement alimentaire de quelques poissons des récifs coralliens de Tuléar (Madagascar). Revue d'Ecologie-La Terre et la Vie 27:551–577

Vrezec A (2009) Insects in the White Stork Ciconia ciconia diet as indicators of its feeding conditions: the first diet study in Slovenia. Acrocephalus 30:25–29. doi:10.2478/v10100-009-0003-8

Zduniak P (2005) Forced regurgitation with tartar emetic as an effective and safe method to study diet composition in hooded crow nestlings. Eur J Wildl Res 51:122–125. doi:10.1007/s10344-005-0090-3
Acknowledgments
I warmly thank Prof. Abdelkrim Si Bachir (University of Batna 2, Algeria) for his help in prey identification and for the valuable conceptual advices. I am grateful to Dr. Omar Hamarsheh (University of Notre Dame, USA) and Dr. Craig Allen (USGS, New Mexico, USA) for their diligent copy editing of the manuscript. Many thanks extend to the field editor and the two reviewers for their constructive comments that greatly improved the quality of the paper.
Electronic supplementary material
Appendix
Table 6 Location, human population size, climatic and agricultural characteristics of study colonies of the White Stork in northeastern Algeria (North Africa)
About this article
Cite this article
Chenchouni, H. Variation in White Stork (Ciconia ciconia) diet along a climatic gradient and across rural-to-urban landscapes in North Africa. Int J Biometeorol 61, 549–564 (2017). https://doi.org/10.1007/s00484-016-1232-x
Received:

Revised:

Accepted:

Published:

Issue Date:
Keywords
White Stork Ciconia ciconia

Diet composition

Feeding ecology

Trophic niche

Drylands

Rubbish dumps