Abstract
Forests are expected to expand into alpine areas due to global climate change. It has recently been shown that temperature alone cannot realistically explain this process and that upslope tree advance in a warmer scenario may depend on the availability of sites with adequate geomorphic/topographic characteristics. Here, we show that, besides topography (slope and aspect), climate itself can produce a braking effect on the upslope advance of subalpine forests and that tree limit is influenced by non-linear and non-monotonic contributions of the climate variables which act upon treeline upslope advance with varying relative strengths. Our results suggest that global climate change impact on the upslope advance of subalpine forests should be interpreted in a more complex way where climate can both speed up and slow down the process depending on complex patterns of contribution from each climate and non-climate variable.
Access options
Buy single article
Instant access to the full article PDF.
USD 39.95
Price includes VAT (USA)
Tax calculation will be finalised during checkout.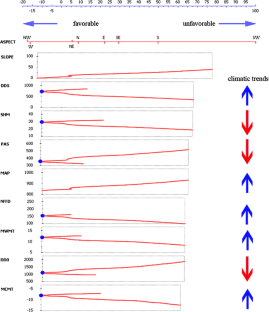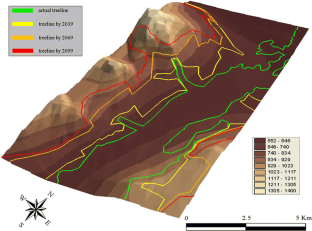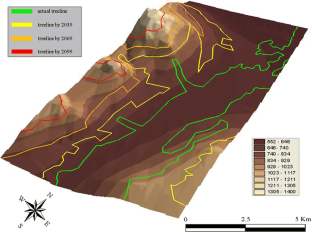 References
Cliff AD, Ord JK (1973) Spatial autocorrelation. Pion, London

Daly C, Halbleib M, Smith JI, et al. (2008) Physiographically sensitive mapping of climatological temperature and precipitation across the conterminous United States. Int J Climatol 28:2031

Devi N, Hagedorn F, Moiseev P, et al. (2008) Expanding forests and changing growth forms of Siberian larch at the polar Urals treeline during the twentieth century. Glob Change Biol 14:1581–1591

Donato DC (2013) Limits to upward movement of subalpine forests in a warming climate. Proc Natl Acad Sci 110:7971–7972

Elsen PR, Tingley MW (2015) Global mountain topography and the fate of montane species under climate change. Nat Clim Chang 5:772–776. doi:10.1038/nclimate2656

Fielding AH, Bell JF (1997) A review of methods for the assessment of prediction errors in conservation presence/absence models. Environ Conserv 24:38–49

Fordham DA, Wigley TM, Brook BW (2011) Multi-model climate projections for biodiversity risk assessments. Ecol Appl 21:3317–3331

Gehrig-Fasel J, Guisan A, Zimmermann NE (2007) Tree line shifts in the Swiss alps: climate change or land abandonment? J Veg Ldots 18:571–582

Grabherr G, Gottfried M, Pauli H (1994) Climate effects on mountain plants. Nature 369:448. doi:10.1038/369448a0

Grace J, Berninger F, Nagy L (2002) Impacts of climate change on the tree line. Ann Bot 90:537–544

Harsch MA, Hulme PE, McGlone MS, Duncan RP (2009) Are treelines advancing? A global meta-analysis of treeline response to climate warming. Ecol Lett 12:1040–1049

Hoersch B, Braun G, Schmidt U (2002) Relation between landform and vegetation in alpine regions of Wallis, Switzerland. A multiscale remote sensing and GIS approach. Comput Environ Urban Syst 26:113–139

Holtmeier F-K (2009) Mountain timberlines: ecology, patchiness, and dynamics, vol 36. Springer Science & Business Media, Berlin

Holtmeier F-K, Broll G (2005) Sensitivity and response of northern hemisphere altitudinal and polar tree lines to environmental change at landscape and local scales. Glob Ecol Biogeogr 14:395–410

Isaac-Renton MG, Roberts DR, Hamann A, Spiecker H (2014) Douglas-fir plantations in Europe: a retrospective test of assisted migration to address climate change. Glob Change Biol 20:2607–2617

Ivakhnenko AG (1971) Polynomial theory of complex systems. IEEE Trans Syst Man Cybern SMC-1:364–378

Kjällgren L, Kullman L (1998) Spatial patterns and structure of the mountain birch tree-limit in the southern Swedish Scandes—a regional perspective. Geogr Ann Ser Phys Geogr 80:1–16

Körner C (1998) A re-assessment of high elevation treeline positions and their explanation. Oecologia 115:445–459

Körner C (1999) Alpine Plant Life. Springer, Dordrecht

Körner C, Paulsen J (2004) A world-wide study of high altitude treeline temperatures. J Biogeogr 31:713–732

Körner C, Riedl (2012) Alpine treelines: functional ecology of the global high elevation tree limits. Springer Science & Business Media, Basel

Kullman L (2001) Twentieth century climate warming and tree-limit rise in the southern Scandes of Sweden. Ambio J Hum Environ 30:72–80

Kullman L (2002) Rapid recent range-margin rise of tree and shrub species in the Swedish Scandes. J Ecol 90:68–77

Lantmäteriet (1995) Swedish National Atlas. Climate, lakes and rivers. Lantmäteriet, Gävle, Sweden

Lloyd AH (2005) Ecological histories from Alaskan tree lines provide insight into future change. Ecology 86:1687–1695

Macias-Fauria M, Johnson EA (2013) Warming-induced upslope advance of subalpine forest is severely limited by geomorphic processes. Proc Natl Acad Sci 110:8117–8122

Meshinev T, Apostolova I, Koleva E, et al. (2000) Influence of warming on timberline rising: a case study on Pinus peuce Griseb. in Bulgaria. In: Vegetation and climate. A selection of contributions presented at the 42nd symposium of the International Association of Vegetation Science, Bilbao, Spain, 26–30 July 1999. Gebrüder Borntraeger Verlagsbuchhandlung, Stuttgart, pp. 431–438

Moen J, Aune K, Edenius L, Angerbjörn A (2004) Potential effects of climate change on treeline position in the Swedish mountains. Ecol Soc 9:16

Payette S, Fortin M-J, Gamache I (2001) The subarctic forest–tundra: the structure of a biome in a changing climate the shifting of local subarctic tree lines throughout the forest–tundra biome, which is linked to ecological processes at different spatiotemporal scales, will reflect future global changes in climate. Bioscience 51:709–718

Peñuelas J, Boada M (2003) A global change-induced biome shift in the Montseny mountains (NE Spain). Glob Change Biol 9:131–140

Pérez-García N, Font X, Ferré A, Carreras J (2013) Drastic reduction in the potential habitats for alpine and subalpine vegetation in the Pyrenees due to twenty-first-century climate change. Reg Environ Chang 13:1157–1169. doi:10.1007/s10113-013-0427-5

Taylor KE, Stouffer RJ, Meehl GA (2012) An overview of CMIP5 and the experiment design. Bull Am Meteorol Soc 93:485–498

Theurillat J-P, Guisan A (2001) Potential impact of climate change on vegetation in the European alps: a review. Clim Chang 50:77–109

Theurillat J-P, Felber F, Gobat JM, et al. (1998) Sensitivity of plant and soils ecosystems of the alps to climate change. In: Views from the alps: regional perspectives on climate change. MIT Press, Cambridge

Theurillat J-P, Schlüssel A, Deil U, Loidi J, et al. (2000) Phenology and distribution strategy of key plant species within the subalpine-alpine ecocline in the Valaisan alps (Switzerland). In: Vegetation and climate. A selection of contributions presented at the 42nd symposium of the International Association of Vegetation Science, Bilbao, Spain, 26–30 July 1999, vol 30. Gebrüder Borntraeger Verlagsbuchhandlung, Königsberg, pp. 439–456
Acknowledgments
JMA thanks Carl Tryggers Stiftelse for financial support. The authors declare no conflict of interests. We thank two anonymous reviewers for their helpful comments that improved this manuscript.
Author contributions
JMA and AF designed the study and wrote the paper. AF performed the GIS and modelling work.
Electronic supplementary material
About this article
Cite this article
Alatalo, J.M., Ferrarini, A. Braking effect of climate and topography on global change-induced upslope forest expansion. Int J Biometeorol 61, 541–548 (2017). https://doi.org/10.1007/s00484-016-1231-y
Received:

Revised:

Accepted:

Published:

Issue Date:
Keywords
Alpine areas

Climate change

Flex points

Response curves

Subalpine vegetation

Treeline rise

Treeline shift model