Abstract
We investigated the association between ambient temperature and diurnal temperature range (DTR) and the exacerbation of arrhythmia symptoms, using data from 31,629 arrhythmia-related emergency department (ED) visits in Seoul, Korea. Linear regression analyses with allowances for over-dispersion were applied to temperature variables and ED visits, adjusted for various environmental factors. The effects were expressed as percentage changes in the risk of arrhythmia-related ED visits up to 5 days later, with 95 % confidence intervals (CI), per 1 °C increase in DTR and 1 °C decrease in mean temperature. The overall risk of ED visits increased by 1.06 % (95 % CI 0.39 %, 1.73 %) for temperature and by 1.84 % (0.34, 3.37 %) for DTR. A season-specific effect was detected for temperature during both fall (1.18 % [0.01, 2.37 %]) and winter (0.87 % [0.07, 1.67 %]), and for DTR during spring (3.76 % [0.34, 7.29 %]). Females were more vulnerable, with 1.57 % [0.56, 2.59 %] and 3.84 % [1.53, 6.20 %] for the changes in temperature and DTR, respectively. An age-specific effect was detected for DTR, with 3.13 % [0.95, 5.36 %] for age ≥ 65 years, while a greater increased risk with temperature decrease was observed among those aged <65 (1.08 % [0.17, 2.00 %]) than among those aged ≥65 (1.02 % [0.06, 1.99 %]). Cardiac arrest was inversely related with temperature (1.61 % [0.46, 2.79 %]), while other cardiac arrhythmias depended more on the change in DTR (4.72 % [0.37, 9.26 %]). These findings provide evidence that low-temperature and elevated DTR influence the occurrence of arrhythmia exacerbations or symptoms, suggesting a possible strategy for reducing risk by encouraging vulnerable populations to minimize exposure.
Access options
Buy single article
Instant access to the full article PDF.
US$ 39.95
Tax calculation will be finalised during checkout.
Subscribe to journal
Immediate online access to all issues from 2019. Subscription will auto renew annually.
US$ 79
Tax calculation will be finalised during checkout.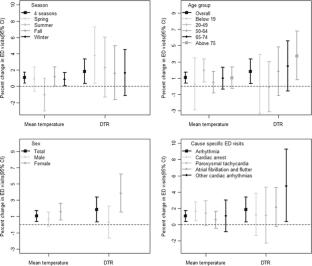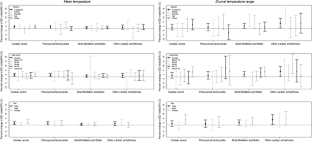 References
Argiles A, Mourad G, Mion C (1998) Seasonal changes in blood pressure in patients with end-stage renal disease treated with hemodialysis. N Engl J Med 339(19):1364–1370

Bhaskaran K, Hajat S, Haines A, Herrett E, Wilkinson P, Smeeth L (2010) Short term effects of temperature on risk of myocardial infarction in England and Wales: time series regression analysis of the Myocardial Ischaemia National Audit Project (MINAP) registry. BMJ 341:c3823

Cui J, Wilson TE, Crandall CG (2002) Baroreflex modulation of muscle sympathetic nerve activity during cold pressor test in humans. Am J Physiol Heart Circ Physiol 282(5):H1717–H1723

Culic V, Eterovic D, Miric D, Giunio L, Lukin A, Fabijanic D (2004) Triggering of ventricular tachycardia by meteorologic and emotional stress: protective effect of beta-blockers and anxiolytics in men and elderly. Am J Epidemiol 160(11):1047–1058

Fries RP, Heisel AG, Jung JK, Schieffer HJ (1997) Circannual variation of malignant ventricular tachyarrhythmias in patients with implantable cardioverter-defibrillators and either coronary artery disease or idiopathic dilated cardiomyopathy. Am J Cardiol 79(9):1194–1197

G. B. D. Mortality Causes of Death, C (2015) Global, regional, and national age-sex specific all-cause and cause-specific mortality for 240 causes of death, 1990-2013: a systematic analysis for the global burden of disease study 2013. Lancet 385(9963):117–171

Giang PN, Dung do V, Giang KB, Vinhc HV, Rocklov J (2014) The effect of temperature on cardiovascular disease hospital admissions among elderly people in Thai Nguyen Province, Vietnam. Glob Health Action 7:23649

Hoek G, Brunekreef B, Fischer P, van Wijnen J (2001) The association between air pollution and heart failure, arrhythmia, embolism, thrombosis, and other cardiovascular causes of death in a time series study. Epidemiology 12(3):355–357

Kim J, Lim Y, Kim H (2014) Outdoor temperature changes and emergency department visits for asthma in Seoul, Korea: a time-series study. Environ Res 135:15–20

Kim J, Shin J, Lim YH, Honda Y, Hashizume M, Guo YL, Kan H, Yi S, Kim H (2016) Comprehensive approach to understand the association between diurnal temperature range and mortality in East Asia. Sci Total Environ 539:313–321

Kim SY, O'Neill MS, Lee JT, Cho Y, Kim J, Kim H (2007) Air pollution, socioeconomic position, and emergency hospital visits for asthma in Seoul, Korea. Int Arch Occup Environ Health 80(8):701–710

Kunzli N, Forastiere F (2006) Air pollution and arrhythmia: the case is not over. Occup Environ Med 63(9):577–578

Lim YH, Hong YC, Kim H (2012a) Effects of diurnal temperature range on cardiovascular and respiratory hospital admissions in Korea. Sci Total Environ 417-418:55–60

Lim YH, Kim H, Kim JH, Bae S, Hong YC (2013) Effect of diurnal temperature range on cardiovascular markers in the elderly in Seoul, Korea. Int J Biometeorol 57(4):597–603

Lim YH, Park AK, Kim H (2012b) Modifiers of diurnal temperature range and mortality association in six Korean cities. Int J Biometeorol 56(1):33–42

Mann JK, Tager IB, Lurmann F, Segal M, Quesenberry CP Jr, Lugg MM, Shan J, Van Den Eeden SK (2002) Air pollution and hospital admissions for ischemic heart disease in persons with congestive heart failure or arrhythmia. Environ Health Perspect 110(12):1247–1252

McGuinn L, Hajat S, Wilkinson P, Armstrong B, Anderson HR, Monk V, Harrison R (2013) Ambient temperature and activation of implantable cardioverter defibrillators. Int J Biometeorol 57(5):655–662

Mehra R (2007) Global public health problem of sudden cardiac death. J Electrocardiol 40(6 Suppl):S118–S122

National Heart, L., and Blood Institute, National Institutes of Health. "Who is at risk for an arrhythmia?" Retrieved OCT.20, 2015, from https://www.nhlbi.nih.gov/health/health-topics/topics/arr/atrisk.

Peters A, Liu E, Verrier RL, Schwartz J, Gold DR, Mittleman M, Baliff J, Oh JA, Allen G, Monahan K, Dockery DW (2000) Air pollution and incidence of cardiac arrhythmia. Epidemiology 11(1):11–17

Phung D, Thai PK, Guo Y, Morawska L, Rutherford S, Chu C (2016) Ambient temperature and risk of cardiovascular hospitalization: an updated systematic review and meta-analysis. Sci Total Environ 550:1084–1102

Qiu H, Yu IT, Tse LA, Tian L, Wang X, Wong TW (2013) Is greater temperature change within a day associated with increased emergency hospital admissions for heart failure? Circ Heart Fail 6(5):930–935

Rich KE, Petkau J, Vedal S, Brauer M (2004) A case-crossover analysis of particulate air pollution and cardiac arrhythmia in patients with implantable cardioverter defibrillators. Inhal Toxicol 16(6–7):363–372

Santos UP, Terra-Filho M, Lin CA, Pereira LA, Vieira TC, Saldiva PH, Braga AL (2008) Cardiac arrhythmia emergency room visits and environmental air pollution in Sao Paulo, Brazil. J Epidemiol Community Health 62(3):267–272

Sarnat SE, Suh HH, Coull BA, Schwartz J, Stone PH, Gold DR (2006) Ambient particulate air pollution and cardiac arrhythmia in a panel of older adults in Steubenville, Ohio. Occup Environ Med 63(10):700–706

Tsai SS, Chiu HF, Wu TN, Yang CY (2009) Air pollution and emergency room visits for cardiac arrhythmia in a subtropical city: Taipei, Taiwan. Inhal Toxicol 21(13):1113–1118

Turner LR, Connell D, Tong S (2012) Exposure to hot and cold temperatures and ambulance attendances in Brisbane, Australia: a time-series study. BMJ Open 2(4)

Wang MZ, Zheng S, He SL, Li B, Teng HJ, Wang SG, Yin L, Shang KZ, Li TS (2013) The association between diurnal temperature range and emergency room admissions for cardiovascular, respiratory, digestive and genitourinary disease among the elderly: a time series study. Sci Total Environ 456-457:370–375

Xu Z, Huang C, Su H, Turner LR, Qiao Z, Tong S (2013) Diurnal temperature range and childhood asthma: a time-series study. Environ Health 12:12

Zhao A, Chen R, Kuang X, Kan H (2014) Ambient air pollution and daily outpatient visits for cardiac arrhythmia in shanghai, China. J Epidemiol 24(4):321–326
Acknowledgments
The authors thank the National Emergency Medical Center, the Korean Meteorological Administration, and the National Institute of Environmental Research for the use of their data. This work was supported by Global Research Lab (#K21004000001-10 A0500-00710) through the National Research Foundation of Korea (NRF) funded by the Ministry of Science, ICT (Information and Communication Technologies), by the Korea Ministry of Environment (project number: 2014001310010), and by the Ministry of Public Safety and Security of Korea (MPSS-NH-2015-81).
Ethics declarations
Conflict of interest
The authors declare that they have no conflict of interest.
Electronic supplementary material
About this article
Cite this article
Kim, J., Kim, H. Influence of ambient temperature and diurnal temperature range on incidence of cardiac arrhythmias. Int J Biometeorol 61, 407–416 (2017). https://doi.org/10.1007/s00484-016-1221-0
Received:

Revised:

Accepted:

Published:

Issue Date:
Keywords
Arrhythmia

Diurnal temperature range

Emergency department

Risk factor

Temperature