Abstract
It is well known that meteorological conditions influence the comfort and human health. Southern European countries, including Portugal, show the highest mortality rates during winter, but the effects of extreme cold temperatures in Portugal have never been estimated. The objective of this study was the estimation of the effect of extreme cold temperatures on the risk of death in Lisbon and Oporto, aiming the production of scientific evidence for the development of a real-time health warning system. Poisson regression models combined with distributed lag non-linear models were applied to assess the exposure-response relation and lag patterns of the association between minimum temperature and all-causes mortality and between minimum temperature and circulatory and respiratory system diseases mortality from 1992 to 2012, stratified by age, for the period from November to March. The analysis was adjusted for over dispersion and population size, for the confounding effect of influenza epidemics and controlled for long-term trend, seasonality and day of the week. Results showed that the effect of cold temperatures in mortality was not immediate, presenting a 1–2-day delay, reaching maximum increased risk of death after 6–7 days and lasting up to 20–28 days. The overall effect was generally higher and more persistent in Lisbon than in Oporto, particularly for circulatory and respiratory mortality and for the elderly. Exposure to cold temperatures is an important public health problem for a relevant part of the Portuguese population, in particular in Lisbon.
Access options
Buy single article
Instant access to the full article PDF.
USD 39.95
Price includes VAT (USA)
Tax calculation will be finalised during checkout.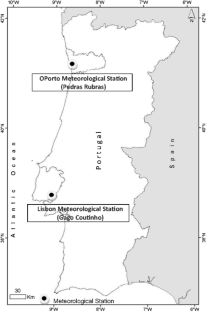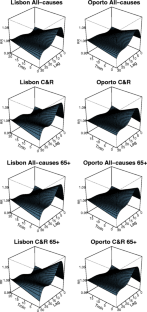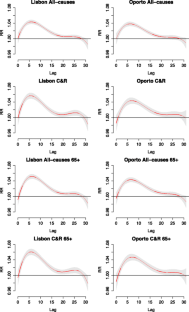 References
Analitis A, Katsouyanni K, Biggeri A, Baccini M, Forsberg B, Bisanti L, et al. (2008) Effects of cold weather on mortality: results from 15 European cities within the PHEWE project. Am J Epidemiol 168(12):1379–1408

Armstrong B (2006) Models for the relationship between ambient temperature and daily mortality. Epidemiology 17(6):624–631

Bhaskaran K, Gasparrini A, Hajat S, Smeeth L, Armstrong B (2013) Time series regression studies in environmental epidemiology. Int J Epidemiol 42:1187–1195

Box GE, Jenkins GM, Reinsel GC (2008) Time series analysis. John Wiley and Sons, Forecasting and Control

Braga ALF, Zanobetti A, Schwartz J (2002) The effect of weather on respiratory and cardiovascular deaths in 12 U.S. cities. Environ Health Perspect 110(9):859–863

Buckley JP, Samet JM, Richardson DB (2014) Does air pollution confound studies of temperature? Epidemiology 25(2):242–245

Carder M, McNamee R, Beverland I, Elton R, Cohen G, Boyd J, et al. (2005) The lagged effect of cold temperature and wind chill on cardiorespiratory mortality in Scotland. Occup Environ Med 62:702–710

Chan K-C, Ripley B (2012) TSA: time series analysis. R package version 1.01

Cryer JD, Chang K-S (2008) Time series analysis wth applications in R. Springer

Direção-Geral da Saúde (2015) Plano de Contingência Para temperaturas extremas adversas - Módulo inverno. Lisboa, Portugal: Direção-Geral da Saúde. Available at: https://www.dgs.pt/a-direccao-geral-da-saude/comunicados-e-despachos-do-director-geral/plano-de-contingencia-de-temperaturas-extremas-adversas-modulo-inverno.aspx

Gasparrini A (2011) Distributed lag linear and non-linear models in R: the package dlnm. J Stat Softw 43(8):1–20

Gasparrini A (2014) Modeling exposure-lag-response associations with distributed lag non-linear models. Stat Med 33:881–899

Gasparrini A, Armstrong B, Kenward MG (2010) Distributed lag non-linear models. Stat Med 29:2224–2234

Guo Y, Gasparrini A, Armstrong B, Li S, Tawatsupa B, Tobias A, et al. (2014) Global variation in the effects of ambient temperature on mortality: a systematic evaluation. Epidemiology 25(6):781–789

Healy J (2003) Excess winter mortality in Europe: a cross country analysis identifying key risk factors. J Epidemiol Community Health 57:784–789

Instituto Nacional de Estatística I.P. and Instituto Nacional de Saúde Doutor Ricardo Jorge I.P. (editors) (2009) Inquérito Nacional de Sáude 2005–2006

IPCC 2007 Climate change 2007: the physical science basis. Working group I contribution of working groups I, II and III to the fourth assessment report of the intergovernmental panel on climate change. [Solomon, S., D. Qin, M. Manning, Z. Chen, M. Marquis, K.B. Averyt, M. Tignor and H.L. Miller (eds.)]. Cambrigde University Press, Cambridge, UK, 996 pp.

IPCC, 2013: Climate change 2013: the physical science basis. Working group I contribution to the fifth assessment report of the Intergovernmental Panel on Climate change. [Stocker, T.F., D. Qin, G.-K. Platter, M. Tignor, S.K. Allen, J. Boschung, A. Nauels, Y. Xia, V. Bex and P.M. Midgley (eds.)]. Cambrigde University Press, Cambridge, UK, 1535 pp.

Kunst AE, Looman CWN, Mackenbach JP (1993) Outdoor air temperature and mortality in the Netherlands: a time-series analysis. Am J Epidemiol 137(3):331–341

Laaidi K, Economopoulou A, Wagner V, Pascal M, Empereur-Bissonnet P, Verrier A, et al. (2013) Cold spells and health: prevention and warning. Public Health 127:492–499

Marques J, Antunes S, Nunes B, Silva S, Antunes L, Dias C (2014) Determinação dos ótimos térmicos em relação à mortalidade anual: análise de Porto, Coimbra e Lisboa. III Congresso Internacional, I Simpósio Ibero-Americano. VIII Encontro Nacional de Riscos. 443–447. (P. e. Associação Portuguesa de Riscos, Ed.) Guimarães, Portugal

McKEE C (1989) Deaths in winter: can britain learn from Europe? Eur J Epidemiol 5(2):178–182

Mercer JB (2003) Cold—an underrated risk factor for health. Environ Res 92:8–13

Mercer JB, Østerud B, Tveita T (1999) The effect of short-term cold exposure on risk factors for cardiovascular disease. Thromb Res 95:93–104

Nunes B, Viboud C, Machado A, Ringholz C, Rebelo-de-Andrade H, Nogueira P, et al. (2011) Excess mortality associated with influenza epidemics in Portugal, 1980 to 2004. PLoS One 6(6):e20661. doi:10.1371/journal.pone.0020661

O'Neill MS, Hajat S, Zanobetti A, Ramirez-Aguilar M, Schwartz J (2005) Impact of control for air pollution and respiratory epidemics on the estimated associations of temperature and daily mortaliy. Int J Biometeorol 50:121–129

R Core Team (2015) R: a language and environment for statistical computing. R Foundation for Statistical Computing. URL, Vienna, Austria http://www.R-project.org/

Rebelo-de-Andrade H (2001) Aspectos epidemiológicos e virológicos da gripe em Portugal. Desenvolvimento de um sistema de vigilância. Dissertation. Lisboa, Portugal, 175 pp

Santos F, Forbes K, Moita R (eds) (2002) Climate change in Portugal: scenarios, impacts and adaptation measures - SIAM project. Gradiva, Lisbon, Portugal, 456 pp

The Eurowinter Group (1997) Cold exposure and winter mortality from ischaemic heart disease, cerebrovascular disease, respiratory disease, and all causes in warm and cold regions of Europe. Lancet 349:1341–1346

Toloo G, FitzGerald G, Aitken P, Verall K, Tong S (2013) Are heat warning systems effective? Environ Health 12(27). doi:10.1186/1476-069X-12-27

von Klot S, Zanobetti A, Schwartz J (2012) Influenza epidemics, seasonality, and the effects of cold weather on cardiac mortality. Environ Health 11(74)

Yang J, Ou C-Q, Ding Y, Zhou Y-X, Chen P-Y (2012) Daily temperature and mortality: a study of distributed lag non-linear effect and effect modification in Guangzhou. Environ Health 11(63)
Acknowledgements
This work was financially supported by national funds from the Foundation for Science and Technology (FCT)-EXPL/DTP-SAP/1373/2013. We acknowledge Dr. Pedro Viterbo for comments that greatly improved the manuscript and also the two anonymous reviewers for their insights.
Electronic supplementary material
Description of the best fitted models by QAIC for each outcome (all-causes and C&R mortality) and for each district (Lisbon and Oporto) for the total population and for the age group 65+: functions for describing the exposure response and the change in exposure-response relation along lags for the minimum temperature, ILI incidence rate, trend and seasonality (DOCX 28 kb)
Description of the fitted models for each outcome (all-causes and C&R mortality) and for each district (Lisbon and Oporto) for the total population and for the age group 65+: functions for describing the exposure response and the change in exposure-response relation along lags for the minimum temperature, ILI incidence rate, trend and seasonality and value for QAIC (PDF 749 kb)
Cross-correlation between mortality (all-causes and C&R mortality) and minimum and maximum temperatures for Lisbon city, for the total population and in the age group 65+ (PDF 332 kb)
Cross-correlation between mortality (all-causes and C&R mortality) and minimum and maximum temperatures for Oporto city, for the total population and in the age group 65+ (PDF 332 kb)
About this article
Cite this article
Antunes, L., Silva, S.P., Marques, J. et al. The effect of extreme cold temperatures on the risk of death in the two major Portuguese cities. Int J Biometeorol 61, 127–135 (2017). https://doi.org/10.1007/s00484-016-1196-x
Received:

Revised:

Accepted:

Published:

Issue Date:
Keywords
Minimum temperature

Mortality

Cold effect

Distributed lag non-linear models

Relative risk