Abstract
Trends in the timing of spring and autumn phenophases of Betula pubescens were investigated in the southern, middle, and northern boreal zones in Finland. The field observations were carried out at 21 sites in the Finnish National Phenological Network in 1997–2013. The effective temperature sum of the thermal growth period, i.e. the sum of the positive differences between diurnal mean temperatures and 5 °C (ETS1), increased annually on average by 6–7 degree day units. Timing of bud burst remained constant in the southern and middle boreal zones but advanced annually by 0.5 day in the northern boreal zone. The effective temperature sum at bud burst (ETS2) showed no trend in the southern and middle boreal zones, whereas ETS2 increased on average from 20–30 to 50 degree day units in the northern boreal zone, almost to the same level as in the other zones. Increase in ETS2 indicates that the trees did not start their growth in very early spring despite warmer spring temperatures. The timing of leaf colouring and leaf fall remained almost constant in the southern boreal zones, whereas these advanced annually by 0.3 and 0.6 day in the middle boreal zone and by 0.6 and 0.4 day in the northern boreal zone, respectively. The duration of the growth period remained constant in all boreal zones. The results indicate high buffering capacity of B. pubescens against temperature changes. The study also shows the importance of the duration of phenological studies: some trends in spring phenophases had levelled out, while new trends in autumn phases had emerged after earlier studies in the same network for a shorter observation period.
Access options
Buy single article
Instant access to the full article PDF.
US$ 39.95
Tax calculation will be finalised during checkout.
Subscribe to journal
Immediate online access to all issues from 2019. Subscription will auto renew annually.
US$ 79
Tax calculation will be finalised during checkout.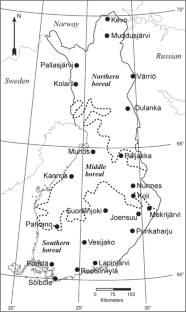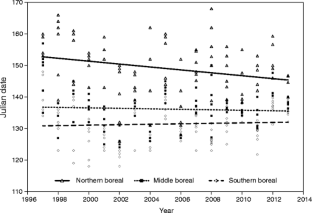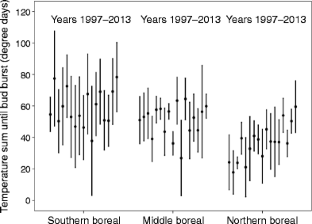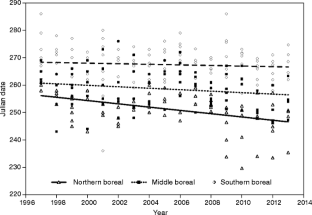 References
Aasa A, Jaagus J, Ahas R, Sepp M (2004) The influence of atmospheric circulation on plant phonological phases in central and eastern Europe. Int J Climatol 24:1551–1564

Ahas R, Aasa A, Menzel A, Fedotova VG, Scheifinger H (2002) Changes in European spring phenology. Int J Climatol 22:1727–1738

Ahti T, Hämet-Ahti L, Jalas J (1968) Vegetation zones and their sections in northwestern Europe. Ann Bot Fenn 5:169–211

Aspelmeier S (2001) Genotypic variation in drought response of silver birch (Betula pendula Roth). Dissertation zur Erlangung des Doktorgrades der Mathematisch-Naturwissenschaftlichen Fakultäten der Georg-August-Universität zu Göttingen

Bennie J, Kubin E, Wiltshire A, Huntley B, Baxter R (2010) Predicting spatial and temporal patterns of bud-burst and spring frost risk in North-West Europe: the implications of local adaptation to climate. Glob Chang Biol 16:1503–1514

Caffarra A, Donnelly A (2011) The ecological significance of phenology in four different tree species: effects of light and temperature on bud burst. Int J Biometeorol 55:711–721

Caffarra A, Donnelly A, Chuine I, Jones MB (2011) Modelling the timing of Betula pubescens budburst. I. Temperature and photoperiod: a conceptual model. Clim Res 46:147–157

Chmielewski F-M, Rötzer T (2001) Response of tree phenology to climate change across Europe. Agric Forest Meteorol 108(2):101–112

Donnelly A, Caffarra A, Kelleher CT, O'Neill BF, Diskin E, Pletsers A, Proctor H, Stirnemann R, O'Halloran J, Peñuelas J, Hodkinson TR, Sparks T (2012) Surviving in a warmer world: environmental and genetic responses. Clim Res 53:245–262

Heide OM (1993) Daylength and thermal time responses of budburst during dormancy release in some northern deciduous trees. Physiol Plant 88:531–540

Heide OM (2003) High autumn temperature delays spring bud burst in boreal trees, counterbalancing the effect of climatic warming. Tree Physiol 23:931–936

Häkkinen R, Linkosalo T, Hari P (1998) Effects of dormancy and environmental factors on timing of bud burst in Betula pendula. Tree Physiol 18:707–712

Hänninen H (1995) Effects of climatic change on trees from cool and temperate regions: an ecophysiological approach to modelling of bud burst phenology. Can J Bot 73:183–199

Hänninen H (2006) Climate warming and the risk of frost damage to boreal trees: identification of critical ecophysiological traits. Tree Physiol 26:889–898

Hänninen H, Kramer K (2007) A framework for modelling the annual cycle of trees in boreal and temperate regions. Silva Fenn 41:167–194

Hänninen H, Tanino K (2011) Tree seasonality in a warming climate. Trends in Plant Sci 16:412–416

IPCC (2013) Summary for policymakers. In: Stocker TF et al (eds.) Climate change 2013: the physical science basis. Contribution of Working Group I to the Fifth Assessment Report of the Intergovernmental Panel on Climate Change. Cambridge University Press, Cambridge, UK and New York, USA (http://www.ipcc.ch)

Jeong S-J, Ho C-H, Gim H-J, Brown ME (2011) Phenology shifts at start vs. end of growing season in temperate vegetation over the Northern Hemisphere for the period 1982–2008. Glob Chang Biol 17:2395–2399

Juknys R, Sujetovienė G, Žeimavičius K, Šveikauskaite I (2012) Comparison of climate warming induced chances in silver birch (Betula pendula Roth) and lime (Tilia cordata Mill.) phenology. Balt For 18(1):25–32

Junttila O, Hänninen H (2012) The minimum temperature for budburst in Betula depends on the state of dormancy. Tree Physiol 32:337–345

Jylhä K, Ruosteenoja K, Räisänen, J, Venäläinen A, Tuomenvirta H, Ruokolainen L, Saku S, Seitola T (2009) Arvioita Suomen muuttuvasta ilmastosta sopeutumistutkimuksia varten. ACCLIM-hankkeen raportti 2009. Abstract in English: The changing climate in Finland: estimates for adaptation studies. ACCLIM project report 2009. Finnish Meteorological Institute Reports 2009:4

Kalcsits L, Silim S, Tanino K (2009) Warm temperature accelerates short photoperiod-induced growth cessation and dormancy induction in hybrid poplar (Populus x spp.). Trees 23:973–979

Karlsen SR, Høgda KA, Wielgolaski FE, Tolvanen A, Tømmervik H, Poikolainen J, Kubin E (2009) Growing-season trends in Fennoscandia 1982–2006, determined from satellite and phenology data. Clim Res 39:275–286

Kauppi P, Posch M (1985) Sensitivity of boreal forests to possible climatic warming. Clim Chang 7:45–54

Kolářová E, Nekovář J, Adamík P (2014) Long-term temporal changes in central European tree phenology (1946–2010) confirm the recent extension of growing seasons. Int J Biometeorol 58:1739–1748

Kozlov MV, Berlina NG (2002) Decline in length of the summer season on the Kola Peninsula, Russia. Clim Chang 54:387–398

Kramer K, Leinonen I, Loustau D (2000) The importance of phenology for the evaluation of impact of climate change on growth of boreal, temperate and Mediterranean forests ecosystems: on overview. Int J Biometeorol 44:67–75

Kubin E, Kotilainen E, Poikolainen J, Hokkanen T, Nevalainen S, Pouttu A, Karhu J, Pasanen J (2007) Monitoring instructions of the Finnish National Phenological Network. Finnish Forest Research Institute

Linderholm HW (2006) Growing season changes in the last century. Agric Forest Meteorol 137:1–14

Linderholm HW, Walther A, Chen D (2008) Twentieth-century trends in the thermal growing season in the Greater Baltic Area. Clim Chang 87:405–419

Linkosalo T, Häkkinen R, Terhivuo J, Tuomenvirta H, Hari P (2009) The time series of flowering and leaf bud burst of boreal trees (1846–2005) support the direct temperature observations of climatic warming. Agric Forest Meteorol 149:453–461

Meier U (ed) (1997) BBCH–monograph. Growth stages of mono- and dicotyledonous plants. Blackwell, Berlin

Menzel A (2000) Trends in phenological phases in Europe between 1951 and 1996. Int J Biometeorol 44:76–81

Menzel A, Fabian P (1999) Growing season extended in Europe. Nature 397:659

Menzel A, Sparks TH, Estrella N, Eckhardt S (2005) 'SSW to NNE'—North Atlantic Oscillation affects the progress of seasons across Europe. Glob Chang Biol 11:909–918

Menzel A, Sparks TH, Estrella N, Koch E, Aasa A, Ahas R, Alm-Kübler K, Bissolli P, Braslavská O, Briede A, Chmielewski FM, Crepinsek Z, Curnel Y, Dahl Ǻ, Defila C, Donnelly A, Filella Y, Jatczak K, Måge F, Mestre A, Nordli Ø, Peñuelas J, Pirinen P, Remišová V, Scheifinger H, Striz M, Susnik A, van Vliet AJH, Wielgolaski FE, Zach S, Zust A (2006) European phenological response to climate change matches the warming pattern. Glob Chang Biol 12:1969–1976

Myking T, Heide OM (1995) Dormancy release and chilling requirement of buds of latitudinal ecotypes of Betula pendula and B. pubescens. Tree Physiol 15:697–704

Nordli Ø, Wielgolaski FE, Bakken AK, Hjeltnes SH, Måge F, Sivle A, Skre O (2008) Regional trends for bud burst and flowering of woody plants in Norway as related to climate change. Int J Biometeorol 52:625–639

Partanen J, Koski V, Hänninen H (1998) Effects of photoperiod and temperature on the timing of bud burst in Norway spruce. Tree Physiol 18:811–816

Pudas E, Leppälä M, Tolvanen A, Poikolainen J, Venäläinen A, Kubin E (2008a) Trends in phenology of Betula pubescens across the boreal zone in Finland. Int J Biometeorol 52:251–259

Pudas E, Tolvanen A, Poikolainen J, Sukuvaara T, Kubin E (2008b) Timing of plant phenophases in Finnish Lapland in 1997–2006. Boreal Environ Res 13:31–43

Quinn GP, Keough MJ (2002) Experimental design and data analysis for biologists. Cambridge University Press, Cambridge

Richardson AD, Keenan TF, Migliavacca M, Ryu Y, Sonnentag O, Toomey M (2013) Climate change, phenology, and phenological control of vegetation feedbacks to the climate system. Agric Forest Meteorol 169:156–173

Rohde A, Bastien C, Boerjan W (2011) Temperature signals contribute to the timing of photoperiodic growth cessation and bud set in poplar. Tree Physiol 31:472–482

Rousi M, Heinonen J (2007) Temperature sum accumulation effects on within-population variation and long-term trends in date of bud burst of European white birch (Betula pendula). Tree Physiol 27:1019–1025

Sarvas R (1972) Investigations on the annual cycle of development of forest trees. Active period. Commun Inst For Fenn 76:1–110

Sarvas R (1974) Investigations on the annual cycle of development of forest trees II. Autumn dormancy and winter dormancy. Commun Inst For Fenn 84:1–101

Schwartz MD, Ahas R, Aasa A (2006) Onset of spring starting earlier across the Northern Hemisphere. Glob Chang Biol 12:343–351

Shutova E, Wielgolaski FE, Karlsen SR, Makarova O, Berlina N, Filimonova T, Haraldsson E, Aspholm PE, Flø L, Høgda KA (2006) Growing seasons of Nordic mountain birch in northernmost Europe as indicated by long-term field studies and analyses of satellite images. Int J Biometeorol 51:155–166

Sparks T, Menzel A (2002) Observed changes in seasons: an overview. Int J Climatol 22:1715–1725

Tanino KK, Kalcsits L, Silim S, Kendall E, Gray GR (2010) Temperature-driven plasticity in growth cessation and dormancy development in deciduous woody plants: a working hypothesis suggesting how molecular and cellular function is affected by temperature during dormancy induction. Plant Mol Biol 73:49–65

Tietäväinen H, Tuomenvirta H, Venäläinen A (2010) Annual and seasonal mean temperatures in Finland during the last 160 years based on gridded temperature data. Int J Climatol 30:2247–2256

Venäläinen A, Tuomenvirta H, Pirinen P, Drebs A (2005) A basic Finnish climate data set 1961–2000—description and illustrations. Finnish Meteorological Institute Reports 2005:5

Wielgolaski FE, Karlsen SR (2006) Some views on plants in polar and alpine regions. Rev Environ Sci Biotechnol

Wielgolaski FE, Nordli Ø, Karlsen SR, O'Neill B (2011) Plant phenological variation related to temperature in Norway during the period 1928–1977. Int J Biometeorol 55:819–830
Acknowledgments
The authors are grateful to the staff of the Finnish Research Institute (Metla), the Finnish Game and Fisheries Research (Reindeer Research Station), and the Universities of Helsinki (Värriö Subarctic Research Station), Eastern Finland (Mekrijärvi Research Station), Oulu (Oulanka Research Station), and Turku (Kevo Research Station) for carrying out the phenological observations. The climate data were derived from the Finnish Meteorological Institute. We also thank Irene Murtovaara for finishing the figures.
Electronic supplementary material
About this article
Cite this article
Poikolainen, J., Tolvanen, A., Karhu, J. et al. Seventeen-year trends in spring and autumn phenophases of Betula pubescens in a boreal environment. Int J Biometeorol 60, 1227–1236 (2016). https://doi.org/10.1007/s00484-015-1118-3
Received:

Revised:

Accepted:

Published:

Issue Date:
Keywords
Betula pubescens

Bud burst

Leaf colouring

Climate change

Boreal zone

Phenology