Abstract
Few studies have examined how the precedence of abnormal temperatures in previous neighboring years affects the population's health. In the present study, we attempted to quantify the health effects of abnormal weather patterns by creating a metric called the temperature deviation index (TDI) and estimated the effects of TDI on mortality in Japan. We used data from 47 prefectures in Japan to compute the TDI on days between May and September from 1966 to 2010. The TDI is a summed product of an indicator of absence of high temperatures in the neighboring years, and more weights were assigned to the years closest to the current year. To estimate the TDI effects on elderly mortality, we used generalized linear modeling with a Poisson distribution after adjusting for apparent temperature, barometric pressure, day of the week, and time trend. For each prefecture, we estimated the TDI effects and pooled the estimates to yield a national average for 1991–2010 in Japan. The estimated effects of TDI in middle- or high-latitude prefectures were greater than in low-latitude prefectures. The estimated national average of TDI effects was a 0.5 % (95 % confidence intervals [CI], 0.1, 1.0) increase in elderly mortality per 1-unit (around 1 standard deviation) increase in the TDI. The significant pooled estimation of TDI effects was mainly due to the TDI effects on summer days with moderate temperature (25th–49th percentile, mean temperature 22.9 °C): a 1.9 % (95 % CI, 1.1, 2.6) increase in elderly mortality per 1-unit increase in the TDI. However, TDI effects were insignificant in other temperature ranges. These findings suggest that elderly deaths increased on moderate temperature days in the summer that differed substantially from days during that time window in the neighboring years. Therefore, not only high temperature itself but also temperature deviation compared to previous years could be considered to be a risk factor for elderly mortality in the summer.
Access options
Buy single article
Instant access to the full article PDF.
USD 39.95
Price includes VAT (USA)
Tax calculation will be finalised during checkout.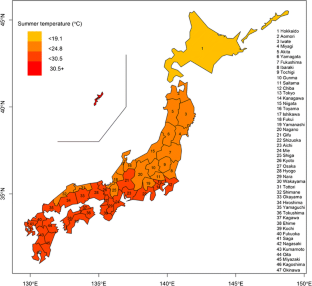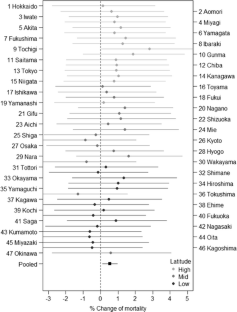 References
Alessandrini E, Zauli Sajani S, Scotto F, Miglio R, Marchesi S, Lauriola P (2011) Emergency ambulance dispatches and apparent temperature: a time series analysis in Emilia-Romagna, Italy. Environ Res 111(8):1192–1200

Almeida SP, Casimiro E, Calheiros J (2010) Effects of apparent temperature on daily mortality in Lisbon and Oporto, Portugal. Environ Health 9:12

Anderson GB, Bell ML (2011) Heat waves in the united states: mortality risk during heat waves and effect modification by heat wave characteristics in 43 US communities. Environ Health Perspect 119(2):210

Ballester J, Robine JM, Herrmann FR, Rodo X (2011) Long-term projections and acclimatization scenarios of temperature-related mortality in Europe. Nat Commun 2:358

Barriopedro D, Fischer EM, Luterbacher J, Trigo RM, García-Herrera R (2011) The hot summer of 2010: redrawing the temperature record map of Europe. Science 332(6026):220–224

Beniston M, Stephenson DB (2004) Extreme climatic events and their evolution under changing climatic conditions. Glob Planet Chang 44(1–4):1–9

Conlon KC, Rajkovich NB, White-Newsome JL, Larsen L, O'Neill MS (2011) Preventing cold-related morbidity and mortality in a changing climate. Maturitas 69(3):197–202

Curriero FC, Heiner KS, Samet JM, Zeger SL, Strug L, Patz JA (2002) Temperature and mortality in 11 cities of the eastern United States. Am J Epidemiol 155(1):80–87

Easterling DR, Meehl GA, Parmesan C, Changnon SA, Karl TR, Mearns LO (2000) Climate extremes: observations, modeling, and impacts. Science 289(5487):2068–2074

Ha J, Kim H, Hajat S (2011) Effect of previous-winter mortality on the association between summer temperature and mortality in south Korea. Environ Health Perspect 119(4):542–546

Hajat S, Kosatky T (2010) Heat-related mortality: a review and exploration of heterogeneity. J Epidemiol Community Health 64(9):753–760

Hancock AM, Witonsky DB, Gordon AS, Eshel G, Pritchard JK, Coop G, Di Rienzo A (2008) Adaptations to climate in candidate genes for common metabolic disorders. PLoS Genet 4(2):e32

Huang C, Chu C, Wang X, Barnett AG (2015) Unusually cold and dry winters increase mortality in Australia. Environ Res 136:1–7

IPCC (2007) Summary for policymakers. In: Solomon S, Qun D, Manning M et al (eds) Climate change 2007: the physical science basis. Contribution of working group I to the fourth assessment report of the intergovernmental panel on climate change. Cambridge University Press, Cambridge, pp 7–22

Kovats RS, Hajat S (2008) Heat stress and public health: a critical review. Annu Rev Public Health 29:41–55

Liaw KL (1992) Interprefectural migration and its effects on prefectural populations in Japan: an analysis based on the 1980 census. Can Geogr 36(4):320–335

Lim Y-H, Bell ML, Kan H, Honda Y, Guo Y-LL, Kim H (2015) Economic status and temperature-related mortality in Asia. Int J Biometeorol 59(10):1405–1412

Luterbacher J, Dietrich D, Xoplaki E, Grosjean M, Wanner H (2004) European seasonal and annual temperature variability, trends, and extremes since 1500. Science 303(5663):1499–1503

Michelozzi P, Accetta G, De Sario M, D'Ippoliti D, Marino C, Baccini M, Biggeri A, Anderson HR, Katsouyanni K, Ballester F (2009) High temperature and hospitalizations for cardiovascular and respiratory causes in 12 european cities. Am J Respir Crit Care Med 179(5):383–389

Molloy SL DE, Rose JB (2008) Extreme weather events and human health. In: Quah SR, Heggenhougen K (eds) International Encyclopedia of Public Health. Academic, pp 536–544

O'Neill MS, Zanobetti A, Schwartz J (2003) Modifiers of the temperature and mortality association in seven US cities. Am J Epidemiol 157(12):1074–1082

Redner RA, Walker HF (1984) Mixture densities, maximum likelihood and the EM algorithm. SIAM Rev 26(2):195–239

Reid CE, Mann JK, Alfasso R, English PB, King GC, Lincoln RA, Margolis HG, Rubado DJ, Sabato JE, West NL (2012) Evaluation of a heat vulnerability index on abnormally hot days: an environmental public health tracking study. Environ Health Perspect 120(5):715

Rocklöv J, Forsberg B, Meister K (2009) Winter mortality modifies the heat-mortality association the following summer. Eur Respir J 33(2):245–251

SB (2014a) Japan statistical yearbook 2014. Statistics Bureau, Ministry of Internal Affairs and Communications, Tokyo

SB (2014b) Result of the population estimates, Statistics Bureau, Ministry of Internal Affairs and Communications. Statistics Bureau. http://www.stat.go.jp/english/data/jinsui/2.htm. Accessed 26 May 2014

Schwartz J (2005) Who is sensitive to extremes of temperature?: a case-only analysis. Epidemiology 16(1):67–72

Semenza JC, Rubin CH, Falter KH, Selanikio JD, Flanders WD, Howe HL, Wilhelm JL (1996) Heat-related deaths during the july 1995 heat wave in Chicago. N Engl J Med 335(2):84–90

Stafoggia M, Forastiere F, Agostini D, Biggeri A, Bisanti L, Cadum E, Caranci N, de'Donato F, De Lisio S, De Maria M (2006) Vulnerability to heat-related mortality: a multicity, population-based, case-crossover analysis. Epidemiology 17(3):315–323

Stafoggia M, Forastiere F, Agostini D, Caranci N, De'Donato F, Demaria M, Michelozzi P, Miglio R, Rognoni M, Russo A (2008) Factors affecting in-hospital heat-related mortality: a multi-city case-crossover analysis. J Epidemiol Community Health 62(3):209–215

Stafoggia M, Forastiere F, Michelozzi P, Perucci CA (2009) Summer temperature-related mortality: effect modification by previous winter mortality. Epidemiology 20(4):575–583

Ungar S (1999) Is strange weather in the air? a study of US national network news coverage of extreme weather events. Clim Chang 41(2):133–150

Viechtbauer W (2010) Conducting meta-analyses in R with the metafor package. J Stat Softw 36(3):1–48

Wichmann J, Andersen Z, Ketzel M, Ellermann T, Loft S (2011) Apparent temperature and cause-specific emergency hospital admissions in greater Copenhagen, Denmark. PLoS One 6(7):e22904

Yu W, Mengersen K, Wang X, Ye X, Guo Y, Pan X, Tong S (2012) Daily average temperature and mortality among the elderly: a meta-analysis and systematic review of epidemiological evidence. Int J Biometeorol 56(4):569–581
Ethics declarations
Conflict of interest
The authors declare that they have no competing interests.
Sources of financial support
This work was supported by the Women Scientist Research Program funded by the Ministry of Science, ICT & Future Planning (#2015R1A1A3A04001325); the Global Research Lab through the National Research Foundation of Korea (NRF), the Ministry of Education, Science, and Technology (#K21004000001-10A0500-00710); and Development Funds S-8 and S-10 from the Ministry of the Environment, Japan.
Electronic supplementary material
Below is the link to the electronic supplementary material.
About this article
Cite this article
Lim, YH., Reid, C.E., Honda, Y. et al. Temperature deviation index and elderly mortality in Japan. Int J Biometeorol 60, 991–998 (2016). https://doi.org/10.1007/s00484-015-1091-x
Received:

Revised:

Accepted:

Published:

Issue Date:
Keywords
Climate change

Elderly

Hot temperature

Japan

Mortality

Weather