Abstract
Studies of crime and weather have largely excluded arson from empirical and theoretical consideration, yet weather could influence arson frequency over short time frames, influencing the motivation and activity of potential arsonists, as well as the physical possibility of fire ignition. This study aims to understand the role of weather on urban arson in order to determine its role in explaining short-term variations in arson frequency. We use data reported to the Ontario Fire Marshall's office of arson events in the City of Toronto between 1996 and 2007 to estimate the effect of temperature, precipitation, wind conditions and air pressure on arson events while controlling for the effects of holidays, weekends and other calendar-related events. We find that temperature has an independent association with daily arson frequency, as do precipitation and air pressure. In this study area, cold weather has a larger influence on arson frequency than hot weather. There is also some evidence that extremely hot and cold temperatures may be associated with lower day-time arson frequency, while night-time arson seems to have a simpler positive linear association with temperature.
Access options
Buy single article
Instant access to the full article PDF.
USD 39.95
Price includes VAT (USA)
Tax calculation will be finalised during checkout.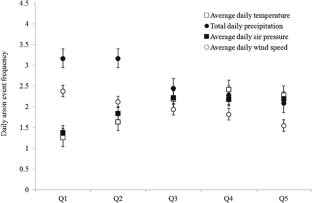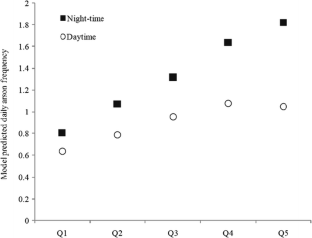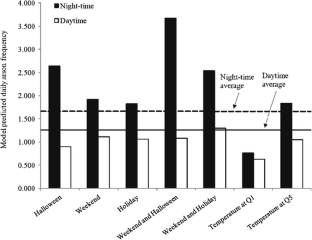 References
Anderson CA (1989) Temperature and aggression: ubiquitous effects of heat on occurrence of human violence. Psychol Bull 106:74–96

Anderson CA, Anderson KB (1998) Temperature and aggression: paradox, controversy, and a (fairly) clear picture. In: Geen RG, Donnerstein ED (eds) Human aggression: theories, research, and implications for social policy. Academic, New York

Anderson CA, DeNeve KM (1992) Temperature, aggression, and the negative affect escape model. Psychol Bull 111:347–351

Anderson TW, Rochard C (1979) Cold snaps, snowfall and sudden death from ischemic heart disease. Can Med Assoc J 121:1580–1583

Anwar S, Långström N, Grann M, Fazel S (2011) Is arson the crime most strongly associated with psychosis? A national case–control study of arson risk in schizophrenia and other psychoses. Schizophr Bull 37:580–586

Auliciems A, DiBartolo L (1995) Domestic violence in a subtropical environment: police calls and weather in Brisbane. Int J Biometeorol 39:34–39

Barnoux M, Gannon TA (2014) A new conceptual framework for revenge firesetting. Psychol Crime Law 20:497–513

Baron RA (1972) Aggression as a function of ambient temperature and prior anger arousal. J Pers Soc Psychol 21:183–189

Baron RA, Bell PA (1976) Aggression and heat: the influence of ambient temperature, negative effect, and a cooling drink on physical aggression. J Pers Soc Psychol 33:245–255

Bell PA (1992) In defense of the negative affect escape model of heat and aggression. Psychol Bull 111:342–346

Bell PA, Baron RA (1976) Aggression and heat: the mediating role of negative affect. J Appl Soc Psychol 6:18–30

Blumberg NH (1981) Arson update: a review of the literature on firesetting. Bull Am Acad Psychiatry Law 9:255–265

Cao M, Wei J (2005) Stock market returns: a note on temperature anomaly. J Banking Financ 29:1559–1573

Cohen J (1941) The geography of crime. Annals Am Acad Pol Soc Sci 217:29–37

Cohn EG (1990) Weather and crime. Brit J Criminol 30:51–64

Cohn EG (1993) The predictions of police calls for service: the influence of weather and temporal variables on rape and domestic violence. J Environ Psychol 13:71–83

Cohn EG, Rotton J (2000) Weather, seasonal trends and property crimes in Minneapolis 1987–1988. A moderator-variable time-series analysis of routine activities. J Environ Psychol 20:257–272

Corcoran J, Higgs G, Rohde D, Chhetri P (2011) Investigating the association between weather conditions, calendar events and socio-economic patterns with trends in fire incidence: an Australian case study. J Geogr Syst 13:193–226

Cotton JL (1986) Ambient temperature and violent crime. J Appl Soc Psychol 16:786–801

Cunningham MR (1979) Weather, mood, and helping behavior: quasi experiments with the sunshine Samaritan. J Pers Soc Psychol 37:1947–1956

Curriero FC, Heiner KS, Samet JM, Zeger SL, Strug L, Patz JA (2002) Temperature and mortality in 11 cities of the eastern United States. Am J Epidemiol 155:80–87

Dennison JJA, Butalid L, Penke L, van Aken MAG (2008) The effects of weather on daily moodL a multilevel approach. Emotion 6:662–667

Dickens G, Sugarman P, Edgar S, Hofberg K, Tewari S, Ahmad F (2009) Recidivism and danergousness in arsonists. J Foren Psychi Psych 20:621–639

Edmans A, Garcia D, Norli O (2007) Sports sentiment and stock returns. J Financ 62:1967–1998

Felson M (1987) Routine activities and crime prevention in the developing metropolis. Criminology 25:911–930

Field S (1992) The effect of temperature on crime. Brit J Criminol 32:340–351

Guo Y, Li S, Zhang Y, Armstrong B, Jaakkola JJK, Tong S, Pan X (2013) Extremely cold and hot temperatures increase the risk of ischaemic hear disease mortality. Heart 99:195–203

Harries K, Stadler S (1983) Determinism revisited: assault and heat stress in Dallas, 1980. Environ Behav 15:235–256

Hiltunen L, Ruuhela R, Ostamo A, Lönqvist J, Suominen K, Partonen T (2012) Atmospheric pressure and suicide attempts in Helsinki, Finland. Int J Biometeorol 56:1045–1053

Hirshleifer D, Shumway T (2003) Good day sunshine: stock returns and the weather. J Financ 58:1009–1032

Hsiang SM, Burke M, Miguel E (2013) Quantifying the influence of climate on human conflict. Science 341:1212–1227

Keller MC, Fredrikson BL, Ybarra O, Côte S, Johnson K, Mikels J, COnway A, Wager T (2005) A warm heart and a clear head: the contingent effects of weather on mood and cognition. Psychol Sci 16:724–731

Kenrick DT, MacFarlane SW (1986) Ambient temperature and horn honking: a field study of the heat/aggression relationship. Environ Behav 18:179–191

Labree W, Nijman H, van Marle H, Rassin E (2010) Backgrounds and characteristics of arsonists. Int J Law Psych 33:149–153

LeBeau J (1994) The oscillation of police calls to domestic disputes with time and the temperature humidity index. J Crime Justice 17:149–161

Maciak BJ, Moore MT, Leviton LC, Guinan ME (1998) Preventing Halloween arson in an urban setting: a model for multisectoral planning and community participation. Health Educ Behav 25:194–211

McCollister KE, French MT, Fang H (2010) The cost of crime to society: new crime-specific estimates for policy and program evaluation. Drug Alcohol Depend 108:98–109

Pengelly LD, Campbell ME, Cheng CS, Fu C, Gingrich SE, Macfarlane R (2007) Anatomy of heat waves and mortality in Toronto: lessons for public health protection. Can J Public Health 98:364–368

Prestemon JP, Butry DT (2005) Time to burn: modeling wildland arson as an autoregressive crime function. Am J Agric Econ 87:746–770

Ruuhela R, Hiltunen L, Venalainen A, Pirinen P, Partonen T (2009) Climate impact on suicide rates in Finland from 1971 to 2003. Int J Biometeorol 53:167–175

SAS Institute Inc (2009) SAS 9.2 Macro Language: Reference [computer software]. SAS Institute Inc., Cary, NC

Simister J, Cooper C (2005) Thermal stress in the U.S.A.: effects on violence and on employee behaviour. Stress Health 21:3–15

Statistics Canada (2012). Police-reported crime for selected offences, Canada, 2011 and 2012. Statistics Canada, Canadian Centre for Justice Statistics, Uniform Crime Reporting Survey. Accessed July 17, 2015. http://www.statcan.gc.ca/pub/85-002-x/2013001/article/11854/tbl/tbl06-eng.htm

Stern E, Zehavi Y (1990) Road safety and hot weather: a study in applied transport geography. Trans Inst Br Geogr 15:102–111

Travato F (1998) The Stanley Cup of hockey and suicide in Quebec, 1951–1992. Soc Forces 77:105–126

Vrij A, van der Steen J, Koppelaar L (1994) Aggression of police officers as a function of temperature: an experiment with the fire arms training system. J Community Appl Soc Psychol 4:365–370
About this article
Cite this article
Yiannakoulias, N., Kielasinska, E. The effect of temperature on arson incidence in Toronto, Ontario, Canada. Int J Biometeorol 60, 651–661 (2016). https://doi.org/10.1007/s00484-015-1059-x
Received:

Revised:

Accepted:

Published:

Issue Date:
Keywords
Arson

Temperature

Weather

Crime

Behaviour